Do you have news to tell us? Send your e.mails with news and inquiries to: w.nation@mail.com
Register with us for free to follow our news on the right-hand tab
Article compiled and posted by: White Nation correspondent Cape Town  August 27   2019
SOUTH AFRICA– THE  PIRATE's REALM DOWN SOUTH
POLICE have opened a culpable homicide case after a crash close to OR Tambo International Airport left one dead. It is believed the person who died is Gavin Watson (73), CEO of controversial company Bosasa, now African Global Operations.
A Bosasa executive told Eyewitness News that the Watson family was en route to the mortuary following news of the crash. "The man was driving into the airport precinct, when he allegedly lost control of his vehicle and collided with a concrete pillar holding up a highway bridge." "The victim was certified dead on the scene by paramedics and a case of culpable homicide has been opened for investigation," the police said in a statement on Monday. What's left of the car is a mangled piece of metal. Almost the entire front part of the car is completely smashed up and unidentifiable.
The windscreen is shattered and all but peeled off the front of the car. There's a massive oil spillage, and police have covered parts of the road with soil to avoid slipping. Police are picking up large chunks of metal from the car strewn on the road. Earlier the police were seen to be moving what would be the wheel of the car, which was completely broken off. The right-hand-side door, the driver's door, is broken and falling off the car. Watson and some top managers at his company – including former COO Angelo Agrizzi – were also implicated as having given government officials money and other lavish gifts in exchange for favors. His company is alleged to have pumped millions of rands into ANC campaigns.
Watson has most recently been embroiled in controversial donation to  Cyril Ramphosa's ANC presidential campaign. R500,000 was donated to the ANC campaign, and was exposed after DA leader Mmusi Maimane asked the president about the donation in Parliament. Public Protector Busisiwe Mkhwebane is investigating the matter. Agrizzi told the Zondo commission of inquiry that Watson had a close relationship with former President Jacob Zuma, saying it made Watson feel "untouchable".
NOW:
A top lawyer linked to  Cyril Ramaphosa's CR17 campaign has reportedly died and it is believed his death has been kept under wraps. According to online news site, Africa News24-7, "the founder of Edelstein Farber Grobler (EFG), Barry Eugene Farber, died last week in his sleep". The news site also reported that EFG is the same law firm into whose Absa bank account Bosasa boss Gavin Watson is said to have deposited a R500 000 donation to Ramaphosa's campaign. EFG featured prominently in Public Protector Busisiwe Mkhwebane's report following her investigations into the Bosasa donations. This after the DA had lodged a complaint stating that Ramaphosa may have misled Parliament about his knowledge over who had funded and donated towards his campaign.
Mkhwebane's report released last month detailed the money trail, saying that some of the donations in question had been transferred from Watson's personal account and deposited into the Miotto Trading account. The company is said to be owned by Margaret Longworth, who is apparently related to former Bosasa auditor Peet Venter. It is believed to have been later sent to the CR17 Attorneys Trust Account, managed by EFG Attorneys. African News 24-7 reported that sources maintained that Farber, who established the law firm, died on August 11, apparently of a "heart attack,"–  and was buried the same day at the Westpark Cemetery in Joburg in accordance with Jewish rites. It also cited that the deceased and the president had "a long-standing relationship". "In 2005, he (Farber) represented Ramaphosa against DaimlerChrysler, when the company published a story that Ramaphosa was one of the only four clients in southern Africa who owned a Maybach 62, which cost R3.4 million."
It reported Farber had denied that Ramaphosa owned the car and threatened to sue DaimlerChrysler. The report said some of Farber's other prominent clients included major banks such as Nedbank, Investec and Bidvest, and that it appeared from the leaked FNB statements that "Farber was running two attorneys trust accounts, one under the name of Farber Sabelo Edelstein Attorney and another under the name of Edelstein Farber Grobler". "Sources in the Jewish community say Farber's death sent shock waves through it, with some suspecting foul play as a result of Farber's link to the CR17 donations scandal."
Interesting isn't it- BOTH heavy weights  linked to the ANC  scandal and especially the Squirrel suddenly "died"…or did they? 
Who is the Watsons?
The net was closing on the oldest of the liberal Watson brothers from Port Elizabeth, who became famous for their resistance to white rugby during the apartheid years. Cheeky and Valence were the rugby players, Ronnie was the spook and Gavin the businessman. The Watsons supported the ANC during the underground struggle and Ronnie was particularly close to the late SACP leader Chris Hani. Gavin managed the family's clothing business in Port Elizabeth. When democracy dawned, the Watsons weren't deployed into government like many of their ANC contemporaries, but stayed in business and started building an empire around facilities management and security at state agencies.
Ronnie Watson introduced a group of ANC Women's League leaders to his brother in the late 1990's and suggested that they purchase a company that provided catering and cleaning services to mining hostels on the West Rand. Originally called Dyambu, Watson bamboozled the ANC women out of the company and started to operate a state capture machine built on connections and cash. Watson's first major success was in the department of correctional services, where he successfully privatized catering services in the country's biggest prisons. At the time, two of Watson's comrades from the Eastern Cape, Linda Mti and Ngconde Balfour, were running the department.
Assisted by his loyal sidekick Angelo Agrizzi, a trained chef, Watson perfected the art of tender rigging to the point where Bosasa wrote the tender specification for contracts only they could win. Back at Bosasa's head office in Krugersdorp, Watson was cooking the books, including paying white staff from a separate company to inflate Bosasa's BEE rating. He ruled through fear and religion. Morning prayer meetings at 06:00 had to be attended by company directors, who had to pray out loud in front of Watson, and the Bosasa campus was decorated with copper plaques engraved with Bible verses. Sources said  how Watson and his confidantes would cook tenders or dish out cash shortly after praying. Watson championed the illusion of Bosasa being a Christian, BEE company, while his colleagues were starting to see through his hypocrisy. His affair with a fellow staffer was well known and spoken about on campus and led to employees doubting his integrity.
Agrizzi spills Bosasa beans
When Agrizzi turned, he took Bosasa down with him. Despite desperate attempts by the Watson brothers to keep Agrizzi on side, the Italian chef with a penchant for Ferraris wasn't willing to take the rap for Watson, and spilled the beans during eleven days of captivating evidence before the Zondo commission. Watson threatened to pin everything on him (Agrizzi) if Bosasa was ever exposed in court, Agrizzi  later said to a newspaper.He chose to make the first move and cornered Watson. Watson was a major supporter of the ANC and the extent of his support to the party only surfaced in the past year. His donation to  Cyril Ramaphosa's ANC presidential campaign has given the president's detractors enough ammunition to seriously injure the "new dawn". Watson told Public Protector Busisiwe Mkhwebane that he also donated to Nkosazana Dlamini-Zuma's campaign, but later disputed this through his lawyers.
Watson was scheduled to appear before a tax inquiry into Bosasa's finances on Tuesday. On Sunday, he called his fellow directors to a prayer meeting and the next morning he was dead. Watson's brother, Valence, was a business partner of the late Brett Kebble, who mysteriously died in a so-called "assisted suicide" in 2005. As with Kebble, who was also a prominent ANC supporter, Watson takes with him to the grave many secrets. Whatever his post-mortem shows (or doesn't show), he is no longer here to complete the story that shook South Africa and the ANC to its core.
You be the judge:
Gavin Watson  was due to testify at an inquiry into his tax affairs on Tuesday. The  inquiry, led by advocate Piet Marais SC, was supposed to hear from Watson as part of an investigation by the South African Revenue Services (SARS) into his tax compliance. The inquiry flowed from testimony at the commission of inquiry into allegations of state capture. More than 20 witnesses are expected to appear before the inquiry, which is a process closed to the public as it relates to tax matters, which SARS is under legislative obligation to keep confidential, News24 earlier reported.
SARS spokesperson Sandile Memela told News24: "In terms of Section 69 of the Tax Act 2011, SARS does not share of divulge confidential information on taxpayer affairs." It is uncertain how Watson's "death " will affect the inquiry. The Gauteng High Court in Pretoria granted SARS an order establishing the inquiry on March 29, but the order was sealed, prohibiting access to the documents. The inquiry focused on establishing the facts surrounding allegations that Watson and the companies in the Bosasa stable failed to comply with tax obligations and sought to hide assets from SARS. Watson, it earlier emerged, paid senior staff cash on a monthly basis, and allegedly instructed his close associates to structure deals to hide the truth from SARS. These payments were described by former Bosasa chief operations officer Angelo Agrizzi during testimony before the commission as being an incentive for staff members to keep quiet about alleged bribery practices that continued for years.
Govt contracts worth R12bn
Agrizzi estimated that tens of millions of rand were paid in bribes to, mainly, Department of Correctional Services and Department of Social Development officials in exchange for lucrative multibillion-rand tenders. He spent more than 10 days on the witness stand, delivering bombshell testimony of alleged illegality involving corrupt tenders, bribes and how the company had allegedly bribed its way out of trouble after being in hot water with the National Prosecuting Authority. From 2006 to date, Bosasa won government contracts worth an estimated R12bn, National Treasury data shows.
In 2007, the Special Investigating Unit (SIU) finalised a report that found bribes were paid to former correctional services commissioner Linda Mti and former correctional services chief financial officer Patrick Gillingham in exchange for fencing tenders worth hundreds of millions of rand. Gillingham and Mti, together with Agrizzi and other Bosasa staff, were charged in February this year with several counts of money laundering and violations of the Public Finance Management Act, as well as the Prevention and Combating of Corrupt Activities Act. Agrizzi, former Bosasa chief financial officer Andries van Tonder and senior Bosasa manager Frans Vorster, who were also charged, all appeared before the Zondo commission to give evidence against Bosasa.
Tenders worth R2bn
The five men face charges relating to four tenders, worth roughly R2bn, which correctional services awarded to Bosasa between May 2004 and December 2005 and alleged bribes paid to Mti and Gillingham. The transactions described in testimony before the Zondo commission all carry tax implications. Bosasa changed its name to African Global Operations in 2017, in an attempt to avoid the public scrutiny that the Bosasa name carried. The name change also coincided with a renewed vision inside the company to expand its business into Africa with Cyril Ramaphosa's son, Andile, and Chinese surveillance technology giant Dahua Technology. But the implications may run far wider than just Watson's personal tax affairs.
News24 also previously revealed that the company donated a conservatively estimated R40m to the ANC, according to a source with intimate knowledge of Bosasa's affairs, over nearly two decades. Despite allegations of corruption surrounding Bosasa being in the public domain since 2007, former ANC treasurer general Zweli Mkhize admitted that the party continued to accept donations from the company. Donations carry tax implications for both parties involved and could spell trouble for the ANC if tax donations were not properly managed. A controversial donation of R500 000 was also made to Ramaphosa's presidential campaign by Watson in the run-up to the ANC's national elective conference.
That being said…let's look a bit at the picture from out of the box:
"Accidental " death? 
The EFF's Mbuyiseni Ndlozi Tweeted:
Motive1 : Who stood a chance to loose the most with the Bosasa scandal….the ANC, EFF- or the Squirrel?  Would the Squirrel have appointed the Zondo comission if he then knew he stands a chance f lloosing everything and maybe cold face a jail sentence for example the R 500k he recieved- or did he appoint the Zondo comission to get rid of all his Zuma-ANC enemies? I mean- what is a paltry sum of R 500 k for someone that easily could fork out R 18 million for a buffalo? 
Bosasa paid for more than 10 years bribes to the Zuma ANC criminals for lucrative government contracts- and according to a quick personal assessment it would be them that stood a chance of loosing the most. Another Motive2 : Why would the EFF try to involve the Squirrel? The EFF themselves are knee-deep in the sh*t because of the Pretoria GLAD tender scandal themselves- as well as the now renown VBS looting scandal too.
Furthermore:
We have been scrutinizing all the media reports on this "unfortunate" accident- and in not ONE picture taken at the accident scene could we see either a registration plate– or the make of the car. Most pictures were taken from the smashed front side .And the only picture taken from the back was taken from such an angle that the rescue workers "conveniently" obscured the rear number plate at a distance so the photoshoppers cannot zoom into it.
Under normal circumstances the vultures from the news rooms swoop onto a scene like that of a VIP accident  in a jiffy – ( they like to report about tales from the crypt they do) -but ironically here we see no picture of a "critically injured" Mr. Watson being treated by the ER personnel- or a thermo blanket-wrapped figure on a stretcher on it's way for his meeting with the coroner…nothing! And it is because of this total "absence" of the media vultures per se that places the biggest question mark on this whole strange "accident" saga. Those detestable media creatures can smell a "scoop" from a mile away and SHOULD already be in their positions to take pictures frame-by-frame even BEFORE the poor hapless Mr. Watson rams his whole miserable future splat against that pillar- and then pics of every tiny drop of blood dripping from his "lifeless" body would follow ...not so? I mean this is BIG news! So….what happened all of the sudden to the media vultures and the  " rotten.com " photos we  usually see then? Mr. Watson's body like  totally disappeared into thin air while the vultures were still having a morning coffee  nap?
 Then also did Angelo Agrizzi, the man who testified against his former boss  said something very strange. He offered his condolences to the family after Watson "died"  in the   crash. When asked about his thoughts on the accident Agrizzi said:  "Very cynical (maybe convenient) hey? I don't want to comment on it now. My own perception and I have spoken to one of the police officers …  we have out own ideas about what was done. You know, I can't comment. My condolences go out to the Watson family." Cynical about the crash? Seems we are not the only ones sharing that notion. 
No blood was found on the accident scene of Bosasa boss Watson who just died in a car accident. Then we found that the car's licence discs also were removed and the police are NOT wearing gloves.
Then there is even more strange surprises about his "death" :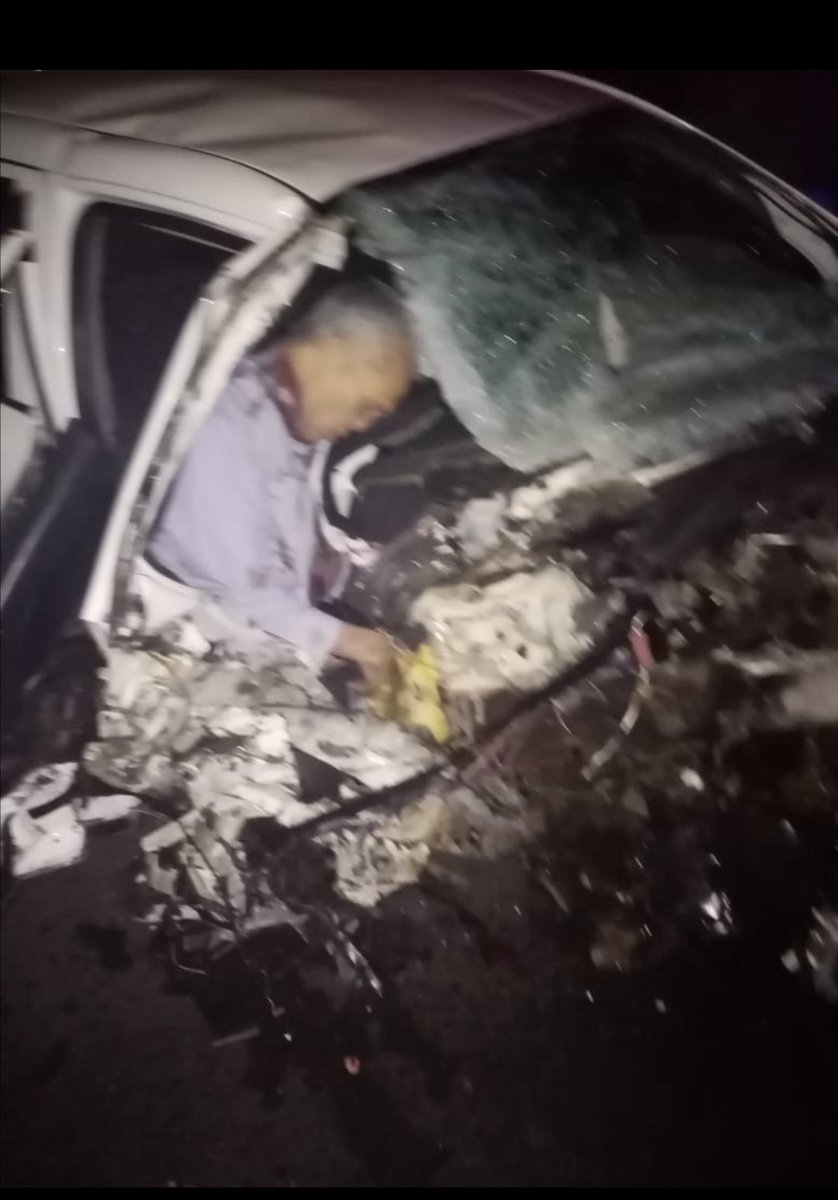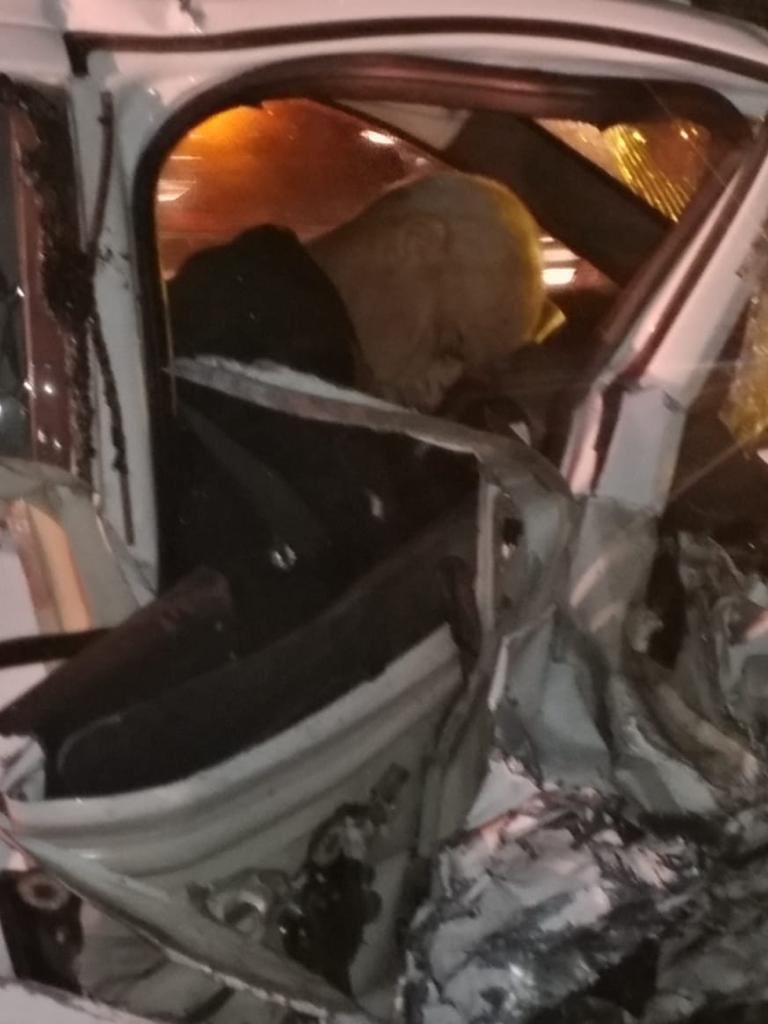 ONE picture white male with white shirt and no seat belt- the next whit male black shirt with seat belt on????? According to one Metro Police officer Gavin Watson's Toyota Corolla was placed there with no person in side just to create an "accident scene" but who's this guy? & what was he doing here? #GavinWatson #Bosasa
Why all this discrepancies ? Is it because the conspiracy theorists will ask questions like: Check the number plate who this car belongs to?"- or "But hey- THAT is not Watson's car!" Was the car remote-controlled into the pillar? 
We mean- a man that could hand out bundles of cash like this below would NEVER set his feet in a common old car like this Toyota in the accident scene. His own car is a metallic BMW X5.
We mean- the man possessed a rare Borgward Isabella TS 1958 collector's item car  costing millions. He was a race car fanatic.
Now the "Back-up" story is that Watson suddenly decided to "switch " cars at his offices before he left on that "fateful" trip. Furthermore did he call for a prayer meeting of directors on Sunday morning? Last " farewell" prayer meeting  on a Sunday– a day before his "accidental death"( what did he pray for we wonder – a safe trip to heaven….or out of the country?) The sudden car switching on the "fatal" morning of his "death" ….sudden "accident"  a day before he was to appear in front of a board of  inquiry into his tax affairs. Do you also smell a rat here somewhere? 
The real jackpot question now is: Where will we find  the body of poor Mr. Watson- In an icy cold  city mortuary….or maybe in a comfortably warm posh upmarket flat in London under the alias of Martinez Kostivic?  As stinking rich libs go that have VERY deep pockets so politicians could fit into it quite snugly  – our personal humble opinion  would be shifting  more towards the latter part of the question for the answer to that we daresay. Other than that it was definitely a suicide bid to get away from all his troubles( and the inside of the Correctional facilities he so much had a soft (tender) spot for)  – and if so- he truly left this old world with a BANG! This saga reminds us of yet another ANC (tender) lover and financial supporter – one Mr. Guy Kebble– that also "departed"  from this old world under such "mysterious" circumstances. BUT you be the judge!
SOURCE:
White Nation
WHITE NATION– WE DO NOT HATE WHITE LIBERALS– WE SIMPLY DESPISE THE FILTH!!
C'MON- SHARE OUR LINK