Do you have news to tell us? Send your e.mails with news and inquiries to: w.nation@mail.com
Register with us for free to follow our news on the right-hand tab
Article compiled and posted by: White Nation correspondent Cape Town  September 28  2019
SOUTH AFRICA– THE  PIRATE's REALM DOWN SOUTH
HARDENED communists from a by-gone era this past week gathered round and pretend to sob a few  crocodile tears with lots of media pomp , glass coffin an' all  when one of their most notorious  kinsmen-Robert Gabriel Mugabe– was recalled to his ancestral and everlasting (we hope) resting place in Gehenna. We say "pretend" as commi mobsters and politicians have no compassion, feeling , respect or a conscience. It's when we read about this that we somehow eerily are glad for something like death- just think how messed-up the world would've been if thugs like Mugabe had to live forever? 
Now WHY would all Zimbabweans dance of joy and jubilation when they at last saw the tail-end lights of the Mugabes would you ask? Let us explain: 
As the world media resounds with hypocritical eulogies (as expected) for deceased dictator Robert Mugabe, the people he abused, oppressed & stole from continue to suffer the effects of his Marxist ZANU regime. Tempers are flaring in HARARE, Zimbabwe, as more than two million residents of Zimbabwe's capital and surrounding towns found themselves without water after authorities shut down the main treatment plant, raising new fears about epidemic disease after a cholera outbreak while the economy crumbles even more.
Officials in Harare have struggled to raise foreign currency to import water treatment chemicals; about $2.7 million is needed per month. Meanwhile, water levels in polluted reservoirs are dropping to dangerously low levels.

For residents who have seen shortages of everything from medicines, to bread, to petrol, in recent months, the latest indignities have brought weariness and disgust.
"The toilets at school are just too filthy, people continue using them yet there is no water," said 12-year-old Dylan Kaitano, who was among many uniformed school children waiting in line at wells, some shoving in impatience. "I didn't go to school today because I have to be here." Everyone living in Harare is affected, City Council spokesman Michael Chideme said, as residents turned to other options such as bottled water. He called it a dangerous situation because of the risk of water-borne diseases.
"It is a desperate situation," Deputy Mayor Enock Mupamaonde said outside the closed treatment plant. And more people are affected than thought, he said, estimating that another 2 million non-residents enter the city each day to use its services and conduct business. At the Chivero reservoir, the city's main water supply, plastic bottles, vehicle tires and algae floated in the shallow water which was green and emitted a choking, foul smell. Zimbabwe's capital now frequently records cases of diseases such as typhoid due to water shortages and dilapidated sewer infrastructure. Some residents for months have been forced to get water from shallow, unsafe wells and defecate in the open, while children pick their way across fetid yards. We watched some residents pump water then wait a half-hour for enough water to seep into a well to pump again. "We are suffering," said Gladys Mupemhi, a resident of the low-income Kuwadzana suburb who said some people woke up at 4 a.m. on Tuesday to wait for hours in line. "We are only allowed a maximum of 20 liters of water per person, what can I do with 20 litres?"

Claudius Madondo, chairman of the residents association controlling the line, said nearby wells were no longer functioning, forcing the rationing. Some of the people waiting heckled him.
"Nothing is working in this country, how do we survive?" Hatineyi Kamwanda, another resident, said. "We can't even use the toilets, the children are not going to school because of this and now we fear cholera is going to hit us again. "The president should treat us as human beings, we voted for him." People died last year in a cholera outbreak, leading President Emmerson Mnangagwa to express dismay that Zimbabweans were suffering from a "medieval" disease. The economic and social pressures follow Mnangagwa as he attends the annual United Nations gathering of world leaders this week. Now this is the Africa Mugabe, Ramaphosa, Malema et al are envisioning without the white man to take control. Blatant black racism is the direct cause for the miserable situation Zimbabwe now finds itself in. 
Zimbabwe once was a bright spot in southern Africa and a regional breadbasket under white rule- but the economy has collapsed in recent years under " liberation" rule, and foreign currency is hard to come by. Prices for many basic items continue to rise, and the public health care system falters as some doctors and others say they can hardly afford the commute to work.
As services largely collapse, many Harare residents in recent months have found themselves lining up at wells in the middle of the night for water or lighting their homes by candle or mobile phone. The deepening frustrations have exploded more than once into protests that have swiftly been followed by violent government crackdowns. More than 50 government critics and activists have been abducted in Zimbabwe this year, at times tortured and warned by suspected state security agents to back off from anti-government actions. This is the way Ramaphosa is taking South Africa as well- starting with "land expropriation" as Mugabe also did. 
So just WHO was this Mugabe mobster in real life?
"And as it is appointed for men to die once, but after this the Judgment." Hebrews 9:27
It Is Appointed for Men to Die and Face Judgement
To some the doctrine of Eternal Judgment is a great comfort. To others it is a terrifying concept. It is a fearful thing to fall into the hands of the Living God.
Man Knows Not His Time
The world was informed that the longest ruling dictator in Africa, Marxist terrorist, Robert Mugabe died in a hospital in Singapore. How various people reacted to this news speaks volumes.
DA Leader Praises Murderous Dictator
DA leader, Mmusi Maimane, sent his condolences to the family of "former President Mugabe. May his soul rest in peace." Mmusi Maimane claims to be a Christian and a democrat, yet he calls the brutal dictator "President" and assumes that "his soul [will] rest in peace!" DA leader, Mmusi Maimane also described Mugabe as "a liberator!" One wonders where Maimane has been since 1980? Has he not noticed the tragic destruction of neighboring Zimbabwe under the despotic tyranny of ZANU and Mugabe?
---
Promised Paradise but Delivered Perdition
The eulogies from leaders praising Robert Mugabe are in sharp contrast to the celebrations in Zimbabwe over the demise of the Marxist dictator, who promised them a paradise and delivered perdition. "While they promise them liberty, they themselves are slaves of corruption; for by whom a person is overcome, by him also he is brought into bondage." 2 Peter 2:19 Fake Leaders and Fake News The Fake Leaders and Fake News reports: "guerrilla leader", "hero", "liberated his people from colonialism", "instituted land reform"! Audacious, outrageous, deception and dishonesty are pervasive. The lame stream media has again disgraced itself as the purveyors of fake news and Marxist propaganda.
---
"A Perfect Human Being"
EFF leader, Julius Malema called Mugabe a "Hero", "Liberator" and "a perfect human being"! "president" Emmerson Mnangagwa praised Mugabe as an "icon of liberation." "It is with the utmost sadness that I announce the passing on of Zimbabwe's founding father and former president Comrade Robert Mugabe." So said the new dictator who seized power from his previous leader in a 2017 coup.
---
Newspeak Propaganda
Incredibly Mnangagwa described the deceased dictator as a "National hero!", "Comrade Mugabe was an icon of liberation, a pan-Africanist who dedicated his life to the emancipation and empowerment of his people. His contribution to the history of our nation and continent will never be forgotten. May his soul rest in eternal peace!" Calling Mugabe "a great teacher and mentor." And "a remarkable statesman of our century!" Mnangagwa instituted an official mourning period. Facts Can Ruin a Good Story
Riddled with so many lies and hypocrisies, this is worthy of study to refute every phrase. Marxists do not believe that man has a soul, nor do they believe in "eternal peace!" Mugabe's actual contribution was tyranny, brutality, cruelty, massacres, starvation, corruption, hyperinflation and the systematic destruction of a once safe, stable, productive country that used to be self-sufficient, even exporting food, to a disastrous basket state, beggar nation dependant on foreign aid and charity to even survive. More than half of all Zimbabweans have voted with their feet, a vote of no confidence in Mugabe's ZANU ruled failed state, by fleeing endemic corruption and brutality in Zimbabwe to neighboring countries. BUT Ramaphosa , the rest of the commi ilk and their mentally handicapped leftist media keeps on targeting whites and "apartheid" for their own failure as as "government."
Apartheid brought prosperity, work for all and a booming economy with lots of new inventions, infrastructures and wealth to many- white and black. To sit and bellow bullsh*t about the "wrongs of apartheid" and say"apartheid killed hundreds of our piepol" is one thing- 'cause up to date nor the lying Ramaphosa or his commi ilk– or the red capped weasel for that matter could  produce ONE single shred of evidence where and when was this alleged "thousands" of blacks supposedly "killed." It sounds so much like their "you stole our land" fabrication- again- NO evidence- just blatant fake propaganda. And now the scum want to change that fake propaganda into LAW! Mugabe on the other hand is something else. History, documented day, date and place- clearly shows Mugabe was a tyrant that literally committed a genocidal war against his people. Yet this lying filth in the ANC and leftist media do not say a WORD against communism- simply because the buggers are hardened communists themselves– and as long as "apartheid" can be exploited to carry the blame- communism will always step out as the "goodfella." It doesn't matter how many time facts were presented on the table- to an  idiot with a hidden agenda of his own  that facts remains  mere fairy tales. And that is where you will find the ANC and the leftist media.
You see- communists and liberals work shoulder to shoulder- sharing the same infested  stage full of misdirected ideologies and psychopathic narratives. But one of their common strategies is to play the "victim"– the " martyr" role. Martyrdom and being "victimized" invokes lots of sympathy- and as expected- lots of dollars to the poor "suffering victims." Well documented cases in this regard is the "Holocaust" , the ANC state capture, the European invasion by non-white aliens- and most recently- that Soros screaming little misfit  Greta Thunberg. (Little Jew that is as expected) But behind each of this poor "victims" their normally lurks a dark Zionist agenda.
Zionist infiltrators are well known for using this sleaze tactic to gain support for their own devious narratives – using front cattle (Goyim) to pull through their own selfish agendas to destroy healthy societies. Can you now see why the commi ANC and their handlers keeps on yelling "You stole our land?"  Do you understand why they keep on telling whites that whites are "privileged?" Again they play the "victim" so whites must share all their wealth. They are playing the victim as usual to make the legal white owner feel "guilty" and hand over their properties and assets  for free. But behind this devious malicious propaganda campaigns you can search for the Zionist vulture- you will find him! The "Goyim" does the screaming- the Jew will do the picking.
We'll leave this here and let you be the judge about our latest screaming little misfit. 
As the Sunday Times reports today the state sits on a stock of over

4000 farms.

Predictably the leasing of those farms for nominal sums to the favored few is riddled with

corruption

and

nepotism

. Government is incapable of managing and allocating valuable resources properly. 

THIS

is how the ANC manages their property- .they didn't know where their state land,state buildings or other assets,were..or still is-but they want to come and steal

YOURS!
Mugabe on the flip side- waged a genocidal war against his own people- but is hailed as a "liberator" and "hero." Mugabe "liberated" nothing- he was a friggen terrorist, murderer and it was between Henry Kissinger, Pik Botha and Harry Oppenheimer that they stuck a knife in Rhodesian Prime Minister Ian Smith's back and forced him to abdicate- the same as what Kissinger, Pik Botha, Harry Oppenheimer and FW De Klerk did to the whites in South Africa with Mandela. Mugabe even ordered the assassination of his co-conspirator Joshua Nkomo to ensure NO opposition to his dictatorial rule. – the same as what Mbeki and the gang did to Chris Hani and Eugene Terreblanche..removing possible threats to their rule.. So- "apartheid" is a bad,(convenient)  bad thing- all while communism is a "goodfella." Meanwhile these vile commis are nothing bit loathsome genocidal mass murderers. But then we can only look further NORTH where all these vile conspiracies are brewed-up, who controls the leftist media coop,  dirty African dictators receive their payments and instructions from- and who benefits the most from failing African economies. We think you already figured that one out.  
---
Self-Serving and Selfish
Mugabe was not dedicated to "emancipating and empowering" the people of Zimbabwe! Mugabe was one of the most corrupt, self-serving and selfish leaders in history. Living in opulent decadence, feasting on giraffe meat while his destitute people starved. Mugabe enslaved and disempowered the people of Zimbabwe.Rhodesia Was Not a Colony
Yet, ANC president, Cyril Ramaphosa's, described the despot as "a champion of Africa's cause against colonialism who inspired our own struggle against apartheid!" Well, Mugabe never fought against colonialism because Rhodesia was not a colony. Rhodesia was a self-governing country from 1923, Independent from 1965 and a Republic from 1970. Rhodesia was self-funded from the beginning, providing its own security. Rhodesia never needed British funding, nor British troops. Rhodesia never needed any foreign aid.Mugabe Never Liberated Anybody. But like the rest of his Communist buddies in the ANC they like gloat that they "liberated" a country- while like the ANC- they merely was a bunch of rag-tag terrorists with only a fax machine in Dar-Es-Salaam– and wasn't it for the Jews that empowered them with their money- most of these rag-tag black terrorists most probably would still be riding bicycles today! 
Mugabe waged a brutal terrorist war against black civilians, white farmers, Christian missionaries and Red Cross ambulance workers alike. Mugabe never liberated anybody. Mugabe was a Marxist terrorist, dictator and corrupt blood diamond criminal.
Murdering innocent civilians- the British deliberate apathy
HOWEVER as with most African countries ruled by the British Jews- British officials also repeatedly downplayed the massacre of thousands of innocent civilians by Robert Mugabe in Zimbabwe in the 1980s to protect the UK's interests in southern Africa and their relationship with the former colony's new ruler, new research has claimed. According to thousands of documents obtained under the Freedom of Information Act by Dr Hazel Cameron, a lecturer in international relations at the University of St Andrews in Scotland, British officials in London and Zimbabwe were "intimately aware" of the atrocities but consistently minimized their scale. Cameron described the policy as one of "willful blindness". "The British government could have influenced authorities in Zimbabwe but put political and economic interests first … There were steps they could have taken and they chose not to," she said.
In 1983 the new despot launched a massive security clampdown in parts of Matabeleland, the heartland of the Ndebele ethnic minority and a stronghold of his political rival, Joshua Nkomo. The operation, prompted by scattered murders and attacks on property allegedly by members of Nkomo's political party, was spearheaded by the Fifth Brigade of the new Zimbabwean national army and portrayed as directed against "bandits". The unit had been trained by North Korean military specialists and was fanatically loyal to Mugabe. Over a nine-month periodthe Fifth Brigade killed, tortured and raped tens of thousands of unarmed civilians. In all, historians of the period believe, between 10,000 and 20,000 died in the atrocities, and many more suffered severe physical or psychological harm. Do we detect the same pattern now happening in South Africa with the white farmers and many white urban white people that simply "disappear" to be found dead in a ditch somewhere? Don't we also see British M16  intelligence spies cavorting with the EFF also? The British simply could not stop their notorious and greedy meddling in Africa's affairs.
Here we see a British "adviser" (Intelligence operative) with the EFF in their "war room." It was this operatives that played a major part in the black township unrest in the 70's to deem the country ungovernable and unstable in order to prepare the stage for a ANC TAKE-OVER.  Today this operatives still are hard at work and the main instigators of the white genocide in South Africa to drive white farmers off their land through continuous terrorist attacks. The British government should be charged with crimes against the humanity for their long history of human rights abuses , genocides against innocent civilians and illegal invasions of foreign sovereign countries
The new documents include hundreds of cables exchanged by Robin Byatt, the British high commissioner in Harare, with officials in London. These, Cameron says, reveal the British official attitude towards Zimbabwe in the first months of the massacres. In one cable, sent on 24 June 1983, Byatt explained how "Zimbabwe is important to us primarily because of major British and western economic and strategic interests in southern Africa, and Zimbabwe's pivotal position there. Other important interests are investment and trade … prestige, and the need to avoid a mass white exodus. Zimbabwe … [also] is a bulwark against Soviet inroads". When Jeremy Paxman arrived in Zimbabwe in March 1983 to make a documentary for the BBC's Panorama, Byatt complained that the journalist was taking an "unreservedly gloomy and sensational view of events". When Britain's then foreign secretary, Geoffrey Howe, asked for the diplomat's reaction to an article in Newsweek graphically describing the Fifth Brigade's violence, Byatt said its author had "a reputation for sensational reporting".
The behavior of Mugabe's  Fifth Brigade has certainly been brutal but it is [the] impression [of senior British military officials] that they are not out of control," the high commissioner wrote. Asthe violence in Matabeleland intensified, Byatt relayed the allegations of killings made by opposition politicians in Zimbabwe and told London he had received reports indicating widespread acts of brutality including murder, rape and torture. With concern growing among western diplomats in Harare, the high commissioner told London "he was sure that our best tactic is to continue to try to proffer sympathetic and constructive, rather than simply critical, advice if we wish to influence Zimbabwean decisions". The policy of engaging with Mugabe was supported by Foreign Office mandarins. The campaign of violence – known as Gukurahundi, a local word for the wind which separates chaff from grain – continued into 1984. We see the same scenario  in South Africa now with the EFF acting as the ANC's own "Fifth Brigade." British meddling into countries with mineral wealth and their history of instigating genocides to displace legal governments continues.
GLOBAL DESTROYERS– All heads of state swear an oath to the New World Order. They do not have your best interests at heart- but rather how to help siphon your country's assets to the masters in higher places. The Squirrel (unidentified) forms part of that "order." So please do not let him bamboozle you that he cares for his "piepol." He cares only for his own pockets and well-being. 
Jilly Byatt, the wife of the former high commissioner, said criticism of her husband, who is ill, was misplaced and that the decision to opt for engagement with Mugabe rather than confrontation had saved lives. "It was very important to keep good relations … Aggressive criticism would have got us nowhere. It would just not have worked," she said. "Mugabe had just begun to trust the British again … and nothing would have been gained by losing that trust. The slaughter would just have worsened. It is unthinkable that we could have helped in any way in the activities of the Fifth Brigade." Experts said the influence of foreigners in Zimbabwe at the time was more limited than sometimes suggested.
Stuart Doran,a historian and author of a forthcoming book on the atrocities, said: "The Gukurahundi was driven by Mugabe and Zanu-PF from start to finish. This was a domestic issue [but] there's no doubt that serious (deliberate)  misjudgments were made by the British … By 1983, when the massacres began, members of the high commission were swallowing much of Mugabe's propaganda without adequate reflection. It had become a habit … and they weren't alone. Plenty of other western diplomats were in the same place." None of the perpetrators have been held accountable for the atrocities of the 1980s. Those implicated include many who are now senior political figures in Zimbabwe. Mugabe recently died and has been in power for 36 years. Emerson Mnangagwa, (Mugabe's once comrade in arms) the 70-year-old vice-president, is mentioned in the new documents in a letter from tycoon Roland "Tiny" Rowland to the US ambassador. Rowland, whose Lonrho conglomerate had major investments in Zimbabwe, wrote that he was "absolutely convinced" that Mugabe knew about the atrocities and claimed that Mnangagwa, then secretary of state for security, was "fully aware". Mnangagwa,who denies any responsibility for the killings in Matabeleland, was tipped by many observers to succeed Mugabe on his death- which subsequently happened. . "The alleged main perpetrators are still in charge of the political and military infrastructure in Zimbabwe. It is still very difficult for survivors and their relatives to have any form of justice," Cameron said.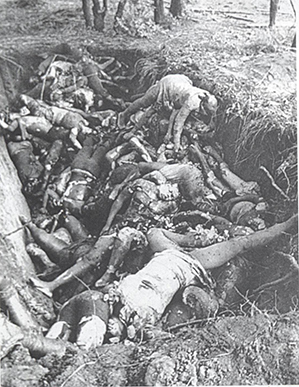 THIS was the type of war Mugabe and his thugs waged against innocent civilians
And THIS is  the type of war Ramaphosa  and his ANC thugs wage against innocent civilians
Like Mugabe's  war against innocent civilians- so was the war against civilians by the ANC also in the same category.Many civilians were
brutally massacred
by ANC bombs- and like Mugabe's cronies- did not
ONE
of the ANC perpetrators
ever
faced a court or brought to justice. Many too are still serving in the current SA government like
Robert McBride
and
Jacob Zuma
. Today Ramaphosa and his murdering side-kicks parade flamboyantly around- bragging like a bunch of show-cockerels  how they also 'liberated" the country from "apartheid"- something they never did. 
Thembani Dube, a survivor of the massacres and a human rights activist, said the research "unravels the complicit role of the British government of Margaret Thatcher". The reaction of British officials and the government sometimes contrasted with that of US diplomats and policymakers, even if official policy may not have differed greatly. George Shultz, the then US secretary of state, noted "the Fifth Brigade military operations in Matabeleland have succeeded in terrorizing, intimidating and alienating the people of Matabeleland". The "mailed fist policy of the government of Zimbabwe was directed not only against dissidents themselves but against the sea in which the enemy fish swim", he added. US diplomats reported that the Foreign Office prioritized "bilateral relations" with Zimbabwe and complained that British officials were "excessively defensive about what has been going on in Matabeleland", describing one as "almost an apologist for the [government of Zimbabwe]".
In a recently published academic article detailing her research, which was self-funded, Cameron quotes a cable from Byatt in which the diplomat points out that "the white farming community (a substantial portion of which is British or dual [nationality]) are being treated scrupulously correctly by the Fifth Brigade and, while they dislike the methods being used, are relieved that their own security has improved very considerably as a result of Fifth Brigade deployment". This, Byatt said, was "the other side of the coin" to the alleged atrocities. One of the Foreign Office's deepest concerns, other than the well being of British citizens in newly independent Zimbabwe, was the effect on public opinion in the UK of reports of atrocities. Senior ministers who visited Zimbabwe while the Gukurahundi offensive was ongoing failed to mention the atrocities in parliamentary reports on their return. When Prince Charles met Peter Preston, then editor of the Guardian and Donald Trelford, then editor of the Observer, who had published his own eyewitness account of the atrocities, shortly after a 1984 visit to Zimbabwe, the prince said the Foreign Office had told him that "those massacres in Matabeleland [were] all exaggerated".
Mugabe's reign of terror before the elections
Charity Matyaka was lying in bed recovering from an operation when the militia came for her husband Francis, a popular headmaster.  Unable to move, she was forced to watch as they dragged him from the cottage and disappeared into the darkness. His dismembered body was not discovered until two weeks later – another victim of the reign of terror unleashed by  Robert Mugabe before this week's planned election runoff. At least 85 people are now known to have died in the violence that followed the first, indecisive round of voting in March. Almost all of them fell to the machetes, guns and clubs of militiamen allied to the ruling Zanu PF party. Like Mr Matyaka, the victims were all suspected of supporting the opposition Movement for Democrat Change and its presidential candidate Morgan Tsvangirai. "My husband's crime was that he showed sympathy to the MDC," said Mrs Matyaka, 34. As she related the story of her husband's death, Mrs Matyaka's voice was firm. But there was no doubting the pain that shot through her words.
Her husband had not only been killed but savagely mutilated. His genitals were cut off and his skin was badly burnt. He had also been shot in the back of the neck. "They abducted and killed him as I watched," she told The Sunday Telegraph. "He wailed but they kept beating him without talking. Then they drove away in a Mitsubishi truck." When his body was found by herdsmen, partially clothed and mauled by hyenas, it sent a shudder of anguish through the normally tranquil district of Mutoko, 80 miles east of the capital Harare. At the now-deserted school, The Sunday Telegraph found little sign of the appalling violence wracking the country or the horrible fate of Mr Matyaka. The only children there had come to mourn their beloved head teacher, who was described by a colleague as always "ready to help".
Echoing the chilling pattern of militia attacks, Mr Matyaka already knew he was in trouble. "A few weeks before his abduction, Francis was called in by Zanu PF," said Mrs Matyaka. "They quizzed him and made him explain why several of his teachers had fled the school. We knew something terrible was coming." But for all her forebodings, the widow did not expect so fatal, or violent, a denouement. "He told me to take care of the children if anything happened to him, but it never crossed my mind he could be killed just like that," she said. Even death has not stopped the persecution. Colleagues are too frightened to visit the Matyaka household and the dead man's parents were scared off going to his funeral at Warren Hills Cemetary in Harare.
However, Mr Mugabe appears determined to fight to the end. On Friday he scornfully dismissed the reports of attacks by Zanu PF as "damn lies" and instead shifted the blame for the violence onto the MDC. "They have been saying their supporters are beaten up by our soldiers," he said at an election rally in the MDC heartland of Bulawayo in southwest Zimbabwe. "They say this so that they can later say the elections were not free and fair. Which is a damn lie." Most of the violence has been concentrated in the north of the country, particularly in areas that were once seen as solid Zanu PF territory, but which swung towards the MDC in the first round of voting. In the Mashonaland provinces, where the MDC increased its vote by more than 30 per cent from the 2005 elections, the repression has been brutal.
Sokwanele, a non-governmental organisation has compiled details of more than 1,300 political attacks ranging from the wanton destruction of property to vicious murders. The map of terror it has produced vividly shows how government thugs have tried to bring their old heartlands back into line. Using techniques chillingly reminiscent of those employed to quell backsliders during the liberation war, militiamen have beaten their victims to a pulp. Others had their limbs hacked off or were burnt alive. One brutal technique, known as falanga, is an updated version of the bastinado: beatings administered across the buttocks or soles of the feet so hard that victims are scarred for life and sometimes unable to sit or walk again. But there are signs that even Mr Mugabe's old allies are sickening at the scale of the violence, with the president of Angola begging Mr Mugabe to "embrace a spirit of tolerance". For MDC supporters, such outside support could be crucial. All the signs suggest Zanu PF's terrifying campaign was speeding up as election day drew near. Amnesty International said that 12 bodies were discovered on Thursday. Earlier in the week four young men were murdered in Chitungwiza township near Harare and their bodies dumped by the roadside. More shockingly still, the wife of the mayor of Harare was dragged away from her four-year-old son and beaten to death. But Mrs Matyaka remains determined to press for change. "I will continue to teach at this school and fend for our children," she said. "They must live in a new Zimbabwe that their father gave his blood for."
---
Inspiration for the ANC
Mugabe's  communist corruption certainly inspired the ANC "struggle" for state capture gangster-state looting of South Africa though. Mugabe's tactic of distracting attention from his government's failures and atrocities, by make scapegoats of the small minority of whites and promising free land, also inspired the disastrous ANC policy of EWC (Expropriation Without Compensation).
Insulting the Intelligence of their Readers and Viewers
The Western media have also insulted the intelligence of their readers, or viewers, with misleading reports like this Associated Press (AP) article: "Former Zimbabwean leader, Robert Mugabe, an ex-guerrilla chief who took power when the African country shook off white minority rule and presided for decades white economic turmoil and human rights violations eroded its early promise has died in Singapore." AP writers, Farai Mutsaka and Cristopher Torchia claimed: "Mugabe enjoyed strong support from Zimbabwe's people…!"
---
Truth Does Not Fear Investigation
How can any journalist be so ill-informed, or dishonest, as to lie so blatantly! No, Mugabe did not enjoy popular support. Millions of Zimbabweans celebrated his fall from power. As another point of fact: Mugabe was never a guerrilla. Mugabe had the popular ZANLA guerrilla leader, Josiah Tongogara, as well as his one-time ally Joshua Nkomo  murdered, 26 December 1979, so that he could lead ZANU. Mugabe was a politician, never a soldier, not even a guerrilla/insurgent.​
A Travesty of Justice
Nor did Mugabe "take power", it was handed to him by British governor, Lord Soames (son-in-law of Winston Churchill), after a very flawed "election" where all agreed that, in terms of the Lancaster House Agreement, Mugabe's ZANU should have been disqualified for its systematic "intimidation" (terrorism) of the voters and flagrant violations of the accord and electoral code of conduct. As Ian Smith declared: "We were never defeated by our enemies, we were betrayed by our friends. ( Kissinger, Soames and Pik Botha) 
."Reality vs. Rhetoric"
Most importantly, Mugabe was not an innocent victim of "economic turmoil and human rights violations"! The ANC also claims this flagrant lie of blacks being the victims of "oppression" under the so-called "apartheid." Do you see the similarities between the two terrorist organizations of Mugabe and Mendala here? The used the same "we are the victims" tactics to a "T."  Mugabe was the prime human agent responsible for the socialist policies which destroyed the robust economy inherited from Rhodesia- the same Ramaphosa now is doing to South Africa. Mugabe initiated the communist revolution that violated human rights, including the Gukurahundi massacres of tens-of-thousands of civilians in Matabeleland, the chaotic farm invasions, the blood diamond wars in the Congo and Zimbabwe's own blood diamond scandals in the Marange diamond fields, South East of Zimbabwe, since 2008. Here we again see the parallels drawn between  Zimbabwe and the  " cleansing" operations planned in their "communist revolution" as advertised by Malema – and the planned "expropriation" of land of the ANC and EFF in South Africa.  "Destructive forces are at work in the city, threats and lies never leave is streets." Psalm 55:11
---
Learning from the Mistakes of Others
At "independence", Mugabe declared to Newsweek: "We are not going to make the same mistakes the rest of Black Africa has made. We are going to learn from their mistakes." It is hard to think of anything he learned… except how to lie, steal, cheat and murder. What mistakes, or crimes, did Mugabe fail to implement?
​
Mugabe's True Legacy of Corruption, Brutality, Starvation and Disease
Starvation, disease, corruption and brutality were the hallmarks of Mugabe's Marxist ZANU in Zimbabwe. Hospitals ran out of medicine. Shops ran out of food. Fuel stations ran out of petrol. Banks ran out of money. Water failed to flow though the pipes. Electricity power failures became the norm. Tuberculosis, HIV, Cholera and Malaria spread like wildfire. Zimbabwe's cholera epidemic reached 10 X (1,000%) the African average, according to the World Health Organisation (WHO). Zimbabwean life expectancy plummeted under Mugabe, from over 60 years in 1980, to 37 years for men and 34 years for women by 2006, the lowest in the world. South Africa under the ANC is fast on-track to end up like Zimbabwe soon. Only the small minority whites, Indians and other non-black business people still keep the country afloat.
Ignoring Disastrous Track Record
Yet, despite his disastrous track record, Mugabe was elected president of the Southern African Development Community (SADC), Chairman of the African Union (AU and UN "Goodwill Ambassador" for the World Health Organisation (WHO)! The intense suffering of the people of Zimbabwe apparently did not matter to the AU, UN, SADC, or CNN and the BBC for that matter.
Truth is Stranger than Fiction
It all sounds like a bizarre Monty Python comic satire. The lunatics are running the asylum. If this was part of a scripted plot in a fiction film or book, it would be dismissed as: "Unbelievable!"
---
Why was Mugabe in a Hospital in Singapore?
The fact that Mugabe died in a hospital in Singapore is most revealing. Mugabe and his destructive socialist policies had so destroyed the once advanced and excellent hospitals built up by Rhodesia that he had to fly to previous British colony Singapore where free enterprise provides better health care than any socialist state. Why did Mugabe not go to a Zimbabwean hospital? Or, a communist state? Or, at least an African hospital? Why Singapore, far away in Asia? What an indictment on the catastrophic communist failure of Mugabe and ZANU!
The Bolshevik Broadcasting Corporation
Yet, as they once praised Joseph Stalin, Mao Tse Tung and Fidel Castro, the BBC gushed with ridiculous praise for Mugabe: "broadening access to health care and education for the black majority!" Are there no genuine investigative journalists left at the BBC? They almost sound like the South African Broadcasting Corporation and Main Stream Media! As anyone who has actually lived in Zimbabwe could testify: Mugabe's thug's looted hospitals, closed hospitals, burned schools, beat up teachers, kidnapped and brutalized students and closed schools. The health care and education standards were vastly better for black people in Rhodesia. Zimbabwe became a failed state under Mugabe lowering life expectancy to almost half that of Rhodesia and taking a country with the lowest unemployment in Africa (under 4%) to the highest, 95% unemployment! That was even after half the population had fled the country!
 "You shall know the truth and the truth shall set you free." John 8:32. "Hate evil, love good, establish justice in the gate…" Amos 5:15 Blasphemous Bolshevik False Prophet Mugabe blasphemously boasted that he had beaten Jesus Christ, by rising from the dead more times than Christ, who had only risen from the dead once! Jesus is the Resurrection and the Life. "When Justice is done, it brings joy to the righteous but terror to evildoers." Proverbs 21:15. It is a fearful thing to fall into the hands of the Living God.
Witnessing to Mugabe- The ANC following the footsteps
South Africa is fast becoming anther failed state like Zimbabwe, like Sudan- and like Venezuela because the same type of prehistoric criminals are running the show. Singing the praises of a murderous dictator place Ramaphosa and the rest of the devious ANC terrorist mob in the same category as Mugabe. Mugabe's legacy is continuing under the ANC- and the results will be the same as Zimbabwe. Ramaphosa and his commi ilk are nothing better than the ZANU-PF- with all their trade-mark characteristics for atrocities such as   mismanagement of the country, looting, corruption, genocides, flat denials , usurping, vote rigging, state capturing,  intimidation, brutal murders, blame shifting to the minorities ,  assassinations, farm invasions and attacks, nepotism and deception – all deeply embedded in the ANC communist culture. The ANC is a blue print of ZANU-PF . This is why Britain gets along so well with the ANC and EFF- all stakeholders are equally devious in all their ways. Ramaphosa and his ANC/EFF gangsters are meeting the worst global destroyers imaginable- The Bilderbergers– in November in Stellenbosch- and we can expect nothing good for the country as a whole coming from that little "gathering" afterwards. Ramaphosa- like Mugabe- is busy leading South Africa to a certain and total economical disaster with his "land expropriation " , NDE and NDR communist schemes – hidden behind the same pathological pack of  lies of a " Fourth Economical Revolution." Time to wake up boys and girls– the second round of the Blaauwkranz murders  are being prepared right now for your children and grand children- unless YOU act NOW to prevent it from happening again!
SOURCE:
White Nation
WHITE NATION– WE DO NOT HATE WHITE LIBERALS– WE SIMPLY DESPISE THE FILTH!!
C'MON- SHARE OUR LINK