Do you have news to tell us? Send your e.mails with news and inquiries to: w.nation@mail.com
Register with us for free to follow our news on the right-hand tab
Article compiled and posted by: White Nation correspondent Potchefstroom October 02  2019
SOUTH AFRICA– THE  ANC PIRATE's REALM DOWN SOUTH
RACISM– that magic word each and every liberal jerk and non-white degenerate  just love to attribute to conservative whites. Today that vile term  really is getting to be a prestige weapon to gain political support, wield power- and to abuse to enforce the will of the lesser astute arseholes of our society onto a group of people they feel inferior to . South Africa for instance-  surely must be the bastion of such arseholes in the world today. The word was coined for the sole objective to specifically  belittle white conservatives, make them cringe in fear- and leave them with a "guilty" conscience simply because they happen to be white. It is a derogatory term used to slander white conservatives in a more "diplomatic accepted" way- but still a derogatory term that should not be tolerated coming from a leftist bag of sh*t by white conservatives anymore. 
In the recent debates on the race question in South Africa a claim has been persistently made that 'blacks can't be racist'. This is a statement often, though not always, made by intellectuals who could be regarded as embodying the negation of this claim. This view does have a wider currency though, including among some liberals, and it is worth examining some of the reasoning behind it. The argument is, in essence, that 'racism' is the doctrine that some groups are "racially superior to others. "  When  Mzwanele Jimmy Manyi, President of Progressive Professionals Forum, was asked on social media whether Velaphi Khumalo's statement that "white people in south Africa deserve to be hacked and killed like Jews" was 'racist' or not, he replied: "This is an expression of extreme anger and criminality. Nothing about racial superiority."The basic underlying belief is that highly productive and successful – or so-called 'economically dominant' – ethnic or racial minorities cannot, by definition, be the victims of 'racism' at the hands of relatively disadvantaged majorities, or the nationalist movements claiming to represent them.The Oxford English Dictionary (2008) defines racism "the theory that distinctive human characteristics are determined by race" or "belief in the superiority of a particular race leading to prejudice and antagonism towards people of other races, esp. those in close proximity who may be felt as a threat to one's cultural integrity or economic well-being."
*
The first recorded use of the term "racialism" – which the OED regards as synonymous with "racism" – is given as being in the first decade of the 20th Century. Interestingly, the word was commonly used then in relation to the fraught relations between the Dutch and British 'races' in what later became the Union of South Africa. The first recorded use of "racism" meanwhile is listed as 1936 when it was used by Lawrence Dennis in The Coming American Fascism, and then again in 1938. In Safire's Political Dictionary William Safire notes that the term "racism" (a "shortening of racialism") was originally used to describe policies defining, and directed against, Jews as a 'race' (rather than a religion). Safire also cites Dennis' 1936 work as the earliest known usage of the term. It was only somewhat later however – from 1938 onwards – that the word began to be widely used. In this regard he quotes Harvard Professor J. Anton de Haas as writing in November 1938 "This word [racism], has come into use the last six months, both in Europe and this country." Safire does not explain how and why the terms "racism" and "racist" came into widespread use in the late 1930s. It is possible however to trace the emergence of these words through the comprehensive online archive of the New York Times.In the New York Times' archive there are, in fact, two pre-1936 references to "racism", both from James G McDonald, League of Nations High Commissioner for Refugees (Jewish and other) coming from Germany. The first is from a brief news report on 17 June 1935 quoting McDonald as using the term "racism" in relation to Adolf Hitler's "contagious" anti-Jewish doctrines in a speech to the annual convention of Brith Sholom in Atlantic City, New Jersey, the day before.
* 
The second is from a report on a speech by McDonald to the Anglo-Palestinian Club in London on the responsibility of Christians to aid exiles from Nazi Germany. The article quoted him as saying: "Have we Christians no duty while 100,000 Jews and those related to them are degraded, treated as outcasts and threatened with pauperization? It is no answer to say that these are domestic policies, for their effects reach far beyond the State that imposes them. The poison of unreasoning racism is beginning to supply a pseudo-scientific, pseudo-philosophic basis for bitter intolerance even in remote parts of the world." (New York Times 22 October 1935..)BUT today the term "racism" are too easily widely abused for any situation a liberal or non-white feels "offended"– whether he or she is wrong- but by merely accusing a white for "racism" immediately send the alarm bells clanging across the Atlantic.
*
Take for instance the case of a false accusation against a white person- the case of Amari Allen– an Afro-American teenager the willfully and deliberately abused that vile slang word for  her own selfish benefit and by that nearly destroyed the lives of innocent white boys at her school. Allen now only came forward and  apologized to her school recently, admitting that she had falsely accused white classmates of pinning her to the ground and forcefully cutting her dreadlocks. According to her family, Amari Allen recently when she said classmates at Immanuel Christian School, a private school in Springfield, Virginia, called her hair "ugly" and "nappy" while they pinned her down and cut her dreadlocks during recess. Allen and her family met with school officials earlier on Monday before releasing a statement and apologizing to the wrongly accused boys for all "the damage" the story had caused. "To those young boys and their parents, we sincerely apologize for the pain and anxiety these allegations have caused," the family said in a statement released by the school. "To the administrators and families of Immanuel Christian School, we are sorry for the damage this incident has done to trust within the school family and the undue scorn it has brought to the school."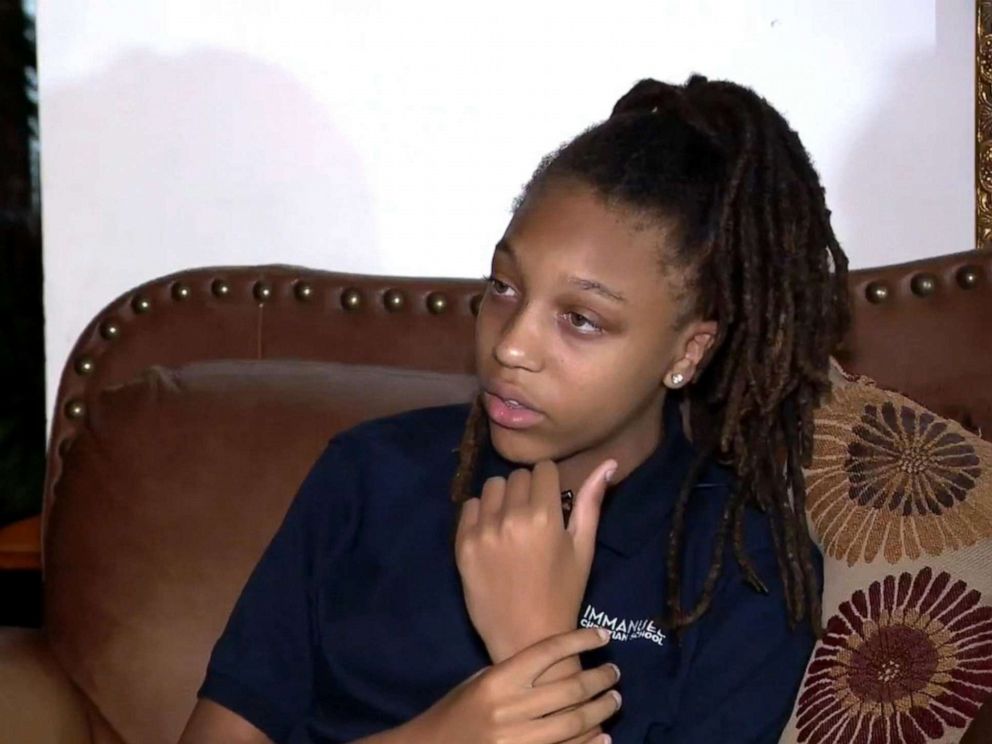 Amari Allen,

12, falsely accused  a group of white  male classmates at Immanuel Christian School in Springfield, Virginia, of pinning her down and cut her dreadlocks
The story sent shock waves through the school community, where the vice president's wife, Karen Pence, teaches art part time. School officials said the situation reminded them that the school is "not immune from the effects of deep racial wounds in our society," according to a statement released Monday. Allen claimed the incident happened during recess on Monday at a time when teachers and administrators weren't around. She said three male classmates pinned her down to a slide on the playground, held her hands behind her back and clipped her dreadlocks with scissors, she said.  She also accused the boys of covering her mouth to muffle her screams. "I felt hurt but also angry," Allen told Washington, D.C., ABC affiliate WJLA on Thursday. "Why would they do this. … Is it only me that's being affected?" She said she waited three days before telling her family because she was afraid of possible retaliation. "When I held it in, I felt like a weight was being added to my shoulders each day that I held it in," Allen said last week.The Allen family filed an incident report with the Fairfax County Police Department, which told ABC News last week that it had launched an investigation, and had called for the boys' expulsion. It did not say how the falsehoods came to light on Monday, but the family said it was ready to "take responsibility" and face the potential consequences. "To the broader community, who rallied in such passionate support for our daughter, we apologize for betraying your trust," the family said in its statement. "We understand there will be consequences, and we're prepared to take responsibility for them." "We know that it will take time to heal, and we hope and pray that the boys, their families, the school and the broader community will be able to forgive us in time," it added.  Immanuel Head of School Stephen Danish struck a similar tone in a statement released on Monday afternoon, saying he looks forward to the "long season of healing" that's ahead. "While we are relieved to hear the truth and bring the events of the past few days to a close, we also feel tremendous pain for the victims and the hurt on both sides of this conflict," Danish said. "We view this incident as an opportunity to be part of a learning and healing process, and we will continue to support the students and families involved."
IN South Africa we have many such cases where blacks continuously abuse that vile term to slander whites. A term blacks nowadays like to use to slander whites is the Xhosa term " Mhlungu"– which literally means "Trash from the sea"- referring to Jan Van Riebeeck who came by three ships from the sea. Because most whites do not understand black languages- this racist blacks calling whites that derogatory term gets away with it. But whites do not DARE calling a black a "k*ffir "-  then the whole bunch of leftist media thugs and  flock of "Human Rights" vultures pounce you. Malema can continue to bellow "Kill the Boer"- the HRC keeps a "politically correct" silence. But whites do not DARE calling a black a "k*ffir " The HRC's and media hippocracy STINKS with double standards!
THE

others are blissfully "ignored." This is your current double standards applied by the vindictive HRC in South Africa today!
SO- as you see- the double standards that are applied with regard to this liberal concocted term "racism" is a one-sided affair which leaves one simply gobsmacked! It almost became a national culture to slander whites at will- whether the white is guilty or innocent. If a black feels threatened , insecure, did something wrong , felt offended or  lost an argument- simply shout "racism!" In South Africa the ANC oppressors and their villainous media alike made it a national culture among all non-whites to slander, blame, dehumanize and discriminate against whites- especially the white conservative Boer/Afrikaners. And not before long most predominantly black political parties followed suit. Yet the world at large that so vehemently shouted against discrimination against blacks pre-1994- now all of a sudden became eerily silent. But this attacks and deliberate ignorance of the vicious onslaught against white Boer/Afrikaners in South Africa all forms part of a deliberate global plan by the leftist degenerates to exterminate all white conservative Christians from the face of the earth- and especially white conservative males.
The agenda is elementary: Neutralize the strong man of the house and your access to the now vulnerable family is so much easier. That also the reason why so many unnecessary wars and conflicts are being waged like the Middle East conflict – to exterminate as many as possible  able-bodied young Alpha males- and what is left is the useless Betha males with their "LGBT" cultures and cellphone games that can be easily manipulated onto becoming part of the planned global slave population  to serve the New World Order Masters.  
Is it just a "coincidence" that the red capped weasel Malema also paraphrased  the general NWO agenda to cull white males? This clown is on the payroll of the British M15 to cause trouble among white Afrikaners in South Africa. 
Thus- constantly accusing whites as "racists" forms part of demonizing especially white males and thus breaking down the social structures of white societies. But white females also are targeted ff we can refer to the now well-known incidents such as the Sunette Bridges case , Penny Sparrow case , judge Mabel Jansen case,  Vicky Momberg case ,  Elana Barkhuizen and  Marcelle Maritz incidents. All these cases was a deliberate attempt to dehumanize and demonize the white mothers in front of the international world in pre-planned smear campaigns by the leftist media and social mafia. And behind this  detestable media vultures are the Soros gangsters. Whether true or false- the irreversible damage against these innocent individuals  was done and the agenda of belittling the white race in front of the non-white liberal world was achieved.  But it is mostly the white males that bears the brunt of these contel-pro style psi-ops attacks.
Similarly to  the Allen case-  South Africa also had it's misplaced and false accusations. The first case that springs to mind  was the black Democratic Alliance Federal Youth Leader Luyolo Mphithi,  who also because of his inferior status quo in the party tried to score some cheap political points and fame by false accusing a white teacher of the Schweizer-Reneke  Primary School – Elana Barkhuizen – of " clear cut racism" in a tweet because it appeared in some photos the teacher sent to parents that black and white children sat apart. Mphithi- like most black ant-white racists do-  never even did a fact check before he let flew with his wild and unsubstantiated accusations on Twitter. It did not take the anti-white political trash long to react and even another misinformed black political Humpty Dumpty – Mmusi Miamane who happen to be   Mphithi's political leader- had his afterburners on as well. And as expected- there were the customary (specifically organized for the event)  "protests" because of this. Despite serious doubts arising, the party's black youth leader issued a statement demanding answers from the school for their "outdated attitudes toward integration". It turned out there were no such an incident of "racism" at all. But Mphithi NEVER was taken to sword and/or  any protests launched for his gross anti-white rhetoric to specifically create race division.
THEN we have the recent case of  Marcelle Maritz,- FF Plus leader in Limpopo- where AGAIN the anti-white DA accused her of "racism" that apparently happened TWO years ago and was captured on a video. Maritz, according to her party, had denied the allegation. Maritz resigned from the DA in 2015. In the video, a person, purportedly Maritz, was captured in a jocular conversation in what appears to be an office setting with two other women, one filming the video on a cellphone. To laughter, she describes herself as a churchgoer. One of the other women asks if it is the Afrikaans Protestant Church (APK). The women then respond: "Die kerk sonder k*** [The church without k***]." Then – as quite expected- was it a white liberal– Beyers Smit– that wanted to lay charges against Maritz.  "The DA is of the belief that this horrific incident constitutes crimen injuria. It is also appalling that she would place such an indictment on the church," said Smit in a statement earlier.  "Furthermore, we will be reporting Marcelle Maritz to the South African Human Rights Commission and we've already requested that the Limpopo legislature's ethics committee investigate this matter. "The DA takes this matter very seriously as we believe that there is no place for racists in our society." Smit said the DA found her racial utterances "abhorrent and unacceptable and we will not tolerate this behaviour in our democracy".It also turned out to be a false accusation. But we as of today have not heard a word of apology from this loathsome white liberal to Maritz. 
TYPICAL

the naked racism against whites- even the Jew-controlled DA is as racist as pheasant sh*t: The bigwigs of the Democratic Alliance have ripped into the Institute of Race Relations for their "unethical" stance after the organisation backed an article which said

Mmusi Maimane

must be replaced by "a white man in the Western Cape" to promote non-racialism in South Africa.
NOW the hell again was opened up against Springbok second rower Eben Etsebeth again. The black social mafia" suggested " that he was involved in a "racist"  incident in Langebaan over the weekend. Accusations against Etzebeth on Sunday included a video doing the rounds suggesting the 27-year-old lock apparently (no facts)   had "assaulted and pointed a gun"  at a homeless man in the West Coast town. Etsebeth denies this willful accusations:"It is completely untrue and unfounded to claim that I physically or racially abused anyone in Langebaan as has been reported on social media. Multiple witnesses can corroborate that," Etzebeth stated. "I am and will always strive to be a true ambassador to this beautiful rainbow nation and the sport that I love."We tend to totally disagree with Etsebeth on that " beautiful rainbow nation"- part we might add. Etsebeth appear to do some serious sucking up black arse to protect his pay check and future  here we tend to believe. As for the rest there is NO substantial evidence of any kind to make such accusations against him- but again the fake media is in the fore-front of the anti-white campaign as always.AND as expected is the whole "who-is-who" establishment, from SARU, to the HRC, media trash and G-d knows who else on the band wagon.
Eben Etzebeth

charged with attempted murder, pushed to return home . The SA Human Rights Rights commission really is out for blood. This is naked 

opportunistic politics! Click on link to see video
https://www.facebook.com/WPpetzer/videos/511396546347617/?t=9
THIS

is now the man Etsebeth allegedly assaulted. Typical leftist media bullsh*t- there is

NO

evidence Etsebeth did this- and this dressings is still new after a few weeks? What BULLSH*T indeed!

BUT

as always do they (especially the friggen leftist skunk media trash) – create their own "racist"  saga and blame it on the whites! Then –

AS

expected- does this idiot claim

R 1 million

for "damages! " What a friggen ATM swindle indeed!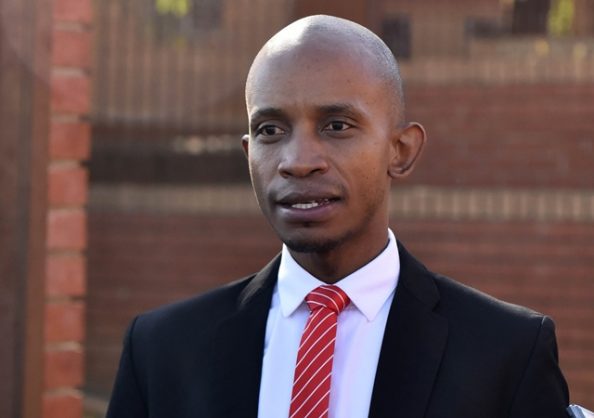 Head of Legal Services at the ANC-controlled SA Human Rights Commission,

Buang Jones

– another anti-white puppet that promised the (non-white) community of Langebaan he would ensure Springbok star Eben Etzebeth will be charged with attempted murder.Such is the racism against whites in South Africa- the state organs are now abused to target white victims. He and his co-conspirators at the bogus HRC already found Etsebeth
"guilty"
without a trial. "
Here we have a criminal suspect who has been sent to Japan to represent our country. He is singing our national anthem. He should be in a prison cell in Langebaan. He should be charged with attempted murder."
the anti-white racist Buang said. It is criminals such as Buang that forms the spearhead in the onslaught against whites. The ANC-controlled HRC are being abused as a "legal" institute to persecute just whites. We ask all our readers to boycott this useless pro-ANC communist Human Rights Commission . 
It is acceptable to write, chant and rant words that influence and cause further racial divide. Sing political songs that is often taken literally by robbers and killers of white farmers.
WHY are Malema or Mngxitama not charged with "attempted murder?" BUT… here we have a world renown young white South African Rugby player who some deem to think is worth millions of Rands ( RSA currency) and attempt to extort money from him while the SAHRC are intent on charging the rugby player with TRUMPED up charge of "attempted murder." Wake up whites- this criminals in charge now are abusing the legal system to persecute you willfully!
Even  Springbok rugby captain Siya Kolisi has been the target of racist comments after he told Japanese media that Nelson Mandela would not have agreed with sport quotas. It is not the first time that Kolisi has faced racism over the years. He has previously been accused of lacking "political consciousness " because he is married to a white woman. Kolisi had reportedly said: "I don't think he (Mandela) would have supported that (quotas), but I don't know him. I would not want to be picked because of my skin colour because that surely would not be good for the team, and the guys around you would know." He added: "But you cannot just (pick someone in the Springbok side because of his colour). In South Africa it is tough, because we want results and transformation." A range of black racist comments made its way on to various social mafia  platforms.

The next "racist" saga now breeding the leftist incubator  is the attack against the University Solidarity are building for Afrikaans students. All the customary howling, threats and "outcries" have been done to this incident- the Lesufis, Nzimandes and every leftist bag of liberal communist sh*t already had their piece of "racist" rhetoric printed in the media stones of notoriety in this case.
Malaika Mahlatsi wrote:
"Solidarity is building a university in Centurion, described as an "Accredited Afrikaans private vocational training college founded on Christian values". The money for the project was raised through donations from the Afrikaans community and according to Solidarity, every member donates R10pm to a building fund. The construction of another learning institution is now in place and it is described as a facility where "world-class education will be offered through Afrikaans as the medium of instruction". We can have endless debates about the posture of an institution that seeks to cement Afrikaans in the midst of ongoing discussions about how the language is used as a barrier to access. We can even discuss the reality of uneven playing fields that already advantage White people, financially and otherwise.
But the real discussion we should be having is about what Solidarity is teaching us about what it means to invest in that which you value. It is also teaching us about the value of organizing. Solidarity has about 140,000 members and they were able to raise R300million for a university. COSATU has just over 1.6million members and its biggest affiliate, NEHAWU, has about 275,083 members – almost twice the number of Solidarity members. If just R10 of each COSATU members' membership fee could be directed towards a fund for building universities, you would raise just over R16million every month – almost R200million a year. It would take COSATU about 3 years to build a university like the one Solidarity is building here in Centurion. Pool in additional donations that we could make and within 3 years we could have numerous universities built by us, with an ideological orientation that is progressive and that reflects our ideals as a people.
The same is true for Black people in general. If a credible Black firm facilitated this initiative, and a million of us who are gainfully employed donate just R100pm to a building fund, we would raise just over R1 billion per year. We wouldn't even need the government's money. And unlike Solidarity, the universities we build would reflect progressive values. But we would rather fold our arms and say this is not our business, it is government's responsibility. And this is why Afrikaners will always be 10 steps ahead: because they know what self-determination means. They know that the responsibility of keeping Afrikaner heritage and traditions alive lies mainly with Afrikaners. We want to abdicate the responsibly of building the Black community to government and to everyone else but ourselves. And that's why we will always be 10 steps behind."
WESSEL BASSON WROTE:
" SAHRC (South African Human Rights Commission) is subjective:
The Patriot for Minorities has expressed concern over statements by the SAHRC that they will make an example of Springbok Eben Etsebeth. This is a very worrying statement. To date, Eben Etsebeth has not yet been brought before a court or officially charged with any assault or hate speech. What is further alarming is that the SAHRC has already convicted Eben Etsebeth in his absence. The very SAHRC that, according to the Patriot of Minorities, makes such statements, is guilty of hate speech against a small white minority race. You, the SAHRC, are more concerned with words than the annihilation of a small white minority.
You as the SAHRC are quick to condemn the unsubstantiated "acts" of white "racists" but you sparkle in the absence of racism and hate speech shouted and blasphemed by black leaders on an almost daily basis. The SAHRC needs to explain to us why they are dragging matters against Andile Mgxitama, Julius Malema and Ace Magashule? Is the reason for the no action because the leaders are black? The Patriot of Minorities calls on the International Human Rights Commission to DISSOLVE the South African Human Rights Commission, alternatively, the International Human Rights Commission must require that the SAHRC's name be changed to the South African Black Human Rights Commission (SABHRC). That would be a more accurate description.
The current staff of the SAHRC are all cadres of a murderous government who only use the Commission to promote their own agenda. On a daily basis, whites are falsely accused of "racism "and "hate speech, "- while black leaders daily promote and incite (even require) the extermination of a small white minority. The Patriot for Minorities calls on all whites to reject the SAHRC's impartiality against whites and to boycott their activities in totality. The Patriot for Minorities will only recognize an organization that acts objectively against ALL racists and people guilty of hate speech. As long as black leaders are not prosecuted on the basis of their racist statements, we will not recognize any organization that is supposed to protect the rights of everyone."
George Soros

– Mr. Prime Evil himself- behind most of the orchestrated attacks against white conservatives through his "
Open Society"
network.Power behind the
ANTIFA
movement, Mexican invasion caravans and
"Black Lives Matter
."  Also hard at work in South Africa with the BLF , Media and financially support the farm murder campaign. 
The communist oppressors already wage a diabolical war against all Boer /Afrikaner peoples of South Africa since their illegal occupation of the government since 1994. But exploring the lie that they "represent" the masses- they cleverly now utilize the "masses" as a vehicle  through false and malicious propaganda campaigns to keep them in power "till Jesus comes" in order to fulfill the global NWO agenda. Spearheading the total onslaught against all whites- and especially again white Boer/Afrikaner males- is the loathsome media- Media 24 in particular. We also have the local Gupta New Nation and George Soros' Africa Check tabloids joining the ranks of the fake media battalion against the white Boer/Afrikaner. Add to that the international far-leftist London Times, New York Times, Daily Mail, Al Jazeera, etc and the global media onslaught against the Boer/Afrikaner is to say the least of catastrophic proportions against their race  . Of this news outlets leading the local main attack against white conservatives is the  all-black Sowetan, The Citizen, Cape Argus and Beeld.
As expected is the leftist Soros-funded Africa Check trying to discredit the fact that farm murders reach genocidal levels.
These news outlets are paid to wage such a war against especially  white conservative males in South Africa. Untruthful correspondents are paid by the National Intelligence secret slush funds to venture on a psi-ops war to demonize and attack white Boer/Afrikaner males per se. Paying off correspondents to promote the communist regime's agendas is nothing new. Such an example was high-lighted by the Zondo comission again. Sunday Times associate editor Ranjeni Munusamy has made submissions at the Zondo commission of inquiry into state capture, arguing allegations made against her are an attempt to destroy her credibility. In her supporting affidavit to the commission Munusamy said she was "utterly horrified by the allegations that I have been paid from the [Secret Service Account]. These allegations are entirely baseless and false". We KNOW she's lying through her neck! Go check her private bank account for that sleaze secret payments…you surely will find them. 
Meanwhile the war against the white Boer/Afrikaner goes on uninterrupted- physically and psychologically. Since 2018 there were 149 farm murders recorded. The month of September alone there were   7 brutal murders  and 46 attacks on white farmers in South Africa. Yet the liberal fraternity and leftist media  is more concerned about Etsebeth's alleged "racism"-  than the random (and deliberate orchestrated) killing of white farmers.  In South Africa the farm murder rate already reached  a staggering  156 per 100,000– but not a word of condemnation is heard- just flat denials-even by the bogus ( unidentified)  "president." 
https://www.facebook.com/PIETERJACOBS1965/videos/10157686098115842/?t=13
NOW– Let us see which black socialite reports this black man for "racism? We await the social media to go "viral" like they usually do if the black man was white and the white girl was black. We BET a deadly silence will prevail!
This is the standard black narrative on black social mafia sites. This is what the communist ANC's malicious propaganda aims at doing: Poisoning the fertile minds of lesser intelligent blacks to hate whites. Now the secret agenda of social sites(controlled by liberals) is to allow these utter naked and sometimes brutal racism against whites to proceed unchecked– whereas on the contrary does the hippocracy of banning and suspending white postings on mainly Afrikaner social sites took a new level for the slightest alleged" hate speech"– even displaying the old national flag or the posting of articles about farm murders might get one banned for a month. This again forms part of the suppression of Boer/Afrikaner voices , prevent white nationalism in the media – and to hide the horrible truth about the random killings of whites in South Africa. 
Two well explanatory examples of how the liberal social site administrators apply their double standards between white and black social sites. But maybe they realized that what White Nation tested them and deliberately wrote in this postings  as a  bag of bullsh*t – and therefore they decided rather to take it off. They are quite correct in their assessment though- we wrote a bag of spam as nothing could be further from the truth. 
BRITISH hippocracy at best- The two royal toddlers visited South Africa- made quite a few turns in black squatter camps only to hug a few black babies for the media camera pomp- but  " politically correctly" avoided the white squatter camps. NO white baby hugging or apologies there we're afraid. Also will the Queen's toddler donate 1 million pounds to skills development programs (read blacks only) the sibling said in Thembisa. NO white child in any white squatter camp will benefit from this project we also believe. And that after the British massacred more than 24 000 white women and children during the second Boer war invasion by Britain. 
THE gross  human rights violations against whites in South Africa under the cloak of alleged "racism" spans far more and wider than just words and bans from social sites. It became a total onslaught against the very fundamental rights of white people of South Africa as a whole. It became a vindictive war by the ANC communists and their filthy media ghouls to totally exterminate the white Boer/Afrikaner. "Racism"  is used to deprive whites the right to work and earn a decent living- forcing more than 400 000 whites into impoverishment and squatter status, – it deprives whites to benefit from any government subsidies, royalties or state supported projects, it grossly discriminates against the rights of whites to form their own societies, apply their own cultural values, display their own sovereignty, start their own projects and represent themselves on national level. "Racism" also  is used to deny whites any basic rights or services enjoyed by millions of non-white citizens. "Racism" is effectively used to neutralize any white resistance against an oppressive regime, racism is used to willfully and illegally persecute, prosecute and  incarcerate whites on bogus trumped-up charges,- and " racism "is used as a motivational  campaign vehicle by the mentally  sick media and  for black political despots such as Malema, Mngxitama, Ramaphosa , et al to substantiate the brutal attacks and  horrendous murders of whites – and especially against white farmers. "Racism" is also effectively used on a continuous basis by black politicians in election campaigns to unite non-whites behind the anti-white socialist political spectrum. "Racism" became an international liberal culture to demonize white conservatives and to persecute white conservatives through their multiple "Human Rights" legislation and bogus courts. You see- If you do not agree with their cultural Marxism or socialist doctrines- then automatically you are classified as a "racist." 
The general propaganda narrative among white liberals and inferior complexed blacks is that all whites are still "privileged" because of "apartheid." That is now 25 years under communist rule that is. A bigger cock-and-bull story cannot be told than this lie. White Boers/Afrikaners NEVER was "privileged." That is the biggest propaganda lie ever. But again this is propaganda to make the white Boer/Afrikaner feel "guilty. "Apartheid was a BRITISH invention and driven by the white LIBERAL National Party...not the white Boer/Afrikaners. The country was under liberal white British rule since 1960. THEY created and funded both the National Party and  ANC alike. But it is an age old tactic of the communists to target a certain minority group to carry all the sins of the greater majority in order to hide the dark communist agendas.
HAVE you ever wondered why South Africa's Educational system is in such a mess?Why do they keep on lowering the standards of education?  Because blacks cannot cope with the system? Not true. Black people can cope with the system- well enough. However– there is another deeper agenda behind the permanent failure of the South African Education system. The "Overlords" realize that by giving a black man a fish he will be back tomorrow for another fish. Hungry people are easily manipulable. Give that black man a fish and TEACH him how to fish for himself and that black man become rich in knowledge , may become rebellious against the oppressive regime and start a rebellion against the rulers- and will not be easily manipulable again. That is the biggest fear of communism- that a majority revolt may unseat them.
So simply just keep feeding him fishes. This is then the same principle they apply in the education system. Keep the black man uneducated. Keep on destroying his schools. Keep on neglecting to build him new schools. Keep on changing the curriculum. Keep on lowering the pass rates. Keep on feeding black students communist propaganda instead of teaching them valuable subjects that could enhance their knowledge and empower them to become self dependent.
THIS is what communism is doing to school children in South Africa- teaching them to be good "revolutionaries" instead of students. And before long……
Keep blacks impoverished and in squatter camps. Let them become lazy and complacent– let them steal and riot for a living. Teach them to permanently complain and leech. Teach them that whites are the reason they became useless bums and beggars- and that whites must now share their wealth with blacks. Prevent whites to teach blacks otherwise and teach blacks to become self sustainable again. Keep white and black apart. Keep on feeding blacks  fish- never teach them to fish for themselves again. That way the majority Africans will stay uneducated and thus easily become acceptable and dependent on food hand-outs, state grants and government support.  In return will the majority blacks vote the same government back into power "till Jesus comes" out of fear the "Boers will rule again", (a phrase Ramaphosa repeated already)- and they will now loose their state grants- and be forced to go work again to earn their keep.  Therefore "racism" against whites must be kept alive to keep a "common" enemy to unite blacks behind the communist agenda –  while black educational empowerment must die to prevent a national rebellion against communism . On the end of the day only a small "elite" will eventually benefit from "racism." 
Arnoldo Cortesi saw similar motives at play in Italy with the adoption of racist measures there in 1938. As he observed quite correctly the global culture of applying this new found tool" racism" for their own selfish benefit at the cost of other innocent people:
"… there are vast sections of the population that will derive, or hope to derive, tangible personal benefits from a vigorous new [racist] policy. Clerks in the government, party and private offices, as well as officers in all armed forces, look forward to promotion; professional men dream of a notable increase in clients; shopkeepers, traders and others of that class are overjoyed at the prospect of seeing competitors forced out of business. Between them they are the most convinced propagandists of the anti-Jewish campaign. Whether or not they believe in the new Fascist racist theories they will see to it that the elimination of the Jews, now that it has begun, continues without interruption." (New York Times 11 September 1938).In both countries the anti-Jewish measures were initially justified – and local and international opposition to them effectively neutralised – by the invocation of the principle that the Jews should be limited, in all fields, to their negligible percentage of the total population. Continued Jewish 'over-representation' was regarded as suggesting the 'superiority' of this 'alien race', and this could and would no longer be countenanced.As a matter of historical fact then it is simply not true that racial minorities perceived as 'privileged' and 'powerful' cannot be the victims of racism. Indeed, as documented above, the word was first commonly used in the English-language to describe precisely this type of racial persecution."
*  
"Racism" is a term invented by the liberals. It has no true meaning and before 1994 was not even known in South Africa. What does this "racism" mean and what precisely is the definition of it? Well- the Jew-controlled dictionary hastily added it and explains it as such: "Prejudice, discrimination, or antagonism directed against someone of a different race based on the belief that one's own race is superior." Did you read that? " Belief that one's own race is superior.." Now I still cannot figure out how in hell could the bogus Human Rights Court assess what I "think" or what my "belief" is on the grounds of some twat accusing me of "racism" – simply because he/she feels "offended? And that when this same kangaroo court never subpoenaed me- or sent me to a psychiatrist to assess my line of thinking or beliefs! You see- this liberal wretches has their own various interpretations of something they themselves gave birth to- and not ONE explanation of definition even corresponds with the next. They themselves do not even know what the hell the term "racism" factually means. They simply change their sails to whichever direction the "racist" wind blows. In South Africa however- it appears you do not even need an assessment or definition what "racism" actually means to get strung up publicly – you only need a black that suddenly feel "offended!" That unfortunately is the ONLY word they were programmed by the Jews to repeat like  parrots.." .racist..racist…racist..squawk..racist..racist..squawk..racist."
*
Will "racism" ever stop on South Africa? The answer is "no"- it will not– and on the contrary with the Broedebond liberal money slingers , continuing  British meddling , the Soros/Rothschold factors presence, – and ANC communist greed still fused in place- Boer/Afrikaners will for a long time still be oppressed under the Gestapo heel of Capitalism and Marxism.The silent genocide against whites in South Africa will continue unchallenged. The farm murders will continue unnoticed. The oppression and discrimination against the white Boer/Afrikaner will continue. "Racism" will continue to be kept alive and well.   For this reason 199 discriminatory laws against whites such as Affirmative Action and BEE were specifically set in stone in the constitution- purely to promote racism. It's a global agenda to wipe out the white conservative footprint across the world. Liberalism must triumph at all costs in order for communism to become a world dominant system. "Racism " became the one biggest asset for the communist rulers to retain power- and they will not easily relinquish their most potent strategy to abdicate to a game of chance.
*
The only way the white minority in South Africa will be able to survive this terrible onslaught against them is to unite and start a micro economy within the failing macro economy to empower themselves to become independent from the rest of the dark country and it's vindictive rulers. White man/woman- you are NOT a "racist"– as that term means sweet blue f*ckall- and only is used to slander you. There are cows, cats, dogs, humans, trees , birds, animals and everything G-d created- but there IS no such a thing as a "racist." Get over your guilty consciousnesses. Get your screwed-up mind set in order. Whenever someone tells you you are a "racist"– tell him/her "Yea- and your father is a goat f*cker!" Get yourself out from the pig sty where this liberal trash trampled you into. Go on with the being G-d created you to be – a WHITE person and be proud of it. Do not relinquish your conservative beliefs because  a goat f*cking liberal piece of trash told you you are a "racist. " . Other than that the white race down South is doomed for extinction before the turn of the next century. That is IF their own adopted  pathetic  inferior complexes will not  exterminate  them long before the liberal agenda  does. 
SOURCE:
White Nation
WHITE NATION– WE DO NOT HATE WHITE LIBERALS– WE SIMPLY DESPISE THE FILTH!!
C'MON- SHARE OUR LINK