Do you have news to tell us? Send your e.mails with news and inquiries to: w.nation@mail.com
Register with us for free to follow our news on the right-hand tab
Article compiled by White Nation correspondent Potchefsroom – October 14 2019
SOUTH AFRICA– THE  ANC PIRATE's REALM DOWN SOUTH
THEY say that when good governance does not exist anymore- it leaves a vacuum. And it is within this vacuum that the criminal mind then  will come to it's full potential. It is no secret anymore that in South Africa good governance seized to exist on September 06  1966- when the last true and honorable leader- Hendrik French Verwoerd was mercilessly slain by the Jew Cabal. From there-on the criminal minds of the British-controlled National Party and their Broederbond conspirators converged  onto South Africa's parliament – and since South Africa was governed by the most nefarious conspiring iniquitous fraudsters and swindlers since gold and diamonds was discovered in the country. Pure greed attracted corporate villains and mobsters from all walks of life and destinations to South Africa. 
A very peculiar phenomena usually occurs when mobsters and hoodlums take control of your country. Not only do they become worse- but their subservient cronies  also follow suit and not long or their whole hierarchy become besmirched with wickedness, dishonesty , corruption and immorality. Such was the case with South Africa indeed. After the Voster maladministration of political assassinations, spies, money laundering, secret societies and total control by the Cabal- the country slowly was descending into the jaws of the abyss. BUT the most criminal activities were mainly concentrated at the "top" – where the "enlightened ones" were battling it out for prime positions and a chance at the trough. Below the country was still stable- administrated  by sound leaders in both the government sector as well as the private sector. The country was doing quite well at this stage.
ONE of the most potent sectors administrated during those days was the security forces- which included the Defense Force, Police Force and Railway Police. There was law and order, – and discipline was a key factor. The streets were safe, crime at an all-time low and the various deterrents for criminals that overstep the boundaries of a healthy society on the books. It ranged from punishment by cane, house arrest, jail sentences,up to capitol crime deterrents such as the death penalty. The judiciary had a wide variety of weapons in their arsenal to ensure a good and disciplined functional  society. On the ground the country had a proud security contingent that was rated as the best of the best in the world when it came to defending the country's sovereignty. The members of the Defense Force, Police and Railway Police was disciplined proud and well trained for their respective functions. Corruption and complacency had as yet not seeped in the security forces and  contaminated their minds with communist propaganda.
The forces had to be disciplined in every way as they had to protect and fight  on may fronts in  several conflicts both in South West Africa (we call it "Harry's war" as Harry Oppenheimer needed his diamond operations protected against SWAPO insurgents as well as the fact that Oppenheimer funded both the National Party  and the ANC offenses against each other )-  against 5 of the most advanced nations the Jew Cabal could threw at them- and at home against thousands of unruly rioting blacks instigated by the British Secret Service operators to destabilize the country.  The Oppenheimer and Rupert clans wanted a majority government in control so they could expand their loan-sharking business to a wider segment of the population than whites only for more profiteering . Thus "apartheid" was born as a vehicle to overthrow the then white regime in exchange for a black government that could empower blacks and elevate them into powerful jobs where they could earn much more than they did then. This again would lead to more credit facilities granted  and more loan facilities to the "majority"– which in turn will kick back lucrative interests to the loan sharking Cabal.  Thus an instigated war against the white regime was a necessity to bring in the black chickens for the roost.  And in the midst of this Cabal turmoil of conflicts and British media attacks you found the security forces which made themselves accountable with honors  in every skirmish and every onslaught  they endured.  That was a time before the scourge of liberalism and  "human rights" infested South Africa's people with their poisonous Babylonian doctrines.
However– like we said- the peculiar phenomena of immorality and lawlessness in the absence of good governance  some or the other time start to show it's ugly head. As the years drag on and lesser honest presidents scaled the podium to take control of the nation- so did the administration below also start to show signs of dis – functionality. But it was on May 10 1994 that the final blow fell on the term "good governance" in South Africa when FW De Klerk – a typical  Afrikaner by heart and Judas Iscariot  by nature- and his liberal National Party Broederbond  traitors finally  handed the country on a platter in a grand act of betrayal of their own people on the direct orders of the Jewish sorcerers  Kissinger and Oppenheimer  – to the same communist dregs the Security forces fought so hard against for 25 years. The day the media created god Mandela stepped onto that podium to resume control over a proud country was the day he not only stepped onto a podium- but it was a day he stepped onto the last dignity, the last pride, the last honesty- the last discipline and the last respect this country of South Africa had. From that moment on forward the country lost all it's glory, all it's pride and all it's credibility.The Hyenas entered the pride lands.  The country was to become a hunting ground for the most contemptible class of greedy felonious miscreants imaginable. Scavengers from all kinds descended onto the once beautiful and resourceful Eden. Under the new dispensation the country was to be destroyed into junk  to become a wasteland full of scavenging corporate Hyenas. The new dispensation  called themselves the democratic elected  "government." They then referred to the rest of the misguided populace as the  "Rainbow chickens" of their newly formed "Rainbow Nation." 
THE sad story of history now repeating itself in South Africa again…note the similarities between the Congo…and this what happened to South Africa. Note just who is behind the destruction of South Africa. THIS was Zimbabwe's final epitaph too– and will be is South Africa's future epitaph under ANC rule as well. 
Violent riots and total destruction of the economy by malicious black union mobs  are  in the order of the day in South Africa. This is the " Rainbow democracy " for which "apartheid" had to be sacrificed. 
It was inevitable that the once proud security forces also was to face a transformation that even the devil himself could not have planned for the worse. Firstly did the Judas horse De Klerk dismiss all the credible generals and possible threats to the new demonic inspired reign . After the new "demo(n)cratic " villains took control- the rest of the security forces were systematically disbanded- only to be replaced with ex-terrorists and communist reprobates. Among this diabolical schemery and replacement exercises to oust the rest of possible opposition to the throne of anarchists was the police force as well. Like the rest of the state and defense mechanisms all white professional experts and patriotic soldiers and policemen were dismissed- again to be replaced with incompetent scoundrels.  The peculiar phenomena of immorality and lawlessness completed it's full circle and the criminal mind came to his full potential in the absence of good governance.  A once superb fighting defense force became a lair of non-productive and AIDS-riddled  incompetent obese clodhoppers. The country's " defense force"  today is in an increasingly critical state of degeneration. There has been a continuous decline in military spending over the past few decades.  The so-called " military " is ill-equipped to be called on to fight crime is that it's been criticized for being unable to meet even  its current responsibilities. The once respected and proud police force soon also was "transformed" into a shamefully organization of repugnant thieves, delinquents and corrupt scoundrels. The police force was transformed into the biggest organized crime network in Africa.  And it only became more disreputable as the years went by. The Railway Police was totally disbanded the same as the rural Commando corps.
TODAY we find ourselves  25 years down the line since that first destructive "transformation" was initiated. The police force South Africans used to be proud of  is no more. The police force- or what we loosely could refer to as some kind of stassi force- is nothing less that a criminal syndicate. It became rotten from the top to the bottom- with more and more "law enforcement" reprobates joining organized crime than normal criminals do. Each and every so-called "Police Commissioner" was sacked for corruption.Thirty-two members of the police's top management have criminal records.  And the rot descended to the ranks.  A whopping 4,174 members of the police have criminal records, for a variety of crimes such as assault, theft, kidnapping and fraud. Among the rank and file of the SAPS were officers convicted for assault, theft, kidnapping and murder.This was revealed in a parliamentary reply by police minister Bheki Cele, who also told parliament that among them were 32 senior managers who had convictions for crimes such as fraud, public violence and assault. South Africa`s Crime Intelligence unit was "infested" with officers with criminal records, the Police Ministry said . Replying to parliamentary questions by the DA, Police Minister Bheki Cele revealed that 27 officers working in the covert unit had criminal records, with 20 having committed traffic-related offences. Seven had committed other offences. Today the public at large have no more trust in the so-called "police force." The police force became an oppressive force that now use typical abuse, assault and many a time brute force to stamp their 'authority" on the public. It is because of a lack of discipline and the incompetence of it's management that the whole sector descended into a dismal abyss of crime and corruption.
In one incident recently a SAPS officer was arrested over  for a botched hijacking in Soweto. Together with a number of other suspects they had tried to hijack a taxi but the taxi driver shot him. "Initially, he claimed that he had been shot by suspects who attempted to hijack him. At a later stage, he was identified at the hospital as one of the suspects who had hijacked a Toyota minibus in Mamelodi. He was later arrested at the Pholosong Hospital where he had [admitted] himself for treatment," police spokesperson Colonel Lungelo Dlamini said. Dlamini said the constable was expected to also face a perjury charge for reporting the fake hijacking. He was off duty at the time of the incident. Two Randfontein Police officers were arrested for allegedly stealing a bag of cement during the recent weekend. This was confirmed by Lieutenant-Colonel Lungelo Dlamini, the Gauteng Police spokesperson. In one incident a white woman was summarily shot by an "aggravated" police officer and died in Kraaifontein Cape Town. The woman visited the police station for business when the police officer arrived in his police vehicle and bumped into the vehicle of the woman. When she complained about it- he ignored her- walked into the police station- and the next moment came out with his service pistol and blatantly without provocation shot the woman dead.
Shocking revelations of couver-ups of police who rape, assault, torture and kill
For years, whistle-blowers inside South Africa's cop watchdog have alleged that investigations into police criminality were rushed through in a bid to inflate performance statistics. Behind these statistics are "victims of assaults, murder and torture who are deprived of justice" wrote one whistle-blower to Public Protector Thuli Madonsela in 2016, reports Viewfinder. Viewfinder's first exposé, published in partnership with the Daily Maverick and GroundUp, unpacks whistle-blower reports and combines these with public records, data analysis, insights from IPID insiders and the experiences of victims to show how and why police officers get away with violent crimes in South Africa.
Key takeaways
South Africa's police watchdog is called the Independent Police Investigative Directorate (IPID).
IPID registered more than 42,000 criminal complaints against the police between April 2012 and March 2019. These included allegations of rape, assault, torture, killings and shootings.
Only 531 IPID cases resulted in successful criminal prosecutions during that same period.
Investigations are registered and conducted at one of IPID's nine provincial offices.
IPID has historically been under-resourced and undermined. It does not have the budget needed to handle a massive case load. Provincial investigators must travel vast distances to attend crime scenes. According to IPID insiders, police members accused of crimes sabotage IPID investigations, and prosecutors rarely take IPID cases up in court.
Also, during the period of state capture, IPID's director Robert McBride ( ex terrorist and Magoos Bar bomber) was suspended. Many believe that this was because he was tackling high-level corruption in the police.
In spite of these challenges, IPID has performance targets which are based on the number of quality investigations the institution "completes" in a year.
Completion statistics are published in IPID's annual reports. IPID management present these reports to Parliament's Police Portfolio Committee annually in October. This is where IPID's performance is assessed.
Whistle-blowers allege that the need to generate good performance statistics results in short-cuts being taken to prematurely "complete" and "close" investigations.
ROBERT "The Bomber" McBride– responsible for the Magoo's Bar bomb in  1986 in which 3 people died- had a string of failures in other appointments-  now head of the IPID.
Viewfinder published the whistle-blower reports. They are available for anyone to view or download:
IPID's position
McBride's Zondo Commission allegations were confined to the 18 months of his suspension. Viewfinder interviewed IPID head of investigations Matthews Sesoko, in his official capacity. Sesoko acknowledged that "statistical information was inflated" during the 2015/16 financial year. For context, both Sesoko and McBride were on suspension during that period. In late 2016, IPID assigned its integrity strengthening unit to investigate. This investigation is still incomplete. It does not look at allegations pre-dating McBride's suspension. IPID has since backtracked on Sesoko's position, saying that "no evidence of stats manipulation during the 2015/2016 financial year has been presented to Management. Management is therefore not in agreement with this allegation until evidence is provided." IPID added that the allegations from 2014 and 2016 were "untested and unproven."
Currently, South Africa is experiencing an influx of cases of police brutality. More than 5 500 cases of police criminal offences are reported every year. Of these numbers, according to the Independent Police Investigative Directorate (IPID) Annual Report Statistics, more than 3 500 cases of torture and assault (police brutality) were reported .  This equates to more than 60% of reported cases of police brutality (torture and assault) with an average of 65% for the past four financial years (2014/15 – 2017/18). This means that, after twenty-four years into "demo(n)cracy, "South Africa is  struggling with police in a "demo(n)cratic "manner. With this large number of reported cases of police violence, one would expect the conviction rate to be high as well since there is an IPID oversight body that is responsible for ensuring that the police are accountable for their acts of violence.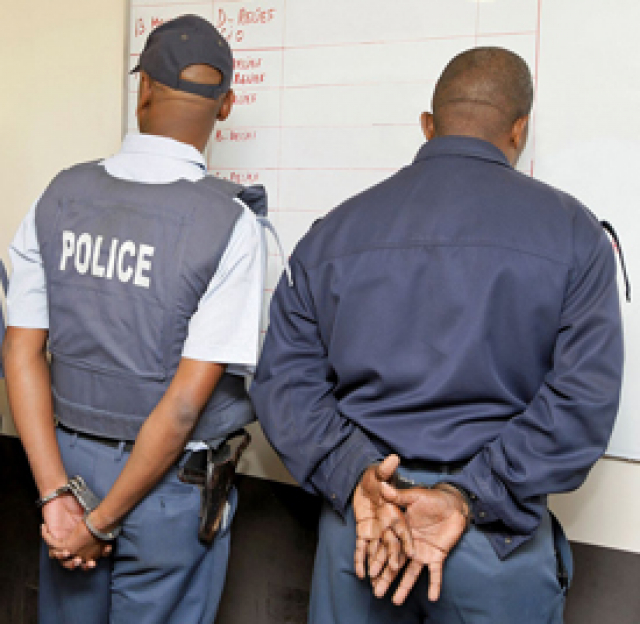 A SHAMEFUL display how deep corruption and ill-discipline wrecked havoc in the law enforcement since the ANC took control. On a monthly basis one after the other dirty cop is arrested for a range of misconducts such as murder, violent assaults, robbery, cash heists, bank robberies, drug smuggling, weapon smuggling and much more. A FAR cry from the superb law enforcement standards and ethics of the police force before 1994. 
Unfortunately, that is not the case in South Africa as it is evident that, since the financial year 2014/15 to 2017/18, only 1.9% of police officers were convicted at a conviction rate of lower than 2.5% per year. Shockingly, there was a zero conviction rate for torture, whereas assault was the predominant crime that ended in convictions. In the four-year period, the National Prosecuting Authority (NPA) declined to prosecute in 36.58% of the cases. These statistics indicate that South Africa did not only inherit the culture of police brutality as the legacy of the past but has inherited the acceptance of such criminal behavior by failure to hold the police accountable for their criminal acts of police brutality. The authors conducted a study involving in-depth interviews with ten KZN-IPID investigating officers. The findings revealed that KZN citizens experience strangulation, suffocation, and tubing during police raids and interrogation.
Suspects are brutally beaten even when they were not resisting arrest and the level of force used by the police appeared to be disproportional to the circumstances in which suspects had to be restrained. Suspects are being subjected to beating, punching, kicking and slapping when they resist arrest, even when they are no longer a threat to the police or society at large; and as a first resort, prior to an arrest, mainly to intimidate and instill fear. All these appalling techniques undermine the Constitution , the Bill of Rights* and violate the human rights of the people that the police are tasked to serve and protect. The use of violence by the police has implications not just in terms of individuals' pain and suffering or the workings of the Criminal Justice System, but that it also causes a social problem that ripples throughout society.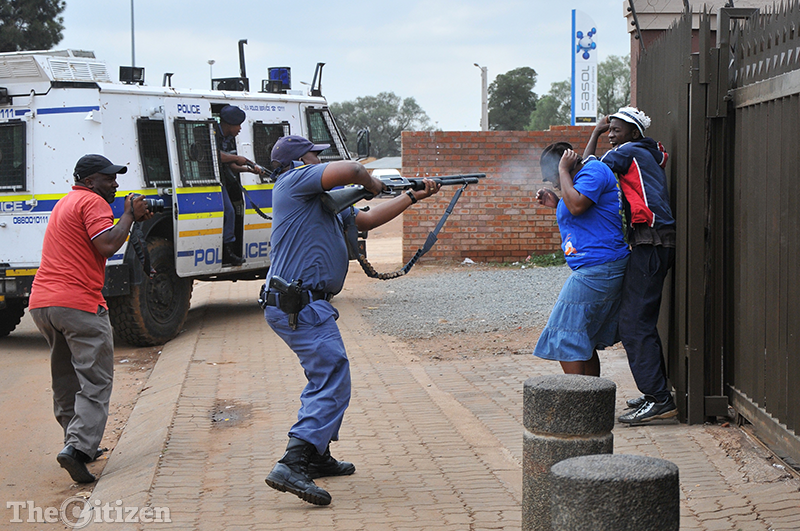 POLICE BRUTALITY  and the abuse of power is one of the key issues in South Africa today. It is so bad that a number of nongovernmental organisations have highlighted brutality and the use of excessive force by the South African Police Service (Saps) in their submissions to the United Nations (UN) Committee on Human Rights, which reviewed South Africa's record on human rights for the first time. But the ANC keep on blaming the "apartheid" police for violations of human rights. 
The ANC regime based their main propaganda on the alleged "brutality" of police officers during the white rule- it was part and parcel  and one of the foundations of their "apartheid" propaganda-  but in essence are they doing precisely the same- even worse. They have been telling the world for years how "brutal " the white police was- and especially high-lighted the Sharpville incident as their main propaganda punch line- but a few years into their own rule they had their own "Sharpville" incident at Marikana where the ANC was responsible for the death of 34 miners. Yet the same ANC has not declared "Marikana day"  a public holiday to commemorate the death of those miners. Still the world must only hear about the "Sharpville"  day and how blacks "suffered" under a white regime. That is their most revered narrative to invoke sympathy from the world. Marikana however pose a smirch on their own image if the world must know that blacks now also suffers even worse  under a black regime – and thus by telling the truth and be fair and call out a "Marikana day" would be counter productive to be honest about it.  The same goes for their claim that the 'apartheid" police assassinated many of their activists such as Dulcie September, Anton Lebowski and the most important one Steve Biko. However they keep very quiet about their own clandestine  assassinations such as Peter Mokaba, Joe Modise, Eugene Terreblanche and now also being suspected for assassinating Dr. Mirah Wilks.  Thus their own misdeeds must be wiped under the carpet and be "forgotten." It all boils down to sleaze politics.
Looking from "outside the box" there clearly is a total implosion of the security services this past 25 years under this new dispensation of "rainbow" rule. The motive for this collapse is directly the result of race hatred against whites from the regime's side, corruption, mismanagement , ill trained police, no discipline from senior staff-  and incompetence by appointed ANC cadres. The ANC's own fake propaganda about the " brutal" white security forces pre-1994 now came back to bite them in the arse with dividends. There are more criminals in the security and law enforcement forces today  as there are criminals  in jail. That unfortunately is the sad story when you allow dirty politicians and greedy corporate villains  to run your country. It's always the people that suffers. But then again one must ask oneself: Just WHO voted this dirty politicians into power in the first instance- and what was the motive behind their voting preferences. In South Africa black racism and free grants are two  of the key factors why the same dirty politicians still are in control.
The "majority"  rather vote with their bellies than their common sense. And as long as they foolhardy will continue to walk that path- suffering will be their constant companion for as long as idiocracy and anti-white sentiment rule their better judgement. As South Africa now are heading for a certain financial collapse a-la Zimbabwean style  things are just about to be getting worse as total anarchy is on the cards.And it is doubtful if this rag-tag ill-trained and utterly corrupt "security " component will be able to stem or curb the lawlessness and civil disobedience that soon may follow. Ramaphosa and his commi ilk already are expecting the worst. For quite some time now they have been siphoning their own private assets off-shore for their little "nest egg" abroad themselves. What happens now is only an eye-blinder- a showcase  to keep the unruly populace calm with all kinds of empty promises and bullsh*t castles in the air. But soon the proverbial " ivory towers " will come tumbling down and that will be the day Ramaphosa and all his cronies will jump plane and "disappear" like all African dictators and despots do.
Ironically Ramphosa was delivering the opening address at the Financial Times Africa Summit in London on Monday when he revealed the efforts the nation has gone through to oust corruption. "Our country was dogged by corruption across the board, in both the public and private sector," Ramaphosa commented. "A lot of money was syphoned out of state coffers through corrupt means. Some of those [operations] were sophisticated. Some of those included blue chip companies of great world reputation … that is the shocking part." Ramaphosa went on to say that the National Prosecuting Authority is on the heels of the guilty party and will soon "bring them to book". "I am more confident than I have been in the past that the Prosecuting Authority will be going after those complicit in criminal activity," he continued. "Whether in the country or outside the country – [we] will follow them up. We have been working on how those who are complicit in the widespread corruption can be brought to book. "We have stemmed the bleeding we are ready to open a new chapter. Those responsible will be brought to book. We will chart a new course of clean governance and avoid corrupt tendencies."
Yea- we all are quite aware whose fingers was the deepest in the state's cookie jar- now don't we?  Ramaphosa and his own sibling has been deep into the BOSASA corruption saga- as well as Ramaphosa himself that has been a real happy  juggler in other scams such as the Bidvest saga. So..when will Ramaphosa hand himself over for prosecution then? And that includes the "top six"  of that ANC rattler's nest too- as well as  the whole bunch of his National Executive Committee (Or commi polatriat" as we better know them) Now Ramaphosa ( of the boil the whites like frogs saga) is grovelling at the feet of those same whites he wants  to "boil"  slowly  like frogs in a pot for investments- telling them again a lot of "politically correct"  garb. But then again we know that Ramaphosa is a pathological lair that will tell you only this you like to hear (and suits his own agenda best.) 
For too long the ANC and their leftist rubble have been plundering the state coffers. The first signs that your economy is hoovering close to collapse is your security forces indicator. And South Africa's are looking very miserable at the moment and are just getting worse. Maybe the incompetent Zergs in the ANC and their communist trolls should have been concentrating less on all their " racist" witch hunts of whites to gain cheap political points-   and more on trying to stabilize a failing economy. But then again what can we expect from a half-wit terrorist movement now suddenly posing as a government without even knowing the basic rules of economics? South Africans can prepare themselves for a very troublesome time ahead economically, financially and physically with lots of action and drama on the cards. Meanwhile the majority of South Africans are blissfully sleepwalking to their doom. 
THIS man played a key-role in the destruction of South Africa and the reason why the country is at the level of collapse it is now. When he took control of the country- it was a fully functioned country with a booming economy. Please remember to thank him nicely. 
SOURCE:
White Nation
WHITE NATION– WE DO NOT HATE WHITE LIBERALS– WE SIMPLY DESPISE THE FILTH!!
C'MON- SHARE OUR LINK