Do you have news to tell us? Send your e.mails with news and inquiries to: w.nation@mail.com
Register with us for free to follow our news on the right-hand tab
Article compiled by White Nation correspondent Johannesburg – October 24 2019
SOUTH AFRICA– THE  ANC PIRATE's REALM DOWN SOUTH
AVIN WATSON– a name now synonymous with the underworld of bribery, corruption, tender fraud, money laundering, political intimidation and racketeering on the grandest scale is still shaking the foundations of the South African ANC hoodlums and their Lethuli-House corruption operations.
While the Zondo commission still probes it's tentacles into a deep can  of slithering worms- more and more dark secrets are revealed and more ANC affiliated "Brothers and sisters'" greedy claw prints  are found on the Bosasa pirates treasury chest. While the whole spectacle included Watson's own "sudden" death raise more than just an eye-brow- it appears the commis in that Lethuli-House nest of slimy worms  now wants to shift all the blame onto their previous Cappa Di Tutti- Boss of Bosses– and newly decided upon "fall guy" –  Jacob Zuma.
Evil meets evil- the two mob "bosses" that held South Africa at ransom for a time. One paying the other to rob the country's tender vaults blind.
But Zuma appear not to be too contended going down alone.  In an affidavit Zuma filed in support of Moyane, he doesn't just detail a character reference. He ends with something akin to a bombshell. His final point suggests that Cyril Ramaphosa knew about "most important decisions made by the presidency". Here is the full text of the concluding paragraph:
"Finally, I wish to confirm that at all material times hereto, President Ramaphosa diligently served as my Deputy President and he would have been familiar with most important and relevant decisions made by the cabinet or the presidency."  The subtext is about as subtle as a punch in the face. It's a loud declaration of "if I'm going down, you're coming with me." Zuma's words suggest that any deals he did with the Guptas or dodgy deals facilitated in government would, more often than not, have been on Ramaphosa's radar.  Julius Malema proclaimed that Ramaphosa is in the same WhatsApp group as the Guptas and Jacob Zuma. Based on this sworn affidavit, he may not be a million miles away.
The Watson saga entertains more intriguing adventures and drama than the Hollywood box office hit "The Untouchables." It is a tale of mob -controlled extortion, racketeering, greed, corruption, late night bribery, intimidation, flashy hotel rooms,  mistresses,secret meetings,  organized tender fraud, pay-offs, dirty politicians and stacks of stash. You would think this is a Deja Vu saga out of the Chicago gangland in the 40's- but this was South Africa in the 2000's.  The tale may read  like a script out of a Hollywood film maybe- but this time the actors are for real. And their pay cheques  would leave any Hollywood star  actor green with envy.
The Watson chronicles promise us more that any Hollywood block buster ever could produce as the Zondo commission now attempts  to unravel the vast network of political  underworld deep state racketeering piece by piece. As the inquest progress- more and more greedy politicians are fingered- and it appears the chief whistle blower and ex-Bosassa mobster  Angelo Agrizzi is far from finished. Gavin Watson was filmed handling mountains of cash designated for bribes, as well as a number of other damning accusations emerging during the Zondo Commission on State Capture. It also is no big secret anymore  that Agrizzi and Watson had a falling out after the former tried to oust the latter from the company, which might have something to do with why Agrizzi is so eager to take Watson down.
Angelo Aggrizzi– Italian 2IB to Watson now turned rat- a man who likes fast cars, big money and good women. Was there a power struggle between Watson and Agrizzi for the top seat?
Zuma on the payroll- Boss vs Boss
AND in the center of this whole saga we find Ex-mob boss turned president Jacob Zuma. While the decrepit old mob boss now also finds himself entrapped in multiple court cases for corruption in the weapons scandal saga, The Gupta scandals – it appears the criminals on Lethuli-House also are setting him up to be their  own "fall guy" for the Watson chronicles too. Poor Zuma- he must feel like an ANC martyr being pulled apart by gangster horses in the South African Colosseum of dirty politics.  The poor old relic now is getting flak from both sides.  Angelo Agrizzi told the Zondo commission that his boss, Gavin Watson, had former president Jacob Zuma in his pocket. Agrizzi said Watson had the type of relationship with Zuma where he could tell him what to do. An audio clip, dated May 8 2016, was played at the commission in which Watson tells former correctional services boss Linda Mti and Agrizzi what he intends to say when he speaks to Zuma. The meetings with Zuma were as a result of former National Prosecuting Authority heavyweight Nomgcobo Jiba failing to quash a case looking into Bosasa's dodgy dealings. In the recording, Watson tells Zuma in the role play: "Mr President, we need to get to get this thing closed down… We need to get the right people in the right place. [Berning] Ntlemeza is the right guy at that place. Now we have to get the right person at the NPA…"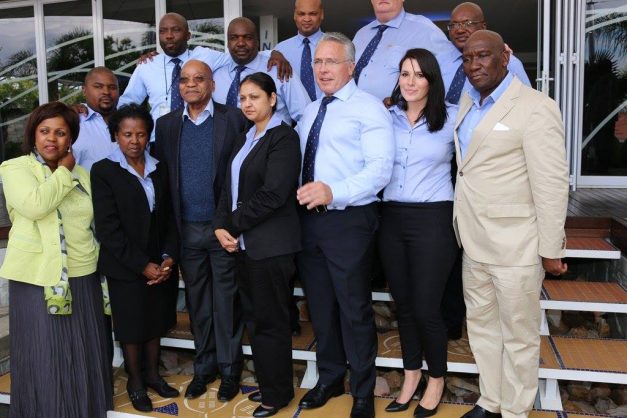 Gangsters Inc. A whole bunch of dirty and greedy ANC politicians were deep in the Bosassa pockets. 
The fatal "Accident" They mysteries surrounding it:
" Dead men tell no tales, and Gavin Watson knew a lot.I find a number of things strange around the accident. I find it strange that he drove a Toyota Corolla. He liked luxury vehicles. He owned and drives a BMW X5… He was recently seen driving a Mercedes Benz…. His colleagues never saw him driving company Corollas… I find it interesting that he called a prayer meeting yesterday, two days before he was due to testify at a Sars inquiry. He parked his BMW X5 at Bosasa's office yesterday… he died driving a company Toyota Corolla… There's no indication of another vehicle being involved. The net was closing in on Gavin Watson… The Hawks was getting closer and closer… he was in deep, deep trouble… He no longer enjoyed impunity… in the spotlight recently due to his donation to President Cyril Ramaphosa's campaign. Like the late mining boss Brett Kebble, Bosasa CEO Gavin Watson takes many secrets with him to the grave… Whatever his post-mortem shows (or doesn't show), he is no longer here to complete the story that shook South Africa and the ANC to its core…  " … "Adriaan Basson, editor-in-chief – News24
Questions surrounding the "untimely death " of corruption-accused Gavin Watson on a crucial stage where he was to appear before a commission about his tax submissions continue to swirl weeks after the crash near OR Tambo International Airport in Johannesburg. A blame game has now started among his friends and relatives, who are making serious accusations, claiming they know who would be to blame if Watson was indeed"murdered. " A Watson family source, who did not wish to be named, told the media  that media reports about a preliminary pathology report were correct in indicating that either Watson was already dead when the Toyota Corolla he supposedly  had been driving collided with a concrete bridge pillar, or his heart had stopped beating.
This was confirmed by the pathologist's observations that in spite of the laceration of the neck and the severed aorta, neither of these wounds showed significant blood loss… " this would confirm the pathologist's view that at the time these injuries were incurred, the heart was already not functioning," the source said. This would indicate that Watson may have had a heart attack before the impact with the bridge. But, conspiracy theories abound that Watson may have been murdered and the accident scene staged. How did Watson, who was 71 at the time of his death in the early hours of Monday, August 26, 2019, die IF he indeed is dead?
Here are the key questions that remain unanswered:
Where was Watson going?
This remains one of the biggest mysteries. What was Watson doing at the airport at 05:00, if not to get a flight? His family remains silent about the issue and his name wasn't among those passengers on the early flights to Port Elizabeth, where he regularly flew to consult with his legal team. Was he fleeing the country?
How did he die?
Pending a final post-mortem report, the exact cause of death is uncertain. Photographs show a gaping neck wound, but there's almost no blood on his person, his clothes or in the car. This suggests his heart stopped beating before his neck was ripped open. Does that mean he died from a heart attack, or something similar?
Was it an accident… or not?
The column supporting the bridge over the road leading to the airport is meters away from the road. A motorist wanting to ram into it would have to purposefully veer off the road. Given the physical condition of Watson, who was fit, but under stress and taking medication, is it conceivable that he lost control and that it was an accident? Or was the Bosasa kingpin, as some claim, forced off the road?
Where are the witnesses?
Numerous witnesses have come forward to give their view of the events in the minutes immediately after Watson was believed to have collided with the concrete pillar. But no one, it seems, actually saw the crash. Ekurhuleni metro police were on the scene almost immediately and were able to summon paramedics and firefighters to the scene.
Where is Gavin Watson's cellphone?
Watson's family claims the phone was traced to Germiston and Bryanston on the day of the crash, but they have been unable to find the phone. Watson  never traveled anywhere without his phone. But, when emergency service workers searched the car at the scene, they could not find his cellphone or any luggage. Watson only had a wallet on him, with R70 cash as well as his ID and driver's licence. It's been well-documented that Gavin Watson's phone was found to be "on the move" days after his death. His brother Jared has confirmed the family discovered the same thing during their last attempt to trace the device. With the much-anticipated police report set to be released soon, this is one of the most pressing matters to answer: "We are still waiting on the tracking data from the phone, as well as video evidence from before the accident, among other things. We're trying to understand what was going on there. So we are waiting, we want the cops to give us the tracking information from the phone and call records and stuff like that,"
WHO was writing the text below and who is the mysterious Martinez Kostivic who's name(said to be an alias)  just keep popping up in London? 
Who was the body in this casket (if any)- was it Watson…or was it a fake funeral? Watson was too powerful, to deep into the underworld- and too important for many dirty ANC (and other) politicians to just "die." He held the keys to too many dark and lucrative vaults. 
 WATSON- A strange man garbed in a fake Christian veil
Gavin Watson, the former CEO of corruption-tainted facilities management company Bosasa, led a life far removed from that of a devout Christian and struggle figure, an image that he so carefully crafted. He bullied and insulted his employees, called black employees "k*****s" and allegedly had a manipulative mistress who earned an enormous salary from Bosasa. According to an explosive new book by Adriaan Basson,"  Blessed by Bosasa: Inside Gavin Watson's state capture cult." Watson stood at the head of what many perceived to be a cult, where he lied and manipulated in order to ensure that government tenders worth billions of rand flowed to the company. Watson died in a horror car crash in August, while Bosasa is in liquidation and at the centre of state capture investigations.
In his book Basson reveals:
Watson deceived the ANC Women's League when the company was formed. They believed they owned it, while in actual fact Watson took ownership.

Watson had pictures of Basson and Willie Hofmeyr, a former head of the Special Investigations Unit, which he blessed and prayed for. He even had a white cross with a picture of Hofmeyr in his garden.

How the late Vernie Petersen, a former prisons boss, was hounded from office by then prisons minister Ngconde Balfour and feared for his life when he started questioning the Bosasa tenders. He died a broken man.

That Nomvula Mokonyane, who was fired by  Cyril Ramaphosa and now works at Luthuli House, was "like an employee at Bosasa" and that Watson expected staff "to drop everything" when she made demands.
In February, Basson testified at the Zondo judicial commission of inquiry into state capture about being threatened while he and colleague Carien du Plessis were investigating the corrupt tenders Bosasa won from the correctional services department.He also revealed there were plans to "eliminate" him and take him to a prison in Zimbabwe or Zambia.
Where is the tracking data from the car?
Watson was driving a Bosasa-owned Toyota Corolla sedan. His BMW X5 SUV was parked at Bosasa's offices in Krugersdorp. Bosasa vehicles, which are part of a large fleet the company uses, should have a tracking device, but the family and police have remained silent about whether the vehicle had a tracker. Data from the tracking device could be crucial to build a timeline of Watson's movements.
Where is the CCTV footage?
It would appear that there is no CCTV footage of the moment of the crash, which occurred within walking distance of the airport. News media investigators  observed no cameras that could conceivably cover the stretch of road where the crash occurred. Police are have not said whether any footage was recovered. The strange circumstances around Watsons appearant "death" just deepens.
The mistress

WATSON's typical duel life of a mobster- his legal wife  Leigh-Ann Watson and mistress Lindie Gouws
Basson writes that Watson's life was much removed from what he preached, and that among Bosasa employees it was known that he was engaged in an extramarital affair with a "dark-haired, brown eyed enigma" – former rag queen Lindie Gouws. According to various interviews with senior Bosasa employees and former Watson colleagues, including whistle-blower Angelo Agrizzi, Gouws had an extraordinary hold over Watson and that he almost never challenged or disagreed with her. Calling herself "the bride of Christ", and often referred to as "Mrs Watson" or "die grootbaas se cherrie" (the big boss's girlfriend), she seemingly lived with Watson at a complex in Krugersdorp, with her underwear being spotted on his washing line, her car outside his house while he walked around near-naked in his boxer shorts and doing shopping together. His bathroom was also filled with her cosmetics.
She denied the affair to Basson, saying that she did not have a sexual relationship with Watson. "The rumour was purposefully spread on the [Bosasa] campus that we had an affair. People have a perverted image [of our relationship]," she said. Gouws was enormously influential in the company. Watson was described as "overpowering", "dominating" and "forceful", except when it came to Gouws. Denise Bjorkan, a former senior former Bosasa employee, told Basson: "She could tell him any crap and he would believe it." She was concerned about the "hold" Gouws had on Watson and both she and Agrizzi witnessed the loud-mouthed, bullying and botoxed Bosasa CEO cower before her. Basson details an incident where she threw her car keys at Watson, shouting: "Where is my f*cking laundry? " while Agrizzi overheard a telephone conversation where Watson was reduced to saying "sorry for this and sorry for that".
Agrizzi then asked him when will he "stop this sh*t" and quoted a Bible passage about adultery. Watson told Agrizzi that he wasn't having an affair. "I said to him, 'You are having an affair, I'm telling you now. You are the only one who doesn't know you're having an affair. Everybody f*cking knows'." Basson also reveals details of male executives preying on female staff. One executive bought a fridge for every woman he had sex with, while another was caught having sex on a boardroom table. Cleaners also complained of the company's guesthouse on the Bosasa premises in Krugersdorp, with "all the semen" staining the desks, floor and beds. Watson is also portrayed as a bully and bombast who insulted employees who were overweight and wasn't afraid to call black employees and colleagues "k*****s". He told Agrizzi and senior employee Retief van der Merwe: "You better get these k*****s in line." He also called them "darkies", saying: "Why do you think I employ these k*****s? Because they're stupid. They've got nothing between the ears. They're thick and I can control them. I can do whatever I want with them; they need the money."
Adriaan Basson- "getting too big for his shoes"- entrapped in the mob
Adriaan Basson– Chief editor of the leftist Afrikaner Brioederbond controlled Beeld newspaper- got himself deep into murky waters with the mob.
Adriaan Basson, editor in chief of news24, wrote in 2018 that his" big break"  in journalism was establishing a link between Bosasa – a company founded by the Watson brothers – and Linda Mti, then the boss of Department of Correctional Services, which granted Bosasa more than a healthy share of tenders to undertake work for prisons. "With prisons being the unsexiest beat in journalism, we had to find something more than tender irregularities…," he said in a column. Flash forward to 2019 to the Zondo Commission into State Capture: Bosasa's former chief operating officer, Angelo Agrizzi, has been a star performer, with a view to keeping himself out of jail. He has made a variety of controversial claims about Gavin Watson, the company's founder with close links to the ANC, and senior political figures. Watson died in a  "mysterious " car crash in August, only hours before he was expected to give fresh information to the South African Revenue Service. Meanwhile, allegations from the Watson camp have surfaced about Agrizzi and others, including that Agrizzi had relationships with influential members of the media, backed by a friendly email from the editor-in-chief of news24, Adriaan Basson, asking him to check a draft of an article he had written about the prison's tender. When asked Basson for details about his relationship with Agrizzi. He refused to answer any direct questions, instead asking BizNews to publish a right to reply without any changes. Basson already smelled trouble and start to duck and dive.
Basson find himself on the wrong side of the mob
The Zondo commission has heard how Basson who wrote articles on facilities management company Bosasa was threatened and warned to stop reporting on the company. Basson told the inquiry that he had taken interest in Bosasa after it was revealed in Parliament that the company was awarded a number of contracts by the department of correctional services in 2006.  He said he investigated the facilities company and developed a relationship with a number of sources inside Bosasa. In 2009, while working for the Mail&Guardian, Basson said he was leaked a bunch of emails from a source. It was those emails that became the basis for an article authored by him and entitled "Here is the proof minister". The articles showed how Bosasa had been involved in drawing up tender specifications for tenders that it was awarded by correctional services. This fact was also confirmed to the commission by former Bosasa COO Angelo Agrizzi.  Basson said after the article was published in 2009, he started receiving phone calls from various numbers, some of them would be visible and others would be marked as private.
The callers would threaten Basson and tell him that they were Bosasa employees and he was risking their livelihoods by publishing articles about Bosasa.  He said he would explain that he was just doing his job.  Basson described a more disturbing phone call which he received in 2009. He said a woman called him and tried to deceive him into thinking that she was looking out for him and warned him to stop writing about Bosasa. Basson said the woman introduced herself as a media person but did not reveal her name.   The woman also had personal details about Basson about his family, where he studied, his ID number and where he lived. He told the commission that he suspects the woman had been reading from an intelligence document that was done on him. When he Googled the number that the unidentified woman used, he found the number belonged to Benedicta Dube, who worked in PR but had been a journalist before. Dube was also mentioned in Agrizzi's testimony as one of the journalists that did PR work for Bosasa.  Bosasa had apparently distributed Basson's telephone number to its employees and they were encouraged to call him and threaten him, Basson told the inquiry.    Basson said the calls upset him and he did feel threatened. Bosasa at the time denied being behind the threats against Basson.  Basson was also questioned about a video in which Agrizzi said he had visited his home and had brought his children with. Basson admitted that he had visited Agrizzi's home to get more information on Bosasa. He said Agrizzi had indicated that he was ready to blow the whistle on the corruption at Bosasa. 
ANC fat cats caught with their greedy paws deep into the Bosasa cookie jar
" The fact that Ramaphosa's campaign managers and fundraisers thought it was okay to accept a donation from a company that so obviously makes its money from dirty tenders is alarming. Courtesy of President Cyril Ramaphosa, the Bosasa state capture scandal is topping the national agenda. 12 years after I first started to investigate Bosasa and its CEO Gavin Watson, a R500 000 donation to Ramaphosa's Nasrec campaign trust has blown open the ANC's complicated, conflicted and downright corrupt relationship with tender-rich companies like Bosasa. For Ramaphosa, it's easy to preach anti-corruption when it concerns his foe Jacob Zuma or the Guptas. And yes, the Zuptas deserve every inch of scrutiny they currently experience from the Zondo commission."– Adriaan Basson
From the moment former Bosasa chief operating officer Angelo Agrizzi began his testimony at the Zondo commission into state capture he's been dropping files. Bribery, fraud and big names have dominated each day as South Africans watch in horror at the movie that is Mzansi. Here are the  big ANC names linked to the bribery that Agrizzi said took place. Watson's company, Bosasa, was majority black-owned; as such, it garnered contracts worth $140m from the state between 2000 and 2016, from prison catering to fleet management and information technology.
According to the testimony of four whistle blowers, all former Bosasa executives, around $5m was paid in bribes to secure these contracts. They allege an industrial-scale operation that generated cash through money laundering and then distributed it to buy influence, secure contracts and prevent prosecution. They have described cash stuffed into Louis Vuitton handbags as gifts, or handed over in monthly installments on the sides of highways. ANC State officials received cars and houses; free security equipment and school fees for their children – even monthly meat supplies.
Jacob Zuma
Jacob Zuma, the former president, has been named in testimony as allegedly receiving gifts from Watson and playing a role in stopping the prosecution of his company, which first came under investigation in 2007.
Cyril Ramaphosa
Aggrizzi said there was a  R500 000 donation to Ramaphosa's Nasrec campaign trust which has blown open the ANC's complicated, conflicted and downright corrupt relationship with tender-rich companies like Bosasa.  Ramaphosa's campaign to become ANC president in 2017 allegedly received half a million rand cash injection from Bosasa chief executive, Gavin Watson. Bosasa also paid Ramaphosa's son Andile a consulting fee for "advisory services".The fact is that Ramaphosa received R500,000 from a company that has been paying the ANC bribes for the better part of two decades.
Dudu Myeni 
Agrizzi told the commission that former SAA chairperson Dudu Myeni had been in possession of confidential National Prosecuting Authority (NPA) documents about an investigation into Bosasa. Myeni allegedly shared the documents at the Sheraton hotel in Pretoria.
Hlaudi Motsoeneng 
Agrizzi confirmed that Bosasa forked out R1.1m for former SABC chief operating officer (COO) Hlaudi Motsoeneng's legal bills, following his axing from the public broadcaster. Motsoeneng had incurred the bills following the wrongful dismissal of eight SABC employees.
Lindiwe Sisulu
International relations and cooperation minister Lindiwe Sisulu was also implicated in state capture, said Agrizzi, who testified that Sisulu was a shareholder of Dyambu Holdings, the company that birthed Bosasa.  Sisulu has denied the claims.
Dr Khotso de Wee
The former COO at the department of justice – and the secretary of the very state capture commission in which he was named – Dr Khotso de Wee has been put on special leave pending an investigation into allegations that he too received a bribe while he was an executive at the department of justice.  The alleged bribe was linked to a 2013 installation of security systems in various courts around the country. De Wee was put on special leave after Agrizzi made the allegations before the commission.
Gwede Mantashe
Witnesses have continued to spill the beans at the Commission of Inquiry into State Capture in Parktown, Johannesburg. African National Congress (ANC) Chairperson and Mineral Resources Minister, Gwede Mantashe, has for the first time been implicated in the Bosasa scandal which is unfolding before the commission. He has been named in the 'Special Projects' box.
Nomgcobo Jiba
Deputy national director of public prosecutions which has been investigating Bosasa since 2010. Agrizzi's testimony suggested why, almost a decade later, no one had yet been charged: in his account, Jiba were paid off to obstruct the prosecution – and even to advise the accused on how to circumvent the charges.
Lawrence Mrwebi,
Together with Jiba  and  who headed a unit of the prosecuting authority that had, in fact, been investigating Bosasa since 2010. Agrizzi 's testomony also omlicated Mrwebi – as with Jiba- being paid off  to flaw the investigation. Both Mrwebi and Jiba have denied Agrizzi's allegations, and claim they never received money from Bosasa.
Linda Mti
Hard-driving and charismatic, Mti is still known by his nom de guerre, "Richman". He likes to tell the story of how, one day in 1980, while he was working out of the neighboring country of Lesotho, two conservatively dressed young white men were brought to see him. His mother had joked that he might live to see the day that he could tell a white man what to do, and "now I've got two. My whiteboys!" The men were Ronnie and Valence Watson, and they had come to Lesotho at the behest of Chris Hani – the legendary ANC leader, who was later assassinated – smuggling forged documents across the border in their big white Mercedes. Mti became their handler, and in the years that followed, the Watson boys shuttled fleeing activists across the same border, along with intelligence reports about what was happening back home. Both Mti and Hani became close personal friends of the Watsons. Mti became prisons commissioner in 2001, a year after Gavin Watson bought Bosasa: the company provided catering for mine hostels, and ran two detention centers, one for illegal immigrants and one for juvenile offenders. Watson was ready to expand. His man was in place.
Nomvula Mokonyane
Implicated at the Zondo commission that she was working for Bosasa on a close relationship
Patrick Gillingham
Bosasa made a pitch to Mti and  senior prison official, Patrick Gillingham, for all the catering contracts in the country's prisons. According to testimony given to the inquiry and the charge sheet, both men conspired to award Bosasa the prison catering contracts, for which they received lucrative kickbacks, in cash and in kind.A senior career official in the apartheid-era prisons service, Gillingham would have been a strong candidate for prisons commissioner were it not for the timing of the transition to democracy, and the ANC's affirmative-action policies: he is white. When Agrizzi was trying to explain how he, too, became corrupt while working for Bosasa, he told Zondo: "We were constantly told that we were white males and that you will not find a job anywhere out there … This was drummed into our heads." Similar statements were made by the other whistle blowers, all white men too. I have seen a video in which Watson does, indeed, emphasize to his white staff their unemployability in a changing South Africa.
Jackie Lephinka
She was Jiba's assistant and according to Agrizzi, she played a big role in helping Bosasa secure crucial NPA documents.
 Maanda Manyatshe
Recieved  expensive, premier gifts including luxury Cartier and Montblanc pens as well as cufflinks and watches.
Vusi Pikoli
His wife Girly Pikoli was a  shareholder of Dyambu Holdings, Bosasa's former name.
The bribery rot ran deep
Agrizzi   told the commission headed by Deputy Chief Justice Raymond Zondo that Watson knew that the money they paid to senior employees of SOEs was used to bribe them. He said Bosasa was awarded a contract to build a multi-storey car park for Acsa, allegedly after paying bribes. Agrizzi said the lowest amount he paid in bribes was R5000, which was recorded as a "bonus,"- while he facilitated amounts up to R1million and "sometimes more". He said Watson would boast about paying state officials and claim he was" looking after them. " "He trusted my knowledge and ability," Agrizzi said of Watson, adding that he was very close to him. He also revealed that Chemical, Energy, Paper, Printing, Wood and Allied Workers' Union general secretary Simon Mofokeng was also on Bosasa's payroll to give the controversial company access to Sasol, where the Cosatu affiliate organises.
Agrizzi, who worked for Bosasa from 1999 until 2016, said he later learnt that Mofokeng's wife Maureen was hired by the company to head up its training department. While servicing a contract with one of the major mining companies, said Agrizzi, Bosasa also paid for the maintenance of vehicles for officials of another Cosatu affiliate, the National Union of Mineworkers. He claimed he was Watson's right-hand man. Agrizzi added that Bosasa became something of a cult and Watson would invite prophets and pastors to preside over all-night prayers. "Watson is a very charismatic leader, he has influence over his employees," he added. He revealed that in 2013 controversial former SA Airways chairperson Dudu Myeni showed him National Prosecuting Authority (NPA) files and that prosecutors were bribed to quash charges against the company's employees.
Agrizzi said NPA officials were bribed to impede the prosecution of Bosasa employees implicated in a Special Investigating Unit probe.Agrizzi told the commission of inquiry into state capture that Bosasa, now called African Global Operations, paid up to R6million a month in bribes to senior officials of SOEs such as the Airports Company SA (Acsa) and the SA Post Office (Sapo).  Watson allegedly had close ties to officials within the African National Congress (ANC) through his family's anti-apartheid struggle credentials and his brother's post-1994 business interests. Agrizzi claimed Watson had used his political ties to win a lucrative catering contract for his company at Gold Fields in a shady manner.  Agrizzi said that Watson had first offered him a lucrative job on the spot with attractive perks after meeting him for the first time after joining Bosasa in 1999 while it was still Dyambu Holdings. , and he immediately resigned from Dyambu's competitor, Molope Foods.  At the time, Agrizzi said he was busy finalizing a contract between Molope, the National Union of Mineworkers (NUM) and Gold Fields for the provision of catering services at the mine's hostels. He went on to join Dyambu and helped Dyambu to steal the contract he was negotiating for Molope by persuading Gold Fields management to sign the contact with Dyambu. 
Agrizzi said he had a very close relationship with Watson as he trusted him with highly confidential information, and that Watson had told him that he helped union leaders, whom he called "comrades", at various mines with funerals expenses. Agrizzi said he would later learn that people were paid to support Dyambu effort's to win tenders. He claimed that he was present in meetings at Dyambu's offices where Watson allegedly paid money to the late Jackson Mafika at Kloof gold mine to secure support for the company. Agrizzi claimed that the cash was delivered and typically handed over in grey cash bags, but conceded to deputy Chief Justice Raymond Zondo that he did not see the money itself.  Mafika was ANC chief whip at the Westonaria Municipality and the head of NUM in the area.  He said Dyambu was then renamed Bosasa after the it had acquired the catering tender at Kloof gold mine. Bosasa has since morphed into African Global Operations. Agrizzi resigned from Bosasa in 2016.  Sometimes at pains to explain some of the shenanigans, Agrizzi also revealed that his salary at Dyambu was split into two between him and his wife for the benefit of reducing his tax bracket even though his wife was not employed by Dyambu. Agrizzi's wife was his personal assistant when he was with Molope. Agrizzi said he had not reported any matters in his statement under the Prevention of Organized Crime Act.  Evidence leader Advocate Paul Pretorius said all the implicated parties will be be informed and given all the relevant materials as the testimony of Agrizzi had to be dealt with with caution.
Agrizzi has also reported threats to his and his family's safety to the Hawks. His life was in danger, head of the commission's legal team Paul Pretorius said. Agrizzi believed testifying before the commission would protect him. The sensitivity and shocking nature of his evidence forced the commission not to notify parties and individuals of his testimony as has been done previously. Instead, those implicated by Agrizzi were only informed by phone on Wednesday, Pretorius added. Agrizzi has been receiving anonymous calls and been warned that Watson can make people disappear. The commission has found the threats credible enough to offer him security.
The sad reality
People worked together to remove the head of the Hawks; Secretary-General of the ANC Ace Magashule was part of several plans to make money out of the people of Free State; a private company appeared to control who got which tenders, thanks to gifts to ministers; we could go on and on. Yet, despite all this testimony, broadcast live on SABC TV and radio stations for everyone to hear and see, so far there have been no consequences. No arrests, no charges, no political fallout. Magashule is still secretary-general of the ANC, Bosasa has changed its name but its CEO died in a car crash and there have been no consequences for anyone else (as far as can be seen). We could go on . South Africa is already a cynical country. Very few crooked politicians are serving or have served jail time (Tony Yengeni and John Block, who used to run Northern Cape, being  notable exceptions). People have been accused of the most horrendous things, such as selling the country to a foreign family, who among many misdeeds used Eskom to force a company to sell a mine (in the case of Mosebenzi Zwane and Optimum). In another case, a "wonderful person called Hlaudi" was allowed to effectively loot the SABC.
Unfortunately, the Zondo Commission has not led to any change in the prevailing no-consequence winds. Instead, it could be intensifying the dynamic. Firstly, the commission is hearing evidence day in and day out. It is a drip-drip effect, helping normalize corruption. The more you listen to it, the more used to it you become. This is not the fault of any of the people involved with the commission. It is more the effect of how it has to listen to the evidence. As it goes on, news coming out of the commission becomes less compelling because people have grown accustomed to the awfulness of it all. This could have important implications: people get familiar with the idea that all politicians and all officials are corrupt. It adds to the cynicism already there.
A second problem has been the way those implicated in alleged corruption (do we still need an alleged?) have used the commission to respond to claims against them. None of them appeared to show any shame whatsoever. Hlaudi Motsoeneng simply made outlandish claims, former president Jacob Zuma used the commission to claim three people he appointed to his Cabinet had been"spies"for the apartheid government, and that there were assassination attempts on him, while others, such as former SABC and Eskom chair Dr Ben Ngubane, bluntly refused to admit any wrongdoing. The commission has to allow those implicated to respond and cannot dictate how they respond. And, for those implicated, their approach seems to work. However, this effect of deepening cynicism is not necessarily irreversible. Certain events could change people's attitudes. It goes without saying that the most obvious way to change the course of events would be for the National Prosecuting Authority to charge some people implicated. But sadly nothing ever will happen to any-one implicated. How long now do we already wait for Zuma to start his peanut business in Pretoria Central prison? Zuma was the main attraction of corruption for the past 10 years- yet he was left alone to proceed with his murky dealings with the Guptas. Not even one of the Guptas was ever arrested. And so did Shabir Shaik also recovered remarkably from his  terminally illness with the help of his golf therapists this past couple of years. 
The ANC mob already had a long career of cavorting with the corporate mobsters. It went right back to the Seriti Commission , Mbeki , Seth Phalatse' Richard Charter and Niall Irving and the infamous  R30-billion.arms deal.  Then the corruption changed gears with Jackie Selebi and Glenn Agliotti, a confessed drug kingpin,- then the gears again shifted to  Brett Kebble and his connections with  Fikile Mbalula' and many a day partying with Johnny Walker Blue Label. Then Kebbles connections with  Andile Nkuhlu and Lunga Ncwana and his R14-million estate from bribes given by  Kebble. Then the corruption moved into high speed as we enter the era of Jacob Zuma and the Shaiks, then Zuma and the Guptas. Now the gears moved into top gear as we moved to the next level with Watson and half of the ANC mob. Every ANC gang boss from Mbeki to Ramaphosa appear to have their own personal corporate goon factory stuffing top dollar into their back sides. With every corporate gangster Inc. the greed among the ANC gangsters only expands as more and more pigs are drawn to the trough for the feast. And as the top mobsters shifted their gears into top notch so did their lower echelon also. So far we have recorded 375 cases involving BILLIONS either stolen, laundered, wasted, squandered , siphoned or extorted by the ANC mobsters and their so-called "SOE's." And as yet it was only Yengeni and  John Block that was slapped on the wrist with  feeble jail sentences in 25 stormy years of looting.
The Watson saga is far from finished. Factually it will never end. It did not in 25 years of corrupt rule by the ANC – and it will not end until the ANC is permanently kicked off their throne and banned again- never to return to South Africa in any political capacity again. The Watson saga started off as the " BAE/Thales " saga- then changed to the "Shaik saga", then again changed it's name to the "Saxonworld" saga- and now we again have a name change to the "Bosasa" saga. The names of the games may have  changed this past 25 years on a regular basis- but the players are still the same team- just wearing  different names of their sponsors on their jerseys each time. So now we patiently await the next round of  "Vladimer " or "Jinping" saga to take us back into the future.
The lessons learned
The ANC ex-cons and ex-terrorists very clearly demonstrated to us what a government should NOT be. The Watson saga again like so many other sagas this past 25 years underlined the fact that the ANC is nothing but a bunch of scrupulous greedy opportunist wolves that prioritizes personal enrichment above that of the welfare of the country. The Watson saga  showed to us one more time that even our tolerance must have  limits as how far we would allow the government of the day to rule.. Their rule based on corruption, extortion, embezzlement, plundering, false promises, intimidation, arrogance, looting, racism, discrimination, political assassinations , division, maladministration, incompetence and blatant lies should be a lesson for future generations what a "democracy" is all about: The poor must suffer while  the rich can blame-shift their greed and mismanagement onto a minority group. "Democracy " now taught us that it only is another "smart term" for socialism- which eventually will morph itself into full communism– where a small "elite" plunder themselves into stardom while the rest of the population are enslaved into poverty. It taught us that under the cloak of enough "smart terms" and a few self fabricated laws the regime can commit genocides, oppression, discrimination and property theft at will. It taught us that you never must hand  total control and power over to a one-party rule. It taught us to protect our G-d given rights such as freedom , safety and the right to own a decent living.It showed us how quickly a country can decent into anarchy if the wrong people are in control- and being controlled by darker forces.
It demonstrated to us how vile the coordinated cooperation between dirty politicians and greedy corporate vultures can get. It exposed to us the careless exploitation of state systems that are supposed to protect us being turned around to inflict collateral damage to us. It showed us how little the international world's promises and rules with regard to human rights apply when capitalism becomes the priority of the United Nations and world governments-  rather than to act as  the protectors of nations.Democracy then explained to us what a destructive system liberalism can be. It also gave us the insight not to choose our so-called "leaders" on the basis of  election campaigns and the media propaganda machines- but on the basis of historical evidence of competence and previous achievements. Democracy showed us how quickly law, order and discipline become terms of obsoluteness  if a constitution is applied incorrectly and amended or interpreted for the specific objective of selfish political gain. Then lastly it also taught us a lesson never to allow politicians to divide a nation on the basis of race, religion and political affiliation in order to conquer and rule. In essence did "democracy" proof to us that socialism and communism are two evil systems that were designed to enrich the "elite"– but   ultimately to fail and enslave the nation. The ANC in South Africa came and they applied  each and every lesson this false "democracy" showed us not to accept.
SOURCE:
White Nation
WHITE NATION– WE DO NOT HATE WHITE LIBERALS– WE SIMPLY DESPISE THE FILTH!!
C'MON- SHARE OUR LINK