Do you have news to tell us? Send your e.mails with news and inquiries to: w.nation@mail.com
Register with us for free to follow our news on the right-hand tab
Article compiled by White Nation correspondent Cape Town  –November 18 2019
ALSO READ:
Prasa faces collapse and thousands of jobs are on the line
Strikes cost SAA R 52 Million per day
Bonuses paid to government employees rise sharply
Billions paid out to students in error, admits NSFAS
R1 billion is spent towards police highers a year
Ungodly and uncivilised: The destruction of a country
Lindiwe Sisulu accused of using water budget to run for ANC deputy president
Investors are pulling out more and more as credit downgrading continuous
After stealing all eggs, ANC cadres now going after the chicken itself
SANDF's  R500-million plane contract — for no planes
SOUTH AFRICA– THE  ANC PIRATE's REALM DOWN SOUTH
The South African Airways– national carrier of a once proud country that withstood the test of time, sanctions and big corporate rivalry such as BOAC, BEA, Pan American, Lufthanza, Olympic, Quantas , Varig and other fierce international competitors is about to have it's wings clipped- permanently it seems. South African Airways began operations on 1 February 1934, when the South African government took over the assets and liabilities of Union Airways. For 75 years the  airlines with it's orange vertical tail fin and proud Springbok emblem was managed and run by the most professional administrators, it's aircraft flown by "Top Gun " pilots , it's technical maintenance done by internationally accepted technicians- and it's hospitality on board serviced by the most  committed and friendly trained cabin staff.
As a passenger it was indeed a sheer pleasure to board at first the old South African airlines Viscount piston engined aircraft. Then the jet age arrived in South Africa on 3 May 1952 when a BOAC de Havilland Comet arrived in Palmietfontein after a 24-hour journey from England with five refueling stops en route. South African chartered two Comets from the British airline; on 4 October 1953, when Comet G-ANAV left London for Johannesburg. Later on when Boeing propelling itself into the lead of the passenger jet age with it's 707 series after the disastrous end of the British Comet -followed by the domestic designed 727 and 737 . Then the carrier purchased the  new revolutionary   747  Jumbo SP jetliner and later on the modern  Airbus flown  by well-respected captains such as Capt. Pine Pienaar . You felt welcome and well catered for by the most experienced and friendly crews on the ground and  on board .The South African airways stood out among the best airlines in the world with service, hospitality , comfort and a safety record according to IATA (International Air Traveling Association)  regulations – competing in the marketplace with the top leagues in it's class.  It kept up with the ever changing and demanding air travel industrial environment. It became the major passenger airlines of Africa- spreading it's wings from Cape Town to Kairo- and beyond. It traveled across the seven seas- servicing many international routes. From Johannesburg, SAA's hub, the national carrier of South Africa flies to over 35 destinations across Africa, the Middle East, Asia, Europe, Australia and North and South America. From it's first flight in February 1934 it  welcomed the world to South Africa by showing off the warm generous heart of a prosperous  country.The airlines and it's staff evolved with time to become masters of their art  and truly became proud ambassadors of South Africa's will to survive troubled times, made huge progress towards new technology-  and  became a corporate giant  in Africa .
The once proud South African Airways- flying it's colors with dignity.
A brief history of a once proud airline
1930s
South Africa Airways began operations on 1 February 1934, when the South African government took over the assets and liabilities of Union Airways. The airline was renamed South African Airways (SAA), and fell under the control of the South African Railways and Harbour administration.
On 1 November 1934, SAA introduced Junkers Ju 52/3m, the first multi-engine aircraft, on its domestic routes. During the 30s, the airline steadily acquired more planes, including the first 10-seater Junkers Ju 86s, DC-3s, Constellation L-749As, Lockheed Lodestar, DC-7Bs Vickers Viscounts and the Boeing 707.
1940s
The International Air Transport Association (IATA) was founded in Havana in April 1945, and SAA became one of 44 active founding members. In November 1945 SAA introduced the Springbok service, its first inter-continental service. The flight took off from Palmietfontein, with stops in Nairobi, Khartoum, Cairo, Castel Benito and Bournemouth and took 34 hours. SAA modernized in-flight service and entertainment by introducing air hostesses on domestic flights and a cinema on the direct service between Johannesburg and Cape Town.

The official opening of Jan Smuts International Airport was held in Kempton Park on 17 April 1952. In 1953 a SAA operated BOAC Comet took off from Johannesburg en-route to London, in the process becoming the first airline outside the UK to operate jet aircraft.In November 1957 the first SAA flight departed for Perth. Today our Wallaby service provides a daily connection between Australia and Africa and has expanded with our codeshare partner Virgin Australia.
1960s
The 1960s South African Airways extended its orange tail insignia across the entire fleet. In March 1967, it's Wallaby service became the first weekly jet service between South Africa and Australia. In 1968 it made an inaugural flight from Johannesburg to Rio de Janeiro using a Boeing 707. The 1968/1969 financial year was the first time SAA carried more than a million passengers.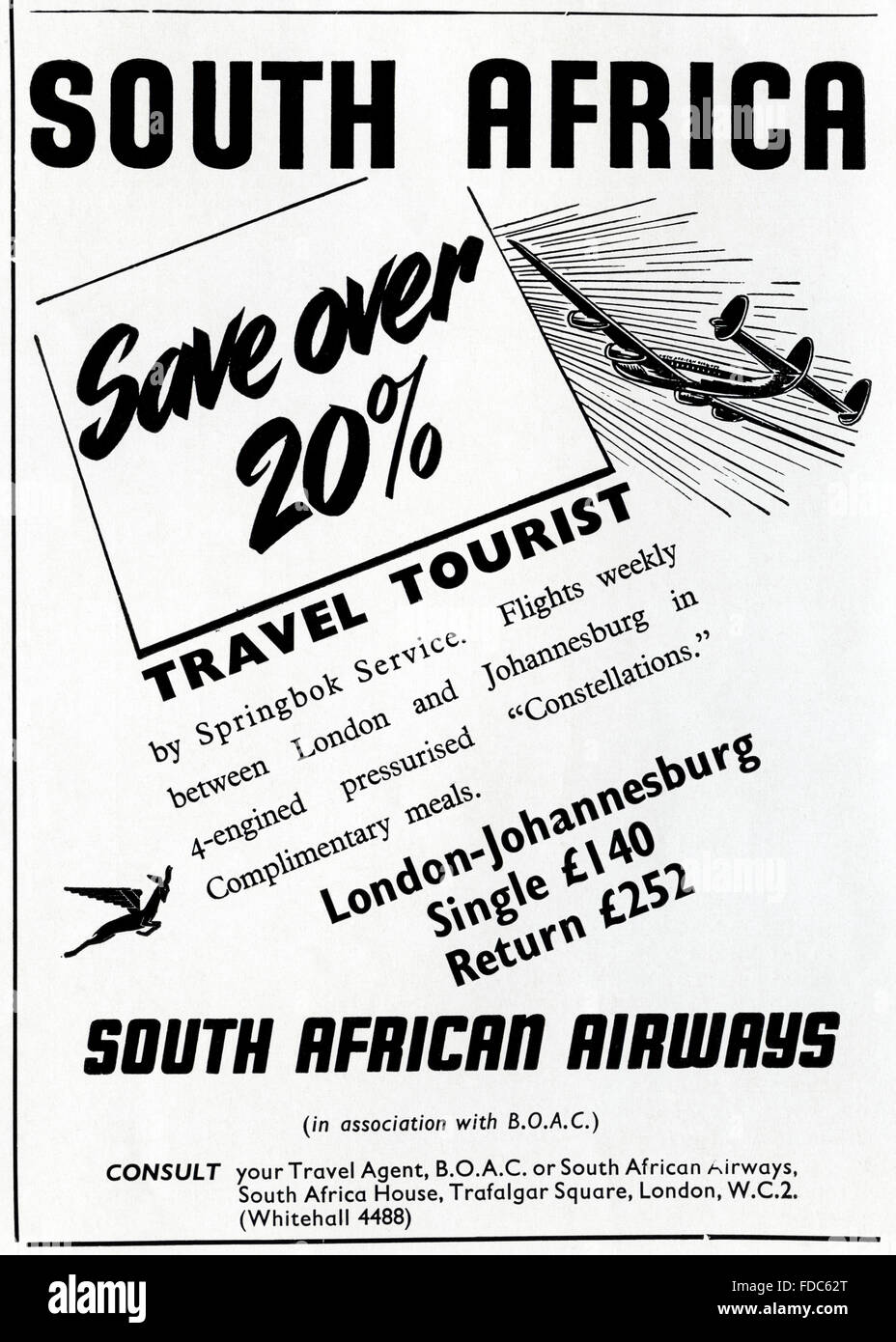 Old campaign advertisements during the hey-day of the SAA
1970s
The 70s welcomed new arrivals: the  first Boeing 747B, ZS-SAN 'Lebombo' and Airbus 'Blesbok' At the same time, the airline  sought to improve it's traffic growth on domestic and regional routes by purchasing 12 Boeing 737s, three Boeing 747SPs and four Airbus A300s. On March 23, 1976 an SAA Boeing 747SP (special performance) set a record for the longest non-stop commercial flight when it flew from Seattle to Cape Town, a distance of 16 560 km's covered in 17 hours and 22 minutes. On 24 April 1976, South African Airways operated the world's first commercial flight using a Boeing 747SP. The aircraft flew on the Johannesburg-Lisbon-Rome-Athens service. On 6 January 1977, the Boeing 747SP made its first scheduled flight between Johannesburg and Sydney. The flight offered in-flight audio entertainment and movies.
1980s
In April 1981, South African Airways introduced a three-class service for an Australian flight: Blue Diamond First class, Gold class for Business passengers and Silver class for Economy class travellers. Due to economic sanctions, flights to New York were suspended in November 1986. The USA withdrew from its landing rights in South Africa. The following year, the Australian government took the same action against South Africa.
1990s
For the first time in 28 years, SAA flights operated via Sudan and Egypt. Economic sanctions against South Africa were lifted, and flights to New York and Australia resumed. On board domestic flights, SAA introduced multi-lingual greetings in English, Zulu, Sotho and Afrikaans. On international flights, passengers were greeted in the relevant language of their destination. SAA's Cadet Pilot Training program was launched to provide previously "disadvantaged | individuals an opportunity to become pilots. On 24 June 1995 a SAA Boeing 747 captained by Laurie Kay produced one of sport's most memorable moments when he piloted his plane over Ellis Park ahead of the Rugby World Cup final. It was described by a rugby writer as, "Completely unexpected, brilliantly executed, totally thrilling," and a pass that will live forever. On 22 March 1997, SAA unveiled a new corporate identity with its aircraft tail designed to reflect the colors of South Africa's new national flag: red, blue, gold, black and green. Even after discontinuing the Flying Springbok logo, SAA retains the word "springbok " in its radio call sign.
The new insignia of the SAL after sanity took a hike in 1994 and incompetence took control
2000s
South African Airways embarked on an extensive fleet renewal program and appointed Airbus as its supplier. The airline placed a staggering order for 41 new aircraft with a price tag of US$3.5 billion – Africa's biggest jetliner acquisition. SAA launched an online check-in system and a self-check-in kiosk, a simpler, smarter and faster way for passengers to check in. SAA signed a US$200 million deal with Rolls Royce to supply the airline's nine A340-600s with Rolls Royce Trent 500 engines. After an absence of more than 40 years, South Africa was reinstated as a member of the International Civil Aviation Organisation. Thereafter, we became a member of the global Star Alliance in April 2006, and with it came seamless worldwide air travel. In addition, we unveiled two Star Alliance branded aircraft – a 737-800 and Airbus A340-600 – as part of the global network's requirements. In 2005 SAA became the first non-Saudi airline allowed to fly to Medina to carry Muslim pilgrims going on Haj. On 29 November 2007, it became the proud official carrier of the South African rugby team, the Springboks, as part of a sponsorship agreement between the airline and South African Rugby.
Trouble brewing as cracks of corruption began to emerge
The airline was a success story of a country that simply refused to submit to global pressure to succumb to become another Jew-conspired failed state- even under the stringent of sanctions, black riots instigated by British Intelligence operators-  and a 25-year war in South West Africa instigated by the global money powers to bring South Africa financially on her knees.  South Africa- her economy- and the airline only grew stronger by the day. BUT all of that was about to change through subversive treason on the highest level.  It changed for the worst in  1994 when the country and all it's functioning state organs was handed on a platter by the Judas horse FW De KLerk and his bunch of dirty and remorseless National Party political hoodlums  into the hands of  a bunch of incompetent Robbin Island fools that imagine themselves they could run a country from out of a jail cell and a fax machine in Dar-Es-Salaam.  Since the dawn of 10 May 1994 the airways then already was officially doomed to failure- doomed to be destroyed through corruption and typical African arrogance and mismanagement, and 75 years of hard work and pride doomed to become a total failure through maladministration, incompetence and racial  policies. The once proud airlines faced a very uncertain and dark future in the hands of incompetent and greedy kleptocrats that cared less for the well being of the industry than lining their own pockets.
From the start of 1995 the carrier already was starting to show some signs of constrains under the new Affirmative Action management. Greed , incompetence and corruption started to siphon  into the life blood of the carrier as it did with most of the other state organs too. The Robbin Island " Old Boys Club" already was starting to make their mark. In 1998 Transnet hired the American born  Coleman Andrews. In 1998, services to Copenhagen Airport were stopped.  The arrival of the American saw a comprehensive and controversial overhaul of the airline, changing the management of SAA. Mr Andrews was hired by Transnet, the state-owned parent company, to remedy the problems of dwindling passengers, which Transnet's market research had revealed was caused by "failure to fly on time, unfriendly and minimally trained staff, poor food and SAA fares being 12–25% above its competitors". He was credited with rescuing World Airways from the brink of bankruptcy earlier in the decade. During his first 18 months as CEO, South African Airways' market value increased five-fold.
Coleman Andrews….American opportunist that saw a gap to make big bucks fast.
BUT Coleman Andrews was no "Sweet Jesus" to the airline either- but more like the serpent in the Garden of the airline Eden. Although highly paid Andrews made a total  f*ck-up of the airlines. The airlines  paid out more than R1-billion under the leadership of Andrews without making a single cent in sustainable profits. Andrews earned more than R220-million during his 20-month stay at SAA. Jeff Radebe, the minister of public enterprises then  asked Transnet chair Louise Tager for a full report on events at SAA since Andrews was appointed by then-Transnet managing director Saki Macozoma in May 1998. Andrews's salary was more than $1-million (about R8-million) a year, excluding perks such as a yearly bonus of 125 percent of his salary and options on 18 million SAA shares at one cent each.  Radebe was castrated in parliament  for the terrible wastage and discrepancies at SAA under Andrews. Coleman Andrews sold all SAA planes to his friend's company that leases them back to SAA at R1.4bn a year. SAA was left with only 9 planes. He was paid R230 million for the transaction.
After lengthy red tape dramas and much dirty politics around his salary packet Andrews quit in  March 2000.  The airline  now was crippled with much less aircraft. The fur starts to fly and more allegations start to pop up such as:
The fact that SAA spends over R10 billion per annum on Jet fuel, with the suppliers for said fuel allegedly having comprised only five different companies over the past 82 years.
Consulting firm Bain & Company received a R208.9 million "handshake" after selling the Airline's Fleet under the guise of turning the Arline around in 2002
Bain & Company also reportedly received over R12 million as part of a three year strategy contract, despite SAA having an approved turn-around strategy.
Coleman Andrews was reported to have received a payment of R232 million tax free during his two-and-half years at SAA, while reportedly failing to disclose to the Board of SAA during his appointment that he was a founding member of Bain & Company together with his wife.
SAA was reportedly paying for ghost workers on flights too and from Florida as well as in Florida-based call centers despite SAA not flying to the city.(This starkly remonds us of another ANC SOE-PRASA- that pulled the same stunt. In late 2018, the Passenger Rail Agency of South Africa paid a contractor for bogus invoices in order to settle an outstanding loan the former CEO had obtained from a businesswoman.)
Some contracts concluded by the company have  allegedly been running on month to month basis for over 15 years, while the extension of contracts excludes any new suppliers.
According to an  Ernest and Young report, the irregular awarding of tenders was kept away from public domain with no action being taken against those who are fingered in the report.
Aircraft were being leased internationally with SAA having to pay exorbitant amounts.
Retired and resigned pilots from SAA  allegedly still received SAA benefits even after being employed by other airlines. This is due to an evergreen agreement contract signed in the 90's.
After Coleman's racketeering operations things really start falling apart with the crippled industry that now also have no more planes to boost it's income. Crippling contracts, tender meddling, spending blunders and crony interests were among the woes bringing the once flourishing industry to it's knees during Jacob Zuma's terrible reign.  Seven SAA bosses played musical chairs with the throne in just four years as one after the other was replaced due to corruption and mismanagement. It was a sad tale indeed. Salvaging the declining carrier becomes a case of impossibility and the incompetent regime started to milk the tax payer from R 14 Billion as one after the next life saving raft was thrown out. The next CEO also brought a bundle of woes with him. South African Airways (SAA) then acting chief executive, Nico Bezuidenhout, joined a  series of high-profile executives and politicians who have been exposed for overstating their qualifications.  SAA admitted  that its 2011 and 2012 annual reports were wrong to state that Bezuidenhout had a BCom in transport economics and industrial psychology as well as an MBA. The airline, which reportedly spoke on Bezuidenhout's behalf, provided a 10-page CV  that said he had enrolled for a BCom at the then Rand Afrikaans University (now the University of Johannesburg) in 1995, a year after completing matric. His academic records revealed that he dropped out the following year.
The Dudu Myeni curse that broke the carrier's back
But it was the appointment of Dudu Myeni by Jacob Zuma after Mhlathuze Water was sacked that did the most damage to the carrier after the initial mortal wound was inflicted by Andrew Coleman. In 2013, the year Dudu Myeni became board chair, the SAA loss was R1.2 billion and 2014 saw a loss of R2.59 billion. A leaked copy of the 2015 income statement reflects a R4.67 billion loss. In 2016 Dudu Myeni herself has indicated that a loss of R4 billion is likely and leaked information indicates that there was a loss of R1.3 billion in the first quarter of 2017. The losses just continue to pile up year after year.
The wheels then literally came off. In the interim Dudu Myeni has received public support from Zuma and Pravin  Gordhan has been forced to accept a compromise that retains her as board chair. This was a classic "devil's bargain" where Gordhan has agreed to retain Dudu Myeni on the SAA board and in return gets something that he really does not want. He gets a new board that is destined never to meet the conditions that he has laid out for it. The industry now was dealing with a corporate warlord who takes over as the chief executive and whose only interest is enrichment of herself, her family and her close cronies. In-fighting around the chair became common practice.  In an affidavit to court Sibusiso Makhanya, former Mhlathuze CEO, states that he was told by Dudu Myeni that he was under investigation because; "Ukuthi wena Makhana awungidlisi, kanti abanye oCEO bayabadlisa o chairperson babo" (It is because you Makhanya, are not feeding me, where as other CEO's feed their chairpersons).
Dudu Myeni' reign the carrier like a  corporate warlord in a campaign of tyranny . According to insiders crazy things  happened at meetings that she chaired. She had two armed bodyguards with her at all times, even inside closed board meetings! When participants arrive at meetings She instructed her bodyguards to confiscate all laptops, iPads and cell phones and these are then removed from the room probably for inspection and checking of contents. At the end of a meeting the bodyguards confiscate all notes that anyone has made during the meeting and these notes are handed to Dudu Myeni to keep and to read at her leisure.
Then came the next shocker:  Ex-CFO Wolf Meyer leaked an Airbus memo that ultimately cost him his job,-  SAA was on the brink of liquidation. This danger of liquidation was confirmed by Dudu Myeni's close friend and Audit Committee Chair Kwinana when she resigned as a director in August 2016.   Dudu Myeni didn't want the South African public to know that SAA was insolvent and that deals were described as reckless in the memorandum. The main aspect addressed in the memorandum is the deal SAA made with Airbus with regards to new aircraft which SAA was unable to pay for, as agreed in the Purchase Agreement. SAA and Airbus concluded a Purchase Agreement in 2002, where they initially wanted to buy 15 A320-200 aircraft. During 2007-2008, the Purchase Agreement was amended to include an extra five A320-200 aircraft, thus bringing the total to 20, and to add the leasing of other aircraft types. Some of the important points mentioned in the memorandum include the following: The former chief financial officer (CFO), Wolf Meyer, said that it would not be possible for SAA to complete their Airbus transaction and pay all of their creditors. "The CFO has advised that SAA will be unable to pay its debts as and when they become due, should SAA pay the PdPs (Pre-delivery Payment). SAA does not have money to pay both.Based on a reliance on a going concern and the inability of the auditors to sign off on the annual financial statements, SAA has been and remains technically insolvent. Accordingly, SAA is financially distressed and trading under insolvent circumstances. According to the Companies Act, the board "is required to file for business rescue and liquidations"- he stated.  A former SAA board member who departed when former chairman Cheryl Carolus threw in the towel, once said that of all those he served with,  Dudu Myeni was comfortably the weakest.
Myeni's reply to all the accusations was classic:" "I don't remember SAA ever making a profit since I joined. SAA has always been bailed out by the government. The difference then is that the government was giving SAA bailouts in the form of money or cash. Today SAA [is only] given a guarantee. It's like going out to borrow money to buy groceries. You are spending money you do not have and you are not investing.During Coleman Andrews' time, the former CEO of SAA, the parastatal had a fleet of its own aircrafts and those aircrafts were sold and leased back to SAA. Basically we depleted our balance sheet. We started losing money because these were no longer have our assets.  "  In May, SAA signed a memorandum of understanding on procurement opportunities for black industrialists. This, Myeni said, was when most of the trouble started. "Things changed when we started transforming the airline, and [it] changed for the worse. South Africans are made to think that it is because of the black leadership at the top that SAA is not profitable. This is not true." She said the current board must not be blamed for inherited problems. "I can see… when people put the problem under my door and say that this is a R34bn turnover company and that I am messing it around and making it unprofitable. How does one person make a company unprofitable?" She admitted that SAA's fleet of aircraft were old. "My argument is if British Airways aircrafts are old, Kulula and Mango take hand-me-downs from SAA, and they are profitable… Then what is happening with SAA? I never get an answer."
Union strike: The death blow that will finally knock the carrier out of business. 
" We are grounding that airline on Friday. It must not move. This is an indefinite strike. If they think we are playing, they have got it coming" says Numsa general secretary Irvin Jim.
Long story short is that since the ANC's take over in 1994 the SAA's downward spiral into a financial mess started- and up to date the regime has channeled R 57 million towards saving the struggling industry. Today the South African Airways are staring down the gun barrel with a deficit of a  long-term debt load of R21.7-billion. But as-if the carrier was not already mortally wounded- worse was still to come. This past month NUMSA (National Union Of Mineworkers) and other unions  called for a total shut down strike against the airlines due to poor wages. The strike took effect this past week and the carrier had to cancel domestic flights due to insufficient staff.  The subsequent industrial action has thrown SAA into chaos. A plethora of flights have been cancelled, with only a few international journeys remaining unaffected.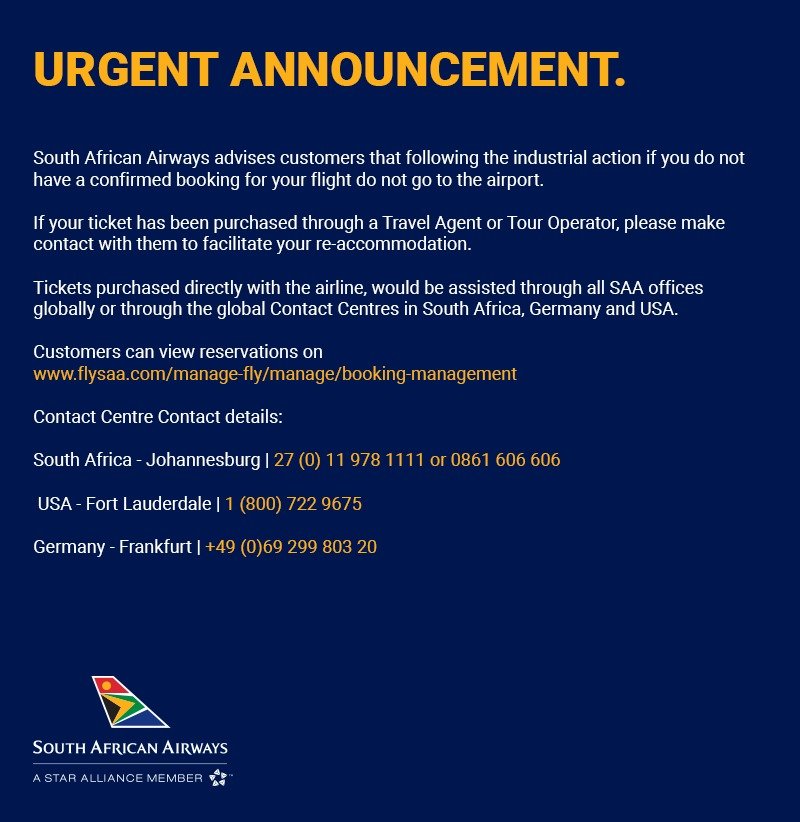 However, Numsa spokesperson Phakamile Hlubi-Majola isn't happy that the airline is continuing to operate, and believes that customers are "putting their lives at risk" by stepping on-board their flights: "The major concern revolves around the lack of technical staff available to SAA. It's been stated that the temporary technicians filling in for the striking professionals are 'inexperienced', sugguesting that the maintenance work on the airline's fleet leaves passengers vulnerable to technical issues. " Hlubi-Majola said: "We are warning all passengers not to fly SAA because your safety is not guaranteed. Our members who are safety officers and technicians are on strike. We are warning the public that if they fly SAA during this strike they are putting their lives at risk.The temporary technicians with no work experience are being used to work on aircraft without having the relevant experience in maintenance and repair. We ask the Civil Aviation Authority how they can allow such a situation to exist by deliberately placing the lives of the public at risk".
The strike at SAA will result in the downfall of the entire airline, according to acting chair Thandeka Mgoduso. The Sunday Times reports that SAA is currently surviving on the goodwill of its lenders and could struggle to pay salaries at the end of the month due to a lack of income caused by the strike. SAA told Parliament that it would not be able to survive the strike and could face liquidation as a result. "If this strike perpetuates and there is no money coming into the company, everyone that we owe will want their money and where does the money come from?" Mgoduso said. There is no point in talking about business rescue, Mgoduso added, as SAA cannot be rescued. "There is nothing to rescue and that is why we are doing what we are doing to ensure that we return the company to a state where it can be turned around," she said. "The employees that are on strike are the ones that are going to cause SAA to close." Mgoduso said that the striking employees must "carry on their consciences" that they are responsible for the death of the state-owned airline.
Tough decisions
The South African government recently stated that it would take a tough approach to the troubles at SAA. "If some tough decisions need to be made, we'll make them," Public Enterprises Minister Pravin Gordhan said. The government will repay loss-making SAA's outstanding government-guaranteed debt of R9.2 billion over the next three years, the National Treasury said in October. Lenders are demanding a firm repayment plan as a condition for agreeing to extend more funding, SAA has said. SAA has lost more than R28 billion over the last 13 years and relies on financial support from the government to remain solvent and operational. The embattled airline announced on Friday it would resume with international flights on Sunday, but domestic flights would remain cancelled.
South African Airways officials will be summoned to a meeting with regulators next month to disclose details about talks with potential equity partners and give assurances that any deal won't violate foreign-ownership laws. Under the Air Services Licensing Act of 1990, airlines must be at least three-quarters owned by South Africans to operate a domestic service. That would prevent international operators from buying more than a 25% stake from the government, unless the rules are changed. "We are going to be calling SAA to next month's meeting to share with us what their plans are," said Mike Mabasa, chairman of the Air Services Licensing Council, which regulates domestic aviation within South Africa. "If they are already in conversations with strategic equity partners we need to know what that entails."
Finance Minister Tito Mboweni said last month the government is talking with potential investors in SAA, which is technically insolvent and reliant on bailouts and other forms of state support to survive. The carrier last week triggered a plan to cut 944 jobs to reduce costs — leading to an ongoing strike that started on Friday. Two labor groups on Sunday said they are consulting with workers about intensifying the strike across the aviation industry, after failing to reach a deal over wage increases and job cuts at the weekend. The National Union of Metalworkers of South Africa and the South African Cabin Crew Association argue that ending the outsourcing of services would help reduce costs.n "It is clear to us that the management of SAA is not prepared to do what is necessary to save the airline," they said in a joint statement.
Investor Interest
Ethiopian Airlines Group Chief Executive Officer Tewolde Gebre Mariam has said the continent's biggest airline would consider taking a stake in SAA, a partner in the Star Alliance. Virgin Atlantic Airways Ltd. founder Richard Branson has also indicated an interest. "If some tough decisions need to be made, we'll make them," Public Enterprises Minister Pravin Gordhan said on Thursday. He's previously said the company will need to remove unnecessary costs to attract a viable buyer. Routes to some international destinations, including London and New York, are due to resume Sunday night. SAA's ongoing battle with unions may prove decisive to the carrier's survival, with an estimated R50 million ($3.4 million) of losses incurred with every day of strike action, and little in the way of leeway in terms of cash reserves. Labour groups are demanding a reversal of the plan to reduce the workforce by about a fifth on top of an 8% pay rise and other employment benefits. "SAA pretends as if its service is indispensable, which is not the case, because it has just a 20% market share, and other carriers can step in in the event of its demise," said Gerhard Papenfus, chief executive officer of the National Employers' Association of South Africa. "This notion of indispensability, however, emboldens the trade unions to make unrealistic demands." Tlali Tlali, SAA's spokesman, didn't answer calls to his mobile phone seeking comment.
Footnote to an incompetent government
Prince Mashele in Sowetan Live wrote the following fitting narrative:
After stealing all eggs, ANC cadres now going after the chicken itself
The circus currently unfolding at the South African Airways (SAA) is a microcosm of a bigger endgame of ANC corruption and incompetence. Like other state-owned companies, SAA has been looted to the ground by a succession of ANC cadres. Ask anyone who has access to procurement information there, and you will be shocked by how much the airline has been paying for a simple bottle of water. When corruption takes place, it first comes across as if it is a case of historically deprived ANC cadres benefiting duly from procurement processes that used to benefit white suppliers. Those who complain about corruption are dismissed and projected as "envious agents of white monopoly capital " who are unhappy that black people are having their turn at the table.
When critics become louder, they are told to shut up and reminded arrogantly by the eating cadres that " there was corruption under apartheid. " What the cadres don't tell the public is that, under apartheid, white people did not steal to the extent of collapsing institutions that were meant to serve their own people. It was theft with a conscience. The ANC cadres are so primitive that after stealing all the eggs, they proceed to steal even the chicken itself. The whole sordid affair is wrapped up in a stinky blanket written "black economic empowerment". Sometimes the blanket is written "affirmative action". As the eating continues, in the name of black people, Statistics SA issues numbers that make it plain that the economic conditions of black people in general are worsening.
In the end, the real losers are black people themselves. Look around and ask yourself who are the victims of our generalized state collapse ? When education collapses, white people simply build private schools for their children. When hospitals degenerate, whites build private hospitals for themselves. And, by the way, nobody must blame them. After 1994, white people did not collapse any school or hospital. The tragicomedy of the whole thing is that after looting from the state, ANC cadres take the money to pay for world-class services in the private sector, the same services built by white people. The cadres send their children to white schools, and, when they are sick, the cadres go to white people's private hospitals.
In the case of SAA, the burden of corruption is now thrown on the shoulders of workers who where not invited to the table when ANC cadres were still eating. The unfortunate thing is that ordinary workers are now made to appear as if they are making "unreasonable demands " to a company that has no money. People are not asking where the money has gone. Somebody with a sharp investigative eye must go around looking for the assets of all previous SAA executives. Such a thorough investigation will most probably reveal that the 8% wage increase demanded by workers is a drop in the ocean compared to the cumulative money stolen by ANC cadres. Workers cannot be absolved of all culpability, though. Where were they when ANC cadres were looting these state-owned enterprises? Does anyone remember any trade union announcing the mother of all strikes against corruption? The sad truth is that the South African state is now bankrupt.
Cyril Ramaphosa announced it in parliament this year, using the euphemistic phrase: "Our resources are now depleted." It is now too late. It does not matter whether workers choose to stage a father or mother of all strikes; ANC cadres have stolen all the eggs and all the chickens. Workers should have staged protests when the cadres were busy stealing the eggs before they turned to chickens. The problem with public discourse in South Africa is that it always focuses on parts, not the whole picture. The whole thing now is projected as if it is an SAA problem. The bigger truth, though, is that SAA is a small manifestation of the endgame of a generalized ANC corruption and incompetence. Behold, the grand collapse is afoot. As things continue to fall apart, expect more gimmicks in the form of investment conferences that make pledges while more and more South Africans lose their jobs.
Update- November 20 2019
The government will not be giving embattled airline SAA another bailout. So says public enterprises minister Pravin Gordhan in a statement issued after meetings with striking unions on Tuesday afternoon. Gordhan said the meeting between the National Union of Metalworkers of South Africa (Numsa) and the SA Cabin Crew Association (Sacca) was "an open and frank exchange of information" as the strike entered its fifth day. "While the minister reiterated the government's commitment to saving the airline, he strongly urged the unions to work with the airline's management to find a speedy resolution to the impasse. The ultimate aim is to ensure that both jobs and the airline can be saved," he said. Gordhan was clear that the government was "not in a position to make money available to the airline". "The pattern of bailouts has become a moral hazard," he said. "Over the last three years, the government has provided more than R20.5bn of fiscal support to SAA." "No further financial resources can be advanced to the carrier. The government is facing severe financial constraints." He added that restructuring SAA's business was required to return the airline to profitability. "In addition to growing revenues, efficiencies must be improved and costs need to be reduced across the board." "Savings in excess of R500m have been realized through renegotiating procurement contracts, many of which were concluded at inflated prices during the era of state capture," said Gordhan. "More effort is required to respond to the cash shortfall that the airline is experiencing in this financial year." "Unfortunately, the strike is not helping as it exacerbates the financial crisis and might put the airline in a precipitous position."
The SAA only forms a relative small part of the incompetent rule of the ANC since 1994. It represents only the proverbial tip of the iceberg. Since 1994 the regime has thrown R 57 Billion of tax payers hard earned monies towards it's struggling SOE's. The question to be asked is why is this happening that NONE of the so-called SOE's ever could balance their financial sheets? In 25 years this financial vacuum cleaners never could solve their financial woes. And every year they survived on bail-out after bail out. It became a bloody culture that incompetent idiots were appointed- then suck the industry dry- get fired- just to get re-appointed later  in yet another posh position  again to proceed their plundering sprees like the ANC re-appointed the questionable Bathabile Dlamini again. These corrupt incompetents never get dragged before a court or will be held accountable for all their corruption and theft. They simply will be "re-deployed" again. In 25 years not ONE ANC "high-up" fool ever was jailed for corruption. Take this example:  Hawks Colonel Mhlongo was accused at Zondo commission of serious crime. Seven months later, he is still in his KZN top job. Seven months have passed since a top cop in KwaZulu-Natal, Colonel Welcome Mhlongo, was implicated in serious corruption by two witnesses at the Zondo commission. Despite a promised investigation into his appointment, Mhlongo still occupies a crucial position.
Fools such as this keep on making mistakes that cost the country dearly. They  cannot even keep their secrets secret.  An example is that a  major security breach at state arms company Denel have led to the theft of classified and highly sensitive data about the company and the South African military's missile capabilities. THAT is the fools the ANC appoints to take care of the country's assets and security.
The answer to all this chaos is obvious: South Africa has the wrong government in control. And it's costing her dearly. Greed , arrogance and stupidity totally destroyed South Africa's economy this past 25 years and NOT "apartheid", "van Riebeeck "– or those "rich whites."  Due to the ANC's hell-bent racial policies, corrupt cadre deployment, greed and incompetence the whole administrative system across all the state-owned organs fell to pieces. This dimwit "government" now has reached a point of " no-return."  Their corrupt rule  must either take–off… or crash. We sincerely hope and pray for the latter. They have totally screwed-up a country in less than 25 years  that other people worked nearly 100 years to build up. You cannot keep on throwing good tax money after bad communist ventures anymore. South African Airways- like ESKOM, the Post Office, Transnet, SABC and Telkom were healthy and fully profitable entities when this Robbin Island "Old Boys Club" bandits took control of it in 1994. But they did not see these entities as opportunities to promote more lucrative business that could expand the interests of South Africa as a whole. No- according to the ANC's book of fortunes they just saw South Africa and it's economy as a whole  as one mega big bottomless  bloody ATM machine.A once proud flagship of African aviation now goes to ground because of African political incompetence and greed. Now they too have reached the point where they eventually ran out of other people's money. 
SOURCES:
https://www.flysaa.com/about-us/leading-carrier/about-saa/brief-history
https://mybroadband.co.za/news/business/327965-saa-there-is-nothing-to-rescue.html?fbclid=IwAR0grYYJX42mQHMxdR87a-dKdQS_4tJm08nr_vqtBaR2R9FZi9onhL84vuM
SAA latest: Passengers warned not to fly with "unsafe" airline
WHITE NATION– WE DO NOT HATE WHITE LIBERALS– WE SIMPLY DESPISE THE FILTH!!
C'MON- SHARE OUR LINK