Do you have news to tell us? Send your e.mails with news and inquiries to: w.nation@mail.com
Register with us for free to follow our news on the right-hand tab
Article posted by: White Nation correspondent Cape Town  December 20 2019
SOUTH AFRICA– THE  PIRATE's REALM DOWN SOUTH
"Estate agents are dishonest opportunistic Hyenas  in my opinion. They are well aware that by the end of February Expropriation Without Compensation will may be "legal", yet here they are en masse, locked and loaded to fleece ignorant sheep."– Andrew K
AS we already know is the vindictive black  communist  ANC busy pushing through their own macabre agenda of changing the constitution Section 25 to allow them to steal your land without compensation under the false pretense that they want to "correct" past "mistakes" and "return" land to previously disowned black people. And they secretly added an amendment giving city councils power to execute their dastardly plan for them- meaning they also have your private houses and property such as businesses in their cross hairs too! 
Luister gerus wat hierdie MAN sê. SHARE DIT, DALK SKRIK SOMMIGES WAKKER!

Posted by Tinus Coetzee on Friday, December 13, 2019
Now there is a lot of reasons why you as a lawful title deed owner should resit this dastardly shrewd trick from Ramaphosa and his incompetent crew of commi skallywags. Here is 10 important reasons why we should defy Ramaphosa and his scavengers'  communist onslaught against our property rights:
Their claim that you "stole" the land of blacks is an unsupported and unsubstantiated LIE debunked from all truth and no historical written proof of such a preposterous claim. History has it well documented that no black man ever possesses land when Jan Van Riebeeck arrived in the Cape Colony- but most blacks were nomadic. Up to today neither the heathen Julius Malema or Cyril Ramaphosa for that matter could produce one single written document  or deed substantiating their utterly false and baseless claim. Black Africans NEVER owned any land. Any form of formal ownership is a Western concept. The 'black' tribes of the mid 19th century haphazardly SETTLED in an ad hoc manner – effectively governed by tribal savagery, in other words, the most savage ruled the land (a bit like Hillbrow today). They simply ran away until they could not run anymore – not having ANY grasp of the concept of a horizon or for that matter any measure of finite land mass – eg the boundaries – that is the fundamental concept of ownership. Who "disadvantaged" the 'black' people of the interior in Southern Africa before the (supposed) belligerent 'white' settlers moved inland in the mid 19th century..? As certainly, what the 'settlers' found was not a hugely advanced infrastructure, deep mines, airports, vast libraries of written works, grandiose institutions of learning, etc. No, as little as 170 years ago they found masses of black people (indigenous to the Southern tip of Africa, The San) living on the fringes of the stone age. Beings in skins, wielding sticks, living primitive dwellings, dragging and carrying things around, who had not even invented the wheel yet.
 For decades the ANC, EFF and BLF etc have been propagating populist rhetoric lies that whites "stole the land " from inhabitants who were here long before they arrived. Now while this may be true to a very small extent in isolated instances regarding the old National Party , it is certainly not true for the majority of the 122 million hectares of total land in South Africa. And in addition, that the land whites do currently own is only 22% of the total land mass of South Africa… and as the recent 2017 land audit clearly reveals. For far too long the ANC (black racist ruling party), EFF (black ultra racist militant opposition party) and BLF (black racist extremist party) and many other entities and main stream news media have been propagating a lie that "whites own 80% of the land " in South Africa. The truth is whites only own 22% and much of the proportion of agricultural land of that 22% is based on water engineered/irrigated land and that cannot solely depend on rainfall. What the ANC, EFF and BLF are doing is to purposely mislead and misinterpret the 2017 land audit..by implying whites own majority of ALL land and where in fact this is actually the majority of COMMERCIAL FARMS. It should also be noted the LAND REFORM has been in progress from 1994 and approx 8.3 million hectares of land has already been expropriated (with compensation) and given to legitimate people who were historically dispossessed of their land during colonization and apartheid era. The ANC government is at present in possession of a further 4027 farms which were expropriated (with compensation) but have as yet not passed these farms onto ANY land reform claimant.It does not matter if they change the whole bloody constitution to fit their distorted narratives- your property is your porperty and your title deed is your title deed. You paid for it and there is nothing they can do about it.
WE also are well aware of the fact that most of the land the ANC bought from whites and gave to blacks was a total disaster-  and 90% of all land/farms given to blacks became destitute, unproductive and a total  failure with most farms now left empty and in ruins. When land claim cases are resolved, claimants are given the choice of receiving land or financial compensation. In 92% of cases, people choose money over land. This shouldn't come as much of a surprise, because money translates into freedom. Beneficiaries can use that money to start businesses, pay off debts or invest in the market. The ANC  spent over R1.4 billion of tax payers money buying farms in the Eastern Cape to redistribute to aspirant farmers. Of the 265 farms purchased, only 26 remain viable. In 90% of those cases, once thriving farms that produced food and employment are now in ruin.
Once-flourishing, state-owned farms should have been  land reform's success stories if you go by anything the ANC cadres advocate- ; instead, once flourishing white farms  has become an emblem of its failures. The roots of its rot are located at the door of the Department of Rural Development and Land reform — which is charged with gate-keeping land reform — in cahoots with an apparently unethical agribusiness.The farms are procured under the ANC's proactive land acquisition strategy (Plas). This is a policy whereby government purchases farms in distress and leases them to emerging black farmers, until the farms become self-sustainable.
Coupled with Plas is the Recapitalization and Development Program (RADP) where, to make the farms commercially profitable, a strategic partner or agribusiness is required to mentor the emerging farmers, provide a business plan and assist with skills training in marketing and export. But, bar some exceptions, the RADP has been an unmitigated disaster, with the land department allegedly hemorrhaging funds into the agricultural holdings of comrades and politically connected corporates countrywide. These accrue substantial financial benefits for the strategic partners but negligible or disastrous consequences for the farms and intended beneficiaries. "Billions of rands earmarked for the development of an agrarian economy have been squandered across all provinces," says Ruth Hall, a member of  Cyril Ramaphosa's land reform advisory panel and a professor at the University of the Western Cape's Institute for Poverty, Land and Agrarian Studies. The panel was appointed in December 2018 to research the problems of land reform. Her findings point to a shocking scenario of the capture of land reform by the elite.
"What we have found is that politically connected individuals and companies are getting lucrative contracts from the state to take over land reform farms with subsidies that should be directed to impoverished rural farm dwellers and emerging commercial farmers. They are fleecing the state in collusion with politicians at the most senior levels of land reform. And they are getting away with it." She adds: "This is making a mockery of land reform." Several former and current officials in the land department, who requested anonymity, complain of a culture of patronage where favours are meted out to "Luthuli House comrades-in-farms" and orders are issued to officials to carry them out, in flagrant violation of government policy. They have provided documents, emails and the findings of forensic investigations into blatant abuses of power, perpetrated by officials on state-owned farms, in collusion with corporates and comrades alike. This alleged corruption has been the focus of a four-year investigation by SABC current affairs programme Special Assignment and is now being published in the Mail & Guardian. The elite's capture of land reform dates back to the early 2000s but seems to have spiked between 2009 and 2018, when Jacob Zuma became president, and Gugile Nkwinti was appointed minister of rural development.
THIS is where all land claims in Africa ends up…….dysfunctional farms being taken back by the banks. Is this where your farm also will end up? Our food security is at risk here.
EVERYTHING those hands touches collapses!!
-AND now they totally has lost it all- becoming dangerously psychopathic…
Take for instance the example of a farm called "Nirwanda"– a farm bought by the ANC state for the purpose of letting new emerging black farmers start there. Nirwanda  was originally two portions of a farm called De La Haye. In 2007 they were sold to a company called Quickvest 427. A search on the property information website WinDeed reveals that Quickvest is one of a myriad "special purpose vehicles" or shelf companies for a multinational Dutch agribusiness called South African Fruit Exporters (Safe), and its so-called black economic empowerment partner, Bono Holdings. Documents confirm that in 2005, Safe provided an interest-free loan to De La Haye, offering to market and export its produce. But the multinational suddenly recalled the loan, and when the former owners couldn't repay the debt, Safe purchased the farm through Quickvest for R7.3-million. In 2012, Quickvest sold the farm to the government for a whopping R19-million. Safe, operating under the banner of Bono as its strategic partner, subsequently applied for government funding to run the farm and reap the profits of the harvest.
This practice is known as "farm flipping" — buying farms in distress at low prices, selling them to government at heavily inflated prices and returning to the farm as strategic partners to further profit, allegedly, often at the expense of the intended beneficiaries of agricultural land reform. This practice is not exclusive to the multinational but, from the findings of an incriminating forensic investigation conducted in 2016, Safe has perpetrated the flipping formula on farms countrywide, allegedly ploughing very little capital into the farms and allegedly swindling the intended beneficiaries, while making huge profits from the export of the produce to overseas outlets. The report, simply titled "Nirwanda Investigation,"  was done by a forensic company, commissioned by the land reform department's forensic investigation directorate. In the case of Nirwanda, the intended beneficiary is the "Big Five " — a registered farming co-operative that includes chairperson Bongo, Manduleliu Mzayiya, who is a financial manager, Mpho Molaoa, a qualified agronomist who used to work for the department of agriculture, and administrator Weziwe Diwengu.
"Initially the DRDLR [department of rural development and land reform] welcomed our application for beneficiary status," recalls Mzayiya. "In addition to government's plans to Africanise the predominantly white-owned farms in the Hex River Valley, they approved of our commitment to gender parity." Molaoa adds: "We went through all the processes and because of our potential managerial and farming skills, we were initially regarded as ideal beneficiaries." As official documents confirm, the Big Five was formally approved as the Nirwanda lessees in July 2013 by the National Land Allocation and Recapitalisation Control Committee. But, six years later, they still have no lease, no government funding, the farm has been vandalised and the vineyards are damaged. As confirmed by internal correspondence within the Western Cape office of the land department, the Big Five is now facing eviction from the farm. The reason? According to its four remaining members, the answer is, simply, two words: Safe and Bono. "We have been rattling certain cages by opposing the presence of Safe and Bono on the farm," says Diwengu. "This doesn't suit greedy officials who are getting kickbacks. So their strategy is to try to divide us and rule."
Hall says: "Safe and Bono are basically selling to themselves and failing to plough back dividends to the farms from which they receive government funding. They declare a loss at the farm gate. But by owning the packhouses where the fruit is packaged and logistics companies through which the fruit is exported, they control the value chain and are able to manipulate pricing and profits." In June 2017, Safe and Bono left the farm, and others that they are alleged to have mismanaged. At Nirwanda, electricity and water were cut off and the workers had to get jobs on other farms to survive. A small harvest was sold in 2018. The land is now dead. Hall laments: "Valuable vineyards worth tens of millions of rand are going down the drain." This is despite the beneficiaries having the skills to turn things around, she says. "What they are desperately in need of is proper government support to make the farm productive again." In that same month in 2017, Zuma issued a proclamation mandating the special investigating unit (SIU) to probe six farms, four of which were managed by Safe and Bono in the Western Cape. But these farms represent merely the surface of the cesspool that has reduced land reform to a contradiction in terms. Between 2011 and 2017, the SIU probed 148 farms, finding hundreds of millions of rands lost in wasteful or fraudulent expenditure. In March 2018 the SIU handed a report to Ramaphosa in which it recommends 42 alleged culprits, including senior politicians, be prosecuted for widespread land reform scams. But to date no action has been taken. In the wake of the Nirwanda forensic report, a senior official in the land department, Babalwa Magoda, was suspended. She has since been reinstated. Little else seems to have happened.
For Safe and Bono, it is business as usual. But for Nirwanda's Big Five, the fruits of corruption in land reform have yielded a bitter harvest. "Accountability for these scandals lies at the highest levels of the department," says Bongo. "Instead, we have become collateral damage in one of the biggest travesties of post-apartheid South Africa." He adds: "We have been through the worst but we are still here and more determined than ever to make Nirwanda the farming success we always dreamt it would be." But, as Hall and the president's land reform advisory panel have found, too many people are profiting from abusing land reform for the solutions to be quick, or simple.
In this video by 'Loving Life' wee see how a farmer returns to his once productive farm after nine years and finds it trashed by the new African "farmer." With the pending 'expropriation of land without compensation' and the planned removal of whites from the farms, all with the intention of making the country the bread basket of Africa, this is the umpteenth example of how blacks who have taken over farms have utterly destroyed every single functional thing on the property. Again leaving countless farm workers unemployed and of course the inhabitants of the farm also refuse to leave the farm and live among the broken filthy left overs leaving land affairs with another headache.
ONE of the biggest failures for the public  and most lucrative  laundering schemes of the ANC to milk the tax payer dry – ESKOM!
ONE of the biggest failures for the South African economy  and most wasteful mob of tax payer's hard earned money- the EFF swines  on a rapacious gorging  campaign.
4. The next fact is that whatever the ANC touch with their greedy claws turns into sh*t. If we look at all their state departments, all their so-called SOE's, their provinces and municipal councils- we found that corruption of the worst level destroyed everything the ANC tried to manage. The latest victims if this utterly corrupt and mismanaged system of the ANC is Eskom, SAA, Transnet and the Post Office.  Only 18 municipalities out of 63 municipalities managed to obtain clean audits for the previous financial year, according to auditor-general Kimi Makwetu. And none of those that received a clean audit belonged to the ANC. To give a good example how the ANC ruins everything they touch- we take the example of the Mangaung(Bloemfontein) City Council:
Only the ruins of a once proud Bloemfontein, once called" Die Rosestad, " have remained and the metro is now in a position where it can't manage itself anymore. It is the first metro in the country that has totally collapsed. So says Professor Andre Duvenhage, currently a political analyst at the North West University, who stayed 17 years in Bloemfontein. Duvenhage says he is shocked over the decay of the once proud institution, once reckoned under the best in the country. Duvenhage says the whole local government system in the Free State has collapsed and what can be seen in Bloemfontein, can be seen anywhere in the Free State.
Duvenhage says Bloemfontein is hopelessly bankrupt and the lawyers of debt collectors regularly close Bloemfontein's Nedbank account to lay its hands on some money as soon as a little comes in. Duvenhage says the metro can't properly deliver basic services and rubbish is strewn all over the place. There is not even a chance of a clean audit anywhere in the Free State. Duvenhage says the appointment of an article 139 administrator, as has now been announced, won't help as well. Duvenhage says to appoint another ANC cadre won't be any solution as he will only protect the ANC's interests. Duvenhage says the Free State is on a irreparable road to destruction. There is simply no answers anymore.
Dr Ina Gouws, a senior lecturer in governance at the University of the Free State, told newspapers that 3 Free State towns were even worse off when they were placed under administration. Those municipalities were Brandfort, Harrismith and Frankfort and surrounds. Gouws says that a report of the Auditor General also shows how service delivery in the Mangaung metro has collapsed. We can only wish those unfortunate taxpayers who have to stay in the Free State "good luck. " There are definitely lessons to be taken away from this. We know that the ANC was always and will always be a black nationalistic terrorist movement which has evolved into a criminal mafia but the bigger issue is the black majority's acceptance of what the ANC has brought and the majority's propensity for violence – looting and burning – to express political unhappiness, not a willingness to bring about change through the ballot box.
Unfortunately when they do vote for another party, it is for a similar black nationalistic mafia like the EFF. The black majority was not a people ready for democracy when the ANC took over. They are not people ready for democracy now. What is more is that it seems that corruption is an essential part of the African culture. There were people who warned us against this. There were people who said black majority rule would come to this. Now we are here and there is no easy way out. Weigh your options and belong to civic society groups but believing that another political party will save you is pie in the sky. No black ruled party will ever be corruption free, including the DA. Factionalism and nepotism will always be part of the DNA of a black majority party. This has been proven. You can view over 400 cases of gross theft and corruption involving BILLIONS by the ANC cadres HERE.
THESE incompetent ANC/EFF fools cannot even run ONE municipality- left alone a bloody whole country. And now they want to run your FARMS and PROPERTY the same way too!
5. In terms of international law, a State has the power to expropriate, but this power is accompanied by a duty to pay appropriate compensation. There may be circumstances where it is appropriate to pay no compensation, but each case will have to be determined on its own merits. The Bill opens the door for the exclusion of South Africa from the African Growth and Opportunity Act (AGOA). AGOA is a United States Trade Act, that significantly enhances market access to the US for qualifying Sub-Saharan African countries. South Africa is a beneficiary of AGOA and in 2018 we exported over R 100 Billion worth of goods to the United States.(4) In terms of S104 of AGOA South Africa would remain eligible to benefit from the Act provided that is has "established, or is making continual progress to establishing, a market-based economy that protects private property rights, incorporates an open rules-based trading system, and minimises government interference in the economy through measures such as price controls, subsidies, and government ownership of economic assets
6. The ANC is busy playing dirty games. They try to avoid international law and responsibility by changing everything prohibiting them from stealing from others while at the same time  creating new legislation vindicating them from prosecution. Their narrative is by fabricating their own laws and set it in stone with the majority vote of their own criminal majority in parliament will make these oppressive and discriminating laws of theirs enforceable. They reason that South Africa" belongs"  to the ANC and they have the power to do whatever pleases them and naturally- their British pay masters. By deception and lies they rule- and by threats and persecution they stamp down their authority. South Africa de facto is under siege by the British banking establishment  and  their lapdog communist African dictatorship elites. Britain has captured South Africa a long time ago as they have been with most African states and also Zimbabwe. And in most of the cases where Britain captured African countries those countries was transformed into impoverished dysfunctional states. Such is the case with South Africa too. The last remaining obstacle for the British serpent before it could swallow the last of Africa's mineral rich succulence  is the white man- a small minority posing a historical  threat to yet another British  total inhalation of South Africa. For this reason all white traces must be wiped out completely- and here is where their black African swarm comes into play. Instead of waging another expensive war against the white Afrikaner again (which they've already tried for 25 years in the SWA Border War and lost miserably) -and more possible sacrifice of  British soldiers lives again- they as usual reverted to their old  dirty tactics such as treason, impoverishment, oppression, discrimination and now dispossession through their African "expendables. "
Their bastard henchman Rob Davis ( the reincarnation of his predecessor Lord Roberts) already did most of the collateral damage to the white Afrikaner by forcing them through legislation out of the labor market into impoverished squatter(concentration) camps- disarmed them to render them vulnerable against the deadly and horrendous balck terrorist onslaught on their farms- and now the last phase of disowning the white Afrikaner is left up to their African concubines to finalize through yet another filthy legislation in the form of "expropriation without compensation"- another one of their "smart terms" for blatant land theft to totally disown the white Afrikaner thus  making him an alien  nomad in his own country.This is why it is so crucially important to hold on to your land and property deeds– for as long as you have land- you have a home. Without land you are a drifter- a nomad without a future- and not in a position to have any rights. For all practical reasons you will no longer " exist." It will be then  so much easier for them to hunt you down , persecute you and quietly exterminate you if you do not "exist." They want to dump all Afrikaners into impoverished squatter camps where they have no more financial power and could pose no more threats to the British Empire anymore- but could be effectively and under controlled environments  (reservations) slowly be starved to death and extinction- much like they did with the homogeneous  Aborigines, Maoris and American Indians. This "land expropriation without compensation" hides  a much deeper, darker and important agenda behind it and also is a much more important historical outcome for the Afrikaner than could be contemplated. This is literally their last stance of the 300 against the final colonizing  onslaught of the British Empire  and the continuous survival of the white race down South. Behind this devious amendment of section 25 they hide their "final solution"- the  final chapter of the  white genocide agenda.  If the white Afrikaner f*ck this one up again like they did in 1994 – there will be no more white race left in South Africa in the 21 st century no more! The whites will literally become the  "scatterlings " of Africa. 
7. The ANC is getting desperate , arrogant and reckless in the zest to push white farmers and white home owners off their land…even threatening whites if they refuse to hand over their property and ownership to the ANC. The communists now even want to create a "conflict handling" force-iow police force– to handle the "transition."  Thus here we have a Robert Mugabe style private military force to act as "enforcers" – simply because the ANC is sh*t scared they are going to be met with brute force if they start this stupid exercise. Cyril Ramaphosa says white land owners are no longer in a position to resist government's land reform policies. Personally we think his big fat a**e.  Ramaphosa is getting way too arrogant these days. Time to take this ANC slickers down a peg or two. Ramasquirrel  was chirping away  at a government function to hand over title deeds to the Griqua and Khoi communities of Ebenhaeser on the West Coast. The Squirrel said it was time for white land owners to cooperate with his administration in changing land ownership patterns and to stop "frustrating the process. " He said the new administration to assume office after the May 8 election would "pick up the pace of land reform". "There are those farmers who are agreeing to work with us' who are part of this settlement. We call on those other farmers who are still resisting' who are still doubtful about the future' we want to say to them' who are still asking many questions' we must say to them: the restitution of land to its rightful owners' it's time is now. "We call on them to come forward so that this matter can be settled' the people of this area are hungry for land. "To those who are still resisting' we are saying: please come to your senses. This is a program  you cannot stop' that you cannot resist. Please come work with us. this is land that we must all share." So what Ramaphosa factually were saying was that only white land owners must come forward and hand over their land and title deeds- with all the money they paid for that land and all alterations, farming equipment and crops to him and his cronies. And that without Ramaphosa , Malema or any of their cronies showing one single piece of written evidence in 25 years that any black owned land that the whites supposedly have "stolen." And it is based on this fabricated lies , propaganda and deception Ramaphosa and his ilk now want to change the constitution! 
So if we have "stolen " land and property then that means that all property transfer duties equally must be illegal payments to SARS! So SARS wIll need to pay back all transfer duties they have received from this stolen land and property! The fact that the government has for years accepted transfer duties as a tax on properties they themselves have legally transferred MUST BE PROOF THAT THESE PROPERTIES WERE LEGALLY TRANSFERRED and cannot be stolen property. If stolen then the deeds office and SARS are both accomplices to these crimes of theft and must be arrested for such and all monies paid back. This IS OUR STRONGEST WEAPON against these thieves that now want to steal property legally paid for which they transferred and have gained income from! STOP THIS LAND THEFT! Rise up South Africa we cannot stand for this land theft!!! Let us protect all our properties for all citizens and let us find solutions for of us to own land or urban title deeds.
In this video by 'South Africa Awakening' we see that "Kill the farmer Kill the boer" is in fact actually official ANC policy as detailed in the ANC circular 213-6, from June 1993. The document is the ANC's strategic plan regarding whites in South Africa and clearly reveals how they have slowly been persecuting the white population and how the ANC have long planned the demise of the whites. The video gives details and explains all aspects of the circular and what has and is still going to happen as well as what the white population can expect. The document ends with "Viva- Kill a farmer kill the boer".
8.. The United States is threatening to kick SA out of its tax-free export agreement which could lead to job losses and economic disadvantages. The threat comes after it became known that the ANC's president would sign the bill. Cultural groups have apparently urged Cyril Ramaphosa not to sign the Copyright Amendment Bill, as the US threat could be implemented, meaning at least 1,200 workers would be left without a refuge. The signing by Ramaphosa will mean that South Africa will lose an R12bn loss on exports to the US, something the country can hardly afford. If SA were to be removed from the US preferential list, it could also cause the country's exports to fall drastically, which would now be highly undesirable in the current economic climate.
9. Today the mining industry are retrenching 5000 workers, Ramaphosa has been paid 100 000 000 pounds by Britain to destroy South Africa. As soon as South Africa fell into a recession or face bankruptcy Britain will move in and "take back" the country they stole during the Boer wars. Ramaphosa did a fair job for his masters so far. Britain owns all the mines in South Africa including Eskapa, Anglo and Perta. Ramaphosa currently is under investigation by the Chief Justice. Ramaphosa and his whole wretched gang of  cabinet deserve to be arrested and incarcerated for High Treason. The fight for sovereignty of this country is against the British Crown and the De Beers / Oppenheimer cabals. There is going to be a ferocious war again between Germany and Britain over South Africa soon. White people must now UNITE and fight the Crown, money mongers and communist trash as one nation. DO NOT RELINQUISH YOUR TITLE DEEDS! 
10. Expropriation without compensation will lead to a decline in capital formation. If we look at time series data for growth in gross fixed capital formation (investment), the decline is already underway even though the Constitution has yet to be amended. Cyril Ramaphosa is engaging in confusing behavior, going to investment rallies to convince foreign investors why South Africa is a safe haven for their investments, while simultaneously leading the charge against security of property rights. This contradictory public policy is contributing to uncertainty. Ramaphosa bragged about bagging R363 billion in investment pledges on his latest investment drive, but it is crucial to remember that these pledges can be rescinded. Considering the dire situation already facing South Africa with respect to direct investment, the threat of land expropriation without compensation poses a grave risk not only to the economy but also to the fundamental freedom of private property rights which, historically, was denied the majority of citizens based on the arbitrary ground of race. It is crucial that not only should property rights remain protected, but that the narrative is changed to one of legitimate restitution under the rule of law which falls well within the ambit of private property rights, rather than one where redistribution is spoken of as some sort of "Ayatollah" for retributive justice.
What Ramaphosa and the rest of their ilk are attempting is what Mugabe and the rest of the African swines did in the past- fabricating  bogus "laws" – in other words the white man's own systems– to bulldoze them off their rightful land plainly based on baseless fabrications that "Africa is for Africans" propaganda. When the whites was in control most blacks had their own land and homes- even their own  traditional homelands. By 1984, all ten homelands in South Africa had attained self-government and four of them (Transkei, Boputhatswana, Venda and Ciskei) had been declared fully independent between 1976 and 1981. Yet this current eroded communist dispensation not only refuse to give whites ONE independent homeland- but in contrast want to steal  away ALL property from whites through devious constitutional changing tactics. The constitution is not G-d- and neither is any of the illegal ANC's so-called "laws" G-d as well.
The Afrikanerbond (league of Afrikaners) said on Thursday that it had been disappointed by  Cyril Ramaphosa's Reconciliation Day speech, which painted Afrikaners as "invaders". "History must be judged in the context of the time and not with today's ideology," Afrikanerbond chairperson Jaco Shoeman said via an emailed statement.   "During Reconciliation Day, president Ramaphosa went out of his way to provide a contemporary ideological context to the Battle of Blood River. His own interpretation is that the Zulu impis were freedom fighters who fought for the freedom of their land against 'invaders', namely the Voortrekkers," said Shoeman.   Ramaphosa made no mention of historical context, the brutal murders of Voortrekkers and their leaders, treason, or "the bloody history and massacre between black tribes during tribal wars at the time". "This kind of one-sided interpretation of our history is not worthy of this president," said Shoeman.  By referring to the Voortrekkers as "invaders", Ramaphosa had joined the "Colonialism of a special type" views of his predecessors, added Shoeman, which was another indication of the "prevalent, dismissive attitude and views" towards certain sections of the South African population.  "Unfortunately, the president is also continuing with the trend of the last few years, which indicates a one-sided history honouring only the ANC, its leaders and heroes with a disdainful attitude towards the history of virtually all minority groups."
The ANC, through its actions and statements, interpreted the history of South Africa as it fit them and their circumstances, he said.  Recent events had left minority groups, and specifically Afrikaners, "somewhat disillusioned".   "Someone once said: 'Whoever has the power, writes history'. Nowhere is this more clearly illustrated than in South Africa. The current land debate is being fabricated around the big lie about land ownership, and the President has now also joined the ranks of the big lie and a distortion of history. The present government, however, is rarely bothered by the truth."  Shoeman said Ramaphosa was at risk of alienating himself from the Afrikaner minority. "His actions and statements on Reconciliation Day, during which Afrikaners also celebrate Day of the Vow, are unsolicited. The President's persistent ineptitude and dismissive views of farm murders have started to pave  the way for alienation." The Afrikanerbond urged Ramaphosa and government to "abide by the facts and the truth" and to respect the history of Afrikaners. "This also applies to the current land debate and populist untruths about land theft. Afrikaners are descendants of pioneers and Voortrekkers towards freedom and not of 'invaders'. This reference is therefore rejected with contempt," said Shoeman.
MEANWHILE Financial journalist Sikonathi Mantshantsha predicts that Moody's will downgrade South Africa's rating to junk status in 2020. Moody's is the last of the big three ratings agencies to keep SA at investment grade. Moody's kept the country at one notch above "junk", but has changed the outlook from stable to negative last month. There is now a 12-to 18-month window in which a downgrade could be delivered. Mantshantsha believes that Eskom's woes will force the rating agency to pull the trigger next year. He says it takes roughly 12 years for a country to claw itself out of junk status. This coming year we are going to see another downgrade and that's the final nail in junk status coffin- and still Ramaphosa and his gangsters want to strip all citizens of their property!
Not ONE black African was born into this world , this African continent and this country with a title deed from G-d in his/her hand giving him/her the right to claim any part of it. Africans are just as nomadic and temporary visitors to this planet as all living creatures are. So must the Lion and the other wild animals now also  come forward and claim land from the African which the African stole from them too? Must whites in Europe  now also "expropriate" the property and deport all blacks and Muslims residing in that countries back to Africa because they "stole" white land and "Europe is for Europeans too?"   Do you see the utterly baseless and idiotic reasoning behind this political land grab agenda? And you as a suppose to be "intelligent" South African let you be bamboozled by this commi crap? Their ancestors did not even possess a title deed from mankind to utter  such hair-brained  demands just because a little fart the likes of Malema kept on barfing loads of commi bullsh*t which he learned from Mad Bob Mugabe.
HOW THE ANC SERPENTS  AND THEIR BROOD  WANTS TO BANKRUPT SOUTH AFRICA
5 New laws the EFF wants to introduce in South Africa :
The EFF wants to introduce a number of bills within the coming months, as the party seeks to have a greater influence in the country's political sphere. Chief among these is a new bill which will nationalize the South African Reserve Bank (SARB). First mooted by the party in 2018, the bill will make the institution state-owned and see its directors appointed by the finance minister rather than shareholders.
A state-owned bank bill – EFF is currently finalizing legislation on a state-owned bank;
A Sovereign wealth fund bill EFF plans to introduce legislation around the introduction of a sovereign wealth fund. A sovereign wealth fund is a state-owned investment fund that invests in real and financial assets such as stocks, bonds, real estate, precious metals, or in alternative investments such as private equity fund or hedge funds. The EFF's version will be based on a similar model used in Norway which has contributed €500 billion to Norway's fiscus in the current financial year;
Oil rights bill – The EFF will 're-table' a Mineral and Petroleum Resources Development Act' which will put clear conditions on the government's ownership of new petroleum and mineral projects, a similar bill was set to be introduced by the ANC was shelved after Total's discovery of oil off the coast of Mossel Bay;
Anti-tax avoidance – EFF will table a clear anti-tax avoidance bill which aims to tackle base erosion and illicit financial flow
ANC and EFF propaganda on land expropriation. It is not about land. It is about the loss of votes by the ANC and its little tyrant spawnling, the EFF. They think they can bring back the voters who are abandoning the ANC by attacking the white population. It's an attack on the white citizens of South Africa. They're using this as a camouflage to attack the white population. "It is supported and reinforced by the famous black racist, Julius Malema, who is very eloquent. It seems Malema is actually now leading the ANC's and Ramaphosa is his fiddle by attacking white people." The ANC have the idea that that the black people are illiterate and will believe anything they say but what the ANC do not understand is that black people were far more economically literate than they were credited for. "The black people are not interested in race issues, they're interested in what's happening to the economy. The reason they're abandoning the ANC is precisely because its economic policies have failed. In fact, the ANC's economic policies have led to the deindustrialisation of the economy," The agriculture sector has taken a massive battering in the last decade in terms of the drought and it was exacerbated by poor policy implementation, creating a massive sense of uncertainty in the last few years of the Jacob Zuma presidency.
"Government see commercial agriculture as the bogey man.
ANC's stance around land reform, is that they make many promises about protecting everyone's right but don't follow through. "At the moment, there's an official ANC policy to expropriate without compensation. There's reason for us to take this seriously, not to be alarmist, but to take it seriously and say what can we do to stop this from going ahead. Are we going to sit back and hope for the best? I don't think that's the best way to do it. "If you're going to say we want to promote expropriation without compensation, you are acting against the interests of the country. To go elsewhere to stop us becoming Zimbabwe or Cuba, that is an act of patriotism. Of course, there will be people whose blood pressure rises when we do that, but so be it. This is in the interest of the people." The ANC and his red-claded baby bitch  is nothing else than common thieves and the only people that scores are the ANC high ranking officials and the poor stays poor . How long do the government think they are going to get away with it.
WHAT YOU DON'T SEE AT THE VOORTREKKER MUSEUM ANYMORE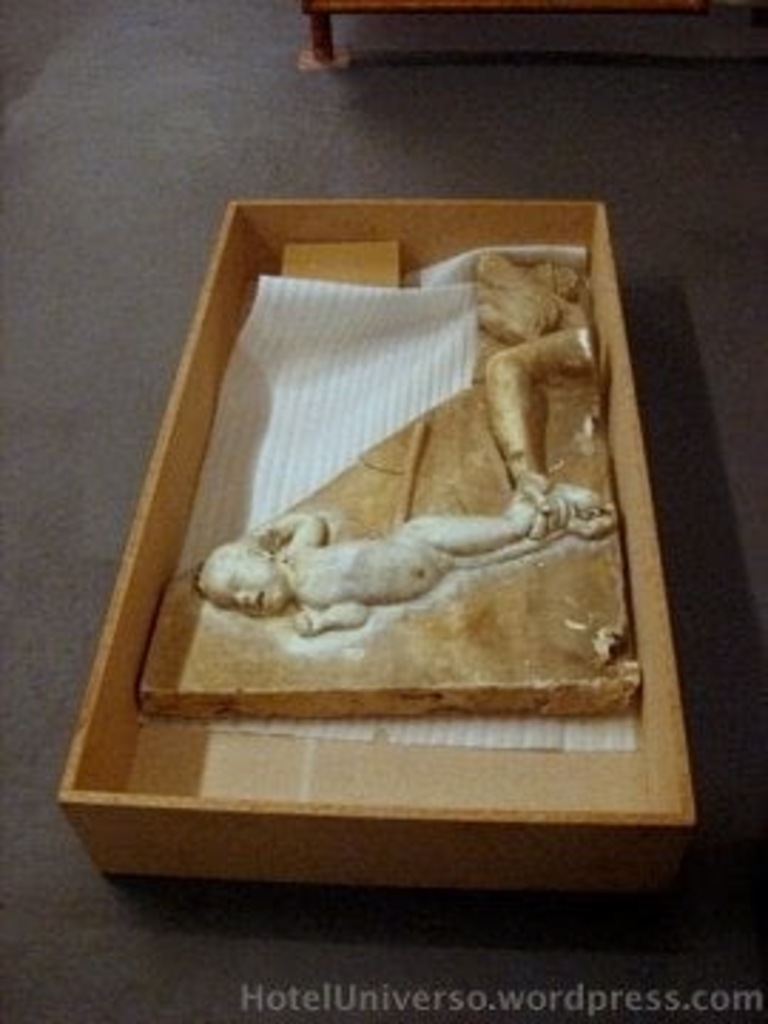 Removed from public view, in storage, a giant marble frieze depicting a Zulu attack on white women and children, a Zulu warrior shown raising a white baby above his head, prelude to smashing the baby against a wagon wheel. When they found a white pregnant woman, they would cut the baby from white woman's stomachs whilst she was still alive, and then smash the babies heads against wagon wheels. Today, 180 years later, nothing has changed in the brutal, violent, murderous character of black people in South Africa. Preparing for the war on the Boers – the battle of Blood River – Dingaan consulted his witch doctors who called upon their forefathers and pagan gods for a blessing, and gave his soldiers "magic muti" to drink which would protect them in the coming battle. The Boers prayed to God. Today the blacks attacking farmers, robbing homes, cash in transit vehicles etc etc, still visit witch doctors to bless their planned crimes and make them "resistant" to bullets, as they believe.
Now these same blacks  want to change a law of the country to disown over 1 million white people in one swoop based on such foundation -less bullsh*t? And what their poor black supporters also are quite unaware of– is they themselves will be stripped of property rights! And furthermore does this vague "Amendment Bill" not clearly specify WHAT "property" is in question- but indicators show that includes fixed AND movable assets- iow land, investments, pension funds, bank accounts, cars, private suburban homes, etc. This lousy bastards are very shrewd- and now they want to enforce it through their city councils and corrupt kangaroo courts to kick your scrawny arses off  of your rightful properties.And on the end of the day the ANC fat cats will be the only ones- as clearly proofed in the Nirwanda case and many other once lucrative white farms- benefiting through corruption. Ramaphosa is pushing this illogical rubbish agenda solely for personal and party gain– nothing else. Think how much these commi scammers could plunder if ALL the farms and private dwellings  could be procured for free under this evil "land expropriation" scheme and then sold in "farm flipping" and "property flipping" scams to the Chinese? Now you know why Ramaphosa also are so hell-bent in taking your land- that is EXCLUDING your investments, Pensions, et al.  Soon there will be no more farms left -no production…and no more food on the shelves and empty plates of the ever multiplying black populace. And you are " A-OK" with it??? No resistance? WTF is WRONG with South Africa's people….their mentality screwed on backwards? If it was in any other European country the commi's tried feeding the populace  this crap- especially France- that parliament building full of scammers and con-artists would have been burned to ashes long ago. 
SOURCES:
https://mg.co.za/article/2019-05-24-00-farm-flipping-how-land-reform-was-broken-by-the-elite?utm_medium=Social&utm_source=Facebook&fbclid=IwAR27_-uXFSdCT6iINYNFDHKvuwMltbU16yYkyC-V1zJQxfUSnk8_crcf-48#Echobox=1576750784
WHITE NATION– WE DO NOT HATE WHITE LIBERALS– WE SIMPLY DESPISE THE FILTH!!
C'MON- SHARE OUR LINK