Do you have news to tell us? Send your e.mails with news and inquiries to: w.nation@mail.com
Register with us for free to follow our news on the right-hand tab
Article compiled by: White Nation correspondent Pretoria  December 26 2019
Nine international tourists held at gunpoint in robbery in South Africa
SOUTH AFRICA– THE  PIRATE's REALM DOWN SOUTH
" The hippocracy and double standards applied by  the international community at large  simply leaves one gobsmacked to say the least. While denying the Holocaust on the one hand  is revered a social crime against humanity punishable by law in most countries- the denial of the white genocide in South Africa on  the other is treated as an acceptable standard of "political correctness" by the same societies! The question to be asked now  is how is it possible that  denial of the holocaust as well as acknowledging the white genocide in South Africa both can be treated in the same category of "injustices against mankind ? " Has the moral values and basic human rights of mankind now deteriorated so much  that the degree of one human catastrophe simply outweigh the other based solely on the pillars   of socio-political   correctness and our own distorted conceptions? "- Andrew K. 
" We seek to work with our partners across the world to build a more democratic, just and equitable world order." declaration -C.Ramaphosa
"As political turmoil plagues the globe, South Africa once again stands out as a beacon of hope and co-operation in a New World Order."-speech  C.Ramaphosa
African leaders leave Beijing forum hailing 'new world order' as China offers $60bn investment. Zimbabwe's newly elected president, Emmerson Mnangagwa, hit out at critics of China in an interview on state TV. "There is now a transition to a new world order and those who don't see it are blind," he said.
FESTIVE SEASON is upon us- a season where we gather around our families and loved ones to share happiness and blessings with those we revered as the  most special people we adore, respect and cherish. It is a time we relax, a time that brings families and friends together- a time to take a break from the past year's toil and challenges we faced to make ends meet again. It is a time we just rewind and "let go" of our personal problems, financial distresses and whatever turmoil still may or may not await us in the dark future.
IN South Africa that "future " may very well be very dark and ominous for those choosing to be on the "wrong side" of the political or race-related  spectrum  indeed– depending with who you  choose to side your alliance with- God….or the Devil himself. Not much of a choice though unfortunately- but in South Africa today having more than those two ultimate choices is a blessing- if not a miracle. Freedom of choice and the chance that you might  live another day  to either enjoy or regret that choice is a gamble you have to take upon yourself if you live in a country bordering on the edge of a  total financial and social apocalypse.
AS for the Boer/Afrikaner or whatever they call themselves or prefer to side with these days the future holds no promise for a better tomorrow. The only light "at the end of the tunnel" they can see these days  is the light of a  fast oncoming train. "Natural selection " already cast the die and divided the "Afrikaner" into six   definable categories or "camps"  if you like.
Those that had no guts or backbone to face the terrible final offensive against their race and rather fled for safer havens abroad-
Those that constantly deny the realty and decided to rather join  the legions of the British robber barons and their genocidal black communist empire and act as their lackeys and bum brushes in the faint hope to have a stay of their execution in the final genocide of the white race down South-
Those that already have been neutralized and banished from all social and financial privileges – now residing in overpopulated impoverished "reserves" or "squatter camps" – ready to be exterminated financially or physically at the communist Pharaohs' pleasure.
Those that still financially survive their day to day battle against humongous odds –  but now hopelessly  cling to a last possible miracle that somehow some rescue mission from some powerful government or act of G-d will step in and save the last remnants of the white Atlantis before the cataclysmic event  of destruction finally would extinguish the last traces of  white existence in Africa.
Those that still posses the brave genes and heroic hearts of their ancestors- preparing to take on the might of the  Egyptian tyrants  and cause as much collateral damage to the British foe and their wretched black and white treacherous mongrels – fighting 'till the last drop of blood for their pride, dignity and freedom of their country and their people.
Lastly those that already lost the bloody unequal fight against their race- those that now became silent voices in cold graveyards strewn across the country. These are the ones that never again will be gathering around  their families and loved ones to share happiness and blessings during the next festive season . They have lost the fight without having a chance to defend themselves or have a chance to fight back. They are the innocent victims that was brutally and mercilessly murdered in cold blood by beastly savages that nowadays roam the countryside and city streets  like hungry vampires and predators out for blood and destruction.
ONE such  a victim that we will find in this last category was a beautiful and young white starlet by the name of Dominique du Plooy who was callously murdered by black savages after they hi-jacked her car a few days ago. In a  shocking and cruel form of attack these vermin from the pits of hell snuffed out the life of  Dominique du Plooy. In the most brutal fashion Dominique du Plooy, was forced to drink an unknown toxic substance by her predatory assailants . The innocent girl  subsequently passed away  on December 20, 2019 due to poisoning. She was young, innocent- and was employed as the office manager for the Thorntree Lodge located at the majestic uKhahlamba-Drakensberg World Heritage Site near Pietermaritzburg, the capital of KwaZulu-Natal. The sad news of Dominique's death was published on social media by a relative on December 21. "My beautiful niece passed away yesterday, after being hijacked and forced to drink a substance by her attackers. We are gutted. Why, why, why? Dominique Du Plooy you will always be in our hearts. May you rest in peace baby." – said Jozua J Meyer
Dominique du Plooy and Jacques Buitendag (photo: Facebook)
Friends and family expressed their outrage to this cruelty: "So absolutely sad & unnecessary – wicked world wicked demonic people ! REST IN PEACE Deepest condolences to her family and friends. May the Lord hold you in his arms to get over this during a time of the Birth of Christ – again how utterly sad" reads one comment. "No man. Just no! I cannot deal with this savagery any more. Everyday that I log onto Facebook I see that some innocent is missing or has been hurt in this country. I'm deeply sorry for your loss and that of the family's, I cannot begin to imagine the pain of hearing this senseless, heinous act. My prayers are with you and your family. RIP Angel. God has picked his best" reads another. Before the tragic murder, Dominique sought her happiness in a relationship with Jacques Buitendag. The couple's Facebook profiles show many photos of happy moments, before the senseless terrorism in South Africa  destroyed their young and innocent dreams and lives. As always the case with this senseless murders against whites no arrests have been made. No further information is available at this time.
Dominique's senseless murder starkly reminds us of other similar bloody murders on innocent young people such as Lynettte Volschenk that also was brutally murdered in her flat in her Seesig flats in Cape Town by a psychopathic predator Kyle Ruiters who after he slain her- chopped her lifeless body into  pieces, packed it in plastic refuse bags-and placed the gruesome remains  all over the grounds. Then we also remember the senseless and brutal murder of the two young teenagers- Johanco Fleischmann and his girlfriend Jess Kuhn who were  brutally murdered without provocation  by a passing piece of black alien filth on the Putfontein off ramp on the N2 near Benoni  where they were waiting for help when their vehicle ran out of fuel . Three thugs walked by- and then suddenly one of them turned around and called a racist Xhosa slang – " Umhlungu"( which literally means rubbish from the sea) to Johanco . The derogatory term  is a usual standard slang especially Xhosa blacks use against  whites to slander them. The next moment- without any provocation from the two white youngsters- the black thug pulled out a firearm and start firing at Johanco randomly- hitting him several times. He then turned to Jess and also murdered the innocent girl in cold blood. Also the black scum never was found and never apprehended to this day.
The death roll
Every month the death roll of whites being murdered by black terrorists are escalating in the face of a very dispassionate international world. Dominique, Lynette , Janco and Jess only are part of a very bigger onslaught against whites in South Africa. The curse of butchering whites by black savages in African countries such as  Kenia, Tanzania and Zimbabwe finally has caught up with South Africa as well.  Recently the following whites also have been either attacked or brutally murdered by black sadists during November/ December 2019:
A 48-year old white farmer from the  Ralatlhali  region near Kuruman was brutally murdered by black sheep thieves, buried in a  shallow grave- whereafter 13 sheep were stolen. On Monday, 23 December 2019, police investigation led by Kuruman Stock Theft and Endangered Species Unit, Kuruman Criminal Record and Crime Scene Management, supported by Kuruman K9, Tsineng Visible Police, John Taolo Gaetsewe Cluster Commander, Major General Johan Bean, Brigadier Bossie Jacobs and Corporate Communication discovered a white man's body buried in a shallow grave in the bushes at Galotlhare Village near Kuruman. Preliminary investigation revealed that the thugs  allegedly murdered the 48 year old man and buried him in the shallow grave. The thugs  then proceeded to the deceased's sheep kraal at the cattle post in the village and loaded 13 sheep on a white Ford Ranger pick-up. However the suspects' pick-up ran out of fuel and came to an abrupt stop on a gravel road and they were caught red handed with a pick-up  still fully loaded with 13 sheep. The four savages  aged between 40 and 80 are expected to appear before Kuruman Magistrates' Court on Tuesday, 24 December 2019 facing charges of kidnapping, murder and stock theft. The deceased was last seen on Thursday, 19 December 2019.
Jan Terburgh (82) the elderly farmer who was brutally attacked on Monday by black savages on his farm in Burgerfort is recovering from his injuries in a Bloemfontein hospital.
After struggling to survive for seven and a half weeks a white farmer  Henry Brown, who has been in a coma, sadly passed away on the morning of 24 December 2019. The Brown family was violently attacked on their farm in Uitkyk near Nelspruit by a gang of black  savages on Sunday morning 3 November 2019. Henry, his wife Martie and their son Tommy were seriously injured by the attackers. Farmer Henry Brown (77) of Uitkyk in Nelspruit passed away on the morning of 24 December 2019. He had been hospitalized since a brutal farm attack on him, his wife and son on their farm in the Uitkyk area, Nelspruit on 3 November. He was in a serious condition the whole time after he sustained a massive head injury during the attack and his heart stopped 2 times in a hospital in Nelspruit in the days after the brutal attack on him, his wife Martie (74) and son Tommy (53) on 3 November. The Browns have been farming on the farm for 53 years… growing food for the people who attacked them. Four black men attacked them in their home on their farm outside Nelspruit on Sunday 3 November in the early morning hours. The attackers were armed with an axe and machete. During the attack one terrorist was shot and found about 200 meters from the farm house. The deceased terrorist has since been identified as

Pastor Thobela

from a church in the Pienaar area. On November, 3 2019 another suspect in his 40's was arrested and appeared in court the following day. A police hunt is still underway for the other terrorists. Henry Brown and his family were attacked by terrorists with "pangas", a type of machete, on November 3, 2019 on their farm in Mpumalanga South Africa. This type of machete became a notorious weapon: during the Mau Mau Uprising and in the Rwandan Genocide. In South Africa particularly in the late 80's and early 90's, when the province of Natal was wracked by black on black conflict between Mandela's African National Congress and the Zulu Inkatha Freedom Party, pangas were a popular weapon used during black on black mass killings. Tens of thousands of Africans were murdered by fellow Africans in the few years of the handover of the country to blacks. The elderly couple sustained serious head injuries in the attack and Tommy was shot in the leg and also sustained serious injuries to his head and jaw. He managed to shoot and kill the Pastor. Andrew Brown, son of Hendry and Martie and Tommy's brother, said at the time that a part of Henry's skull had to be cut out to relieve swelling on the brain and he had to get a blood transfusion. Martie's skull was cracked during the attack but she was released after treatment and Tommy had to get operations to repair his facial injuries. The family have no medical aid and are liable for the cost of the medical care themselves. Albert Greyvenstein of Bossies Community Justice (BCJ) says Henry Brown had been in a coma since the attack. He was treated at Kiaat Private Hospital in Nelspruit for serious head injuries and was later transferred to Rob Ferreira State Hospital, where Tommy his son, also injured in the attack was being treated.
On Thursday night 19 December 2019 a black thug opened fire on a white woman in her Bush Street, Wells Estate home in Port Elizabeth. The savage  also fired at the woman's daughter (14) wounding her in the head. The attacker then fled.  The girl who's head was grazed by the bullet ran to the neighbors for help. She was not seriously injured, but was severely traumatized and taken to hospital for treatment. The woman's husband was at work during the attack.
Black savages attacked and robbed a white couple at Koedoeklou near Klossiespan three days ago.
Two drunk black thugs  attempted to attack a white victim on a smallholding, but the victim managed to fight them off. SAPS arrested both suspects.
 Four different white owned smallholdings were attacked by black terrorists in the Apiesrivier area in  Gauteng between 20 and 23 December, with two instances of attempted rape.
A white male was attacked by black thugs near the Umsunduzi River in Pietermaritzburg during the early hours of the morning this past week.  The black thugs  smashed all the windows in the victim's  pick-up  and stabbed him He is currently in ICU at a private hospital in the city.
9. A 70-year-old woman – Moira Norcliffe–  has been left with a black eye after being attacked by black thugs while handing out Christmas gifts to the homeless.
10. During a brutal farm attack that took place on Sunday 15 December 2019, at 21:30, in Koedoesfontein near Zeerust in the North West province of South Africa. Andrew (66) and Christine Legrance were attacked in their home by black savages. Christine who is a paraplegic was assaulted and thrown out of her wheel chair and Andrew suffered several stab wounds and was assaulted with an iron bar. Farmers in the area responded and cordoned off the area.
11. An Injured farmer woman escaped an attack and went  seeking  help  barefoot at night . Six black savages  smashed the butt of a gun  against elderly white victims Gert (81) and Joey (75) Pienaar from Dewetsdorp. Shortly after midnight, the couple heard a window breaking from their home on the farm Monday morning, but before they could do anything, they were attacked in their bedroom. The savages demanded keys for the safe and money. Jannie van Tonder, the couple's son-in-law, said the thugs hit them over the head with a glass bottle and a rifle butt and also stabbed them with a knife.
12. Four black thugs between the ages 25 and 46 appeared in the magistrates court in Ilembe in Kwa-Zulu Natal for the gruesome murder of a white elderly couple in the area. The couple was attacked, abducted- and taken to the Wolongo Reservation where they were gruesomely murdered by first bashing their heads in with a 4-pound hammer and then shot in cold blood.
13. An order from the Provincial Commissioner, Lieutenant General Liziwe Ntshinga for a 72 hour activation plan following the murder of a 72 year old elderly white woman, house robbery, kidnapping and rape of a 4 and 5 year old young girls on the 15 December 2019 at Mcuku Locality, has yielded positive results. According to the reports, the 30 year old black suspect entered the house of the 72 year old and found her with the two young children. Preliminary investigation suggests that the elderly woman had suffered multiple stab wounds before she was left to die in a mattress outside her room. During the incident, the two children were kidnapped by the suspect to a place where he raped them. However, the children were later found alive and returned to their home. Meanwhile, the suspect is currently under police custody whilst investigation continues.
14. A farm attack took place during the night of 18 December 2019, at 23:00 and continued until 02:00 on 19 December 2019. Three  black savages, of which at least one was armed, overpowered the white victims then assaulted and tied them up. The attack took place on a farm in the Bronkhorstspruit/ Delmas Waaikraal area. One of the victims managed to get free and ran to the neighbors for help. The neighbors raised the alarm and locals responded but there were no arrests. The home and workshop were ransacked. Whilst severely traumatized there were no serious injuries. The police are investigating the attack. There is no other information available at this stage.
15. In Port Elizabeth a white woman was cold bloodily murdered in front of her teen age daughter.
16. A 24 year old white woman and her husband have been killed and her 27 year old sister seriously injured by black thugs in a suspected armed robbery at their home in Kiblerpark, Johannesburg South on the night of 14 December 2019. ER24 paramedics arrived on the scene at 23:04 to find the body of a man, presumed to be around 40 years of age, and the injured sister inside the house. The body of the wife was found outside – all had suffered gunshot wounds.
17. A farm attack took place on the night of 18 December 2019, at 23:20, in Krugersdorp, Gauteng province. A 306 rifle was taken during the attack, along with TV's, cell phones and a household items. There is an urgent lookout for a white Nissan X Trail, with part registration HL55..GP and a white 2010 BMW 320 with registration ZVP814GP. Four black savages  all wearing black gloves and black beanies were armed with handguns. One thug  was wearing pink shoes.
18. The community of Uitkyk is reeling after the white owner of a cattery and kennels business was murdered on her property near Mbombela in Mpumalanga. Catherine Irving was stabbed multiple times by at least four black savages .   Local crime-fighting organisation Bossies Community Justice described the incident as brutal and has put up a R100,000 reward for information leading to the arrest and conviction of the suspects.  "We are quite shocked and devastated because she was such a nice person to everyone in the community. She was a lover of animals and cared for them so effortlessly," said the group's Albert Gryvenstein. Police confirmed that a 54-year-old woman's body had been found by an employee.
19. A white couple in their 70s were assaulted by black savages during an alleged robbery on their small holding in Bloemspruit outside Bloemfontein last night. The husband and wife suffered critical and serious head injuries and had been bound. When ER24 paramedics arrived at 21:15, both a security company and SAPS were on the scene. One of theblack thugs  had been shot and killed and another apprehended. The deceased thug  showed no signs of life and was declared dead on arrival by our paramedics. The husband and wife were found collapsed in the house. The husband was treated on scene using Advanced Life Support interventions before both were transported to Mediclinic Bloemfontein.
Schalk and Chantel Lourens
20. On Thursday, December 15 2019 Schalk Lourens and his wife were returning to their Rhenosterfontein smallholding situated in the Bojanala District, Rustenburg Municipality. As the couple arrived at the entrance, the wife got out of the vehicle to open up the gate, without any warning four black savages  surrounded the vehicle, shot, and killed Schalk. The four thugs fled with two mobile phones. The suspects are still at large and the police are continuing with an investigation.
21.The elderly Anne-Marie Buys, 72, from Krugersdorp was stabbed by a black fellow  patient at Helen Joseph Hospital in Johannesburg on Saturday morning at 1:45 a.m. Her family was away when it happened and only found out later. She died Thursday morning, though it is still uncertain what led to her death. The hospital also couldn't tell the Buys family exactly what time she died. Debbie says they are definitely going to take legal action against the hospital and the alleged attacker. According to her, Anne-Marie was diagnosed with brain and lung cancer in April. She was admitted to Helen Joseph Hospital for the first time shortly thereafter.
22. A white  Nigel farmer was attacked by black savages with a pick handle  before being burned to death. Capt. Johannes Ramphora, a Gauteng police spokesperson, said the 44-year-old man, identified as Johan Pretorius, was struck several times with the pick handle over his head and body. Ramphora says Pretorius tried to run away but ended up with severe burns. Monitor 24 Security owner Deon Pretorius said they received a call about a pick-up being  on fire. They found the severely burnt man next to the vehicle when they arrived on the scene.
23.On 19 November 2019 a white  man was hospitalized after violent assault. Response units were alerted by Carolina SAPS that they do not have any knowledge about such incident and case. On further investigation it has been determined that this assault did not take place on a farm, but allegedly in the town of Ermelo, the victim was working on a vehicle when he was attacked by two black thugs  with a knife.   The man was assisting his father working on a vehicle on their farm when they were attacked by an unknown number of black thugs . The victim suffered serious injuries during the assault.
24. An elderly white couple in their seventies were violently attacked in their home by black terrorists  on Wednesday 25 December 2019, in Cilliers, Kakamas, Northern Cape. The couple were attacked on their smallholding at 22:00 and violently assaulted. Their son who stays nearby heard the commotion and came to his parents assistance. A massive fight ensued and the home was turned into a shambles, with blood everywhere and furniture destroyed during the attack. The son who was also attacked by a thug, after a number of warnings, opened fire on the attacker killing him. The elderly couple were admitted to hospital for treatment but have since been discharged. The police were on the scene until 05:00 on 26 December 2019.
25. Another farm attack took place  in Harding at Hluku at about 3:pm Wednesday . The farmer was hacked  with a bush knife while he was alone. It appears the black thug  was surprised in his house where he demanded guns and money. He then attacked the farmer with a bush knife. The farmer managed to escape and get into his pick-up at this time the black thug hacked  one of the tyres. This didn't stop him he drove to the nearby B+B drove down the gate only to find nobody there he went to the next farm and there to nobody was home he ended up at his other farm about 19 kms away. His at the hospital now getting treatment as he suffered some deep gashes on his leg chest and head.
26.
At 03:00 on the morning of Sunday 15 December 2019, black savages  entered the farm of the Nicholson's and spray painted hate slogans  on the white farm manager's pick-up truck  and then set it alight. The farm attack took place on a farm in Buffelspoort, near Rustenberg, in the North West province of South Africa. Slogans included, #Kill you, Kill the Boer, #Kill. No one was injured during the attack. The terrorist attack was reported at the police station and the SAPS are investigating cases of hate speech, malicious damage to property and trespassing. There have been no arrests. There is no other information available at this stage.
27. A 48-year-old white woman from Jeffreys Bay, Eastern Cape managed to fend off two armed black savages  at her property in Kabeljous. The farm attack took place at 20:30 on Friday night, but the victim refused to become another rural crime statistic, and ferociously fought back – despite her severe injuries. The farm owner was stabbed in the head by a sharp object. This was after she grappled with one of her would-be assailants. Following the struggle, the heroic woman reached for her firearm and shot one of the thugs  in his upper body. The second thug  fled the scene immediately, leaving his accomplice behind. Working from her home office, the woman first noticed the savages  when they tried to gain access to the secluded part of the property. They tried to shoot her through the windows, before fire was returned. As the confrontation became physical, the stabbing did not incapacitate the victim, who then discharged her weapon from close range.
28.
" Good evening everyone. This is how my Dad looks today 5 weeks after a  farm attack. It hurts to see him like this most people know how he looked before the farm attack. To think that attackers can be so cruel and destroy families. Medical accounts are still pouring in everyday."
29. A violent and brutal farm attack too place on Tuesday night, 10 December 2019, in Mooi River, KwaZulu Natal province. A farm manager, Rodger Huntley, who is debilitated by a past stroke was attacked and tortured in his home by two black savages. . The thugs demanded firearms and money and severely tortured Huntley. Huntley who is in his late sixty's took nearly an hour to crawl to neighbors for help having suffered lacerations to his head and chin and was bruised all over his head and face. Huntley who does not have a firearm was beaten relentlessly by the attackers. Huntley's vehicle was later recovered in Ladysmith. There is no other information available at this stage. Huntley is in a stable condition.According to TAU SA's statistics, there were already 409 farm attacks this year compared to 395 farm attacks last year in the same period and 56 homicides against the 53 of the previous year.
IF  the drought is not bad enough, we have to deal with these savage bastards who hamstrung and slaughtered 20 of our sheep. Cathcart farmers are been held to ransom by known black stock thieves. This won't make national media, Carte Blanche and this blatant cruelty to animals won't get the attention of the SPCA. This beautiful county lacks good governance and policing.
16 COWS STOLEN AND SLAUGHTERED
CLAIMS  of black kingpins in charge of well-planned crime operations with connections in government, highly trained hit squads using children to secure intelligence in farm attacks, occasional acts of intimidation to force land owners off their property and inhuman physical trauma inflicted on victims of such heinous crimes speak of the evil that characterizes incidents committed against inhabitants of some of the remotest locations in South Africa.
A Boschkop family was tortured and killed, when four black  terrorists attacked their home on a smallholding 20 km East of Pretoria. Boschkop is a rural area, popular for its country style wedding venues, guest houses and game farms. On Tuesday evening November 19, 2019 at around 7pm, Rina Kritzinger (64) walked into her bedroom, to discover that four armed thugs, had gained entry to their home. Hearing his wife scream, Gerhard Kritzinger (64) rushed to her aid, but was summarily shot in the chest by the attackers.
BLACKS has been brutally murdering whites unprovoked since the earliest settler days  up to today- never denounced that gruesome culture. But they are the ones that continuously scream "We are the victims of "Apartheid?". 
Limpopo is no exception and when embarking on research into farm attacks University of Limpopo (UL) research assistant Cristopher Gumbi couldn't possibly have been prepared for unearthing the sorrow bottled up in recollections of physical trauma shared by victims of such crimes. Shedding tears with survivors as they revisited the horrors of the past, he got a glimpse of a form of crime that threatens food security and, in turn, the economy of the country. His findings were consolidated in a 117-page thesis for a Master of Arts degree from the Department of Criminology and Criminal Justice at UL, which he obtained in September this year. Gumbi's investigation of the motivational factors for farm attacks and its consequential injurious phenomena looks into such crimes committed in parts of Limpopo and Mpumalanga between 2005 and 2015, bringing him into contact with 23 individuals and groupings who have all been survivors.
Before getting started with the interview Gumbi pointed at his predominantly monotone outfit in solidarity with scores of South Africans commemorating Black Monday, the countrywide action commemorating lives lost in farm attacks and survivors thereof. From the study the reader gets varying perspectives of the situation as Gumbi delves into a decade of attacks through conversations with survivors from both genders, who varied in age from 38 to 88 years. Harrowing accounts made him question, among others, the need for inflicting physical trauma upon victims during the orchestration of attacks, he remarked during the interview. "The violent nature of attacks is amply demonstrated by such actions as beatings, tying victims down with cable ties, threats of burning victims with hot water or poisoning them and shooting at first sight," he notes in his study.
Without exception all respondents stated that attacks which occurred on their farms were well-planned, mentions Gumbi. "There is a clear indication that attackers conduct thorough surveillance of their target and surroundings before they pounce. This shows the high amount of intelligence and patience they put in, in making sure their plan succeeds." He quotes a victim who stated that the assailants were picked-up by a vehicle after the attack. "This confirms the idea of a hit squad and a getaway car as a form of organised attack," he states. He further writes that all of the surviving victims mentioned that the attacks against them were linked to a crime syndicate, with the chief aim of robbing farmers of their money, valuables and weapons in order to fund their operations. In one instance he quotes a victim saying "One of the attackers informed my son that he is part of a crime syndicate and that they cannot remain in custody… These cell groups have kingpins in every town who use kids for stealing because the kids cannot be prosecuted… This is a well-planned operation involving Police, public prosecutors, judges, magistrates to high ranking officials of the government…"
Attackers with military training
Some of the victims maintained the belief that their attackers were a mix of South African and Zimbabwean with military training, according to the information contained in the study. In one incident a victim recalled that the attackers collected all spent cartridges on the scene. In another attack the assailants allegedly ran more than 4 km while carrying rifles to their getaway vehicle and changed clothes in order for them not to be recognized. Gumbi reaches the conclusion that an attack on a farmstead from four sides during one such incident, which resulted in the farmer being shot in the head, indicated a form of formal training on the part of the assailants.
In 47% of the cases money and jewellery were not targeted while 65% of the respondents stated that their attackers were not very interested in other items but their weapons. What the researcher had established though, was that attackers always knew the arrangement of the targeted farmsteads, where the safes were and the weapons kept. It led to the inference that the attacks should have been orchestrated with the help of insiders, who allegedly included teens living on farms.
Attacks believed to be form of intimidation
According to Gumbi's research 78% of the respondents who reported farm attacks related a form of intimidation, aimed at driving farmers off their land. A female victim informed him that she had believed the attack on her farm was a form of intimidation, because the attackers never stole anything but just started firing through the windows of the house without prior warning. "More than 60 shots were fired. My husband shot back with a .38 revolver. He (name withheld) tossed (the) phone to me to call for help. They shot him (name withheld) in the head. They never came inside. The attackers shouted that they will kill all…" A farmer who reported that he was attacked by twelve terrorists  informed the researcher that one drew a gun and started shooting. "When asked what their primary objective of attacking the farm was, they responded that it was not about cattle, money, guns or jewellery, but about taking control of the farm."
Thirty-nine per cent of the respondents stated that they knew the attackers. A respondent who was attacked twice, in 2007 and 2014, said his wife knew one of the attackers because she recognized his voice during the initial attack. Gumbi quoted survivors who were asked whether farms with poor security were singled out for attacks as saying "Poor security is not a contributing factor; it is all about brutal revenge and financial purposes" and "I don't think poor security is the point here. These attacks are orchestrated by some leader somewhere who wants to drive farmers off their land." Gumbi further remarks that farmers do not feel that they are receiving the necessary service delivery from the South African Police Service. From the responses it is clear that the Police are not doing enough to assist the farmers during and after an attack, he writes. "Negligence and dereliction of duties are evident from the responses of respondents. Serious allegations concerning negligence with firearms raise concerns."
Farm attacks need to be addressed holistically hence, the researcher concedes, more role players such as all government departments and non-profit organisations need to play a more active role in improving security on farms to protect food security. Gumbi points out that unless security on farms is made a national priority, farm attacks will continue to increase. He recommends that it gets prioritized and discussed as part of South Africa's national agenda, particularly in Parliament. He also recommends that racial stereotypes in farming urgently get addressed. "The South African justice system needs to recognize farm attacks as a criminal charge of its own with a strict mandatory minimum sentence applied; this will serve as a form of deterrence to attackers." Gumbi expresses great concern over farm attacks in South Africa not being given the necessary attention by the government, considering the effects such crimes have on the economy and the well-being of victims, families and communities. According to him South Africa has the responsibility to view farm attacks as a violation of human rights and a threat to the country's economy and food security. "The rural farming community contributes substantially to the growth and development of the South African economy."
Genocide watch
In 2016, and for many years before that, South Africa has been placed on stage 6 of Genocide Watch's Ten Stages of Genocide  This stage – called polarization – is followed by the stages of preparation, persecution, extermination and denial. (A previous Genocide Watch model only had eight stages.) Genocide Watch lists "Whites, Boers, Immigrants [and] Policemen" as victims of genocide in South Africa and Marxist racists  and "xenophobes" as killers. The organisation, set up by its president Gregory Stanton in 1999, works to raise consciousness of genocide as a global problem and to raise awareness of specific high-risk situations. The organisation is staffed by Stanton and interns but suspended its operations in August 2016. South Africa's ranking was raised to the seventh preparation stage in September 2011, when EFF leader Julius Malema (described by the organisation as a Marxist racist) was president of the African National Congress' Youth League. "We returned it to polarization after the ANC expelled Malema and kicked him out of the presidency of the ANC Youth League," Stanton said.
According to Dr. Stanton, the ten stages of genocide are:
1. Classification
This first stage is where a nation is divided into various groups for political reasons. This happened in South Africa under the apartheid regime, but it now also being sustained by the ANC government for their own political agendas.
2. Symbolization
The Jews, during Nazi Germany, were forced to wear the yellow Star of David so that they may be easily identified and stigmatized.
Today, in South Africa, the mere skin colour and language (Afrikaans) are used as symbols to identify the particular ethnic groups that are being targeted for extermination.
3. Discrimination
During the apartheid years, racial discrimination was very intense, especially against blacks, coloreds and Indians. Our South African society was much divided. When the ANC was elected to power, promises were made to unite South Africa into one "rainbow nation. " South Africa is much more divided than before; apartheid laws are no longer on the statute book, but the nation remains deeply divided. The unwise application of affirmative action is driving all our 'born free' children to foreign Western and Asian countries to look for jobs and better prospects. Thousands of our best young people (highly qualified) have left South Africa and are working in the UK, USA, Australia, New Zeeland, Dubai, Qatar, Kuwait, the UAE and several other countries where the prospects are much better. And that is why South Africa is suffering from an acute skills shortage and a brain drain.
4. Dehumanization
The early signs of the dehumanization of white South Africans are clearly visible in South Africa. Many black politicians like Jacob Zuma and Julius Malema are referring to white citizens as 'settlers' or 'colonialists', 'racists', and many other negative words while Cyril Ramaphosa again denies farm murders and threatens white property owners on a daily basis. Anytime you are making these racial distinctions, you are dividing the humanity of the human race.
5. Organization
In South Africa, there are several radical, Marxist, black groups like the EFF and BLF that are being trained ideologically to hate whites, who are being labeled as 'settlers', 'colonialists', 'racists' and 'counter-revolutionaries'. This is exactly what the Hutus did to the Tutsis before the genocide; they labeled the Tutsis as 'cockroaches' and 'vermin' that needed to be exterminated in order to 'save' Rwanda. 
6. Polarization
South Africa can be classified as a polarised society. The dream of Nelson Mandela to build one united " rainbow nation"  has been destroyed by incompetent and short-sighted political leaders like Jacob Zuma and now Cyril Ramaphosa. Cyril Ramaphosa also referred to boiling white South Africans slowly like "frogs in a pot." 
7. Preparation
As a society, South Africa is at this critical stage where radical, political groups like the EFF, BLF, and others, are meticulously planning in co-ordination with their British advisory the removal of white farmers from their farms in the name of 'land redistribution' and 'taking back their land'. This, of course, is a pretext for violence, murder, and theft in the name of 'freedom' and 'liberation.'  Singing 'freedom' songs like 'Kill (kiss) the Boer, kill (kiss) the farmer' glorifies the killing of white people in South Africa. Supporters of the EFF are encouraged to literally kill white South Africans in the name of 'liberation'. Mob psychology is used to instigate violence against white Afrikaans speaking farmers.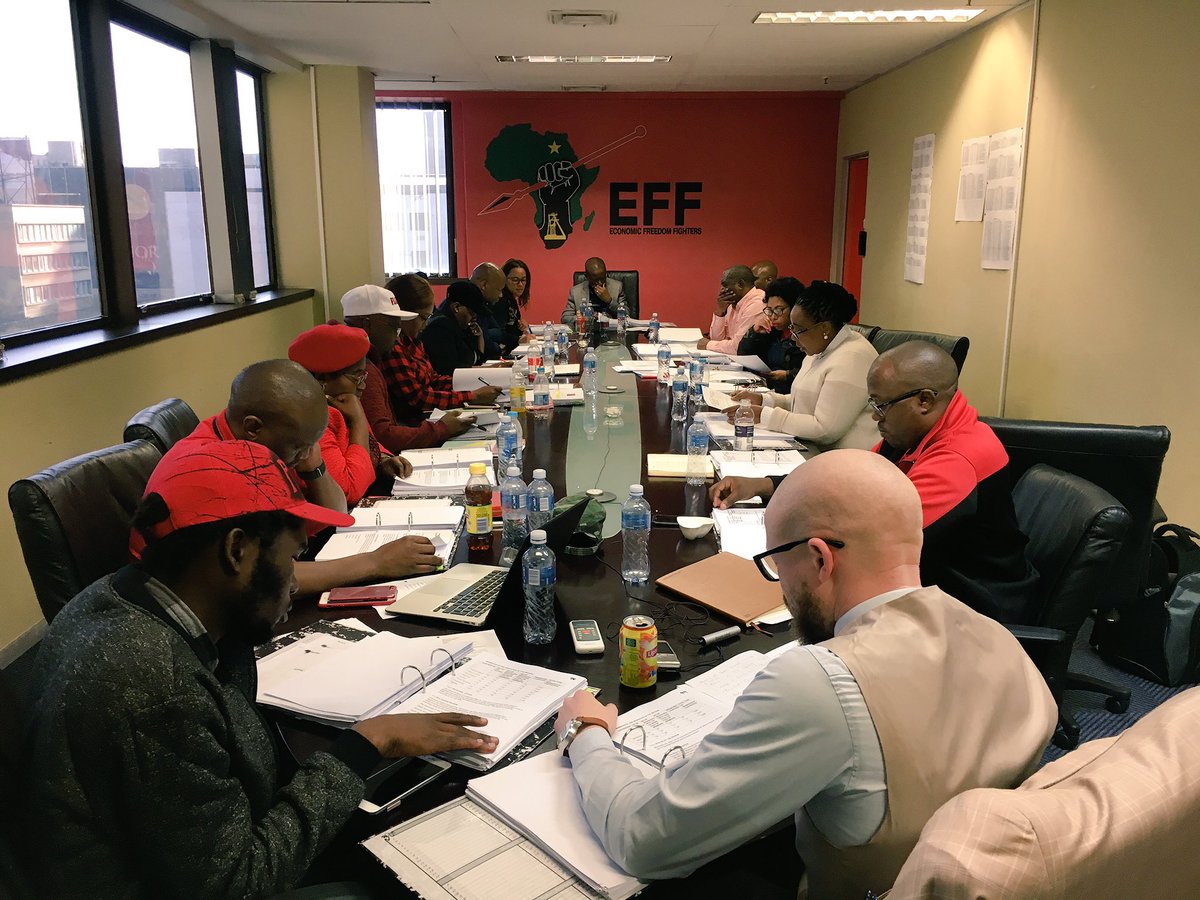 Black terrorists and their white British advisers are behind the brutal and bloody offensives to drive  white South African farmers off their land
The picture of a group of white British men at the conference of the Economic Freedom Fighters (EFF) has been making its rounds on social media. Many have been asking, who are these white men, and what are they doing at a conference of a party that claims to be Marxist-Leninist and wanting to expropriate white capital? Many theories in relation to these questions have also been circulating. One such theory which has gained traction is that these British operators  are the true owners of the EFF. They had attended the conference to make sure that their investments are secured. The EFF, according to this theory, is guided and sponsored by both London, via Lord Robin Renwick, and Stellenbosch, through mainly Johann Rupert. Then there is the ever present Adriano Mazzotti, who is the main direct benefactor of Julius Malema. Rumour has it that the different handlers have consolidated their management process so as to avoid the confusion that often happens where conflicting instructions are given to the Reds of London. The EFF has kept mum about the identities of these white men and what they want. This is not the first time that the party has concealed from its members dealings with imperialists forces. The minutes and footage of the meeting held in London in 2015 by the representatives of British imperialism with the leaders of the EFF, were promised to the public but never released.
8. Persecution
The persecution of white, colored, Indian and foreign Africans have begun in our motherland by radical, black political groups like the EFF. Whites are told to go back to Europe, Indians are told to go back to India, and foreign blacks (who are labeled as makwere kwere) are beaten and told to go back to their northern African countries. The discrimination of foreign blacks by South African blacks are very severe and the intolerance is growing daily.
9. Extermination and, lastly,
The farm murders that are taking place in South Africa are meticulously planned by radically politicized groups to rid the country of white farmers under the pretext of 'taking back the stolen land.' The brutality of farm murders in our country is shocking. Often, nothing is stolen and it becomes clear that many of these crimes are hate crimes, perpetrated by people who have been incited to commit murder. It does not matter if many farmers have bought their land legally after 1994, the lie is still propagated that they stole the land from blacks. The Marxist ideal is to take away all private ownership and to allow the state to own all the land – this was done in Zimbabwe as well. It also resulted in Robert Mugabe owning 13 farms personally, all 'liberated' from white farmers by ZANU-PF members.
Julius Malema does not have any original ideas; his political ideas are all stolen from failed Marxist despots who left their countries in ruins and instigation from the British establishment the likes of Robin Renwick who he visits on a regular basis. . There is a clear political agenda to promote these populist views among uninformed, poor, black people mainly living in townships, in order to gain more votes in the 2019 national elections. They are misled to believe that they will get previously white-owned land and farms if they vote for the EFF or ANC; of course, all blatant lies told by (once poor) politicians who once lived in RDP houses, but now drive in their expensive cars, dressed in designer clothing, living in multi-million rand mansions, sipping their twelve-year-old single malt whiskeys, having regular, expensive holidays in Dubai funded by corrupt businessmen thriving on multi-billion rand government tenders so generously given by our South African government.
10. Denial.
Our present government is denying that farm murders are being pre-planned by organized, politically connected groups. The SAPS are also not keeping statistics of farm murders as a special crime. The message the general public is getting is that the state do not want to know the truth about farm murders in South Africa, hence the need for other civil society organizations to keep a daily record of farm killings and attacks.
The Regime's deliberate plan to exterminate white Afrikaners:  
THE unwillingness , deliberate ignorance and deliberate plan to exterminate white Afrikaners coming from the communist avaricious plutocrats regarding  this vile and dastardly crimes against the white humanity  are to say the least  simply mind-boggling – yet not unexpected. They don't even care less about atrocities against their own kind. How can you expect them to feel any compassion for someone not of their own kind then?  Factually are most of these black-on-white murders many a time orchestrated and most of the time also condoned by this ANC scumbags in high places. There is not a day gone by that these communist political do not have something to say or act to  discriminate against whites.
The following incidents is factual proof that there is a deliberate hidden agenda to exterminate white Afrikaners from South Africa:
The Land Expropriation without Compensation ( white land theft) Bill was quietly and quickly pushed into parliament over December holiday when opposition against it is minimal-

 

Under ANC rule, single-medium Afrikaans schools have decreased. A new bill to take full control over Afrikaans schools also was quietly tabled in parliament during the December holidays as well-
Cyril Ramaphosa threatens that the illegal ANC regime is commencing a "massive" program to steal and redistribute farms and land belonging to whites-
 Ramaphosa's  arrogance knows no limits as he says white land owners are no longer in a position to resist the regime's  land reform policies-
Ramaphosa now begin to sound and act more like his comrade Robert Mugabe by deliberately distorting  the Blood River history in a cheap propaganda stunt – demonizing  400 white Boers  , their women and children openly by calling them  "invaders" of the country and the 15 000 strong force of Zulu attackers as "Freedom Fighters."–
During Zuma's reign all white people were forced to hand in their defensive weapons in a bogus false flag operation of "Gun Free South Africa." 
Ramaphosa openly denied at a UN summit meeting that farm murders are taking place in South Africa-
For 25 years the ANC land thieves bluntly refused to pay any attention or acknowledge  the looming crisis developing on the farms. On the contrary did Mbeki engineer the situation by disbanding the rural  Commando protection units and opened South Africa's borders  with his senile "African Renaissance" madness which led to literally millions of alien African insurgents to cross the border at will. This led to an escalation of farm attacks and farm murders with black terrorists now criss-crossing the Musina border during their offenses against the now unarmed and  defenseless farmers and their families.
Affirmative Action and BEEE discriminatory legislation still are enforced rigorously– alienating whites from the labor market and imposing exuberant fines on companies that does not adhere to their BEEE legislation-
Government aid , services and subsidized homes is still deliberately withheld  from impoverished white squatter camps-
All government donations for white orphanages were stopped and companies threatened with huge fines should they dare donate to any white orphanage.
Blatant witch hunts were launched against innocent white farmers such as the Coligny, Reitz and Middelburg cases  under the veil of bogus trumped- up charges of "illegal weapons" and "racism" and farmers were incarcerated for mediocre charges- the most recent example was the case of Harry Knoesen that allegedly committed a "crime against the state" for threatening the holy cows in Lethuli House with retaliation against their discrimination of whites. Meanwhile of over 400 serious crimes against the state not ONE ANC or black culprit ever  was jailed- the best example is Jacob Zuma who with the Guptas– posed the most serious threat and crime against the state when they allegedly captured the state.
Offenses were launched against white people such as Penny Sparrow, Chris Hart, Vicky Momberg and Eben Etsebeth  for false  "racist" and "hate speech" charges .
Cyril Ramaphosa granted pardon in a so-called " special remission of sentences" drive and grant the early release of 14 000 convicted criminals from prison. One of these that recieved early release were the AbaThembu King Buyelekhaya Dalindyebo– who was  sentenced to 15 years in jail for kidnapping, assault and other charges – yet not ONE single white-  not any white such as members of the Boeremag – or even whites jailed on bogus charges such as Momberg who was sentenced to two years imprisonment by a Durban racist Indian judge – were granted leniency.
White enclaves or groups such as Orania, Eureka, Commando Corps and Kleinfontein are constantly attacked by the villainous Media 24, Al Jazeera, New Nation and British Press for alleged " racism", "white supremacy"  and "apartheid" narratives.
Julius Malema and his radical red gnomes as well as the disillusioned Andile Mngxitama constantly are threatening whites with war, murder and land grab rhetoric.
White statues and historical memorabilia were desecrated and removed in a drive to dehumanize and belittle whites in the face of the world.
Whites, "Apartheid" and Jan Van Riebeeck are constantly blamed for all the mishaps, maladministration and incompetence of the current useless regime.
Black police and traffic officers in South Africa single out especially whites to intimidate and treat racist. 

The arrogance, disrespect and abuse of their powers simply leaves one gobsmacked. These are no officers oi the law- these are simply AA bumble heads that does not even belong in law enforcement. 

Raeesa Dawood wrote: "So, today whilst returning from shopping these …. Pull me over n harass us. The male oaf threatened to arrest my child simply for videoing their harassment, v

ictimisation and racism!!!! He went as far as to reach into our private vehicle try to snatch her phn, and on video he clearly says he will arrest her for it!!! Do these things think because they're in a uniform they're the law???? All they wanted was a bribe as they could fault nothing… This is the kind of uncouth rubbish out there!!!! I don't even point my finger at my child how dare this uncouth beast???"

Andre Nel wrote: " So this morning i get pulled over by a police van. The driver of the van tried pushing me off the road when I decided it is strange that I get pulled over by a non tmpd vehicle I proceeded and stopped at BP Eldoglen. I then ask the two for what reason are you pulling me over and the answer I got is that they are doing their job. I then got a slight bit angry as there is absolutely no reason for th

em to pull me over they then proceeded to search my bakkie I agreed and let them search although they couldn't find anything they then asked for my license and as soon as I gave them my wallet the first question after that is why isn't there any money in your wallet. Pretty much asking for a bribe. I then lost it and took my wallet back and said I will report you to Wierdabrug police station the one guy started pushing me around and I told him that he has no right to touch me as I was not a threat he then called me a stupid white boy and I find that pretty racist. Help me make this piece of trash famous he deserves it." 

Black offenders hardly ever are charged with atrocities against whites and about never get dragged before the Human Rights Commission or court. When they do- mediocre sentences or no sentence at all are handed down while on the contrary a witch hunt is ongoing against whites. A recent case was that of Naomi Du Toit– a young teacher who was  brutally assaulted and manhandled by black police officers, before being arrested on a charge of "reckless and negligent driving." No charges were laid against the officers.
Hippocracy plays a major role when it comes to treating whites.On the contrary was South African Rugby player Eben Etsebeth hunted down like an animal by the South African media based on the so-called "evidence" coming from totally unreliable "sources." Trumped up (paid) charges were laid coming from alleged "victims" from a Western Cape  settlement who falsely claimed Etsebeth uttered some "racist" slander when on a night out party in the area. This conspiracy was totally debunked from all truth. Yet Etsebeth was threatened by the HRC and hunted by the leftist media vultures. Today not ONE of these fake " Uber trackers" of "racism" offered an apology to Etsebeth for desecrating his good name in public. The reason:  He is white- and whites do not need "apologies' – just slander. The police officers in the case where they abused their powers and assaulted a white lady were black. They need vindication for their racist actions because being black gives you all the royalties to do whatever you want without the fear of prosecution in South Africa.
In another case of double standards and accomplice to farm murders by the South African Police  a Darnall father is demanding justice following a brutal attack on his wife with a cane knife by a  black farm worker – who today is a free man. Raeanne van der Wath was alone with her three-year-old daughter at around 6am on Monday, September 3, 2018 at Hummalo farm near Darnall, shortly after her farm manager husband, Dale, had left for work. She was alerted to an intruder by the screams of her three-year-old in the kitchen, where she confronted a black thug  wielding a razor-sharp cane knife. She recognized him as a cane cutter on the farm. Raeanne acted instinctively when the man swung the knife at the toddler, jumping in front of her and doing everything in her power to shield her child. The frightened little girl hid behind the couch while her mother fought off the attacker. The 35-year-old mother was stabbed several times, her arm was shattered and her ankle broken as she defended herself against the ongoing attack.
"The cane knife also caught me on my temple and cut across my hairline. As I was running away he caught me on my upper body and hacked at my back," recounted the brave woman who still does not know the motive behind the attack. According to her husband, Dale, the police arrested the thug  two days later, finding him hiding in the cane fields. Police reported the thug  had been arrested near Nonoti and was positively identified by Darnall farm watch members. "Police found the cane knife and bloody clothes in his possession. My wife recognised the attacker as an employee of the farm. Even though she said he was wearing a balaclava it was not drawn down his face and she recognised him as one of the cane cutters that has worked on the farm for a few years. The police brought him back to the farm to do a walk through," said Van der Wath. The violent attack that shook the farming community of Darnall has raised questions and demands for justice. "I asked the police if my wife needed to identify him at an ID parade, but that was not done. The last time I spoke to the detective from Stanger SAPS on the case was in April, when he informed me the suspect had been released in January and has been free this entire year. Apparently all charges against him were dropped." Van der Wath is furious that the police failed to let him know that the man had been allowed to walk free.
22.Black radicals such as Jacob Zuma, Julius Malema and Andile Mngxitama continuously chants hate-related songs such as "Kill the Boer- Kill the Farmer"  and "Bring me my machine gun" to incite violence and murder against whites.
23. The South African Main Stream Media wages a tremendous psi-ops war against whites in South Africa- never missing a chance to either demonize or  dehumanize any white that according to their distorted narratives- "overstepped" the racial lines and applies double standards in their bias offensive against especially white Afrikaners.   On the contrary do they never mention black racism or pay the same attention to black hate speech as they do against alleged white "hate speech." Villains in this category is Beeld , City Press, Al Jazeera, Cape Argus and Sowetan. Another George Soros outlet that constantly are trying to deny the white genocide is Africa Check. There even is a media ban in place prohibiting the media to name race if a black was the perpetrator- but gleefully specify race if a white happens to be the perpetrator. The"black only"  Sowetan is one such a MSM outlet that thrives on demonizing whites as "racists" and "white supremacists." 
24. ON social sites such as Facebook, Twitter, Instagram, etc white Afrikaners per se are being targeted by double standard applications  by the non-white controllers and "administrators" of these sites to be banned and persecuted for the smallest indication or whatever these scum deemed as "racist" or a violation of " community standards." The poor vindictive bastards cannot even define themselves what precisely these "community standards" entail- but "racism" and "hate speech" was specifically engineered by the friggen Jews to silence especially the white voice and the truth on these sites. White Nation ran an experiment- and placed posts that is not even near derrogative or close to their bogus "hate speech" narrative to test the reaction of this social site ghouls- and in three tests White Nation was banned for a whole month on each occasion for alleged "hate speech" and " community standard" violations. This is the bigotry , double standards and hippocracy. Most of the social site "controllers" in South Africa are non-whites sitting in Johannesburg- and like the main stream media- do they make it their objective to discriminate against whites while on the contrary can any black offender post whatever he/she desire and never get persecuted for "hate speech" or "racism." Below are a few  examples how very deranged these social site "controllers" really take their baseless war towards whites:
But on the contrary…
A black Mining specialist from Rustenburg  openly applauded the white genocide happening in South-Africa. Thombeni Tladi commented on a social media post discussing the murders of white South Africans Post Apartheid. He wrote "7 000 is too little kill more and let us take it from there" This type of comments go unseen by this social site controllers they  believe that only whites are prohibited from making racial comments. When contacted Tladi he refused to comment and also refused to delete his comments- and was not banned by this hippocratic " controllers"  like whites are.
We will kill their children, we will kill their women, we will kill anything we find on our way" – NPA failed to bring BLF leader Mngxitama accounted for his hate speech and inciting violence against whites
The ANC agenda to exterminate whites- a plan long ago already engineered…
CIRCULAR 213-6
AFRICAN NATIONAL CONGRESS
JUNE 1993
The Success Story: Our Struggle For Liberation
The armed and constant threat of violence forced the white, spineless regime to negotiate for so called peace.

The psychological warfare through the churches to create a guilt complex with whites was a victory over Christians.

The MASS ACTION was a successful method to rip the nation economy to pieces and create panic in the rich settlers.

The constant uproar in Black Education is the fourth try for liberation through education because the white regime simply cannot meet all our demands.

All four tactical attacks leaves the regime powerless and gradually giving in to our demands.

All these help to create a feeling of helplessness and dispair and to loose confidence in their government.
Be careful not to upset the farmers too much before we gain control over the SAP and SADF.
The constant pressure of violence and economic uncertainty force De Klerkto surrender power to the suppressed people like in Namibia.
AFFIRMATIVE ACTION STRATEGY AFTER APRIL 27, 1994
The greatest fear of the white settler is to loose his job, his farm or his house and all the luxuries! This will enable the new DEMOCRATIC GOVERNMENT to tax them to the utmost while our comrades in MK and APLA continue with their part of the struggle.
Surplus land will be redistributed among our people.

All positions in public service will be replaced by comrades.

The security forces will be reconstructed with our comrades to protect our people. Whites were protected for 350 years. Get them experience to be second class citizens!

No ammunition will be available to white settlers.

Health institutions will be africanised and whites will pay according to their income to enable thus to contribute to their liberated brothers.

Some white schools will be allowed because most settlers will pay their last cent for white education and this will provide some money for our people.

Pension funds and insurance companies collected billions over the years, will be to our disposal for education of our comrades in years to cost.
VIVA KILL A BOER KILL A FARMER
This document was forwarded to UnCapturedSA by a member of the public who wishes to remain anonymous.
Looking back to the time from 1995 until now it is relatively easy to see that almost every point mentioned in this document has to a lesser or greater degree taken place as described. The ANC may well try to label this document as "innocent morale boosting" on the part of some low ranking official within the ANC at that time however  the parallel between this document and what has happened in reality is simply too hard to ignore. To be honest one  would consider an excuse of "morale boosting" or any other excuse to be a blatant lie. Maybe  is about time that Cyril  Ramaphosa and his  ANC  cronies takes the unprecedented step of playing "open cards" with the people of South Africa.
The most dangerous man alive today in South Africa is Julius Malema. After all t Ramaphosa was a senior member at the time of this "innocent moral boosting" writing.  Should the ANC claim that this document is false, then we call upon them to prove the opposite.
PROVE that the degeneration of our schools was not  part of a preconceived plan.
PROVE that the collapse of the public health service was not  part of a preconceived plan.
PROVE that the stripping of all the pension funds was not  part of a preconceived plan.
PROVE that the crippling of the various health schemes was not part of a preconceived plan.
PROVE that the the GENOCIDE against our farming community was not part of a preconceived plan.
PROVE that turning "white settlers" into "second class citizens" was not part of a preconceived plan.
"The return of our land to our people will unleash enormous growth in our economy," –Cyril Ramaphosa
PROVE that your current "LAND REDISTRIBUTION" efforts are not part of a preconceived plan.
PROVE that the ANC and you yourself  are fit to govern South Africa.
The big lie of Julkius Malema- the one single and biggest driving force behind the "Land Expropriation" hoax: 
South Africa's parliament has passed a motion that could lead to the seizure of land from white farmers without paying them compensation. Passed by an overwhelming majority of 241 votes to 83 votes against, the proposal to amend Section 25 of the constitution would allow expropriation of land without any financial recompense.   It was put forward by the radical left Economic Freedom Fighters (EFF) party, whose leader Julius Malema told the country's parliament: "We must ensure that we restore the dignity of our people without compensating the criminals who stole our land.
MALEMA who's policy is: "Land expropriation without compensation for equal redistribution and use" Is the first among the EFF's  seven founding cardinal pillars. This will be achieved by dispossessing everybody who owns land in South Africa. That, of course, includes dispossessing, again, the very black people who may have clawed back some of the lands they lost to colonial, apartheid and Bantustan dispossession by either buying the land back since 1994, or winning it back through the government's restitution programs.
They claim they will eradicate all poverty, using the very same tried and failed policies of the Soviet era, for the impoverishment of the people.
If the Economic Freedom Fighters has its way, it will one day come into government and immediately expand the Colonial policy of dispossessing black people of whatever
they may have regained of their land acquired since 1994. The party would implement a much bigger Bantustan than that dreamt up and perpetrated by the previous government, and the land policy of dispossession stretching back to the days of black chieftains such as Tsjaka Zulu even before  colonialism. This would be the effect of the EFF's land policy — which seeks to strip all of the right to own and possess land. This right to land ownership and control would vest in the hands of the state. "The resolution of the land question in South Africa is the most important resolution needed for the emancipation of all South Africans and the ushering in of economic freedom in this lifetime,"
Says the EFF in its Land Reform, Agrarian Reform and the Food Economy, the chapter on land reform in the document tabled for discussion at the party's recent national elective conference, or the people's assembly. "Attainment of economic freedom entails that multinational and private ownership of the commanding heights of the economy will be discontinued, and all economic wealth directed to the ownership and benefit of all people," says the EFF in its manifesto. "This will happen through various and combined forms of common and collective ownership, ranging from state ownership and control, co-operatives and workers' ownership and control of the key sectors of the economy."
"State ownership is within this context, an elementary component which will lead to more progressive forms of collective ownership, control and benefit, and therefore not narrow state-capitalism." The party's deputy president, Floyd Shivambu, explained this in simple terms at a media briefing a day ahead of the conference: "The state will be the custodian of all land. It will own all the land. Everybody who needs land will apply to the government for permission to use the land, clearly stipulating what it is the land will be used for. The state will licence them to use the land for a period of 25-30 years, to use it strictly for that stated purpose," said Shivambu at the EFF headquarters. "There will be no title deeds" that give anyone ownership of the said land.
Now, for this native of the Republic of Transkei, the biggest of the Bantustan quasi-republics created to uplift  black people under the visionary and strong  leadership of the then minister of Bantu Affairs, Hendrik Frensch Verwoerd, the EFF's land policy would turn all of South Africa into one massive failed Bantustan. In such a country, as it is today in the former Transkei, nobody would own land in their own right. In that part of the Eastern Cape, as well as in Ciskei, the other Bantustan in that Province, the land is common property owned by everybody. That means nobody owns the land. As such, nobody is able to use the land as a basis for any economic activity or wealth creation. In today's Transkei and other former Bantustans, this thus defeats the very purpose of achieving the economic freedom the EFF is propagating through land reform.
The reason is simple: that which is owned by everybody is in reality owned by nobody. This scribe "owns" some pockets of land in the Transkei, courtesy of my landed late grandparents.
But, like the rest of the landed Transkeians, we are all upcountry selling our labor to the mines and other industries in order to make ends meet, and to hopefully acquire for ourselves the real means of economic freedom — capital. Just like the Zimbabweans, who now own all the land back home, we have left it behind and come to the parts of the country where land is still owned and controlled by those who acquired it. The land we left back home is, without any title deeds and security of ownership, useless as a currency for economic capital.
For starters, I cannot sell any piece of the land to anybody. For they can always find another piece of land for a nominal fee from the chief. Thus the supply of land is unlimited. As such,
it holds no economic value for those who possess it. In such a state, should I wish to approach a bank for a loan to acquire some livestock to graze on the land, I would not be able to offer the bank sufficient immovable security for the capital. The letter I would obtain from the chief, stating that I am a resident of the area, would not be enough to give comfort to the bank that, should I fail to keep my end of the bargain in terms of servicing my debt to it, the bank would be able to find a buyer willing to pay for my land. Thus no sensible bank would use the communal land as security for any loan. Dead capital the land would be, much as the untitled urban land in the townships. At any rate, the ANC government has already beaten the EFF to the Bantustanization of the land. The Traditional & Khoisan Leadership Act of 2019, signed into law recently by  Cyril Ramaphosa.
He has cemented this form of land tenure that was designed by colonialism to vest all rural lands to the control of traditional leaders who proved useful to the current authorities in the oppression of the people. Good thing is that the EFF reckons it would only come into power in about 15 years' time. In such a case, we all have some time to either prepare to live in a much larger and poorer Bantustan than even Verwoed had envisioned, or plan our estates to cope with the EFF's eccentricities.
By Sikonathi Mantshantsha
It has honestly become time that someone tells the truth about South Africa and the prospects that awaits us all in the new year. In short the country has gone mad under the heavy burden of "political correctness " with the "demand " culture of the majority population now so out of control that looting, burning and criminals arriving on your doorstep demanding what is yours – raping and killing just to make a point – is a daily occurrence. The country is dazed and stunned , especially the white minority. The churches have no answers except to say " go and look for the problem with yourself" , but it is not you who is burning, killing, stealing and raping, so what now? The only sure thing ahead is that there will be more economic decline, load shedding, more rotting and decaying of infrastructure, more violent attacks, rape and murders on innocent civilians.
This is a given and the only question is who is next? People are asking "what now?" " What next?" "When is somebody going to do anything?". Facebook is awash with pages vying with one another to post the newest atrocity, failing to provide answers and solutions. The same comments then follows as it did for years. " What now, what next, when is somebody going to do something? " It is time we take it slower next year. We need to reflect and start to learn to think for ourselves as a first step. Yes we need to share news that affect us, absolutely we do.. But we also need to analyze, see the bigger picture, not miss the important between the newest flood of bad news. We need to distinguish between those organizations out there fighting hard for us minorities and those pretending and providing false hope. That is the first step.
If we don't take that first step, there is no hope. And hope is all we have. If people are going to keep falling in the trap set by liberals that standing together as a group is wrong, that we should distance ourselves from groups and be ashamed of our identity, there is no hope either. The international liberals led by George Soros as it is want you as a white group weak and insisting on your individualism so that you are weak, defenseless and easy to manipulate. Wake up first, read, analyze and think. Without that all hope is lost. If you want to survive, you need to realize that individualism won't help and the liberals and black nationalists know it and want it that way. Only movements bring change. You need to know that and make it part of your thinking. A worldwide movement of people insisting on identity and culture will stem the tide of the borderless world devoid of identity and culture that Soros and his ilk have in store for us all. We need to make that part of our thinking here at the southernmost tip of Africa as well.
Hannes Engelbrecht wrote
South African whites are easily hoodwinked. This of course is because the international media usually turn a blind eye to atrocities committed against whites by Africans, because it is not the "flavor of the month". Even so-called political scholars will tell you in detail about the genocide of the Huti's and Tutsi's, but they are totally ignorant about a white refugee crisis a mere 40 years ago. The flight of 500 000 Portuguese from Angola and 750 000 from Mozambique after vicious racial attacks is one of history's "secrets". It is now 40 years later – will the white flight from South Africa also become one of the world's political "secrets" because it is politically incorrect even talking about it? It is, after all, again a racist, African scenario which the United Nations choose to ignore.

The Portuguese call it the greatest exodus in the history of Africa. Not even the Congo during Uhuru in the 1960's where 90 000 whites had to flee for their lives between January and July, can compare with the human tragedy of the Portuguese in Angola and Mozambique in 1975. South Africa, Brazil and Portugal at the time rushed to the aid of the more than one million Portuguese trapped in Angola and Mozambique. In July the Brazilian airline, Varig, however, ceased its flights through Luanda to Rio, which were already fully booked to mid-October.
For a long time the Portuguese government delayed any substantial help for the refugees. But with the launching of "Operation Air Bridge" it eventually recognized its responsibility to its citizens in Angola. By that time up to 200,000 had left Angola already; in June and early July more than 6,000 a week were taking scheduled commercial flights on the Portuguese airline, TAP, and another 3,500 were flown home on military aircraft.

Thousands of refugees flooded South West Africa (Namibia), fleeing for their lives just because they were whites. Trucks arrived at a rate of about 300 per week in SWA and from there to South Africa. Of those that fled Angola did not have passports with them when they crossed into South West Africa and therefore could not prove that they did in fact have Portuguese nationality. Unlike the Mozambicans who had close ties with both Rhodesia as well as South Africa (both countries absorbed about 120 000 Mozambicans after the September coup and October massacres of 1975) the Angolans did not have much contact with South Africa and while very few were unable to speak English, almost none could speak Afrikaans.
The racial attacks brought plunder, murder and mayhem. Women and children were sexually molested or raped at roadblocks set up by the various Mozambican and Angolan "liberation movements", especially if there was nothing of value that could be bartered with to ensure that the women were not harassed. Stories of women being raped at all of the roadblocks they encountered are not uncommon.
Many Afrikaners, descendants of the 1928 Dorsland Trek, also took flight and had headed to South West Africa and just like the Portuguese men, Afrikaner men could also do little to protect their loved ones.
Today we can learn valuable lessons from the forgotten history:
• African atrocities committed against whites are easily forgotten and wiped from the records;
• The Angolans turned to the National Front for protection, but it was too late, and the NF was crushed as soon as the last white convoy departed;
• The Portuguese had been enticed by the Angolan and Mozambican governments to hand over their weapons for the sake of a "gun free country".
• Never, ever believe the hollow reassurances of "there's too many of us; it cannot happen here". It happened in Angola, Mozambique and Rhodesia. 750 000 in Mozambique, 500 000 in Angola and 250 000 in Rhodesia were not "too many".
You can choose to believe the reassurances of the ANC, DA, the media, the international community until you also become part of the "hidden history".
At Front National we choose not to. But FN also cannot force the gullible of Save South Africa, pragmatist organisations and multicultural political parties.
The

REAL

Engineers of the white genocide in South Africa:
WHITES were duly warned of the pending treason in 1992….but Rugby, Braaivleis and Castle muffled their better judgement. Now they have what they voted for. The conspirators already were busy conspiring….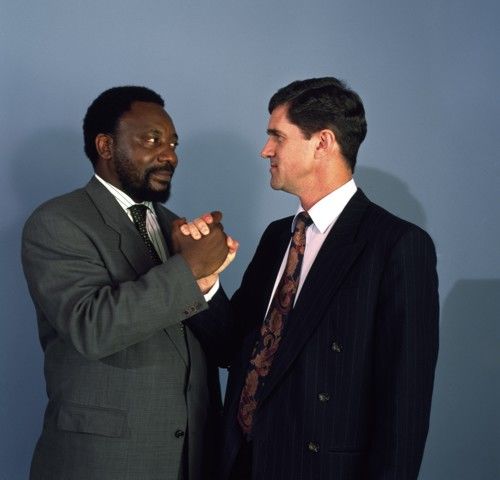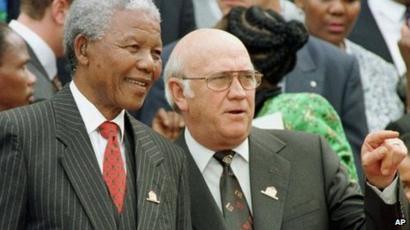 South Africans know the anecdote about Cyril Ramaphosa and Roelf Meyer's fishing experience during the Kodesa talks on a new multicultural political dispensation in the early nineties. It happened at the country cottage of Sidney FRANKEL, the billionaire Johannesburg businessman. Frankel, a mutual friend of Ramaphosa (the promising young ANC negotiator) and Roelf Meyer (the National Party caputelator), flew his two friends into the estate with his private helicopter. That weekend sealed the solid friendship of Frankel, Ramaphosa and Meyer with frequent private meetings even when the Kodesa ship seemed to be off-course. Meyer was 44, Frankel 42 and Ramaphosa 40. The world was their oyster, they were important and they could actually do whatever they wanted. Frankel at the time claimed that he experienced both a political and moral awakening. He often referred to a meeting he organised with Meyer, Barend du Plessis, businessmen and Ramaphosa from the UDF during 1987 – a meeting an irritated PW Botha disrupted by ordering his ministers to leave immediately.The conspirators already were conspiring. 
NELSON MANDELA and President F W de Klerk, buoyant at the announcement of a date for South Africa's first democratic election, shared a platform outside South Africa for the first time today when President Bill Clinton presents them both with the Liberty Medal in Philadelphia. The President of the African National Congress and the President of white South Africa benefitted politically back home when their photographs appear on the front pages. Images of the two, smiling and triumphant next to the world's most powerful individual, displeased their main rivals, the conservative Zulus of Inkatha and the far-right Conservative Party, and helped to fix the idea among their countrymen that the election on 27 April 1994 would be a two-horse race. De Klerk and  Mandela, who have met privately on countless occasions and have already entered into a de facto joint presidency, were always available to each other on the telephone. As for their chief negotiators, cabinet minister Roelf Meyer and ANC secretary-general Cyril Ramaphosa, they have become such good friends – they go trout-fishing together – that the new joke at the multi-party forum where negotiations take place is to speak of them as one man with one name, Cyril Meyer. The conspirators  already were conspiring.
Number of identified external meetings between the ANC terrorists and the National Party conspirators 1983–2000
1983 – 4 meetings
1984 – 9 meetings
1985 – 19 meetings
1986 – 27 meetings
1987 – 23 meetings
1988 – 32 meetings
1989 – 39 meetings
1990 – 14 meetings
TOTAL – 167 meetings between the conspirators from the Stellenbosch mafia and the terrorists long before CODESA even was public knowledge
These meetings involved several hundred South African conspirators . Over 1 200 names appear in this listing but it is far from complete, as there were also many " treacherous delegations" whose size and membership cannot be determined. The number of meetings and the diverse names of those at them alone is a testimony that there were large numbers of National Party and corporate traitors  actively involved in preparing and securing their little "nest egg" after they capitulated to the Communist ANC.
The conspirators already were conspiring.
In this video by 'Loving Life' we see a report where it is revealed that the FW de Klerk foundation is connected with the 'Open Society Foundation', known as the 'Open government partnership' (OGP) which has representatives around the world who work with the foundation that is run by George Soros. The video shares information of how the infiltration goes back to 1994. The OSF is also reported to have totally captured the South African ANC government.. The conspirators are STILL conspiring. 
Who was some the white Judas horses that engineered  the white genocide we experience today in South Africa?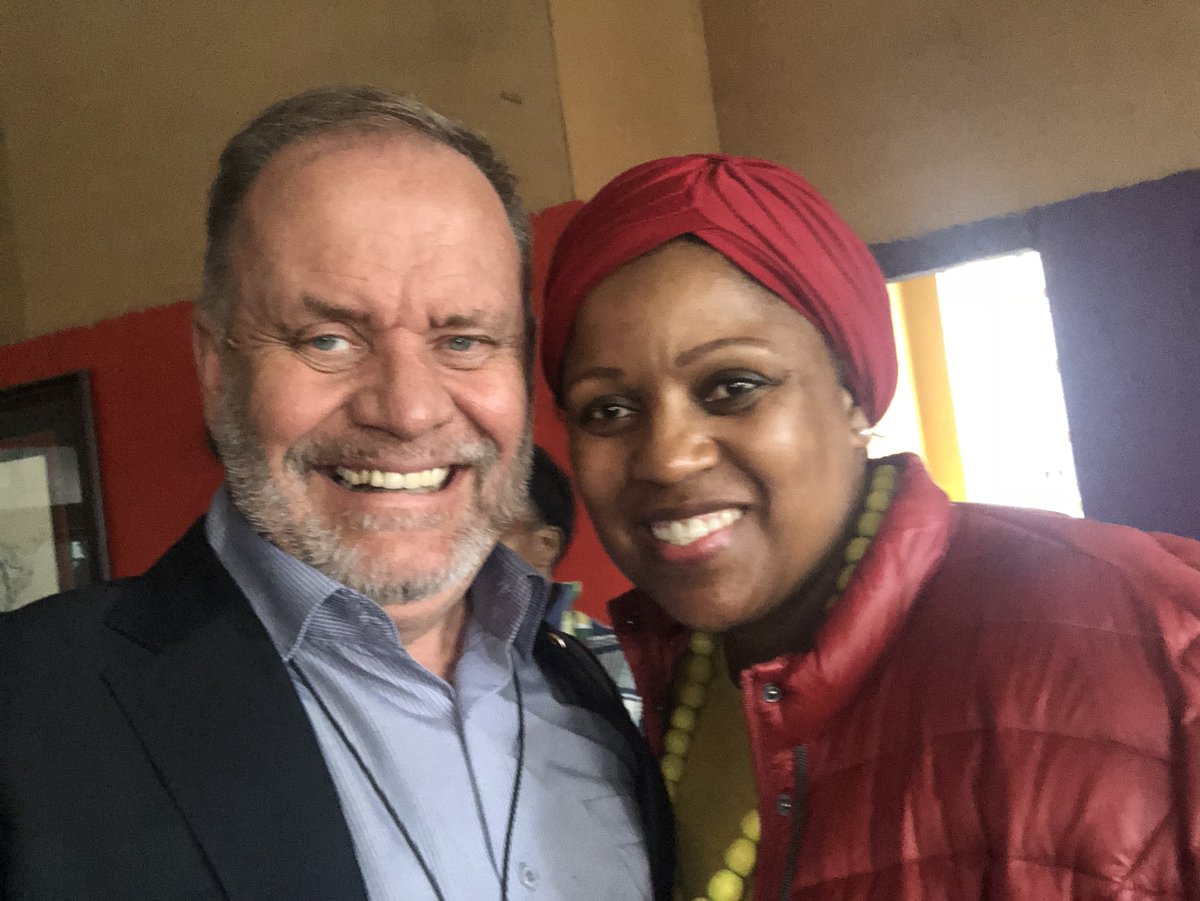 IF THEY DID NOT ENGINEER THE CAPITULATION OF THE GOVERNMENT WITH LIES AND DECEPTION THE ANC WOULD NEVER BE ABLE TO TAKE CONTROL OF THE COUNTRY AND THOUSANDS OF WHITE FARMERS WOULD STILL BE ALIVE TODAY.
Die Opregte Afrikaner Mag Nooit Vergeet wat hierdie "mense" aan ons gedoen het nie.!!!

Posted by Sakkie Claassens on Friday, January 30, 2015
DO NOT BLAME THE BRAINLESS BLACK TERRORISTS FOR THE BRUTAL MURDERS ON OUR RURAL WHITE FARMS , THE WHITE GENOCIDE IN OUR URBAN CITIES AND THE "LAND EXPROPRIATION" THEFT PROGRAM NOW IN PROCESS -BLAME THE POLITICAL ENGINEERS WHO INITIATED THE AGENDA BEFORE 1994 AND STILL ARE BUSY WITH IT NOW.
SOUTH AFRICA under the kleptomaniac rule if the communist ANC became a purgatory of greedy tsotsis, dead souls and living criminals. The  ANC always was and always will be a terrorist organization which never denounced violence as a means to obtain and retain political power. You cannot trust the ANC for anything they say or promise- as most of te ANC  sub-schooled wretches in parliament are pathological lairs and crooks  who only look after their own best interests. Their promises are empty and their plans a failure.  In 25 years the ANC has created nothing , bar a few statues of Nelson Mandela ( or is it now  Gibson Makanda)– they have erected nothing, designed or developed nothing- and produced nothing . They are plain and simple leeches that exploit their hosts for their own political survival.
The ANC is a bunch of thieves- stealing the hard labor and inventions of other people- claiming it to be their own. They are criminals- destroying an economy through their incompetence and arrogance- plundering the state coffers for their own self enrichment while they look down onto other people who they stole the money from who are now suffering- then still shift the blame for their disasters onto the innocent white minority of South Africa. Their lack of leadership, insight and governance created chaos and destruction of South Africa's macro economic structures.  Their  party politics created division among the people of the land and their failed policies destroyed the country's  infrastructure. Their greed pushed South Africa into junk status and South Africa's mineral riches  squandered to foreign vultures – their racist attitude forced most intelligent engineers, doctors , academics and business people to flee- leaving the country a beggars paradise stuffed with sub-human criminals such as themselves. If Nelson Mandela or whatever  his name is cried "My beloved Country" then- we believe he would hysterically screamed " WHO  f*cked-up my beloved country" now.
MEME OF THE DAY:
SOURCE:
White Nation
WHITE NATION– WE DO NOT HATE WHITE LIBERALS– WE SIMPLY DESPISE THE FILTH!!
C'MON- SHARE OUR LINK