Do you have news to tell us? Send your e.mails with news and inquiries to: w.nation@mail.com
Register with us for free to follow our news on the right-hand tab
Article posted by: White Nation correspondent Johannesburg  January 07  2020
SOUTH AFRICA– THE  PIRATE's REALM DOWN SOUTH
"We live in a country where lawless perpetrators have more rights than a law-abiding citizen. A country where murderers and criminals get more prayers, attention and medical treatment than law-abiding citizens. A country where law-abiding citizens are deprived of weapons and the perpetrators may shoot as they please. A country  where other cultures, languages ​​and beliefs are accepted but your own language, culture and beliefs are not allowed. A Country where law-abiding citizens only accept what the government and criminals do. All when we only get upset is when there is neighborhood power. Oh, how bad Eskom is. We can't cook then, can't watch TV and worst of all … The wifi doesn't work. This is a crisis."– Gordon Fox
WE wonder how many of you still remember a woman by the name of Annel Engelbrecht? No? Well- if you do not it maybe is because she was involved in a malicious smear campaign by the ANC , EFF and Main Stream Media a couple of years ago. She was slandered as a "racist" by the whole leftist hive of  psychopathic cockroaches and a " embarrassment to Christians" by half-wit pulpit pigeons. Meanwhile she was as innocent as they come. But to the majority leftist scumbags that did not count. They were as ever again out for white blood!  Like a pack of starving ravenous wolves they descended upon her- shamelessly ripping her dignity and unblemished name apart. Her unfortunate  case subsequently drifted into  the dark corridors of oblivion like so many other cases that soon is to be "forgotten" by the general population. But for especially white victims of such gross an incident of crimen injuria by the Robber Island gangsters in control and media skunk works the past have much more repercussions that have the tendency to produce a much longer devastating effect on the lives of people  affected by this political and media vermin's irresponsible actions.
Let us enlighten  you who is  Annel Engelbrecht what this was all about :
Annel Engelbrecht was and still is the owner of the creche for pre-school children that made headlines for all the wrong reasons three years ago. Her creche is called "Koeitjies en Kalfies ( Little cows and calves. )Her creche in Centurion came under severe public criticism for allegedly segregating a black child from her white classmates. This after the Koeitjies en Kalfies  crèche sent a picture to her mother, who was at work at the time. In the picture there were seven kids, six white and one black. The black child is seen sitting alone at a separate table, while the other six are sitting together on their own table enjoying cupcakes. Upon receiving the picture, the mother of the black child went into a typical black rave  and claimed she immediately rushed to the crèche to take fetch her child. "My beautiful 19-month old is made to sit on a table by herself while the rest of her class sits cosy on the table next to her, indulging on delectable spread and my poor child sits with just her lunch tin," she wined to the media.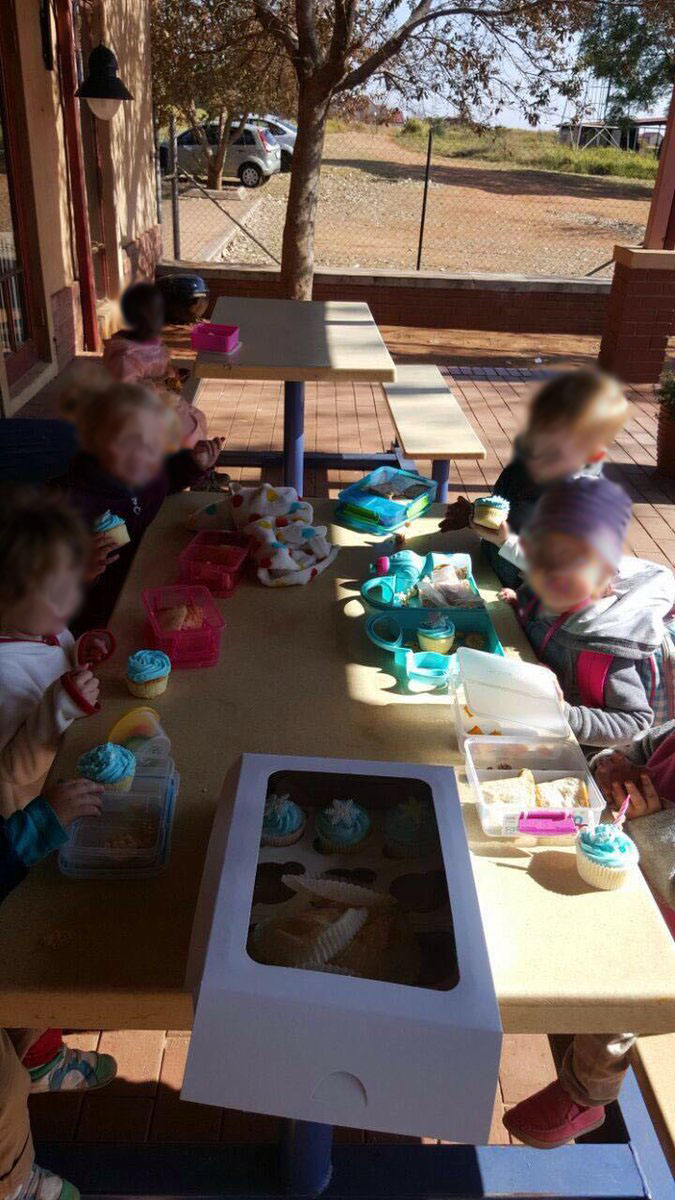 The picture that send every leftist hooligan burning for "revenge."
"I was livid and outraged when the school sent this to me. While my office is 20 minutes away, I sped to collect my child at an instance and remove her from the school immediately. I have never been so livid, outraged, disappointed in all my life." the misdirected "poor" woman sobbed for all to see and hear.  The crèche denied this had anything to do with racism. They, on their Facebook account, posted their own version of 11 facts  with regard to the incident.
They stated:
1. There were only 8 children in the class yesterday;
2. A table can only seat six children;
3. The teacher asked all the kids to come out to the patio for the party;
4. Tammy (name changed) walked to the playground instead with another little girl; 
5. After placing the children, the teacher asked the assistant to bring the two girls; 
6. She then placed both at the table next to them; 
7. As she was about to take the photo, the other little girl started crying and the teacher asked the assistant to pick her up;
8. The photo was taken at that moment; 
9. If you zoom into the photo you will see that Tammy is holding a cupcake in her hand with no icing because her teacher removed it for her. She doesn't like icing…; 
10. With these photos were also other photos where Tammy is taking part in class activities and where her teacher is helping her; and
 11. The photo in question unfortunately does not tell the true story…"
This is what white innocent people in South Africa has to endure- the naked face of brutal black racism. 
BUT as expected did the South African anti-white lefties in the Main Stream Media not take this lying down- and after circulating on social media, the MSM sparked a more widespread outcry to make their "like" tabs zing off the clock and reader numbers soared. Panyaza Lesufi – that black anti-white scoundrel – quickly rushed to the school to hear its side of the story. He tweeted: "I am here at the school with the principal. All kids are white, taught by white teachers. Blacks are just maids here! Disgusting.We have to act decisively, so I've assigned a social worker to immediately do what is right," he added. Life for Annel Engelbrecht  would never be the same again.
Now THIS is precisely the general attitude of all black politicians against whites- the instigation and spreading of false propaganda to evoke emotions of race hatred among the black masses . Lesufi- like Julius Malema, Lindsay Maasdorp and Andile Mngxitama– is nothing less than a dangerous and wild creature  finding himself  outside the containment  of his cage among normal human beings. Some idiot must have left the door of his cage  open again. Unfortunately South Africa has it's fare share of dangerous stray creatures roaming the political landscape. 
Well- it turned out that the creche's version was the correct version- and the "poor" black mother, Pajamas Lesufi , the black social mafia and extreme leftist MSM was busy destroying the good name of Anell and her creche without any substantial evidence or proof. After an independent investigation the following conclusions were made about the whole unnecessary affair:
" This letter and request are prompted by a recent article on the Politicsweb website, written under the nom de plume Ratcatcher and titled Panyaza Lesufi: Addicted to non-racialism, or race-baiting? The article, a link to which is given above, details actions of MEC for Education in Gauteng, Panyaza Lesufi, and Deputy Director-General and spokesman for the Department of Home Affairs, Mayihlome Tshwete, in response to an apparent 'outing' of white racism at the Koeitjies & Kalfies crèche in Centurion. We would respectfully ask that you peruse that article, taking particular note of the postings by Lesufi and Tshwete that are copied therein. In what follows, references (for example [Note 1]) are to numbered items in the attached Annexure.
If what is detailed in the article is correct – and it is hard to doubt the veracity of Ratcatcher's report since it is supported by copies of actual social media postings by the various players, including those of Lesufi and Tshwete – then both are guilty of most reprehensible race baiting. That they have chosen to target a relatively weak and powerless body makes their actions all the more repugnant. The facts of this case are to be found in the article and we shall, therefore, not repeat them here. Two salient points are worth expanding upon, however. Our first observation: Lesufi and Tshwete have disseminated on social media a series of seriously intemperate accusations of racism directed at caregivers at the Koeitjies & Kalfies crèche [Note 2]. It is a concern that in a society such as ours, with its present heightened sensitivity to matters of race, an accusation of racism may prove deeply injurious to its target, regardless of whether the accusation has merit or not. It is surely imperative that such accusations only be made after a responsible, fair and sufficiently careful investigation of the facts.
In the event, we have seen no evidence that their actions were preceded by such careful examination of the facts. The accusations were evidently based on a single photograph that appeared on social media, which seems to have been misinterpreted – a plausible and innocent explanation of events was already available in the public domain, but was evidently disregarded [Note 1]. In this regard, we have two observations. The first is that, even if the two men had established the truth of the allegations to their own satisfaction, their subsequent action should surely have followed properly-regulated procedure designed to protect the rights of citizens suspected but not convicted of an offence. However, having decided that this was an instance of white racism [Note 2], Lesufi and Tshwete
– communicated this opinion to unknown thousands on Twitter,
– provided details of the name and location of the crèche, and
– Lesufi placed an invitation on his Facebook page to join him in a visit to its premises, not clarifying what was intended once they were there. Perhaps a clue to his intentions are to be found in another Facebook message posted by him, with a picture of himself, taken from the street-side and showing the crèche, Lesufi boasting that he might have to 'jump fences' [Note 4]. An implication of this remark is that he was preparing for some sort of violent confrontation. This from a provincial minister approaching a crèche with a few female caregivers and toddlers. A disturbing extension of this was provided in a message posted by Tshwete [Note 5], showing a prostrate person being sjambokked and bearing the words "some exclusive images of MEC Lesufi engaging with the management of the racist crèche." This from the official spokesperson of the National Department of Home Affairs. It is certainly reasonable to infer that Lesufi's and Tshwete's actions were intended to intimidate and frighten those at the crèche. But regardless of their intention, given the postings by Lesufi and Tshwete referred to above, the danger of harm to those in the crèche – psychological or even physical – if a number of angry people turned up, was significant.
In addition to this, Lesufi and Tshwete's questionable impugning of its caregivers and the crèche without due process may, in all likelihood, have caused harm to the crèche's reputation and threatened its future viability. It would also have exposed the white employees of the crèche to the danger of attacks – on social media, in telephone or cell phone calls, by way of graffiti, possibly shouted abuse. These dangers are real and not simply imagined. In an article titled 'My racial nightmare' written by the school's principal, Anéll Engelbrecht, in response to the accusations of racism and published on Politicsweb [here], Engelbrecht says:
"Thobo's actions threaten the existence of our school. My life is threatened and so is that of my family. I receive racist calls threatening to set my school alight and to come and sort me out. I receive e-mails calling me inhumane, a racist and an embarrassment to Christians!"
The Thobo referred to here is Thobo Wanatsha Mosinyi, the mother of the black child appearing in the photograph and the person who first posted accusations of racism on social media. Since Lesufi and Tshwete were responsible for the wide dissemination of these accusations, they must share some responsibility for the alleged threats and hurtful comments directed at Engelbrecht, her family and her school. Whilst the actions of Mosinyi are most regrettable and quite possibly actionable, mitigating factors are present in her case, for as parents we fully understand the fury of mother who believes her child to be the victim of mistreatment and who takes to the keyboard too hastily. No such mitigating factors pertain to the conduct of Lesufi and Tshwete, however. Indeed, we would submit that it is reasonable to hold the actions of a senior member of government and a senior civil servant to a higher standard than those of other players. The actions of the MEC and DDG were not just inappropriate, highly irresponsible and dangerous; they smacked of inciting mob justice.
Our second observation: Lesufi expresses "disgust" at the fact that the main caregivers and children in this little crèche (without the little girl who was black and had been withdrawn by her mother) were all white. The tweet in which this opinion is expressed makes it clear that his disgust derives from the particular racial group to which they belong (white) and not from their actions. In summary, we believe that, at the very least, the actions of the Gauteng MEC for Education and the Deputy Director General in the Department of Home Affairs have:
– Infringed the right of both caregivers and children in the crèche to be fairly treated [constitution 33(1)].
– Violated the right of the caregivers, but especially of the children, not to be exposed to threats and intimidation and to be put in harm's way.
– Exposed the young children to unfavourable attention by relaying and distributing an unredacted image of them on social media;
– Impugned the dignity and infringed the right to equal treatment of those in the crèche by circulating on Twitter contemptuous remarks about their race. This from a provincial minister.
We are not legally trained and may, therefore, not be presenting our request in the form that you would require or prefer. If that is the case, could we ask for your indulgence, and that you please consider the facts as related in the Ratcatcher article and evidenced in the various twitter messages referred to therein and determine which human rights have been infringed. Could you then also take the appropriate corrective measures.
Whether one chooses to believe the statement or not, it does offer a coherent and innocuous explanation of the scene in the photograph. There is also mention of other photographs which, Engelbrecht contends, demonstrate equal and caring treatment of the little girl. If Lesufi, or a representative of his Department, had approached the crèche for a response to Mosinyi's accusations, the above account and photographs would surely have been provided.Yet Lesufi gives no indication of having seen and evaluated this evidence before launching his attacks and accusations of racism. Indeed, he was already commencing his plan to go to the crèche at 11:26 on Thursday morning, June 23rd, the morning on which he had received the complaint from Mosinyi. "
John van den Berg
Ingrid van den Berg
Johann van den Berg
While the rest of the majority of leftist racists in South Africa quickly preferred to "look the other way " when confronted by the hard facts about the incident and  the malicious unsubstantiated racist attacks against Engelbrecht  and "moved on" as-if nothing ever happened- it was the real victim of  this falsely concocted accusations that had to bear the lasting damage.- Anelle Engelbrecht and her creche. Her once solid reputation was damaged and up to today that omen still haunts her image. Because of this dastardly actions by irresponsible black politicians and Main Stream Farts- Engelbrecht also still suffers financial difficulties today. Because most customers go on "Google" to investigate the background of an institution afore they will take their beloved little" bleedlings " there- the damming media reports about the incident still left their electronic traces for all to see. Engelbrecht never received any official "pardon" or apology from any of this bunch of leftist liberal cretins at all- thus on "Google" there is no evidence that she was a victim of a cheap false political and media smear campaign. Thus according to "Google" she and her creche still poses a "racist threat"  to the poor "bleedlings" and prospective customers rather shy her institution.
This poor woman was the victim of false racist accusations in 2018. A photo was shared on social media of 6 white children sitting at a table, and a black toddler sitting at a separate table. The black "previously disadvantaged" mother seized the opportunity and then wrote on Facebook that she rushed to school immediately, when she saw the photo on social media, and that it was the worst thing she had ever seen. It was a false and manufactured racism incident, as the six white children were already sitting at the table when the black toddler entered the room, so he sat down at the next open table as there were no more space for the latecomer at the specific table. 
There was also another white child who sat with the black child anyway. There was no mention of it when Panyaza "Pajamas"  Lesufi went on social media and called Annel a"racist " and several other things. Lesufi published the school's address on social media and invited people to visit the school with him. A Department of the Interior spokeswoman posted a malicious fake photo of a person beaten  with a sjambok – which is a barbaric thing to do, but then again it fits the distorted  narrative  – on Twitter with the caption : "Exclusive video material of  Panyaza Lesufi dealing with the management of a racist creche. ' This ostensibly was a big lie- but that id how the bastard children of the lesser god  operate against especially whites. 
All this that has being said was never withdrawn or any apology forwarded to Engelbrecht- and of course it remains as a damming "evidence" on the internet as people Google the name of the creche. These false accusations are undoubtedly  crimen injuria – and the crime of crimen injuria is perpetuated because the false accusations have not been withdrawn and remain on the Internet. Deranged  EFF hooligans also  protested in front of her school and she then received threatening calls in which some anti-white leftist racist monkeys  said they would"  come for her,"-  which is a threat to her life, and others said they would" burn down the school."  She also received an email in which disillusioned psychopaths called her  a "wicked person"  and an " embarrassment to Christians. " Prof John van den Berg of the University of Pretoria went to the Human Rights Commission (HRC) to complain about Lesufi's behavior, but although the HRC  pussie-footed around and said Lesufi "misinterpreted"  the photo, he was not found guilty of racism. As IF! The HRC also found that Lesufi acted wrongly by publishing an unedited video of children and by publishing the address of the school. The HRC has said that the provincial office should investigate these unjustified acts (not done yet). Lesufi is not related to Sparrow or Momberg we deducted. 
A creche now near empty- an innocent  woman destroyed. Another white victim to the leftist racist pigs of South Africa
Annel Engelbracht would like Lesufi to apologize so that her name can be restored in honor (the ANC never apologizes, especially to white people). Annel says a developer recently withdrew a proposed development deal in which she would have had a creche in the development and she doesn't know if the false accusations of racism still played a role. But the damage was done and the wild creatures  disappeared from their terrible racist crime they committed. South African politicians, the Main Stream Media– and yea- that ever present  bastard  children of the  social mafia are three of the worst racial perpetrators that currently are tearing the South African society apart. The worst of racists are sitting either in parliament, news offices- or behind their little cell phones busy instigating race hatred and division among the people of South Africa. Anel's case is not unique- her case reminds us of that other similar carbon copy case in Sweitzer Reynecke where precisely the same wild political, media and social creatures also were released from their cages and went tearing into another innocent white teacher- Elana Barkhuizen with the same damaging results. Barkhuizen too never received an apology for her good name being tarnished by this wild and uncivilized creatures that escaped from  the political, media and social cages. 
As for Anel- well- we can with certainty say she NEVER will receive an apology from a racist hell raiser the likes of Pajama Lesufi. He is part of the very sick society South Africans has become- a society created and driven by just as sick communist politicians that tag everybody and everything as "racist" – even their own feces if it does not comply with their distorted political narratives.Even the media is just as sick. They do not even report a murder on a white anymore- but "racism" apparently is a much more serious crime than a murder: The murder of 2 white men was mentioned on Facebook, but nowhere is it mentioned in Mainstream Media. Both were killed. These are Donovan Visagie, 22, and Clive Dawson. Donovan Visagie was on his way to meet some friends to watch fireworks. His 3 friends were robbed by black thugs when he arrived. As he got out of the car, Donavan was shot by the black vermin. Three thugs  fled on the crime scene in the direction of Muzenville Krugersdorp .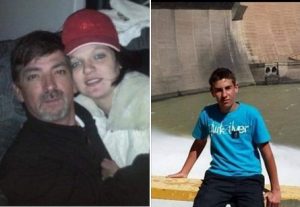 Lesufi's  type – like most of his cronies and the whole bunch of leftist humanoid freaks – is too arrogant and the only thing that is greater than his deep rooted racist jealousy against whites is his misplaced political greedy ego.  Lesufi is a typical example of a dangerous race baiting degenerate that takes position in the front ranks when it comes to demonizing whites- but when white children dies or get injured through the negligence of his own department and his own incompetence to control his department such as the Hoërskool Driehoek  incident– he quickly exchange positions to the rear of the battle  lines.  Let South Africa be a lesson to the rest of the civilized world: NEVER trust an anything coming from the  African "cradle of mankind."
MEME OF THE DAY:
WHITE NATION– WE DO NOT HATE WHITE LIBERALS– WE SIMPLY DESPISE THE FILTH!!
C'MON- SHARE OUR LINK