Do you have news to tell us? Send your e.mails with news and inquiries to: w.nation@mail.com
Register with us for free to follow our news on the right-hand tab
OR
Register for free on  our social site HERE to join our world for more news
Article posted by: White Nation correspondent Witbank January 25  2020
ALSO READ RELATED ARTICLES:
South Africa's Decline Is Worst Among Nations Not at War, Model Shows
Cash-strapped state bus company Autopax only able to pay staff half of their salaries
How SAA landed in such a mess – and what will happen next
Transnet was just being robbed'
Eskom reliability is at an all-time low, and may worsen, says CSIR report
New twist in land expropriation without compensation
Gigaba overruled appointment of white acting CEO in election year
Load shedding cost SA economy at least R59bn in 2019 – CSIR
Businessman Savoi allowed to fiddle with tender specs in multimillion rand deal'
ANC regime pays R2.6 billion bonus to millionaire managers
SOUTH AFRICA– THE  PIRATE's REALM DOWN SOUTH
"WHILE the country might face great challenges, it does not have a dysfunctional State."- Squirrel Ramaphosa wrote in his weekly newsletter to the nation . " Walking through the streets of Kimberley and other towns in the Northern Cape drove home the point that if we are to better the lives of South Africans, especially the poor, we need to significantly improve the capacity of the government that is meant to improve their lives.There were several obvious instances of service delivery failures, with many of the places he visited unable to provide social infrastructure and services owing to a small revenue base.But in some cases, elected officials and public servants have neglected their responsibilities. A common feature in most of these towns, which is evident throughout all spheres of government, is that the State often lacks the necessary capacity to adequately meet people's needs," the Squirrel added.
ONE really have to read this specific paragraph twice to fully try to understand- and then force yourself to actually believe  what the man is saying. It took me about 5 minutes of deep pondering to try to understand the mind set behind such a controversial yet flagrant gross  understatement of the true affairs South Africa finds itself in under the very incompetence this man's party brought about since 1994. The "several obvious instances of service delivery failures" he refers to is not exclusive to Kimberley alone as he tried to downplay the real issue. It is a NATIONAL disaster- to say the least. Across the country- in each and every state department, SANDF , each and every province, South African Police, each and every ANC-controlled municipality- and each and every SOE and state/ANC controlled organization we find this same malignant rhetoric……"several obvious instances of service delivery failures." 
Cyril then very cunningly tries to vindicate the corruption and incompetence of his cadre force by blaming a " small revenue base" for the national failure to honor the basic principles of the mandate they themselves promised their electorate for the past 25 years already. Again many questions must be asked as to why does a "small revenue base" then exist in the first place then? And again the fingers will point directly to Ramaphosa and  his glutenous and greedy predecessors. The next important words the Squirrel wrote sort of explain in very moderate terms but in a nutshell the reason as to why South Africa finds itself in the mess it does today. " The State often lacks the necessary capacity to adequately meet people's needs."  Well Cyril ol' boy- another understatement with that " adequately" part, rephrase it with "totally" -and  you just acknowledge the root of South Africa's problems. It was  not Van Riebeeck, not Verwoerd, not "apartheid" or the "rich white money capital" either – but the lack of necessary (if any)  capacity of your own incompetent ANC Gangster Inc. 
The prelude to the destruction and rot of " Gangland "South Africa
The problems South Africa faces today did not happen overnight- not by a long shot. It already had it's origins long, long ago in 1966 when Hendrik French Verwoerd– the last honest and true leader of the country- was brutally assassinated by the Oppenheimer clan and  John Voster already were pushed into power by the same Oppenheimer clan to start the damaging process of loansharking, Federal Reserve system- and the systematical  decay of the country in  preparation to hand the country and all it's resources into the hands of the fools in waiting. The devious planning of that  erroneous process found it's final chapter in 1984 at a secret meeting of the Broederbond Stellenbosch Mafia ( The Enlightened Action Group (EAG) – or the Old Boys Club, Third Force, Action 2000, the Brotherhood and the Inner Circle ) – where the final signature was pinned down in that meeting on the document that would start the destructive communist take-over 10 years later. In short- The EAG was established during middle to late eighties when it became apparent that the white rule  days were numbered through  sheer pressure from international corporate vultures and governments. With British power still in the back of their minds the so called "Super Afrikaner " (EAG) started formulating a plan to again get into power by the year 2004 (The Afrikaner had decided after British rule that they would never be ruled by somebody else). Important to mention is the fact that the EAG knew that whites will never rule the country again soon , well, not directly anyway. General Tienie Groenewald had mentioned  that they (referring to the Freedom Front) accepted the fact that whites would not rule South Africa again. The EAG consists of about 38 powerful white South Africans who came out of the apartheid era. They were former Politicians/Government officials, Economists, Generals (Police and Defence Force) and Intelligence operatives.
The agenda long ago was to include South Africa into the global New World Order vault.  The term " Globalization" is just another version of the expression New World Order, both with the same meaning. According to former President PW Botha various attempts had been made by different people while he was President to make South Africa part of the New World Order. He bluntly refused because he would not sell out the Afrikaner people. According to him he was approached three times. The first time Anton Rupert approached him, the second time by Meyer Khan–  and the last time by Mr. Prime Evil himself those days-  Henry Kissinger. After he refused the third attempt and just after his heart attack, (assassination attempt to poison him)  as he put it " I was betrayed by my own people". PW Botha confronted the Judas Iskariot of modern South Africa FW De Klerk afterwards and told FW that he had sold out the Afrikaner and that he (FW) had received money from Anton Rupert. FW reply was: "Yes but I did not keep all the money for myself. I had given a lot of the money to the Potchefstroom University". SO…it was not the ANC that "liberated" the country from "apartheid" at all like they like to boast in their election propaganda campaigns- it factually was the treacherous National Party that capitulated under global corporate pressure which  was responsible that the ANC  received the Jackpot! 
Despicable lairs and deceiving vipers  they were- each and every National Party criminal. 
One of the biggest mistakes white South Africans have made was to follow their "leaders" (that would now be the political wolves in sheep's clothing)  blindly because these deceptive " leaders"  had helped to set them free from British rule. Actually the voters had liberated themselves by voting – not the political leaders.  Because of this newfound freedom, whites followed politicians into apartheid. Many people in their hearts didn't want to follow, but because they where set free from British rule by these people, they still support them blindly. Black South Africans now face the same dilemma by blindly following their leaders who supposed to have liberated them from apartheid, but they now at least have the knowledge that whites didn't have. Don't follow politicians  blindly- they are evil workers of darkness. They all could well have been employed by Eskom ! Politicians, who think they are untouchable because of their office as the President or a Minister must know that they are public servants, in other words they are servants of the people who voted for them. The ANC must also remember that with the last election, only about 60% of people voted. Out of approximately 57 million people who are registered to vote, close to 22  million did not vote for them; in other words they don't support the ANC. Of the 30 million who voted, they only drew 60% of the votes. In other words only 18 million people support the ANC. That means appr. 39 million people do not support the ANC alliance.
The ANC's  unstoppable corruption rot- The Stellenbosch Mafia is running the show. 
Looking at corruption within the ANC government and provincial structures, which, for all practical purposes, is committed by ANC members, the reader will get a better understanding of the problem that South Africa is facing, and is presently much more dangerous than any other given time in the South African history. The reason for saying this is because presently a culture of corruption has been created that will stay with South Africa for a very long time. This exacerbates the problem in that there aren't many real alternatives for South Africans, seen from a political perspective. It is a well-known fact that Thabo Mbeki was locked up in Luanda in Angola on drug charges in 1983. People that have been contaminated through drugs are Thabo Mbeki,, Mathews Phosa (confirmed MI informer), Tokyo Sexwale and Cyril Ramaphosa (confirmed Security police informer) to mention a few. TWO if these drug peddlers became state presidents of South Africa…do you now see where this corruption  is coming from? Even the chairman of the South African bid committee for the 2006 World cup soccer Irvin Khoza (confirmed MI informer) is presently still involved with drugs. There were also other operations. Nico  Sceaver contaminated Jeff Radebe– brother-in-law of Cyril Ramaphosa-  another  confirmed informer. When Sceaver was in jail he met Radebe and they became friends. Sceaver was apparently recruited by Craig Williams,-  and apparently involved in the ESCOBAR operation/assassination together with the CIA. In another operation some top business people within the ANC were contaminated. The SAPS Organised Crime Unit had 80 hours of video material on S.K.Mashele. He thought he was working for British Intelligence MI6. One of the companies that had been used to launder drug money was Kilimanjaro Investments–  and the directors are: Richard Maponya, Iran Khoza, Gibson Thula, adv. T.L.Skoyiya, DR P.J.A. Mthafudi, L.J. Mthafidi and C.L. Cobus. Kilimanjaro was established to get shares in Coca-Cola, according to Richard Maponya. According to a source several people had been approached, including Desmond Tutu and Allan Boesak  to join Kilimanjaro and in return they had each received $25 000. 
Post and Telecommunications 
Again the restructuring of for example TELKOM, is a process of the "Wise Men " to get their hands on the economy. The restructuring is supposed to benefit RDP but if you look at the new cell phone company C-CELL, that received the contract, it is the same people that were involved with the arms bid.
Mineral and Energy Affairs
 The new law stating that all mineral rights will from now on belong to the government is just another way of trying to get their hands on economic wealth. The ESKOM privatization program is just another example. The newly formed EXXON is riddled with irregularities. A so-called international arms dealer, Rudolf Wollenhaupt is involved with Sydney Mufumadi. Wollenhaupt is also a SASS spy. Is SASS now in the oil business?  Take into consideration that SASS is the sponsor of George Lebone who had stolen millions of Rands from foreign investors.
It is also confirmed through a former NIA operative that Ramaphosa was also under investigation and a photograph (Annexure 23) is hereby included from the file. The photo shows a female; one so-called Le Fleur. She was picked up at Johannesburg International airport in Ramaphosa's  personal car after she had returned from a flight where she had made arrangements for 35 000 packets of Mandrax to be smuggled into South Africa. Another source that had reported on Mbeki and ECON, also reported of Ramaphosa's involvement with small boys . A SACP MP told  it is general knowledge that Cyril is homosexual and that his marriage is a hoax.
LE FLEUR– Drug peddler picked up by Ramaphosa at the airport
A small point to add also is that during the 1994 investigations, Intelligence operatives already had physical evidence regarding his involvement with drug activities. He was handled by MI in Nelspruit and then handed over to DCI in 1988 and then DCI used him to contaminate other ANC officials through drug activities. Didi Pillay and Mathews Phosa were lovers and has a love child. Phosa should ask himself where the photograph is that were taken of them naked in bed together. Crystal Springs resort was often used as a hand over point.
Police agents were present in Hillbrow where Sexwale made arrangements with his runners, according to a source in SASS. Nelson Mandela showed him the file and was subsequently asked to step down as Premier. His wife was also at a later stage arrested for diamond smuggling, but high-level intervention had seen to her being released. It is also reported that he had paid Thabo Kubi's bills during his suspension at NIA. Bill Venter also brought Tokyo into Anglo. When SANAB had arrested a prominent drug lord he phoned Tokyo, and Tokyo's reply was that he would phone Thabo Mbeki so that he (Thabo) could resolve the problem.
He was under investigation and is one of the twenty-seven syndicate leaders that had been identified by a special investigation team. Thabo Mbeki personally instructed the investigation team to investigate Irvan Khoza. Khoza was subsequently arrested for tax evasion. The investigating team made use of typical FBI investigative methods in that they, not being able to prove drug trafficking, nailed him on tax evasion. A source in the then Scorpions confirmed that Khoza was a MI spy. The reason for him being out of favor is his apparent political ambitions. He was also one of the directors on Kilimanjaro on which 80 hours of video material are available, but not in official circles. When Khoza was asked about the unlicensed firearm found in his house, he told them they should ask Jacob Zuma (also a former MI spy). The formal reaction on the documents regarding high level involvement with gold and drug activities that were also found in his home, is all of a sudden made out to be "unsubstantiated."  Mbeki was obviously trying to create the impression that Government will "act against criminals, "- sadly this was just an impression. A deal has already been struck not to charge Khoza before he hadn't had a opportunity to clarify his tax assessments.
A prostitute who was with Tito Mboweni   mentioned that Tito had smoked crack in her presence. Tito was just an extension for the EAG, and his take-over from Chris Stals was an arrangement within the EAG. Tito Mboweni, who had taken over from Cyril Ramaphosa as chairman of COSATU when Cyril was a security police spy, must have also been an arrangement from within the Intelligence fraternity. The Intelligence fraternity wouldn't allow an "outsider" to take over. Taking then into consideration now that Tito is a drug user, it makes perfect sense that Tito forms part of the EAG plans.
Joe Modise was mentioned as being one of the informers in Zambia and assisted the apartheid Intelligence structures in contaminating ANC officials through drug trafficking in Lusaka. He played a major role in Operation Jericho as a source.
Gold and Diamond smuggling 
According to reliable sources from former and present police agents and informers of the Gold and Diamond branch, high ranking ANC members have been involved in the trafficking of raw gold (Amalgam) before the 1994 elections. The three main individuals involved in the "operation" are/were Cyril Ramaphosa (Since his days as an informer for the Security branch in Westonaria and his position as a NUM leader), Tokyo Sexwale (Also a former labour union leader) and Thabo Mbeki. The latter is being quoted as the authority.  Whilst still involved in NUM, Ramaphosa urged union members to steal amalgam from the mines, saying that the proceeds would accrue to ANC party coffers. After 1994 these operations continued and the stolen Amalgam was transported by official motor vehicles belonging to the Gauteng Legislature while Sexwale was the Premier. Apparently some of this Amalgam was stored at Shell House.(Now Lethuli House) 
Willem Lotter, a farmer from Lotterkrans, district Perdekop, processed the Amalgam to a semi-refined state. Willem Lotter was seen meeting with Dr. Neil Barnard, former head of National Intelligence Service.  at Die Werf. The place was under surveillance from NIA because so many meetings of suspected EAG people took place there. Lotter  was arrested by the police at Lanseria  airport with plus minus 117 kg of gold. Deon Kruger, their pilot, flew the semi-refined gold out of South Africa. In a report by the Special Projects Unit resorting under Mbeki, it was mentioned that almost 200 tons of gold was stolen per year. According to the SPU report, the gold was transported with a private plane through Zambia and Dar Es Salaam to Europe. According to a seized document, the final destination was Lugana, Italy. According to the SPU report an attorney, one Van Niekerk was arrested in this regard and that the SPU had evidence that MI where involved as well. Paul Econ  is the son of Dimitri Econ . ( KGB spy) –and still a very close friend of Mbeki, co-ordinated these activities. According to a NIA report, people involved with this operation were Brig. Doppies Minnaar, Brig. Goosen, Jesse Duarte, Louis John Stevensen, Wessel Kemp, Gen. Wouter Grove, Judy Sexwale, Joe Modise and Charles Prebach.
On the diamond side, Hazel Crane, who was married to Shai Avishar, was working as a police informer for the Gold and Diamond branch and later for the Organised Crime Unit. It is believed that she was using these contacts to her own advantage. It is also possible she was giving more information than just the diamond smuggling, as she was reporting/giving information to Doppies Minnaar. According to one source, Jaques Joubert  (Paul Econ was also involved) was working with Pik Botha and Magnus Malan through the front company Jackhold and Namob Gems as part of a MI project. Part and parcel of this business were UNITA diamonds through Jackhold and Namib Gems to De Beers. In the Burger of 15 JUNE 2001, De Beers (obviously)  denied reports from the Angolan government that they deal in UNITA diamonds, but can it be where there is smoke there is fire?  A source said that he stopped  at his gate at a specific time to see who attended a meeting regarding UNITA diamonds, and Lipman arrived in his Rolls Royce and got out, together with Anton Rupert.
Another source has given a full layout of the diamond network and confirmed Pik Botha and Magnus Malan were personally involved in the smuggling of diamonds. The major contact for them was Johan Erickson. They also made use of the DAI group whose leaders is Matoran Smulug  and Patagio who was like a brother with Shai Avishar-  head of the Israeli Mafia in South Africa. Patagio worked closely with Manny Juden who was the link to Serge Mullen– a Belgium contact. The DAI group worked also closely with Jeffrey Reichman who is the link to Johan Erickson, Jaques Joubert and Charles Newman. Patagio  was still very close and actively involved with Pik Botha and Magnus Malan  in diamond smuggling.
(Extractions  from "High Treason"- Gunther Schicklegruber) 
Human Rights abuse and injustices against the white Boer people while the National Party and ANC fraternizing was going on
"My name is Wilhem Pretorius. I am 35 years old and have been married since 2000. I am part of a group of 24 men in South Africa who were accused in the Boeremag Trial in 2002 of treason. We were imprisoned in 2002 as awaiting trial detainees and our trial commenced in May 2003. Its 10 years later and we are still awaiting trial. We have been repeatedly refused bail without good cause. This will be our 11th year being held in prison waiting for something. Is this not an infringement of human rights? Furthermore, we forwarded a motion to be treated as prisoners of war while we were being accused of waging a war of independence for the Boer people against South Africa. The motion was denied with many claims of errors being made by the judge as well as the South African Prosecuting Authority. The High Court Judge was not even aware of the international law (before the motion and we had to supply him with the said international laws.
Through various testimonies it has come to light that we have been set up by the very same people of the South African Police services that are handling the investigation. The whole case has been orchestrated by agents of Criminal Intelligence. They not only planned it, but also through agents, provoked the people to take part in illegal actions and just stood watching for months, with full access to all the pertinent details, watching idly while more innocent people were becoming part of the "Boeremag" while receiving money from the secret fund. During the trial, they were listening in on privilege and confidential Client/Attorney conversations and even bugged our cells and consentation facilities. I have been tortured continually and during arrest for about 10 hours without any invetigation into the torture. The high ranking Police officials which tortured me are still in the Police service and were even part of the investigating team.
http://www.volkstaat.net/index.php…
For the past 10 years we have been treated like animal in inhumane conditions. We have not been allowed any contact visits from our family and friends. We are asking for your help to bring these continual human right violations to the attention of the international community and bring a stop to it. The second thing that I want to bring under your attention is the parole of the other Boer people that are being held in prison. Some of them have been here prior to 1994. Their parole applications have and still are being refused solely on political grounds and they are long past the date of their initial prison term or parole.
The ANC regularly complains that its members had been tortured by these monsters, yet the ANC has knowingly turned the self-same "policemen" [including a good number of Afrikaans-speaking whites] loose upon its political opponents. Their members just turn their heads away while similar and worse violations are perpetrated against us [the Boers]. This report mentions only the torture perpetrated against me personally. This does not even touch upon the refined psychic torture to which we are subjected day and night in jail. Justice and righteousness cannot be relied upon in this country [Empire] any longer. The monster of police brutality is a reality which is perpetuated by politically motivated silence."
Read Willem Pretorius' full testimony HERE
Wilhem Pretorius.
NOW…
OUT of this Pandora's box full of unsavory  and nefarious maggots crawled what we know today as our so-called "democratic" ANC ponzi government- a  fake "government" that is nothing less that a conglomeration of Stellenbosch mafia spies, traitors and informants– all "appointed" and very well inducted by the mainly the British and Jewish controlled white Mafia mob to take the highest positions of government- and proceed with their plundering of our country's valuable resources. The deal at CODESA from the mob to the cannon fodder was crystal clear:" You take the country and do whatever you wish- but we retain the mineral rights. " Can you imagine- only a handful of white collar criminals decided that  " all mineral rights will from now on belong to the government.." The question is who the hell do they think they are? Did they receive a kart and transport deed from G-d that gave them the sole ownership to all the mineral riches that de facto belongs to ALL the people of South Africa? How can they then arrogantly claim something they did not pay for – or have no social approval or legal right to obtain? The mob then already have stolen the mineral rights of the people of South Africa.
You can only shake your head in disbelief how this black arrogant thief and smuggler tries to "warn" Donald Trump– the man that easily could cut Ramasquirrels R 6. 1 Billion donation package in a jiffy. But then again- Mr' Arrogance" himself is not even from South African ancestry- but from Uganda…the bloody  reincarnation of Idi Amin.  
Who exactly IS this "government" they are talking about then? As we can gather from the historical facts as per information piece above we have a whole parliament full of criminals– national Intelligence spies, informers,common  thieves, pedophiles, embezzlers , money launderers, drug dealers  and mob appointees that are busy wrecking havoc with our beloved country from the highest level of governance. And this we showed you above is literally only the proverbial ears of the hippopotamus. The Zondo commission currently are pulling out more and more shady deals and corruption like the BOSASA debacle and the now Forensic auditor Trevor White concluded his three-day testimony before the Zondo Commission of Inquiry into State Capture with details of how advocate Lawrence Mrwebi, during his tenure as the national head of the NPA's Special Commercial Crimes Unit, quashed charges involving top KwaZulu-Natal ANC officials. The Stellenbosch rot runs deep indeed- but the creme-a-la-creme will be when that slippery "Teflon Don" Zuma eventually will be dragged by his feet in front of the Zondo commission and he be forced some way to start "spilling the beans." We believe he has MUCH to tell us that will make the majority of the ANC and old National Party rats sitting on the edges of their seats in anticipation – waiting for that dreadful knock on their doors.
The cannon fodder protecting the assets of their mob bosses?
You do NOT want to know the rest- believe you me…it is dirty, ugly and it resembles a tale only fit to be screened in the same category as a financial Friday the 13th script with murder, assassinations, torture , child abductions and murders and G-d knows what else the Satanist cookbook could produce. It is all there. The "Bad Boys"( That would be the Stellenbosch mob, (aka Deep State) National Party conspirators  and ANC  tsotsis) totally hi-jacked the country with lies and deception since the early 70's.  South Africa was captured as a state the day Verwoerd died- and NOT when Jacob Zuma came to power. Each and every low life bugger in  South Africa's "ruling class "  (and outside) belongs or is connected to the Babylon " mob" in Cape Town. This fact is substantiated when we look at all the recent spite of mafia-style interactions of the ANC with shady figures such as the Kebbles,  Roberto Palazzolo, Gavin Watson, the Guptas, the Shaiks and a whole string of questionable murky figures.  More than 90 politicians also have been murdered mafia-style  in SA since the start of 2016, the New York Times has revealed in an in-depth article. So who or exactly what is controlling  South Africa? Is this what the Jew-conspired "democracy" s all about…a new system where you  oppress , murder and impoverish people with  the one hand all while you rob them blind with the other? Right-Wing "Apartheid"…Left wing "Democracy"- both oppressive systems that belongs to the same ugly Zionist bird.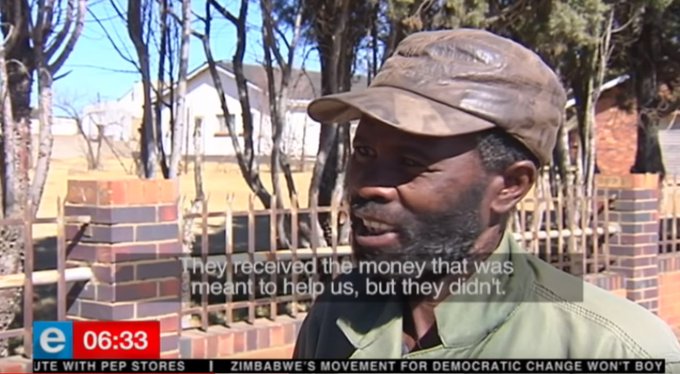 SO– South Africa de facto is being run by the "mob" bosses  from their Babylonian Towers in Stellenbosch. Mbeki, Zuma, Ramaphosa, Mboweni, Mufamadi, Malema, Duarte, Modise, Radebe and much of the ANC cannon fodder in parliament were /are simply common criminals recruited by the mob's Intelligence Branch as "front men" (their captains) to run the country into the ground while the "enlightened ones" (EAG) in their Stellenbosch Babylonian ivory towers are raking in the illicit profits.  Now one can understand why the much feared international crime syndicate – the Bilderbergers– also converged there at the Babylonian Towers in November in 2019 to discuss new ways to further rape and plunder the country. And this is now the "democratic" mess YOU supported and voted for this past 25 years? How ironic indeed! And to cap it all do these criminal mobsters push for the ultimate power to steal your private property from you as well!
South Africa- Destruction by design
AS we can clearly see the destruction of South Africa was not something that spontaneously happened or out of mere bad governance- but as we all by now (except for the liberals that is ) figured out- was designed by the greedy money grubbers at international level. For this to happen the country as a whole simply has to fail. This means that our rich as much sought after mineral deposits will then be available for the grabs at garage-sale prices. And that is why South Africa NEED to be forced into Junk status. The country's destruction already was planned ages ago- there the reason why the rand was debased from gold in 1994 already. The currency then already lost it's value.
The Economist's Big Mac index shows that the rand is undervalued by 62% against the dollar – which means it is the most underpriced major currency in the world.
A decade ago, the rand was undervalued by "only" 39%.
The looming Junk status is just another piece in the NWO puzzle to get to the country's riches. Such a move will immediately devaluate the rand currency even more- and force the country into a recession. The planned land grabs (expropriation) is another evil agenda to get free access to the rich coal fields in the Northern part of the country where many of these farms already have been earmarked for grabs. The two illegitimate bitches of the "mob"- Ramaphosa and Malema– were tasked to push through this devious agenda. That is why Ramaphosa is so hell-bent that the white farmers have "no choice." but to "hand over " their property. The mining rights already are  awaiting the Chinese signature. Ramaphosa is a fake– a lair and a con artist in service of his Stellenbosch masters. And so is the whole bunch of thieves in that Lethuli-House nest as well.
AS you can see- these MF's clearly are not interested in producing anything on the farms already in their possession- but they only keep it in reserve until they have enough to flog it to the Chinese to sign mineral rights deals which would put them again in "easy street" as long as those rights are in place. Then the Chinks will bring their earth moving equipment and start f*cking up our country and all our productive farms which these buggers have stolen from you through "land expropriation" with all  it's natural  Fauna and Flora further. They care a dingbat what is happening ON the farm- but more about what is hidden UNDER the farm. And the poor South African population will only be mere spectators to this macabre plundering  without receiving a single dime from it. So much for Ramaphosa's "care" about food security for the ever multiplying black masses! 
What happens to the homogeneous population, their lack of food security  and all the suffering that accompanies this dastardly act of greed is to no concern to them. Money has a tendency to make even the most docile person suffer from glutenous madness. But now we can see how destructive and inhuman these vile political and corporate creatures operates. Thousands of lives were needlessly wasted every year in their constructed wars, the border war, township wars, farm attacks , tribal wars , gang wars and attacks by vigilante criminals in our urban areas. Politicians and corporate wolves are some of the worst kind of human secretion  imaginable. And in the South African context these vermin has been quite actively busy for more than 50 years already- even since the British leeches sent Cecil John Rhodes to start organizing the grand land theft program in 1870 . They are like malicious leeches- they never will let go- and when you destroy one- another wretch will simply takes it's place. What the British thugs could not achieve fully then – they now will attempt again by trying to enforce through "legislation" by changing Section 25 of the constitution to allow Ramaphosa and his band of robbers to steal your property at will without paying for it. Can you imagine such arrogance? 
Destruction of the infrastructure
SINCE 1994 every black voter had the chance to make the correct choice at the voting booth- without the influence of any white. The total destruction of the country and all it's departments, mechanisms, organs , provincial legislatures and SOE's also did not happen by chance- it was done deliberately by those "leaders" the black population themselves voted into power. Thus the black population themselves are as much to blame for the destruction of the country as the criminals on top an corporate thugs are. The black voter gave the ANC the power to continue their designed destruction agenda for 25 years uninterrupted.  Destruction of the country  was engineered by design…engineered by the same villains chosen by "the people" every 5 years that now are plundering South Africa's state vaults and resources. To arrogantly blame the white man now for the black man's suffering today or still blame "apartheid" after 25 years  is much like blaming the chicken because the turkeys voted unanimously to leave the gate of the pen wide open for the wolves  to enter and to ravage the nests. The voting black majority of South Africa thus also  is complicit in every indecent offense, every murder, every rand stolen , the racist mass tyranny that is geared towards revenge, destruction and impoverishment-and will have to account for every life ruined, physically or mentally- not the white Afrikaner.  That guilt is further shared by every media institution, spokesperson , white liberal or organization that persists in presenting the false image of "democracy" or "democratic institutions" to people. The necessary conclusion is that there is only a small minority of victims in South Africa by 2020: The Afrikaner, who built this country, and has often paid for it with good and blood. The Afrikaner whose children are deprived of opportunities, while those who unlawfully obtain those opportunities waste it.
This is the type of "architecture" by the ANC regime "engineers" South Africans now are quite used to …..a collapsing highway bridge that carries thousands of vehicles each day- 3 years later. 
RAMAPHOSA ALLEGES THAT SOUTH AFRICA HAS NOT BECOME A DYSFUNCTIONAL STATE…
DO YOU AGREE?
If South Africa's people do not stop these criminals by themselves the looting and plundering will go on unchallenged. Their devious propaganda that they are doing it for "the people" is a blatant lie because they do not care about the "people" as the "people" also are about to loose their private property as well- and with that- their security to obtain loans from major financial institutions. It is of the utmost importance that the people of South Africa stop Ramaphosa and Malema from disowning them- even if it means civil disobedience if that is the only way left. Ramaphosa, Malema, the ANC or the EFF is by no means G-d- they are common civil servants and bloody corrupt civil servants at that- and they have no right to even attempt to disown legal private owners from their property- irrespective how many changes they make to that useless constitution of theirs. Now they want to amass all the deciding  power around ONE man to decide who and when he wants to disown- not even a court.  And we can only guess what the outcome will be. Ramaphosa and his ilk have turned a once flourishing country into a bloody junk yard. Now they are acting as scrap dealers – selling YOUR country off piece by piece to the highest bidder or to whom they owe HUGE debts to.
Richard Quest roasting Ramasquirrel for trying to bamboozle investors into investing in a failed state
There is political profit for the ANC for demonstrating that if you are in the ANC you do well. But that is only for party self-sustainability purposes, it has nothing to do with the society at large. The ANC is a club of kleptocrats who don't care about the problems that ordinary South Africans are facing on a daily basis. All in all the ANC is a Broederbond-manufactured disaster and a liability to South Africa. The rot is that the ANC has always been a vehicle for self-serving members and it is attracting all the wrong opportunists to the party and that kind of material will not build the country.  We have reached the point where the decline of South Africa can no longer be denied. The liberal vapor circle has now begun a renewed hijacking of the public debate, to revive the fake "victim" syndrome of the black African. (to date, we had to listen to boredom about "victims of apartheid / colonialism") It is clear that the ANC's racist-communist abuses were aligned, and remain, for power and plunder for the elite – the so-called "struggle" was NEVER about freedom or improvement of living conditions. And this fact that the ANC cannot hide behind their "poor victim" status for their miserable maladministration and corruption as they have done for so many years now becomes clear even to big time analysts such as Richard Quest at the Davos summit. 
AS usual is the terrible incompetence of the ANC ponzi regime somehow  shifted back onto the white "minority" again. And now that the truth is uncovered of the terrible state the ANC brought the country's economy into , the "legitimate " liberal objections of oppressed minorities are answered with "the white minority is still "discriminating " by concentrating only on their own problems, and ignoring the same problems that black citizens are facing". The implication is: "We acknowledge the past quarter-century offenses harmed citizens, but there are more black victims, and it is discriminatory to deny their suffering" It is simply the same old racial hatred aimed at whites in general again , and the Afrikaner in particular – that became  an intentional liberal word game and a blatant  lie. Keeping the " suffering" black face in front is a convenient shield  for the corporate vulture  to hide his own dark agendas of plundering and kleptocracy. 
The real problem Africa- and in particular South Africa faces is the continuous  presence of the Jew corporate money grubber. This problem for ages now hampered Africa to advance beyond the status a failed continent. Africa is one of the most blessed continents with an abundance of mineral riches. And it is specifically this blessing that also became her curse. For ages and ages the greed of the European Jew has been focused on the African continent for her wealth. History shows us that Africa has been raped since the first "conquests" by the Spaniards, Portuguese, Arabs,  French, Belgians, Dutch and British. And with each "conquest" the Jew left his trail of blood and plundering. Such then are we finding ourselves in a country today that still- like the rest of Africa- is raped and plundered by the greedy money grubber. And through-out the history of Africa you always had that small band of super-rich mobsters controlling the heads of clans and state to siphon the riches of Africa to the European vaults. Britain is ostensibly the biggest perpetrator in this category. And today we still  experience that age old controlling and plundering going on. In the South African context it is the Afrikaner Broederbond- aka "Deep State"– aka Stellenbosch Mafia that controls the political, economical and  financial environment through their cannon fodder they appointed in the ANC. Ramaphosa is yet another greedy African dictator tightly controlled by this small clique of kleptocrats ( De Klerks, Oppenheimers, Ruperts, Ackermans, Rothschild, Bassons, Bekkers, et al) from their Babylon towers(storen)  in the Western Cape.
South Africa's people will never rise above their sorry state-illiterate and ill-informed they will be kept.  And even if they want to by uniting  and decide to  move to uplift their economy  such as calling for a confederacy of states – it will never be allowed by the mafia mobsters. This much the American civil war already proofed to us. A united South Africa along racial lines is the last thing these mobsters want as it immediately will pose a threat to  their iron grip they have on the economy.  The assassinations of both Eugene Terreblanche and Chris Hani on both sides of the spectrum already are examples how unification and nationalism are dealt with by these mafia gangsters. Division along racial, ethnic and religious lines must be upheld at all times in order to keep the tight rule of the mafia gangsters intact. Therefore we have this uncountable barrage of "anti-racist" legislation against whites and the media frenzy around the issue on a continuous basis dominating the news headlines. Black and white must be kept apart at all costs. A scapegoat also must be identified to hide the true corruption and plundering of the country's resources which inevitably leads to poverty and suffering of the nation- and in this case the "Afrikaner" and "Apartheid" was chosen to bear the brunt of the mafia's unlimited  greed. Eskom's woes will never end. SAA' s woes will never end- and so will not any of the other SOE's woes ever stop- simply because the kleptocracy are using all the State Owned Enterprises and convenient laundering machines to suck the tax payer dry and wash the millions which finds it's way to private bank accounts again afterwards.
The corruption will never stop. It was part of the "design" by the mafia never to stop.- at least not as long as they have control over the country's economy. The miserable economic apocalypse will only escalate- and the oppression and impoverishment of the peoples of South Africa- irrespective of color and creed- will continue  as long as the " deep state" Mafia stays in control. As long as they can exploit the country as their personal fiefdom – they care less to callously benefit out of other people's misery or how many innocent people are murdered each day because of the chaos and lawlessness  they created- or how many white farmers, their families and farm workers ends up  in impoverished squatter camps due to their "land expropriation" robberies they now again plans.  Through chaos and dis-functionality of the country  they hi-jack and rob the coffers and mineral deposits. Blaming certain individuals such as Zuma as " expendables" and flat denial of the real facts to serve the  "greater cause" is just another ploy to divert the public attention away from the real culprits behind yet another failed state. And it is precisely here where Ramaphosa failed miserably to convince investors in Davos as well. They are not controlled or influenced by the Stellenbosch mafia or their fake media cronies- and happen to be more intelligent and more  informed  than the poor illiterate South African les miserables  who Cyril and his cronies or the  gang of misfit media ghouls  bamboozle so easily.
In 1994 "the people" handed the keys of the treasury to a bunch of semi – literate thugs and gangsters, con artists, petty thieves and rank opportunists who ruled under forged qualifications and honorary doctorates from WITS University. They used an ageing, affable front man to conceal their dark intentions to ruin everything good about South Africa. They were of course generously helped along by a fawning liberal media who " legitimized"  a group of Robbin Island robbers  who were clearly unfit to rule. The ANC, should really be classified as an international crime syndicate, not a political party, a type of ISIS, but without the public beheadings. They have managed to loot and destroy virtually every functioning part of this country and use it to enrich themselves. This is not really "corruption"... it is grand theft for which me and you surely would feel the brunt of the law.  Now, in a months time we will contemplate a R1.5 trillion budget in the hands of a group of uneducated delinquents, none of whom have any capability in running anything, never-mind a complex country like South Africa. Once more they will squander everything and blame the west, apartheid, WMC, colonialism, because we let them get away with it.
THIS is how your so-called "democratic" South Africa acts against whites. Lies and hatred against whites forms the basis of this international created hoax. 
By day Julius Malema instigate violence and genocide against whites- by night he and his side-kick Floyd Shivambu dine and wine blue-chip with their Lucifarian  Free Mason Stellenbosch Mafia Mob bosses. 
South Africa is sick and tired of all the black racists- screaming and yelling death and destruction from podiums. South Africa is tired of the biggest human rights abusers and race baiters- the ANC , EFF and their Media 24 mentally retarded correspondents in tabloids such as The Sowetan, Citizen, IOL and many others- to continuously refer to whites as "racists, colonials, white supremacists  "- and not only that- but on a continuous basis fabricate bogus "laws" against whites- a whole 121 of them. South Africa is tired of warmongers on podiums instigating race hatred and singing "Kill the Boer." South Africa is tired of black narcissists pumping out one after the other anti-white law. South Africa is tired of black dictators threatening whites and whipping up emotions to create race division between black and white. South Africa is sick and tired of incompetent communist trash ruining the country and changing a once  beautiful country into their personal fiefdom- creating chaos and destruction to fit their own dark and selfish agendas. South Africa is sick and tired of black racists blaming whites, Van Riebeeck, Apartheid and especially Afrikaners  for their own personal incompetence and maladministration that brought the country to it's knees. South Africa is tired of race baiting white liberals that on a continuous basis demonize white innocent Afrikaners in the media. South Africa is sick and tired of all the oppression, discrimination against white Afrikaners , impoverishment and alienation of the Afrikaner from the labor market and the unchecked farm murders against the country's food producers.South Africa is fed up getting one-after-the-other criminal or ex-con as "president" – and have to contemplate with a whole parliament full of overweight and overpaid misfits and bumble heads that could not even successfully pass Grade 7 . South Africa had just about enough of all the cadre miscreants that destroyed our municipalities and brought service delivery to a screeching halt through corruption and maladministration.
The South African Communist Party (part of the Tripartite Alliance with the ruling ANC) chanting:"One American One Bullet" #SouthAfrica

Posted by Andrew Rees on Thursday, January 23, 2020
South Africa is tired of all the so-called " revolutions" and red cladded union monkeys running around unchecked in the streets of our cities- burning , rioting, looting , destroying and "demanding" freebees and higher salaries on a permanent basis. South Africa is tired of feeding millions upon millions alien and local of useless eaters that stream across the borders, contribute nothing to the image of the country, pay no taxes, live off state grants and social organs-  and spawn even more useless eaters in squatter camps to leech on the economy paid by hard working people.  South Africa has a bellyful that only a small percentage of hard working tax payer must feed a majority of useless non-productive leeches that keeps voting the commi tsotsis  into power year after year. South Africa is sick and tired of the black and Jew kleptocracy that already plundered the coffers empty- but still proceed to rob and steal the bread off the plates of our children. South Africa is tired of corp[orate and political criminals that robs and plunders her precious minerals to siphon it to foreign bank accounts for their own personal gain.South Africa had more than enough of all the communist deception , lies and hippocracy . South Africa is sick and tired of all the crime, rapes, hi-jacks , robberies , syndicates  and gangserism that engulfed the  streets of our cities so no street is safe at night anymore and the populace now have to live like criminals themselves  behind bars for their own safety out of fear of being  robbed or killed.South Africa is tired being torn apart and it's cream assets sold off  piece-by-piece to the Chinese, British and other foreign Hyenas by a small "clique" on top while the local people suffer the indigestion. South Africa is tired being treated as second class citizens next to the greed of political criminals.
THIS is the type of unidentified homo sapiens governing South Africa today. Just imagine one of these running your economy for you.? BUT this specimens is for real! Deputy Minister Hendrietta Bogopane Zulu employed a man who wanted to marry her niece in her department as an administrative clerk. She then took him on at least 4 taxpayer funded overseas trips so that he can use the government's travel and subsistence allowance to claim and so doing save up enough money to pay lobolla to marry the minister's niece.
https://www.facebook.com/100014113396088/videos/782610102219429/?t=4
BUT these creatures are for real and they are actually GOVERNING South Africa. AND understandably everything touched by these strange specimens turns into grand theft – then into sh*t!
South Africa is tired of having a useless corrupt ponzi regime driving their own glutenous agendas- raising taxes to un-affordable levels to line their own pockets again. South Africa is tired to see thousands of her children flee the country for safer havens in other countries because the country's useless and corrupt rulers cannot provide that same safety to them. All in all South Africa is sick and tired if the  ANC and EFF miscreants, their Stellenbosch mafia corporate thugs , Guptas , British establishment and all the "Deep State" vultures they worship and obey. The country is tired of dishonest newspaper editors and  lying correspondents that keep on mind-f*cking the populace with a fake "democracy" while they in reality only promote the regime's agendas. The country is tired of the ANC and their Tri-Alliance  communist unions  that totally f*cked up not only the country , the state organs and it's total economic infrastructure- but also the  lives of millions of innocent people in their fake "democracy." All this factors brought about the failure of a state and landed the country onto the junk heap as a failed state it finds itself in today.   We do nothing to inconvenience these people. But LO- South Africa is not a failed state Ramaphosa and his side-kick leftist "academics" and fake media town criers want to mind-f*ck us to believe. There IS some light at the end of the tunnel – the chief induna man sez. What he failed to notice is that the light he sees at the end of the tunnel is mounted onto a fast oncoming friggen TRAIN! It's time they get kicked out of the government and sent back to Robbin Island where they belong. We do not accept this bunch of scrupulous hoodlums as our legal  "government"- and neither should you! It is time good and honest South Africans  now start to distance themselves from this evil curse they call the "African National Corruption." 
SOUTH AFRICA IS NOT A DYSFUNCTIONAL STATE- SOUTH AFRICA HAS A DYSFUNCTIONAL
PONZI-GOVERNMENT!
SOURCE:
White Nation
WHITE NATION– WE DO NOT HATE WHITE LIBERALS– WE SIMPLY DESPISE THE FILTH!!
C'MON- SHARE OUR LINK