Do you have news to tell us? Send your e.mails with news and inquiries to: w.nation@mail.com
Register with us for free to follow our news on the right-hand tab
OR
Register for free on  our social site HERE to join our world for more news
Article posted by: White Nation Correspondent Pretoria January 28  2020
ALSO VISIT:
We are not going to take your land: Ramaphosa to investors
Bombshell: South Africa Forcing Farmers to Repay Bank Loans on Seized Lands
"Stay in South Africa"- Ramaphosa urged young farmers
"Watch your back Ramaphosa"- Johm Steenhuizen DA MP
Eskom wants to plunder your wallet BIG Time to allegedly avert a "melt down."
International pressure wanted to force ANC communists to sanity
Klerksdorp on verge of melt-down
One continent- one currency- artificial borders for Africa
Crime in SA: 'It is out of control and we are facing a full-scale war'
ANC's money  laundromats kept alive: SAA bailed out again with R3.5 Billion
Poor South African's Suffer #RollingBlackouts, Yet Government Officials & Black Elites Buy Lamborghini Aventador's!
Robert Mugabe's killing fields: Mass grave with 600 bodies discovered in mine-shaft
Shocking revelation: SIX of the supposedly dead crew of the Challenger disaster still alive and well
SOUTH AFRICA– THE  PIRATE's REALM DOWN SOUTH
CYRIL RAMAPHOSA appeared on the political scene from no-where with much media fanfare as the new "Moses" that would now presumably lead the lost South African  black tribes back to the promised land of Putupap and Mahewu beer pots . The whole liberal marinated world held their breath as the "reincarnation" of Nelson Mandela stepped on that podium on May 25 2019. 
Here was the man, here was the new savior of the country after the Zuma gangsters ravaged the treasury and dumped the country into a blitzkrieg type of financial mess. Here at last was the "new Moses " the whole country was praying for at last- so the leftist media choir maestros conducted their songs of praise and worship to their new "Messiah" and to the ill-informed world. Across the length and breadth of the land you could hear the songs of "Hail Cyril" echoing against mountain and skyscraper. The black "sweet Jesus " has arrived at last! The three blind mice in the Media 24 propaganda hive was overjoyed. He now will tell the nasty old "white monopoly  capital" world to let "his people" go!
Former Eskom Chairperson, Jabu Mabuza's niece receiving her new Lamborghini Aventador, price range of Avendators is around R 9.6-million. This same niece was awarded an irregular tender worth R600mil

Posted by Barend Kruger on Monday, January 27, 2020
ONLY  a selected few have the privilege to dug deep into the "Putupap" and "Mahewu" pots if you are "connected"– that is. Former Eskom Chairperson, Jabu Mabuza's niece receiving her new Lamborghini Aventador, price range of Avendators is around R 9.6-million. This same niece was awarded an irregular tender worth R600 million.
BUT sadly for the ever naive South African misdirected populace and the three blind mice in the Media 24 hive it was not to be. They lost their bet on a dead horse…..again. This they would find out immediately when Ramaphosa started his inauguration speech of " expropriation without compensation"- in other words "stealing your property without paying for it." At that precise moment the poor disillusioned populace did not fully understand what Ramaphosa said- but as time went by the horrible reality of his words started to sank into the muffled brains of the local and international corporate vultures and commoners alike. The truth hit home. The ANC wants to take away everybody's free right to own property and become sole custodian of property rights in South Africa- Marxist style.  A shudder suddenly reverberated across the business and private sectors. The three blind mice in the Media 24 hive suddenly contracted a laryngitis virus too. They became speechless. Ramaphosa was after all not the Moses reincarnation of the much hailed Mandela- he was in fact the reincarnation of the much despised  pharaoh Mugabe!! He will let "his people" go all-right….without property rights that is! 
The poor liberal establishment fell flat on their faces. Their own local private properties suddenly were at stake . One after the other we started to hear sounds of fear- sounds of defiance-  and sounds of dismay from the liberal "academics" and financial gurus alike. International corporate Hyenas also started to growl and showed some teeth  while a state of  national hysteria started to take hold of private property owners in South Africa. It was to them the dawn of the red invasion. Even old decrepit liberal relics such as Max Du Preez who very verbally scoffed at conservative warnings as " rooi gevaar"  in the late eighties when warned that  South Africa will be heading towards a communist take-over if the ANC took control – now suddenly start to throw his little pink paddling boat into reverse gear.  His own little "Kaia" there on the wine farm in Stellenbosch seems now also to be heading for  new ownership without his consent and without compensation. Max- one of the oldest members of that shrewd Free Mason mob down in Stellenbosch and staunch supporter of the communists in charge- was left dumbstruck to say the least. The "Rooi Gevaar" eventually caught up with him as well. Max – as with the rest of the liberal fraternity- seems to be left horrified. And they rightly should be.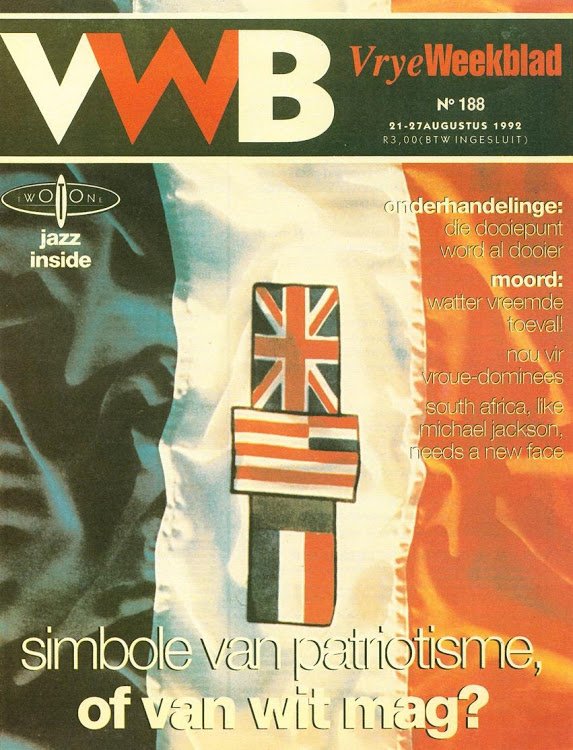 Max Du Preez had a ball of a time scoffing at conservative warnings while  promoting the "Rooi Gevaar" in his pony tabloid "Vrye Weekblad. " Today he- like most misdirected liberals-  faces the stark reality of his liberal foolishness a little too late.They were part and package of the collateral damage he and the bunch of liberals has  inflicted to the country  during their little Dakar fiasco outing. 
The reality of the United Nations human atrocities in Africa: Click on the link below: 
https://www.facebook.com/RealityofSAandWorld/videos/508748959771878/?t=1
Their much hailed new "Moses" was nothing even faintly resembling a "savior"– but very much more like a word spinner, con artist and  greedy corporate trickster.  Ramaphosa cares less about the country or "his people" as he casually refer to the black masses in his speeches- but more like his own bank account. The praises from the leftist media's  blind mice slowly fell silent to make way for an air of concern and down-right disappointment at the sudden new turn of events. In a time when the country was on her knees and needed some kind of miracle to survive the terrible omen of Junk Status and food decline  that awaits her- here comes Ramaphosa and his gang of ANC hoodlums and announced some MORE and even WORSE devastating collateral damage in the making. Annexation of private property rights will send the country into an immediate financial recession and plunging of the local currency. Investor confidence will disappear like mist in front of the sun and any chance of a financial rescue bail out from any international institution or IMF would be declared  nil and void.
And that was also precisely the message Ramaphosa and his band of beggars got from Davos during the recent world Economic Forum summit meeting as well. "You cannot f*ck up your country- come here  seeking monetary assistance – and pretend nothing has happened back home."  But to greedy money grubbers the likes of Ramaphosa who earns a salary of R 325 000.00 per month  for acting  "president" and millions in the bank little 'set backs" for the country such as experienced in Davos does not really matter- personally that is– for the Squirrel is more interested and focused in amassing his own personal wealth than sharing the wealth with his impoverished "people." The country's decay or the  suffering of Mr.  Poor man does not really matter to Mr. Rich man at all. Ramaphosa and his cronies long ago siphoned their illicit assets overseas. So whatever happens to the country is no skin off their noses. AND if the sh*t hits the fan they always have enough loot stashed away in international "safe havens." Did you ever hear or read about ANY ANC member of parliament  that donated a single dime from their personal wealth to charity– even to their own people? Yip…NEVER– simply because GREED has no space for COMPASSION. So- if Ramaphosa do not even donate a single dime from his millions to poor black people– what is the chances that he will have any compassion for the country then? Go Figure! 
Cyril and his money making laundromat- plundering  the Pension Funds
Between 1996 and 2005 Trevor Manual, in his capacity as Finance Minister, was the sole trustee and custodian of the Government Employee Pension Fund (GEPF) which at the time of inception had assets close to R200 billion. As a sole trustee of GEPF,  Manual did not report or account to anyone but himself. To this end there was no board or governance and therefore  Manual had the sole discretion of how employees pension funds would be invested. However, in 2002 a tender for actuarial services was advertised and eventually awarded to Alexander Forbes by Trevor Manual in his capacity as the sole trustee of GEPF, which was now worth over R250 billion. Alexander Forbes then proceeded to sell 30% of its shares to an empowerment group that was called Millennium Consolidated Investments (MCI) which was incorporated in 2001, being a year before the invitation to tender came out. This company belonged to the current President of the African National Congress (ANC) and South Africa (SA), Cyril Ramaphosa.
Before 'buying' 30% of the Alexander Forbes shares and thus getting first hand access to the funds of the GEPF,  Ramaphosa was just another Black Economic Empowerment (BEE) proxy from the governing party who subsequently managed to buy more than 27 companies post 2003 which turned him into an instant billionaire. To strengthen the argument, according to a 2006 article by the Mail & Guardian titled 'Anatomy of Fast Money', the sudden wealth which was concentrated among a few new colonial elites, like  Ramaphosa, was not due to hard work but to connections to the ANC, patronage and friends in government which in turn led to some of the following acquisitions by  Ramaphosa:
April 2003: 16% of Alexander Forbes, now worth R1,1-billion.
July 2003: 14,4% of Bidvest, worth R706-million.
July 2004: 1,2% of Standard Bank, worth R1,1-billion.
August 2004: 42% of Mondi Shanduka Newsprint and 40% of Mondi Packaging, worth about R980 million.
November 2005: 11,74% of Assore, worth R394-million
November 2005: 1,5% in Liberty Life, worth R299-million.
May 2006: 25% of Downing, Reynard and Associates (unlisted)
July 2006: 40% of Kangra Coal…Source (Mail & Guardian)
It is quite obvious to any student of geopolitics that the rise and rise of the Squirrel was sparked by him acquiring the shares at Alexandre Forbes. So- where did the Squirrel then get enough capital  from to start off this mega ATM business ventures ? This brings us to the rationale on why  Ramaphosa must extend the terms of reference of the Commission of Inquiry into the Public Investment Corporation (PIC), which is the asset management company that invests funds on behalf of the GEPF. It will be an injustice if the current terms of reference of the Commission of Inquiry into the PIC are left as they are because for more than a decade Trevor Manual was God presiding over billions in hard earned salaries of government employees whilst  Ramaphosa became Deputy God. Hence to only focus on the investment decisions taken by the former Chief Executive Officer (CEO) of the PIC, Dan Matjila, is quite frankly opportunistic and self serving. South Africans have every right to know which companies and individuals benefited during the tenures at the GEPF of Trevor Manual and Ramaphosa, especially since there was no board or governance in place at that time.
Another factor is the conflict of interest regarding both  Ramaphosa and Trevor Manual which necessitates an investigation to unpack if Ramaphosa directly used his position as a shareholder at GEPF to get capital injection into his own companies and the same applies to Trevor Manual, which also falls under the ambit of state capture. This by the way is no different to the conflict of interest associated with Nhlanhla Nene who opted to resign as the Minister of Finance. The investment decisions by both Trevor Manual and  Ramaphosa, each in their capacity as NJ custodian of the GEPF, must also extend to the likes of Zanele Mbeki, Tokyo Sexwale, Saki Macozoma, Frank Chikane, Jay Naidoo, Kelso Gordian, Cheryl Carolus et cetera. To this end the Commission of Inquiry must assess whether they received, or legitimately received, any capital injection through GEPF. Moreover, the conduct of the likes of Johan Rupert, Christopher Wiese, Johannes Mouton, Stephen Koseff and Markus Jooste, – the Stellenbosch mafia mobsters- who used the funds of the GEPF through their Asset Management companies which sub-contract with the PIC, to inject capital into their own businesses, must be inquired into. It is therefore not surprising that the post 1994 Afrikaners, especially the Stellenbosch and Paarl mafia gang, have become richer than they were during apartheid. Its precisely because Trevor Manual and  Ramaphosa literally handed them the pension funds of black employees without any competition from black owned asset management companies. It is whispered that Wiese also "donated" a game farm to the Squirrel for his unsolicited "service" to the mob.
The PIC, which now controls trillions of pension fund money, has literally become a piggy bag for the private sector and politically connected elite who don't have to work hard to earn their wealth – but simply abuse and misuse money that belongs to workers, many of who are living from hand to mouth. Unfortunately, unions like the Congress of South African Trade Unions (COSATU) including the National Union of Metal Workers of South Africa (NUMSA) have never been vocal on this slave trade transaction because they are part and parcel of the same private sector which has perfected monopolizing public funds to feed the private sector. This is what Dr Okechukwu C Iheduru defined as" labor capitalism"  in a paper titled 'Organised Labour, Globalisation and Economic Reform: union investment companies in South Africa'.
"Zweli Mkhize has appointed his niece as Chief of Staff in the Department of Health. This after she was implicated in steering loans of R6 billion to her lover and taking large kickbacks, while she worked at the PIC. This government isn't serious" –Richard Spoor
In essence state capture and exchange of capital between the "blue eyed boys,"  the"  Broederbond " and the new Free Mason  elite, was very systematic and structural. What is quite obvious is that this gang has been very sophisticated whilst using all sorts of treacherous and deceitful means to gain proximity to government coffers in order to empower itself and its family whilst simultaneously taxing the working class and poor who literally sustain their wealth. uMkhonto we Sizwe (MK) prisoner Soko Ndukwana defined this grouping as "looters of the Nation and Gangster Capitalists" who today have become the paragon of truth and business experts in a country which is rated as the most unequal in the world. This is precisely because state resources have been misused and abused by those using their "struggle credentials " to benefit a few whilst the majority, who keep them in power and who are yet to see the rays of liberation, are burdened by squalor and degradation. This is sheer state capture which has taken centuries to perfect and in its collapse, we must never allow it to use Dan Matjila as collateral damage. Now Ramaphosa also is eyeing the private Pension Funds in order to enrich himself even more with a wider variety of contributions. It worked once- and it will work a second time.  We must remember that neither Zuma or Rhamaphosa was "democratically" elected- but in both instances did they usurped the throne through bribery. South Africa simply has changed hands from State capturing gangsters to State  tricksters and fraudsters- but the greedy powers behind both are one and the same- the Stellenbosch mafia bosses. 
This is how they plunder your pension funds
ONE  only has to Google 'Thelma Melk' –  the current Head Of Legal and Corporate Secretariat at the Eskom Pension and Provident Fund – to realize her career path has been anything but stellar. She was replaced as the SABC's company secretary in 2012 after she was suspended in September 2011, allegedly for 'poor work performance'. Word is that Melk allegedly received a R3,2-million payout from the struggling public broadcaster just to go away. Now her past has come to haunt the members of Eskom's retirement fund.  Before Thelma Melk's suspension from the SABC made headlines, she was linked to another controversy at the struggling broadcaster. She was known as an internationaljetsetter and big spender before the broadcaster clamped down on hers and other executive extravagance.  Besides other international destinations, Melk jetted to Los Angeles, first class, on a so-called "content purchasing visit" with a ticket that cost the SABC R175,000. According to the SABC's annual report, she was one of the public broadcaster's top earners with a remuneration package of R1.75-million per annum.
She started her career as a legal advisor, employed by Mmabatho City Council before joining the Department of Trade and Industry where she started out as the Secretary: Board Manufacturing Development.  She was later appointed as Deputy Director. She also worked at Transnet as the Deputy Group Company Secretary before moving onto the SABC and SAA, where she held the Group Company Secretary roles. Before joining the Eskom Pension and Provident Fund (EPPF), she was employed by Joburg Market as company secretary and was a consultant in such a capacity to the North West Development Corporation. She also has a vested interest in Vox Telecom, which was set up by Regiments Capital as part of a BEE consortium in which former ANC Johannesburg Finance MMC Geoff Makhubo was also given shares. It is the same outfit that got Former ANC Gauteng Chief Whip Brian Hlongwainto trouble for failing to declare his interest. Other related parties include Geoff Makhubo, Zukile David Nomvete, Miles Nzama and Sipho Twala.
There is no doubt Melk is a mover and a shaker, and her experience must have counted in her favor to be appointed to the executive of a state utility's pension fund. And one would like to believe that as a private retirement fund, which is subject to the Pension Funds Act, and is state entity-adjacent, and which publicly claims it also complies with the Public Finance management Act, due diligence and corporate governance procedures were followed in doing so.  But, according to a letter sent to the board of trustees in 2018 by concerned internal parties, and which Business Maverick has a copy of, her appointment did not follow due process when compared to the appointment of other members of the executive like the IT Manager and CFO, which joined the EPPF around the same time.  In fact, as one insider put it, "the first we heard of it was when the board condoned her appointment despite having clear knowledge of her chequered past", and "with a well-documented background such as hers, she should not even have made it onto a shortlist, never mind being the candidate of choice".   "Maybe it was due to her close relationship with the chair of the board," – Mantuka Maisela – the letter states.  The close relationship is well-known at the EPPF offices according to insiders, who also alleged that Melk has used this relationship to both parties' advantage.
The only stakeholders that are regretting her appointment at this stage are members of the pension fund, who continue to finance her jetsetting, something that hasn't changed since her days at the SABC.  She was appointed in April 2018 and according to leaked documents, she jetted off in June/July of that year to Russia and China for a 10-day "training" visit. The total cost of this trip is unknown and the nature of the training, or the benefit to the organisation has never been formally shared with the EPPF board of trustees, or most of senior management.   According to the EPPF HR policies, each employee must have a Performance Development Programme, which should be clearly documented and tracked.  But it is not just the dubious company she keeps, her chequered past, or her international adventures which are raising eyebrows. Other leaked documents indicate the appointment of vendors to the EPPF, without following official policy and procedure.
The letter to the board states that she onboarded a scanning company – Providence Software Solution – to assist with corporate secretariat and legal requirements, despite the fact that the EPPF was already in the process of successfully scanning its own historic documents and against the protestations of the CIO at the time.  The EPPF process dictates that, "if the effort is less than the agreed amount (as approved by the board), then one is allowed to request three quotations, thereafter approval is required from the IT Steering – and Procurement committees before the CEO will approve the contract. Work can only commence once a contract is approved". "Melk didn't follow any of the above steps and just appointed the vendor," the same  letter states, adding that payments were made "without a contract". Insiders further alleged that there was a direct relationship between Melk and the vendor. The same goes for a vendor who quoted the EPPF to supply sports shoes (tekkies), at inflated prices.
"Melk initiated the purchases of 'tekkies' without following due process. She further created an expectation among employees that this will be free. Shoe fitting sessions were even arranged and then it was cancelled at the last minute, when the arrangement was suddenly cancelled," the letter states. Other examples mentioned are the purchase of 24 bottles of very expensive champagne for the 2018 year-end function, which she did not obtain approval for, nor could be accounted for at the function.  Furthermore, under the guise of a "book club", Melk had selected members of the legal and HR teams to frequent expensive restaurants, all paid for by the fund. None of these lavish expenses have been explained, or properly documented to date, the letter says.  The list of curious transgressions is long and wide, and includes appointing related parties to chair her disciplinary hearings, and sending the chairman of the board (and nobody from the IT department), on lavish US trips to investigate pension fund administration systems.
Melk's failed performance review at the SABC has echoes of her role at the EPPF. Examples quoted in leaked documents include the fact that she has made little to no progress in the fund's King IV initiative; the refurbishment of the Investment Management Unit requirement (due to be completed end of November 2018 and not even started); the replacement of admin services (contract ended October 2018), and prompt feedback to the Financial Sector Conduct Authority (FSCA) on all these matters, among others. What she did do, however, is clean house, as she was a key player in closing down the project office at a time that this action brought massive risk to the implementation of a new Pension Fund Administration System. The R1-million question that remains is why the EPPF board paid no mind to the revelations made to them on all the Melk matters and subsequently made no effort to rectify the breaches in protocol.    Business Maverick was told, however, that it was only once the letter found its way to the desk of Eskom management itself, that a complaint was lodged and the board ordered to address the matter. The utility proposed that Melk's contract be terminated, but it seems the fund took that as more of a suggestion than an instruction, and opted for a disciplinary hearing after which Melk took a three-month leave of absence.
But she came back.
Of course, the 2019 integrated report does not reveal the cost of these transgressions and the opportunity cost of her poor performance, nor does it specify executive remuneration packages, but it does indicate a meagre bonus allocation of between R4,000 – R6,000 and a below-inflation average increase of 4% afforded to members pay-outs to protect positive flow. With no government oversight and the Financial Services Conduct Authority yet to conduct an on-site audit, it's becoming a jungle out there where members earn peanuts and top brass get away with milking the system.
"Expropriating " those private owned land- the "creme -de-la-creme" of plundering
**************************************************Threatening the USA! – ONE AMERICAN ONE BULLET**************************************************So this is what the world put into power in SA?They HATE the USA and they HATE white peopleOpen your eyes!They are the reason racism exists!Members of the South African Communist Party (SACP), alliance partner of the governing African National Congress (ANC),gathered outside the United States embassy, Pretoria,23/1/2020**************************************************Threatening the USA! – ONE AMERICAN ONE BULLEThttps://m.youtube.com/watch?v=LzqiY4T13C8&feature=youtu.be**************************************************BEWARE: They also sing "Kill the Boer, Kill the Farmer" and "One Farmer One Bullet" on a regular basis, look what that led to – Large Scale Killings of Farmers in South Africa!

Posted by Stop Farm Attacks & Murders in South Africa on Friday, January 24, 2020
"  South Africa could turn into the ultimate paradise if the implementation of the policy of expropriation of land without compensation leads to higher food production"– Cyril Ramaphosa Ngoma speech.
STEALING privately owned property is a long time big business venture- especially if one can make billions in renting the land you paid nothing for out over and over again- and trillions if one can lease the mining rights of mineral deposits lying under that land. And that is just about what the Stellenbosch mafia network is looking at. Stealing the property if private citizens and especially white/black commercial farmers is one of the worst kind of atrocities and human rights abuses any regime can commit- as it directly offends and attacks the private rights of citizens, the validity of the constitution- and the rule of law itself. It is a flagrant abuse of power and blatant arrogance of the ANC and their mob bosses that clearly and undeniably proofs that Ramaphosa and his ilk have no other agenda than to enrich themselves on the suffering , inconvenience and hardship of other people by exploiting and abusing the law to line their own pockets and the pockets of those conventicles that have no remorse or guilt to the impoverishment of the people of South Africa. The blatant LIE that the "injustices of the past" must now be "corrected" by "returning" the "stolen land" to "his people" is a flagrant lie that has no validity, proof or any form of evidence to substantiate  such a preposterous claim.
Up to this very day neither Malema nor Ramaphosa- the two main Alpha  bitches of the Stellenbosch mob- could present any shred of evidence or document for even ONE such  incident where land was "stolen" from any black owner by any current productive white farmer. Up to today not ONE single document could be traced where such a claim could be based upon- but for 5 years a blatant fabrication and "assumption" was propagated in order to substantiate their false and dangerous agenda to disown rightful private owners from their legal property. These elite criminals even took it a step further and alleged that the "land theft" was done by Jan Van Riebeeck– 400 years ago. What a preposterous allegation to now want to change the constitution for. This is a blue-print copy rhetoric directly from a ZANU-PF communist  cookbook. And not only are they crooks in this regard- but they now plans to centralize the ultimate decision of which land to be plundered onto one single  entity– thus taking the courts out of the equation so nobody could challenge their despicable actions. They now plan to steal property from people that did not steal it from anybody  else. Ramaphosa and his mob bosses are the real thieves in this saga- and NOT the white farmers or Van Riebeeck as they alleged. It all boils down to greed and personal enrichment ponzi schemes.
Expropriation means to expropriate everything – all properties are included here, to take it, without compensation – that is what government wants to implement – and that is bolshevism.   Especially, if you are white and you own a property, a business, a company, a tour agency,  engineering, farming,  shares in any company,  vehicles used for your businesses, it is included to expropriate – read it with their ANC constitution.    They want to expropriate without compensation and change the so-called democratic constitution. The illegal government of South Africa, with their left wing parties in parliament will make sure they expropriate everything – same happened in Zimbabwe too.   Who stopped them in our neighboring country?
Not to mention that we are in the same boat as those citizens in Zimbabwe.    That is why there are so much crime and killings in South Africa.    The ANC with the (white) liberals and classical liberals, all together with George Soros and Robin Renwick, planned it already before the Dakar "negotiations" and the so-called "democratic Kodesa constitution" before 1994. Soros is one of the biggest financiers, with OSF.SA and Cato Institute   Soros funded Dakar and CODESA. Look at the murder rates in Zimbabwe since that was make "legal".    The process of state-sanctioned land grab was given further momentum when another parliamentary motion was passed on. Read what happened in Zimbabwe as well:    Most of the blacks will know what was going on in Zimbabwe, but do they really know about the thousands of black on black killings? 
The ANC have enough votes to change their own liberal 1955 manifesto (constitution) to get all land and everything they want,  for free (without compensation).  The millions of immigrants from Africa are also included here to be part of the "public interest".   Where do they live today?   Around us all. Immigrants  are already here to receive more and more land, houses, schools, medical aid, grants, etc – all for free.   They think so.   That is why the deputy minister (Police) already said that some areas have already 70-80% population  of immigrants and he referred to certain areas in Witwatersrand.

HUMAN SETTLEMENTS

Human Settlements Minister Lindiwe Sisulu  has voiced her satisfaction with the draft legislation on the expropriation of land without compensation already having been published. Sisulu said she hoped the process could be fast-tracked.   While introducing her department's budget vote, Sisulu said her department would like to be the first to benefit from this legislation.   She said she is very glad that Parliament has finally got to this point where they will be able to expropriate land and she would like to be the first taker. The draft legislation determines that land would not be expropriated without compensation for any other reason except for public interest.    She also said that there is any greater public interest than that they represent in Human Settlements. Sisulu said government has delivered more than four million houses in housing opportunities.  They do not know exactly how many houses were already built, and how many of them belong to immigrants and not to citizens of South Africa. They can not claim they are landless, because that is a lie.
South Africa's residential property market forms the largest component of the South African property market, comprising most of the property assets within the country. By the end of 2017, the South African deeds registry had 7.2 million properties, worth R6.8 trillion (US$472 billion). Of this, about R5.1 trillion (US$354 billion) is in the residential sector, involving approximately 6.37 million registered properties. Just over half (57 percent) of the total formal residential property market is found in the eight metropolitan municipalities. Now- IF the land was "stolen" as alleged by Ramaphosa and his cronies- then it fatually meand the Deeds Office, , Registar of companies, City Councils , South African Revenue Service- and bond lawyers ALL have been handling stolen property- thus when the Squirrel and his gangsters want to "expropriate" all properties- it means that all of these roll players and stakeholders must immediately PAY BACK the fees , levies and taxes that has been paid on the purchase of such properties as they have then illegally been part of a stolen property administration. It means SARS- a government institution itself- also was an  accomplice to this sale of stolen property- and thus have to refund the buyer the taxes paid on the sale- not so?  Further-more must all the banks and finance institutions also pay back all the interest they have been raking in from all this bonds they allowed to be given to buy stolen  property then.
The South African Government, with all their co-partners and communist shoes, the EFF, ACDP, DA, VF+ (all multi-culture parties), together with the liberal whites of Dakar, Codesa writers,  created more racism and discrimination with all their B-BBEE legislation, including the expropriation of property without compensation.  The conservatives are projected as their scapegoats. Therefore, it is just impossible that groups of Blacks or even other coloreds (Khoisan) are landless.   Various immigrants also took over subsidized RDP houses after 1994 – therefore how many of those houses were sold to the immigrants.  Landclaims… Trustlands … 8840 traditional leaders !! Who are the real owners of state-owned land?   If it is state owned land, why do the government keep the land in their own hands and create this hate agenda against whites to reform?   What funding was paid (TAX) for that farmlands?  If tax was used,  the owners of all those farmland are the tax payers and not the government? The so-called "government "  is the sole owner of more than 5000 previously productive farms that now lies derelict. Why?  So many articles said there are 7.6 million (2019) registered properties, but 2-3 articles (Afrika check) said there are only  4.7 million.   Afrika Check is also funded by the Open Society – George Soros. But the Squirrel and his commi entourage keep on saying blacks are "landless?" 
The RDP House quiestion
The ANC occasionally brags that since 1994, over 4.7 million free houses have been built, benefiting over 14 million people. This has meant a massive extension of home ownership, growing the productive assets of "our people. " The regime  often refers to "housing opportunities" when reporting on delivery. Housing opportunities and houses built are not the same because housing opportunities include serviced sites – plots of land – without houses. The department of Human Settlements provided this breakdown of housing opportunities delivered from 1994 to last year. (The figures for April to December 2018 are preliminary.) Houses built include subsidized houses, rental accommodation, hostel upgrades and council houses where ownership was granted. If both a serviced stand and a house are provided, these count as one housing opportunity. Spokesperson Xolani Xundu said the Enhanced Extended Discount Benefit Scheme "provides state subsidies to repair and/or rehabilitate, and even demolish and rebuild where necessary, government [rental] houses built before 1994 and then transfer houses into the ownership of legitimate occupants". Asked about the source of the number in the claim, the ANC said the "more than 4.7 million" in fact referred to housing opportunities and not houses built. It said it would make this "clearer" in the online version of the manifesto.

Who benefited?

The manifesto claims that "more than" 14 million people benefited from the delivery of free houses. If the number of housing opportunities provided (4.8 million) is multiplied by the average household size (3.3 according to the 2016 Community Survey), it comes to 15.8 million. However, it would not be correct to say that this number of people benefited from "free houses" because housing opportunities include serviced stands without houses.

(NO change there is only 1 child)

Marie Huchzermeyer, a professor at Wits University's School of Architecture and Planning, previously told Africa Check that an uncritical celebration of numbers should be avoided. She highlighted concerns such as the fact that "so many of these houses have been placed in very poor urban environments", as well as the service-delivery burden placed on municipalities.

Verdict: Incorrect

The claim that "more than 4.7 million free houses" have been built since 1994 is incorrect.

Blacks stole the land too

" One of the most hotly contested issues in contemporary South Africa is the issue of the land. It is one of most central boiling points in a volatile nation that threatens to tip over, under immense pressure from disenfranchised black populaces, under brutal siege from far left fascist movements like EFF, and underwhelmed by massive maladministration from shamelessly corrupt ANC governance. One of the most dangerous and simultaneously unfortunate characteristics of the current malaise is the sense of entitlement fueled my mass misinformation. Indeed, it is from that, that the land issue has become a scapegoat for the ANC, a populist ticket for the EFF, and an excuse for bad governance and poor delivery from the government. It is well known fact that South Africa suffers under the strain of unequal wealth distribution, and skewed economic playing fields, but it is unknown fact that privilege is not a white only thing, in the same way evil imperialist monopoly capital is not a white only thing.

That the differences and absurdities in wealth distribution continue to be erroneously labelled and classified by color 21 years after apartheid is the greatest tragedy since Shakespeare's "Macbeth."  That the general population and indeed some intellectuals can be hoodwinked into believing the current status quo is the architecture of racist capital is the stuff of Legend. Honesty in intellectual discourses is a prerequisite lest confusion will substitute reason and ignorance will be the order of the day. In this notion, the land issue must be debunked before it is addressed. To begin with, we must understand that, when the blame is siphoned and re-directed towards 'invisible" white monopoly force'"  the ANC and indeed its actors that assume the role of state are granted the biggest let off since Jiang Qing, Chairman Mao's wife was released 10 years into a death sentence commuted to life.

For that very sole reason the ANC will not directly confront the reality about the land issue, more specifically its history. For if it were addressed, and people were informed about the correct context of the Colonization, Imperialism and Apartheid, the ANC would be left in a very uncomfortable position, where they would have to answer for their wrongs with no excuse, no scapegoat, and no one to shoulder the blame. Given the mirage of false blame, at one point or another, a party like EFF was always going to spring from the ashes and threaten to become one of the biggest far left movements in the entire country. For with such a culture of ignorant but calculated blame, someone was always going to threaten to go radical and whip up the masses. It is human nature that people easily get angry when they are repeatedly told that a certain group is responsible for their suffering. It is such anger that inspired the struggle to end colonial domination all across Africa to begin with.

That Julius Malema and the EFF have found within such a volatile status quo a playground to settle political scores and direct their ambitions is not surprising because it is opportunistically human. History dictates so, and South Africa is at the foot of it, repeating it, again. I suppose the question becomes where to next? Well, as mentioned earlier, for us to be able to settle the land issue in any degree, and with any success, we must be honest about the history of the land issue, and colonization itself. At a most elementary level, we must accept that, the notion that 40, 000 white people control 80% of the land in South Africa is false, improbable and impossible. We must understand that such a perpetuated falsehood serves to benefit the ANC, and true to that end the government till this day refuses to engage in a race based land audit, which would put to rest the issue.

Nonetheless, there are strong indications of sound evidence that challenge the 80%-whites hypothesis. The 'non-racial' state land audit, carried out by the office of South Africa's Chief Surveyor-General and published in 2013 found that 79% of South Africa's landmass was in private hands, not necessarily white, or black hands. It found that this land was and is owned by individuals, companies and trusts and includes all urban real estate as well as agricultural and mining land in South Africa. It would be mathematically and practically impossible given such findings for 'white people' to own 80% of the land. Therefore, according to Mmuso Riba, the Chief Surveyor-General, "there is no basis" for the claim that whites own 80% of South Africa. It is understandable that such a truth hurts to confront, seeing is, the land issue is a very sensitive and emotional topic, but if it must be solved satisfactorily, honest presentation of facts and data is necessary.

I will keep reiterating that it is important that we remain brutally honest with each other if we are to stop our nation from descending into incredible and less than spectacular levels of hatred and poverty. To this notion, colonization on its own is not and ought not to be a ticket to entitlement. Much as it sounds insensitive, we must not run the risk of allowing ourselves as blacks to be defined by a false perpetual victim mentality. It is true that colonization, like slavery is a dark travesty committed unto out forefathers, but it is childish to act as if we are super entitled victims.Yes, colonial times were horrible, and apartheid was bad. But it was not a white only thing, neither was it a unique version of exploitation. White people cannot and must not inherit labels of racism, based on the actions of their forefathers.

It is important that we remember, that as black Africans, colonization, expansion and domination was our way of life. The Zulu colonized and conquered more land in South Africa and beyond, and in brutal unrepentant fashion for that matter. As the powerful Zulu war machine expanded the Zulu Empire would maim and kill most of the men and take the land, women and cattle (all seen as property) of surrounding lands. Many of those who were conquered were taken into or sold into slavery. To anyone who opposed the Zulu Empire, retribution was harsh. Retaliation was almost genocidal in its brutality with infanticide a common practice. Entire cultures, nations and tribes were to be destroyed or exterminated from the pages of history by the Zulu Impi. Those were times defined by bloodshed, but should all other ethnicities hold that against them today? The answer is No, and should remain No, even when ethnicity is substituted for race.

The brutality of the Zulu empire ended several years ago, and so have colonial times. We must learn from the past but that must not slow our progression for the future. If we continue to judge peoples of today by historical figures and events of the past, there will not be a single one of us who does not have an ancestor with blood on their hands. There is not a single human being alive today that is not the result of colonization, migrations and expansions by their ancestors. None of us has a history that could pass today's much higher morality standards. It is quite clear that we need to confront our problems openly and with honest sincerity, no matter how hurtful that may be. Things need to change, but as long as we keep making scapegoats out of invisible forces and excusing those responsible for effecting that change, we allow our leaders to live in R250 million houses, and fly on R4billion private jets, while blaming the wrong people.

Enough said, This Is Africa!"

Maynard Manyowa

Stop the amendment of Section 25 now or suffer the dire consequences
Comments Copied from Facebook:
Land Appropriation … Cyril Ramaphosa… Don't do it!!
I met your personal assistant, who served with me on the panel of legal experts as regards Carte Blanch coverage of the Oscar Pistorius Trial.
I cannot believe that she is advising you to even consider grabbing land without compensation.
Such course of action is illegal under international law, United Nations conventions and policies of international agencies such as the World Bank and the International Monetary Fund. In addition the human rights sector expressly forbids this.
This now universal prohibition is founded on the Universal Declaration of Human Rights that the World got after two (2) World Wars and the Holocaust. This paradigm shift in human culture is the direct product of millions having spilled their blood and given their lives. It is a most precious commodity that is simply not negotiable.
1. Grabbing property from Whites will, in the first instance be an express violation of Article 7 of the UDHR that expressly states —
All are equal before the law and are entitled without any discrimination to equal protection of the law. All are entitled to equal protection against any discrimination in violation of this Declaration and against any incitement to such discrimination.
2. It will also be an express violation of Article 2 –
Everyone is entitled to all the rights and freedoms set forth in this Declaration, without distinction of any kind, such as race, colour, sex, language, religion, political or other opinion, national or social origin, property, birth or other status.
3. It will also be an express violation of Article 17 –
(1) Everyone has the right to own property alone as well as in association with others.
(2) No one shall be arbitrarily deprived of his property.
4. The above rights are limited in terms of Article 29 ONLY by …
law solely for the purpose of securing due recognition and respect for the rights and freedoms of others and of meeting the just requirements of morality, public order and the general welfare in a democratic society.
In so far as this Article is being proffered as justification for land grabbing the short jurisprudential argument is that there is nothing moral or good or democratic about grabbing land from "innocent humans" without compensation.
Yes, Whites are in disproportionate possession of land. However, they are no more to blame for this than those suffering from land hunger. Neither groups can be held responsible for the capriciousness of history.
CONSEQUENCES —- If you start grabbing land without compensation the World, led by the UN and its agencies, WILL react to the extreme detriment of South Africa. Understand that international agencies, such and the IMF and the World Bank, now have policies that expressly bind them to react to the detriment of any country violating the sacred Articles of the UDHR. They do not have a choice.
South Africa will become a pariah State overnight, as did Zimbabwe.
The Consequences will be emphatic and disastrous.
Is that what we want?
Have we really not learned anything from the judgment of our own African Judges who sat as the SADC Tribunal and ruled against this as regards Robert Mugabe's land grabs??
Don't do it.
It is madness to even consider it.
PS: — why do you think, imagine or suppose Emmerson Mnangagwa has now committed to compensation for the White farmers that were dispossessed of land???
PPS: 16 July 2018
Well done South Africa.!!!
The National Constitutional Review Committee has consulted all the Provinces and here are their published results: –
Total comments submitted – 229857*
Total in favour of changing Section 25 – 100308
Total opposed to changing Section 25 – 129549
PPPS: – 19 July 2018
Trevor Manuel, ex-Minister of Finance and member of President Cyril Ramaphosa's team to solicit investment, has just warned that potential investors are being scared off by just the talk of land grabbing. 
>:(
————————————————–
PPPPS:
17 May 2019
Maybe this call has been heeded …
https://businesstech.co.za/…/we-are-not-going-to-take-you…/…. 😘😊😛
—————————————————
PPPPPS:
27 Jan 2020
Reality Check:-
Now the ANC gangsters have introduced an amendment to the draft expropriation Bill to exclude the Court from jurisdiction.
PLEASE understand that this amendment to exclude Courts from adjudicating human rights is a jurisprudential impossibility for being in complete breach of international law as underpinned by the Universal Declaration of Human Rights.
So … as a Judge, I would disregard the exclusion and assume jurisdiction.
So … as an Advocate I would make Application to the Constitutional Court for a Declaratory Order that such amendment is unlawful.
If the Courts acquiesce, connove and collude at this fundamental breach of human rights, it will further guarantee South Africa being posited as a pariah State and it WILL be excluded from the international community and sanctioned.
This will DEFINITELY induce a Zimbabwe style COLLAPSE in no time at all.
What should be known, and objected to, is that this type of criminally irresponsible talk is, in itself, guaranteed to cause HUGE prejudice to SA.
Dutch Parliament Adopts Motion Against ANC
The Dutch parliament or Tweede Kamer at The Hague, has become the first elected body in Europe to express its opposition to the policy of "expropriation without compensation" adopted by South Africa's ANC Government. A motion criticizing "the decision to implement land expropriation without compensation" was proposed by MP Martijn van Helvert and adopted by a majority of the Tweede Kamer. Van Helvert is from the CDA (Christian Democratic Appeal) but his motion was supported by a broad spectrum of parties from the right and centre-right, including the ruling VVD led by Prime Minister Mark Rutte, the FvD (Forum for Democracy) under Thierry Baudet, the PVV (Dutch Freedom Party) led by Geert Wilders, the CU (Christian Union) and 50Plus. The motion was co-sponsored by Kees van der Staaij from the SGP, a smaller religious party. However, the Dutch Left was united in their rejection of the motion, with the Socialist Party, Labour Party (PvdA) and Green Left, among others, voting against it. The accepted motion on expropriation enjoined the Dutch government to, "bilaterally and in international fora, take a clear position against the proposed land expropriation of white farmers in South Africa without compensation, which contravenes human rights, and to apply pressure on South Africa to relinquish it". 
SOUTH AFRICA  is utterly under Marxist domination. We are right on the step before a mass liquidation of the " class enemies " begins. How did we get here? Internal Subversion during the early 70's up to the 90's by the National Party where we today experience a barrage of of serious communist abuses against our  human rights. If the ANC could change the constitution at will without first holding a national referendum on a serious  key national issue but merely on the orders of a small greedy clique – then the question is what will they "amend" next? Private property rights is one of the fundamental rights of freedom any citizen must have.Once the freedom to own property is attacked- the whole essence of the so-called "democracy" is in jeopardy and the very rule of law is at stake. The country will inevitably change direction towards a state of dictatorial enslavement. South Africa today already finds herself in a state of anarchy and semi-totalitarianism where subliminal human rights abuses and discrimination by an aochlocracy became the order of the day .
In the South African context " democracy"only served as a prelude to Socialism- which in turn now escalated into a state of totalitarian communism. When the tyrants in control are left to proceed to amend section 25 of the constitution the status quo of South Africa as an independent and free sovereign state will severely be threatened and the change of course will immediately be to that of an autocracy.The right to freedom of everybody- irrespective of color, creed or religion- will be subjected to the  tyrannous rule of a small " chosen" clique.  For this reason the peoples of South Africa should stand up- resist this deceitful and  duplicitous acts of treason against the nation by the ANC and their masters with brute force if necessary- for the impact of the amendment of section 25 will irrevocably  change the future and very lives of every South African citizen forever with horrifying consequences. This amendment not only addresses property as in urban and rural land- but also includes a wider spectrum such as assets- investments, bank accounts, pensions, savings and much more. The regime hereby wants to control everything which forms the essence of our daily lives. Thy want to control US!
The time has come for all South Africans to look past race, past religion and past political differences- and unite as a nation to stop a dangerous dictatorship which now is about to be enforced upon us against our free will and which is about to threaten our very existence as free peoples of this country. Once this amendment is proclamated it will cause irreversible collateral damage not only against your freedom to own property- but also against the economy and credibility of the country as a whole. International disinvestment will follow and the country will fall into a serious and damaging recession which will cause poverty, starvation and social unrest which may have the potential to escalate into a full scale civil war. The Human Right to Own Property dictates that everyone has the right to own property alone as well as in association with others. No one shall be arbitrarily deprived of his property By amending section 25 of the constitution not only violates the credibility of the constitution- but also is an infringement of this basic human right. ( https://scholarlycommons.pacific.edu/cgi/viewcontent.cgi?article=1094&context=facultyarticles)  If we as a generation of parents do not take serious counter- action now- the future of our children will be sacrificed at the altar of tyrannical oppressors – and we will be the cause of the suffering our children will have to endure a few generations from now as we now have the chance to rectify and resist the wrongs which are about to be introduced onto the freedom of our families.
Click on the link and stop this flagrant attempt to amend section 25 of the constitution to disown you of your property rights :
MEME OF THE DAY:
WHITE NATION– WE DO NOT HATE WHITE LIBERALS– WE SIMPLY DESPISE THE FILTH!!
C'MON- SHARE OUR LINK