Do you have news to tell us? Send your e.mails with news and inquiries to: w.nation@mail.com
Register with us for free to follow our news on the right-hand tab
OR
Register for free on  our social site HERE to join our world for more news
Article posted by: White Nation correspondentLondon January 30  2020
CHINA
MASK-wearing patients fainting in the street. Hundreds of fearful citizens lining up cheek by jowl, at risk of infecting each other, in narrow hospital corridors as they wait to be treated by doctors in forbidding white hazmat suits. A fraught medic screaming in anguish in a break-room. The terrifying video clips, reportedly recorded by shocked citizens from hospitals in Wuhan, the epicentre of the deadly coronavirus that has swept across China and infected 21 in nine foreign countries, went viral on Chinese social media this week and did not paint a picture of a government in control.
Medical workers write names on each other's protective suits for recognition in Zhongnan Hospital of Wuhan University in Wuhan, central China's Hubei Province
In one of the most heartbreaking clips, posted by Chinese-Australian cartoonist,Badiucao, but which could not be independently verified and was reportedly deleted from the Weibo social media site, the sick are seen sitting between drips and oxygen tanks next to three dead bodies covered in white sheets. Further raw footage showed makeshift tents in hospital carparks, as the government pledged on Friday to construct a new 1000-bed facility within just ten days to treat and contain the new virus from a similar pathogen to Severe Acute Respiratory Syndrome (SARS). After weeks of apparent delays in tackling the growing health emergency that first appeared from a Wuhan seafood market, the Chinese authorities suddenly swung into action this week with the draconian lock-down not only of the city of 11 million, but also severe travel curbs on more than 17 other cities in the surrounding Hubei province, corralling at least 56 million people.
An army of excavators prepare the ground for a 1,000 bed hospital for coronavirus patients, which the Chinese authorities say will be ready in 10 days
The rapid, wide-sweeping quarantine raised questions about why such extreme measures were necessary – given that official figures of infections remain in the hundreds – and concerns about the implications for human rights and civil liberties. With government censors still scrubbing the internet, it left trapped citizens afraid and in the dark. "After spent few days in Hubei, I feel sad for local residents including my mom & dad, as lots of them have not realized that the Wuhan Coronavirus is a such big public health crisis until Jan 22-23. This is not normal, as the first outbreak was mid-Dec," tweeted Qingqing Chen, a local reporter, alongside pictures of barren shop shelves. Even state media, normally known to parrot Beijing's line, offered a rare glimpse into the despair and chaos on the ground, and an inkling that the authorities may be struggling to contain the outbreak. The People's Daily posted a video of a reportedly cured patient happily flashing the peace sign alongside four hazmat-suit wearing medics. But the Global Times revealed that vital resources, including testing kits and protective gear such as masks, goggles hats and clothing were urgently needed, reporting that 40 military doctors had been dispatched to help flagging civilian doctors.
Central Hospital of Wuhan social media shared an images showing medical staff attending to patients, in Wuhan, China
Sophie Richardson, China director at Human Rights Watch (HRW), said that the unexpected quarantine and China's broader response to the crisis also raised real concerns about transparency. "From a medical and human rights perspective, it is essential in these situations that people can trust the information available," she told The Telegraph. "I have real concerns about people who are supposedly "spreading rumours" being harassed by authorities, especially at a time when people are concerned they are not getting accurate information." Many health experts who would have been "best equipped to sound the alarm about the coronavirus early" had been detained or their research halted because they were not working within the Chinese state system, she cautioned. "They have been treated as anarchists instead."
A police officer checks the temperature of a driver at a highway in Wuhan, China
Coronavirus | Total cases by country
China 1,300 cases, including 2 in Macau and 5 in Hong Kong
Elsewhere: France 3, Japan 2, Australia 1, Malaysia 3, Nepal 1, Singapore 3, South Korea 2, Taiwan 3, Thailand 4, United States 2, Vietnam 2
Fear and anxiety in epicenter of Wuhan coronavirus outbreak

China is restricting travel of 30 million people as the coronavirus death toll rises to at least 26, with more than 900 confirmed cases worldwide. CNN's David Culver traveled to Wuhan, the epicenter of the outbreak, and scrambled to flee the city before authorities placed the city of 11 million on a partial lockdown.

Posted by CNN on Friday, January 24, 2020
The silencing of critics by an authoritarian regime that not only hides the truth from its population, but often creates a culture of fear that stifles the flow of bad news upwards, may offer some clues as to why the Wuhan crisis has seemingly spiraled out of control. The first case was reported on December 8, when officials reported that it was under control and treatable. The police questioned eight people for allegedly spreading "rumors" online, and as late as last weekend, the authorities hosted a potluck banquet attended by more than 40,000 families. It was only as the disease spread to other cities that their public denial ended and the government's unplanned rapid response kicked in. By Friday evening, the official death toll stood at 56, with more than 1,975 infected. The virus has now spread as far as the US and Europe, with three cases confirmed in France late on Friday. The victims so far have mainly been aged between 48 and 89, with the vast majority older and with existing health conditions, although a young healthy man of 36 is also said to have died.
A woman walks past signs during a media tour at a designated treatment clinic for Corona virus, known as 2019-nCoV, in the Kowloon Bay district of Hong Kong
Two fatalities have been reported outside of Wuhan, with one some 1,500 miles away in the northeastern province of Heilongjiang, which borders Russia and Mongolia. However, disease modelling experts from Imperial College, London,say the true figure in the city of Wuhan alone could be 4,000 and as high as 9,700 in the worst-case scenario.  State media also appeared to be prepping the public for a sudden leap in infections. On Thursday, the Global Times, citing Caixin, tweeted the unusually frank news that Wuhan doctors "predicted that the number of people becoming infected with the new coronavirus may eventually exceed 6,000." Wuhan's rail, road and air links were sealed off on Thursday morning. By Friday, a total of 14 cities in central Hubei province suspended public transportation. Some shut down public venues, and all 70,000 of the country's cinemas, and Shanghai's Disneyland will remain closed this weekend.However, some outspoken doctors have warned that the severe restrictions are too little, too late to contain a virus that has already sprouted across Asia, and as far afield as the United States. "A bigger outbreak is certain," said Guan Yi, a virologist who helped identify SARS during an outbreak that killed some 800 people in 2003.
Mr Yi, who returned from Wuhan just before the lockdown, pointed out huge numbers of people would have already left ahead of the Lunar New Year holiday, which began on Friday. They could have been incubating the virus "on their way out of Wuhan", he said. "We have passed through the 'golden period' for prevention and control," he told Caixin magazine from his self-imposed quarantine after visiting Wuhan. "What's more, we've got the holiday traffic rush and a dereliction of duty from certain officials." Others warned that road blocks and controls could be circumvented by the elite. "Especially people with money and connections, they're going to make a run for it… and they'll probably be successful," Zi Yang, a senior analyst at the S. Rajaratnam School of International Studies in Singapore, told AFP.
The lack of transparent data over the spread of the disease, which can be passed from human to human, has severe repercussions beyond mainland China. In Hong Kong, which has two confirmed cases of the Wuhan virus so far but 236 patients under surveillance, Dr Arisina Ma, president of the Hong Kong Public Doctor's Association, told The Telegraph that medical staff were on edge as they feared China was concealing the true extent of the crisis. "The data from China, the clinical characteristics of patients. We don't know much about it. We do need to get correct figures about the scale of the epidemic in the mainland so that we can predict what our scale will be," she said. The financial hub has turned two holiday camps, including a former British military barracks, into quarantine zones for people who may have come into contact with carriers. The same sites were used during the deadly SARS epidemic 17 years ago, which killed nearly 300 people in the Chinese-ruled city, and left deep psychological scars. "We will have a full team of staff to operate the quarantine camps," Wong Ka-hing, the director of the Centre for Health Protection, told reporters. Asia remains on high alert and stepped up its health checks at airports amid an escalation in reported cases from South Korea to Thailand.
Taiwan said it would no longer permit Wuhan residents to enter its territory, while the Philippines pledged to repatriate hundreds of Wuhan tourists. The crisis has ruined the New Year plans of millions who normally fly abroad or cram into public transport to visit family. Those who decided to continue their journey did so in fear. On one flight from Beijing to Hangzhou in Zhejiang most passengers refused their in-flight meal. A mother was overheard scolding her young daughter when she removed her mask. "Do you want to die?" she asked.
Was the Corona virus Geo-engineered? 
China just celebrated their new year and while it's technically the year of the rat it feels more like the year of the coronavirus. With thousands of reported cases in China and throughout the world, Americans are becoming increasingly concerned about this epidemic affecting our nation on a massive scale. The common narrative among health experts suggests this viral outbreak started after people at Chinese wet-markets ate bats and snakes, but some intelligence experts believe the Chinese military's biowarfare department may be responsible.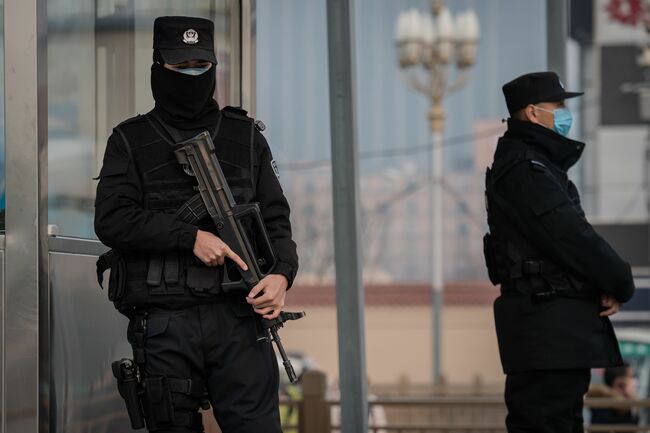 In this picture taken on January 27, 2020 police officers wearing protective face masks to help stop the spread of a deadly virus which began in Wuhan, secure an area at the Beijing railway station. – The deadly new coronavirus that has broken out in China, 2019-nCoV, will afflict a minimum of tens of thousands of people and will last at least several months, researchers estimate based on the first available data.
The deadly animal virus epidemic spreading globally may have originated in a Wuhan laboratory linked to China's covert biological weapons program, according to an Israeli biological warfare expert. Radio Free Asia this week rebroadcast a local Wuhan television report from 2015 showing China's most advanced virus research laboratory known the Wuhan Institute of Virology, Radio Free Asia reported. The laboratory is the only declared site in China capable of working with deadly viruses. Dany Shoham, a former Israeli military intelligence officer who has studied Chinese bio warfare, said the institute is linked to Beijing's covert biological weapons program. "Certain laboratories in the institute have probably been engaged, in terms of research and development, in Chinese [biological weapons], at least collaterally, yet not as a principal facility of the Chinese BW alignment," Mr. Shoham told The Washington Times. Work on biological weapons is conducted as part of a dual civilian-military research and is "definitely covert," he said in an email. Mr. Shoham holds a doctorate in medical microbiology. From 1970 to 1991 he was a senior analyst with Israeli military intelligence for biological and chemical warfare in the Middle East and worldwide, holding the rank of lieutenant colonel. The spread of the coronavirus has now started to cause travel disruptions across the world. Travel to Wuhan, China – where the epidemic began – has been severely restricted, with millions of citizens now quarantined in the region. A handful of South Africans are also "trapped" in this part of the country. Some of the biggest airlines have now started cancelling flights to China. Fears of the virus spreading – after it has killed over 100 people and been detected in 15 countries – have become more pronounced in the last few days.
What airlines have cancelled their flights to China?
As of 12:00 on Wednesday, only three airlines have cancelled their entire itinerary for travel to China: British Airways have stopped all flights to the country, and Lion Air of Indonesia have followed suit. Air Seoul also said it will halt its flights to China. BA said in a statement that the "safety of their crew and passengers must always come first". Elsewhere, there have been partial cancellations and significantly reduced timetables for airlines that frequently fly to China. The following countries and flights have been affected:
USA: United Airlines said it was suspending 24 flights from Chicago to Beijing, Hong Kong and Shanghai between 1-8 February due to a significant drop in demand.
Taiwan: China Airlines have postponed flights to China until 10 February
Canada: Air Canada are stopping 33 of their weekly flights to China
Hong Kong: Cathay Pacific will reduce their flights to China by 50% between now and March.
 Are there flights from China to South Africa?
Only one airline flies directly between China and South Africa. Air China operate flights to and from OR Tambo International Airport in Johannesburg. However, Cathay Airlines also make the long trek from China to Johannesburg, offering flight transfers in Hong Kong. As it stands, these routes are still open to travelers. The SA government has said it is stepping up health checks on all passengers arriving in this country from Asia. All Chinese nationals are also subject to further examinations upon landing. There are increased calls for South Africa's borders to be tightly secured, in a bid to stave-ff the coronavirus for as long as possible.
MEME OF THE DAY:
The liberal version of preventing the virus to spread:
Posted by Private on Monday, January 27, 2020
https://www.telegraph.co.uk/news/2020/01/24/coronavirus-fears-rise-chinese-cover-up-40-million-lockdown/?utm_content=telegraph&utm_medium=Social&utm_campaign=Echobox&utm_source=Facebook&fbclid=IwAR0IwjgPjPWqUx7GF6NDFLSeqip1C5yzX8lU3bmUWoFJ_QQCIid5dvmxjxQ#Echobox=1579946688
WHITE NATION– WE DO NOT HATE WHITE LIBERALS– WE SIMPLY DESPISE THE FILTH!!
C'MON- SHARE OUR LINK