Do you have news to tell us? Send your e.mails with news and inquiries to: w.nation@mail.com
Register with us for free to follow our news on the right-hand tab
OR
Register for free on  our social site HERE to join our world for more news
Article posted by: White Nation Editorial  February 03  2020
ALSO VISIT:
SAA flights left empty as passengers abandon airline
Deny it all you want, but ANC has failed SA
White South Africans Take Up Arms — Afrikaners Aim to Counter Gov't Land Grabs, White Genocide
Racist Zimbabwe pleads for the white farmers it brutalised to come back and rescue its economy.
 ANC is stealing money to throw at eternally nosediving SAA
Land "Expropriation"- Transvaal Agricultural Union threatens with international legal actions. 
SA Airlink wants to sue SAA for R700m
Body panel falls off Mango Boeing 737 'above Stellenbosch'
Arrest warrant issued for Jacob Zuma over non-attendance at court
Police Officers arrested for farm robbery
ANC wants to finally kill job market with further damaging  " Labor Equity" shake ups
Cele's Hypocrisy – Civilian Gun Ban, But He Has Bodyguards
Over 95,000 People Sign Petition To Remove Lana Marks, Trump's US Ambassador To South Africa, For Misrepresenting SA To The World!
SOUTH AFRICA– THE  PIRATE's REALM DOWN SOUTH
" Socialism is a philosophy of failure, the creed of ignorance, and the gospel of envy, its inherent virtue is the equal sharing of misery."– Winston Churchill
When you watch this clip you are not allowed to laugh.

Posted by Andre Langeveldt on Monday, February 3, 2020
PLEASE  do not laugh out loud. It might touch some nerves in the governing clan's circle
CYRIL "The Squirrel" Ramaphosa and his band of destroyer captains met in a " legotla" meeting this week ahead of February's state of the nation address to decide how and to what extend are they going to mismanage, plunder and rob the country again- and how are they going to screw the poor naive milking cows out of the hard-earned money . 
Minister in the presidency, Jackson Mthembu, said that the talks will focus on a number of issues including the establishment of a medium-term strategic framework (MTSF) which will cover government's plans for the country over the next five years. "After the elections in 2019, the cabinet literally converted the manifesto of the governing party into its program of action," said Mthembu "As you also know, that manifesto was converted into seven priority areas that will guide the work of government over the next five years."
The seven priorities are:
Economic transformation and job creation;Education, skills and health;Consolidating the social wage through reliable and quality basic services;Spatial integration, human settlements and local government;Social cohesion and safe communities;A capable, ethical and developmental state;A better Africa and world.
SAA and Eskom
Besides the MTSF, Mthembu said that the lekgotla will focus on the country's state-owned enterprises (SOE Laundromats)  – specifically SAA and Eskom. Mthembu said that state-owned enterprises are "important in ensuring that the country's economy grows " and that government plans to do a lot of work in 'resuscitating and repurposing them'. Eskom chief executive officer Andre de Ruyter presented a draft plan to change how the utility operates this week, however the unbundling of the company is likely to happen at a slower pace than envisaged by the government. In a plan unveiled in October, Public Enterprises Minister Pravin Gordhan set out a series of steps to restore stability to Eskom, including exposing it to greater competition, lowering fuel costs, increasing renewable-energy output and selling non-core assets.
Gordhan also called for the utility to be split into three units — power transmission, generation and distribution — with the first of those divisions to be spun off by March. This week also saw the start of a rescue for South African Airways, with the embattled airline securing a R3.5 billion loan from the Development Bank. The company's business rescue practitioners said that the restructuring of SAA will provide an opportunity to develop a sustainable, competitive and efficient airline with a strategic equity partner remaining the objective of government.
Economy
Mthembu also confirmed that the meeting will receive a presentation by finance minister Tito Mboweni on the state of the economy. Economic Development Minister Ebrahim Patel will also provide a presentation on what government should be doing to grow the economy. Mboweni's February Budget is seen as a key date for South Africa and will likely be a decider as to whether ratings agency Moody's decides to downgrade the country's credit rating. A downgrade will see South Africa without any investment-grade ranking for the first time in 25 years. That would cause it to fall out of the FTSE World Government Bond Index, which could prompt a selloff and outflows of as much as $15 billion, according to Bank of New York Mellon Corp. Mboweni's budget is also likely to include a number of major tax hikes including the possibility of VAT, fuel levy and income tax increases, economists have warned.
Policy changes
While not expressly mentioned by Mthembu, government policy and new legislation will almost certainly be discussed during the meeting.Chief among these considerations will be the Draft Constitution Eighteenth Amendment Bill allowing for land expropriation without compensation. The ANC recently indicated that it does not support the idea of courts being the decision-maker on whether or not the state will pay for land it expropriates. It instead plans to give this power to the minister of land reform who will be the sole arbiter on land expropriation cases in the country. Other key policy issues that will likely be in the limelight include the nationalization of the Reserve Bank, an increase in the minimum wage, education reforms, and the introduction of new performance reviews for ministers.
Dirty  thieves  at the the round table of Camelot
THERE is an old saying that you can take the monkey out of the bush- but not the bush out of the monkey. In the ANC's case you can add the proverb "Once a thief-always a thief" as well. Looking at the topics to be discussed at this "lekgotla" one can only expect what we in 25 years of hard experience learned from the ANC- and  that's  whatever they touch turns either into a pile of sh*t- or into a financial catastrophe  and misery for the rest of the populace. They simply cannot keep their dirty paws out of the treasury cookie jar.  Ramaphosa- who bribed his way into the top seat-  is not fit to be a president- that we already know. Only slobbering white liberals and the poor misdirected Main Stream Media seem to think otherwise.The rest of us are a bit wiser to all the dirty tricks the ANC skunk works and their "boss boy"  are capable of. Ramaphosa is just as corrupt as the rest of the ANC rat pack.   Being a union mobster that use to be  big boss of the National Mine workers Union who quickly sorted out the Marikana "dispute"  amicably that left 34 mine workers dead and left 78 seriously injured , a well known drug peddler, gun smuggler, gold and diamond smuggler-  and ex-terrorist that was involved in Koo-De-Etats one can not expect very much "patriotism" in his arsenal to bring the ragged country safely  into the land of Sour milk and Putupap.
Tito Mboweni  on the other hand again is a local pimp and police informer appointed by the Stellenbosch mob to replace Chris Stals as governor of the Reserve Bank after that idiots Gill Marcus and Jacob Zuma fan Lesetja Kganyago totally made a screw up of running the show. Taken in consideration that the Reserve Bank already was foreclosed by the New York Jews in December 25 2013– we can expect nothing less that a disaster from an ex-pimp running a non-existent private corporation which pretend to dictate South Africa's economy .  Further-more was Mboweni involved in a sex scandal together with Gwede Mantashe. Mboweni also was embroiled in a R 7000.00 extortion drama involving a student Asanda Viwe and a R100 000 pay out to a prominent businessman Thulani Majola   who had  connections in the ANC.
AS for Ibrahim Patel– ex unionist from the National Union Of Textile Workers and in many occasions ring leader that was involved in worker and student struggles while at high school and led the student boycott of Fatti's and Monis products during a worker strike at the pasta factory in March 1979- and  during his first year at the University of the Western Cape in 1980,  was a leader in a nationwide student uprising that started in Cape Town there also is much to ponder about. Patel also was implicated  on the fallout of the loss of R100-million worth of workers' pension funds due to the collapse of Canyon Springs Investments. So- in Patel we clearly have an " excellent "protege for the position of Economic Development Minister- as we can see. Then lastly we have Pravin Jamnadas Gorhan– a staunch Indian ANC terrorist who was a member of the Natal Indian Congress, African National Congress, uMkhonto weSizwe,   South African Communist Party and sports a Bachelor degree in pharmacy. Gordhan also was implicated in a massive corruption scandal of R4.3 billion and who's eldest daughter, Anisha, was allegedly awarded by National Treasury and other government departments  seemingly as a result of her father's position in government. So now we have one corrupt pimp ,two corrupt  union mobsters and one corrupt dentist among the rest of the "les incompetents" that will again decide just how fast South Africa will implode and hit that junk status Moody's promised us for so long. But not one if these so-called " regime" gurus that will be attending that "round table "  have the qualification, economic degree or political credentials to take key national financial decisions-  bar their affiliation to a national destructive   organization that is. And this lot of miserable " revolutionists" now must decide the future of a country and it's people. No wonder the real financial gurus at Davos sent them home empty handed with a stern warning: " You're whole economy is captured. You are corrupt. Go and clean your house!" 
Economic transformation and job creation
This two issues has been dogging the ANC miscreants for 25 years already- and every year we hear the same old rhetoric of how the ANC will "change the economy"  and " create jobs" . We continuously hear about the "Fourth industrial revolution" and G-d knows how many empty promises and "revolutions" they plan to  "rescue" South Africa. This now became their standard ( boring) punch-line.  Yea- there always is some "Big" talk, "educated" words- and " sophisticated" terms used by  the "indunas" at such lavish  meetings where the Nandos and blue chip is served in abundance. But unfortunately the only real things at such "legotlas"  is the amount of thieves gathering around the table for the feast, the free Nandos chicken, free  Johnny Walker Blue– and the tab left for the tax payer to settle. The rest is an illusion and fake- just as King Richard, Camelot, the brave knights  – and the quest for the holy grail was nothing else but folklore. The ANC's agenda and promises too are also  just an old African folklore. Their "brave" corrupt  "  knights"  too are still in search of the economic holy grail that still evades their governing  abilities. But like they say- the bellies of Hyenas never are satisfied.
The Squirrel- sleek word spinner  as he is- promised 1 Million jobs over three years in January 10 2018, then again 2 Million  jobs in June 20 2019 at 200 000 jobs every year until 2029- and then suddenly revamped it to  412 000– per year in November 11 2019  to the black youth in only ten years. Mmm….interesting this illusion  – " thing." The Squirrel keep on changing that job figures as the year/s drag along. But what is the reality? Less than a month into 2020, South African companies have already announced thousands of job cuts in a country where a third of the labor force is already unemployed.
Anglo Ashanti is shutting down- 2000 job losses. (May 23 2018)
Transnet –  9'022 job losses 2018
Standard Bank retrenchment- 1200 job losses ( June 2019)
Dunkin Donuts & Baskin Robbins- 120 job losses- 2019
Group 5- 1000 job losses- 2019
ABSA- 827 job losses – 2019
Tongaat Hulett- 5000 job losses- 2019
Huleman Extrusions- 200 job losses- 2019
Multichoice- 2000 job losses- 2019
Post office to retrench 944 jobs in a cut back program- November 2019
Mittal Steel to close down– 1000 jobs at stake (Dec 1 2019)
PRASA- 10 000 job losses 2019
Telkom will

retrench

6000 workers ( Jan 2020)
Aspen – 219 job losses 2020
AMSA Newcastle- 400 jobs in jeopardy
SAMANCOR- 2500 job losses 2020
Glencore-  665 job losses 2020
Massmart- 1440 job cuts 2020
Stuttafords was liquidated and closed,
 Edgars closed 151 shops including one of it's biggest stores in Gauteng at Rosebank Mall,
 Standard Bank closed 263 branches,
Nedbank, ABSA & FNB are also identifying branches they will be closing,ABSA in particular just gave thousands of employees retrenchments notices,
Massmart which owns DionWired, Builders, Game, part of Edgars is closing majority of Dion Wire

d shops and is not planning to expand anymore

The mining sector is planning to shed 25 000 jobs,

Business Day report show by Gugulethu Mfuphi on Khaya FM reports that over 151 companies apply for business rescue, liquidation or are liquidated every three months

There is serious drought in the Northern Cape, Western Cape, Free State and scarcity of water across the country,

Banks are repossessing not less than 2000 vehicles per month.
South Africa's job losses reach an all time high. SA is at risk of seeing an economic growth rate of below 1% year on year this year as a number of structural problems remain unresolved. This comes after a growth rate of likely below 0.5% year on year in 2019, not least due to substantial, periodic losses of electricity supply. The International Monetary Fund (IMF) has adjusted its growth forecast for South Africa for 2020 and 2021 downwards.In Gauteng alone more than 1000 small to medium companies already closed their doors due to a failing economy and a hostile attitude towards business from the illegal ANC regime.
SO much for the Squirrel's promised 412 000 job creations  per year. As the Center for Development and Enterprise notes, South Africa now has the world's most severe unemployment crisis. Now this is the reality outside "King Ramaphosa's" little Camelot  fantasy.  And this staggering figures are only the "big boys" – we could not even tally smaller to medium companies that as a whole- forms a huge percentage of the job market cuts as well. Where Mr. Squirrel want to "transform" the economy to and where he want to scrape out jobs from companies that are closing down faster than tumbling dominoes will only he himself and his bunch of  useless commi dingbats have figure out at their little Johnny Walker  and Nando's party – but NOT in South Africa under THEIR state capture games – that is!
SAA and Eskom
SAA and Eskom- South Africa's own  version of the notorious Kray twins- two financial abominations   the ANC mob-fathers cherish close to their evil black hearts unfortunately will remain intact to torture  the poor tax payer's wallet  until the day South Africa gulped  her last capitalist breath of  Western freedom. Just last week the  pestilential  South African Airways again received another  R3.5 Billion from the Government owned South African Development Bank to "rescue" this  ANC's erroneous laundromat from a total financial collapse ( for the umpteenth time) again. The sad part is that this exuberant  generous offer from the ANC  bandit regime will have to be paid back by none other than the tax payer again.
Since 1994 this overstaffed and insufficient maladministrationed  vacuum cleaner has cost the tax payer a staggering R 57. billion already- and now with the latest "generous contribution" a cool R 60.5 Billion. This is now the ANC's way of " resuscitating and repurposing " all their failing ventures….throwing tax payers' money after it!. So now the tax payer must fund a defunct product and when the dividends eventually are produced- must pay AGAIN humongous ever increasing tariffs to obtain it- and still must digest rolling black-outs on a continuous basis. This truly is the African way of running a country- BACKWARDS! The poor tax payer- he/she get's f*cked both ways by this ANC serpents! 
The fake "business rescue" of SAA is a pantomime that continues to surprise, amuse and confound.  This was because when it went into voluntary business rescue in December a lie was created that now cannot be undone. The voluntary bit is a misnomer — the lie. The government put SAA into rescue only because trade union Solidarity was going to court to apply to liquidate it. Having escaped certain annihilation for the airline had the Solidarity approach succeeded, public enterprises minister Pravin Gordhan scampered around like a terrier trying to raise the money SAA needed to see it through three months of business rescue. He got the private sector to reluctantly stump up R2bn, and finance minister Tito Mboweni, probably delighted at some movement at his least favorite state-owned enterprise, promised another R2bn. The airline serves no strategic importance other than providing cadres and their families with free flights
AS for Eskom- the other parasite of the duo- we do not think there is  much more terms of damnation in the thesaurus to describe or attribute to this sickening 440 billion-rand debt pile saga  of woes and corruption that has been terrorizing the economy since 2008 with so-called "load shedding." With it's own evil Remus and Romilus twins-Medupi and Kusile, which were supposed to be fully operational in 2015, but are still years away from completion with their projected costs more than doubling to R292.5-billion– the South African economical landscape under the constant attack from this destructive cancer is fast deteriorating towards becoming the world's latest junk yard. AS with the South African Airways Eskom is nothing  but a lucrative money laundromat for the ANC elite. The taxpayer will be burdened with a roughly R10-billion bill over the next six years, because Eskom has failed to negotiate a standard price for the coal it burns to keep the lights on. It was revealed  that Eskom has contracted 16 (Black owned) coal-producing companies to provide it with more than 70-million tonnes of coal in the next six years at a cost of more than R38-billion.
If Eskom paid this average for the 70-million tonnes, it would pay R28-billion. But, because certain companies charge more, Eskom is now going to part with R10-billion more — which is then passed on to the consumer, or taxpayer. For example, Glencore is charging R607 per tonne when the National Energy Regulator of South Africa (Nersa) has guidelines saying it should be R350 per tonne delivered. Glencore's biggest shareholder is the  Jew  Ivan Glasenberg. Johannesburg-born Ivan Glasenberg, the Glencore Xstrata chief executive who owns 8.4%, the largest share of the company, received dividend payments of $173-million in 2012 and $182-million last year. Glencore is charging between R100 and R200 more per tonne, even for coal that has an average quality rating. Other suppliers — such as Iyanga Mining, Zomhlaba Resources and Stuart Coal — price their coal at R336.20, R326.57 and R263.63 respectively. Now ask yourself the question why id it Glencore that does the supplies even when it's pricing id far above the other competitors per tonne? Go Figure!  For this reason the criminals in control will never shut down any one of their  two  money washing machines – or even looking for other alternative options such as Hydro power, wind power or solar power which is in an abundance available. Neither would they privatize this dysfunctional entity – but rather would "debundle" it into  power transmission, generation and distribution sections- in other words now they can again plunder the tax payers' wallets on a grander scale but in the same time make it harder for forensic auditing to trace all the corruption between 3 entities.
THE new trend among the "rulers" in South Africa is to plunder Sate  pension funds. HOW about taking ANC ministers and ANC MEC's pensions to bail out Eskom- after all YOU created the sh*t. Now THAT would be even a BETTER move as the workers are innocent. Soon Private Pension Funds also will be targeted to plunder.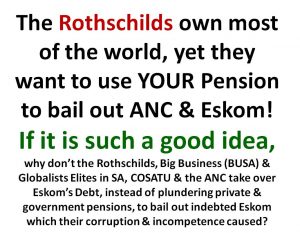 With Eskom per se there are more questions than answers. Why is ESKOM still selling a big chunk of it's power to African countries when it alleged it has a shortage to supply the South African market then?  Why is Gwede Matashe still dragging his arse on approving the alternative supply of wind power and solar power that has been laying on his desk for months now? For 25 years scrupulous thieves have robbed and plundered Eskom and the tax payer out of billions of rands– yet why was not ONE of the corrupt board member/s, contractors or politicians involved  ever being sent to jail? Why is the ANC crooks still involved in Eskom? Through constant lies and deception they keep on pumping tax payers' money into this two dysfunctional vacuum cleaners for their own selfish enrichment schemes. So far more than 563 Billion has been lost because of this alleged "load shedding" and businesses and even mining companies- are dis-investing  at a staggering rate because production is severely hampered by this government induced state capture of the national power supplier.
What is even more mind-challenging is the question how come- out of 60 million people in South Africa and roughly 7.9 BILLION people across the world- not ONE has figured out to design a simple  and  cheap alternative free energy wind turbine system or magnetic-driven generator  direct to the public that could generate more than 1.5 kW p/h for homes and thus replaces the need for state owned bugger-ups such as Eskom. It must be either South Africans became too bloody stupid, lazy- or maybe  Cyril also exported all the engineers to  China and kept the  monkeys  back in South Africa. 
BELOW the White Nation team has designed a basic simple , cost effective yet potent free energy wind/solar/combination electricity system that could be installed in all homes to generate more than enough power for  standard home requirements :
And we are not even engineers- but Free Thinkers! Yet a simple system like this appear to be too complicated and challenging for the standard South African captured mind.  It is truly sad how the Education system has failed the populace since the 1994 capture of the state by the communists- now isn't it?
Meanwhile South Africa- a once prosperous first world  country now have to scrape the bottom of the barrel while more than 60 million people have to endure typical 3rd world "black outs" and rubbish excuses on a daily basis since 2008 while the black  " elite " responsible for this disaster themselves never get their lights cut. Their latest stunt by appointing  Andre de Ruyter  to either pull this cripple entity out of the financial cesspool where the ANC 's BEEE ineptocrats put it – or just was appointed as the white "fall man"  to take the blame for the 12 year old disaster  – is still to be seen. BUT– Hold on to your hats…the best is still to come……The ANC crooks plans to take sheer madness to a next level and plans to  build ANOTHER Eskom!!! Gwede Mantashe told the crowd at the 2020 Mining Indaba that the government want to start "generating electricity outside of Eskom". The utility currently has South Africa on a 21-hour, Stage 2 load shedding schedule until Thursday. Mr. Podgy Mantashe  said that South Africa "needs a fail-safe", and promised that a government-owned competitor would push down the price of our electricity bills. Now they plan another billion-dollar tax payers venture  laundromat as well while their Medupi and Kusile laundromats are not even functioning properly. This bunch of idiots really needs to be taken to the nearest asylum- Strewth!
Kevin Mileham is Mantashe's opposite number. He has taken an extremely negative view of this brainwave, lambasting the ruling party for trying to create 'another version of Eskom'. The DA representative says that working with IPPs is a much more sound strategy than the one cooked-up by the mineral resources minister.
"This is utter madness. Instead of making the South African electricity supply sector more competitive, Government is seeking to extend its monopoly over electricity generation. Minister Manatshe's comments and commitments are all good and well but mean nothing if it fails to amount to any tangible change."- Kevin Mileham DA
Meanwhile the word is out that South Africans are advised to  make "peace"with it that for the next EIGHTEEN  months at least there will be rigorous "load shedding"  on the cards- 5 hours a day–( which already started a week ago)  until the Eskom gurus  could figure out a way to – after 12 years of black AA and BEEE  f*ck-ups- get the system running again. It does not matter how many businesses close in the mean-time, how much production will be lost, how many people will be left destitute, how many families will suffer and go hungry because of job losses, how many investors pull out due to Eskom's theatricals- how many small businesses will face liquidation, how many families will loose their homes due to non payments of bonds because of job losses, how many homes get bur glared due to criminals that also figured out " load shedding" times and hit homes when the power is down, security systems down, etc, how many suicides and how much South Africa will suffer – as long as the "elite" does not have to suffer the same consequences and their personal bank accounts stay untouched. And this is better than "apartheid" was? During "apartheid" we never had this type of bullsh*t!
This is the ANC curse South Africans have to contemplate with. But "racism" always was more important for the political serpents and media vultures alike than the suffering of the country and it's people. The bottom line is the ANC holds the country at ransom for their own selfish agendas. It's time they and their Jew masters get booted out of the country by a new government  – and all their local and international assets seized / forfeited , bank accounts frozen from their multiple "safe havens" – and distributed among the HOMOGENEOUS poor people of South Africa from which they stole it in the first instance.
The economy
SOUTH AFRICA for all practical reasons- HAS no "economy " to speak of anymore. With a country dithering on the edge of "junk" status, with most state departments and SOE's dysfunctional, cash strapped and on the brink of collapse- on can hardly describe the "free for all" racketeering offensive against the national treasury as an "economy."    We will not even bore you with all the statistics as we recon you already know that by now. What used to be a  vibrant  "economy " was raped, pillaged and plundered by the ANC mob in the Lethuli Gangster House.  What is left today is a failed state governed (if we may loosely use that term) by a bunch of greedy Hyenas preceding over with more than 50 million stragglers and around 20 million illegal alien scavengers that tries to rummage through the decay for the few scraps they have  left in order to survive. And that too will soon be ripped  away through "Land Expropriation", the National Health Insurance scam- and Private Pension Fund plundering by the Squirrel mob , British Jewry –  and the Stellenbosch mafia.
A lacturer theater in the main #UKZN Pietermaritzburg campus was gutted in fire last night after students protested broke out. This is not the third university property that has been burn since last week. @TheMercurySA pic.twitter.com/yvPqvKUPyv

— Sakhiseni Nxumalo (@SakhiNxumalo) February 4, 2020
Another day of chaos occurred at the University of KwaZulu-Natal when black students again torched university buildings
THIS is the filing "system" under ANC rule. This is now the Johannesburg High Court's "archives." So much for "registration." Please keep your comments on this one- we all share the same thought. 
THIS is the true reflection of South Africa under communist rule- a country ravaged by corruption, anarchy and black racism. The ANC cannot hide it's atrocities , mismanagement, incompetence and human rights abuses against whites to the world anymore- it's "honeymoon" as " apartheid victims" is over. The world slowly is  turning the screws tighter. For instance:  A white resident, Faan Abrie, who owns a security business in Peace in the Free State, lost all his personal belongings after local black youths, who acted according to the local ANC's instructions, stormed and burned his home. The youths also stole personal belongings and put them in mr. Abrie's own trailer to the township. The youths first stoned Abrie's home and his dog was found dead in his home. All his vehicles, including a bakkie, were burnt out. However, Abrie did no wrong to anyone. What did happen was the usual race card, when the owner of a local supermarket asked Abrie to install security cameras on January 17, to see who was stealing from the supermarket. They saw on camera that an employee, Taima Tshabalala, stole cold meat and sold it right outside the store!
THE message from Davos was as clear as crystal: " Sorry- YOU created the shit alone- you sort it out on your own!" 
This sentiment also was echoed in Davos by the top international  investors this past month when the ANC bandits went begging for more money to waste again.  Whoever thought about the stark raving mad idea that the ANC could govern a country surely have missed the Cuckoo's nest of lunatics by a few inches. And that would include  the Jews Oppenheimer, Kissinger, Soros and the whole bunch of Jewish bank-rolled greedy National Party hoodlums. These criminals never should have been released from prison  in the first instance- let alone allowed to take control of a healthy economy. Today South Africa finds itself subjected to communist union destruction and mob rule. The country – as with the economy- is in chaos. Now the Hyenas are ruling the pride lands. And behind this all you will find the Zionist Khazarian Jews.
IT is then not surprising  then how with the complete black power the South African  currency still belongs to the Jews  Oppenheimer Group and De Beers founding partners of Anglo-American who placed South Africa as a corporation on the US stock exchange till this very day which is why South Africa is forced to use US Policies on the IMF loans. So the New York Jews also illegally stole the country!  It was for this sole reason Oppenheimer and the CIA conspired with John Voster to assassinate Hendrik Verwoerd– he vehemently opposed the Oppenheimer/Rupert central Reserve Bank and the loan sharking business they were about to introduce. But then again who cares as long as the blame goes to the blacks for "sanity " purpose.We are  not sure which "In God We Trust " allowed continuous banking transfers towards the corruption by going against the money laundering act. White South Africans are extremely uneducated to how the " democratic " government system works.  In the real world, a "democratic " government system is whereby financial corporations control government no different to how it's done in the USA that brought on the Occupy Wall Street Movement and the France Yellow Vest Protests.
Policies
One really can not phantom what type of "policies" this Nandos stuffing bunch of pachydermic  miscreants can come up with during their so-called " Legotla"– as 25 years of "legotlas" proofed to be miserable failures- and this one is apt to follow suit. This bunch has no idea how to stimulate an economy on the brink of disaster. Japan at the end of the second world war stimulated their totally destroyed economy by introducing government subsidies to small market businesses- and it was specifically this businesses that formed the back-bone that eventually lifted the Japanese economy to become one of the greatest economical powers in the world today. But then again we are talking about the Japanese here – not a bunch of scrupulous thieves and mobsters from Dar-Es-Salaam and Robbin Island  that battled their 3 best years through Grade 5 and had to revert to fake diplomas and degrees from Wits University in order to substantiate their government jobs and lucrative salaries- that is. The so-called "policies" these useful idiots came up with is so violently hostile towards  small and medium businesses that no-one wants to open any such a business anymore. The only "business" if we can refer to it as such- that revel under such murdering circumstances in South Africa is crime!  With humongous and irresponsible taxation and labor laws that rather fits a Gulag institution   than a free market environment this so-called "government"  wants to rule each and every business supreme and suck out the last penny from businesses and private tax payer alike. Now the dentist boy Gordhan still wants to introduce MORE draconian taxes and ungodly levies to be bestowed upon an already battered populace and economy.
VIDEO: INTERNATIONAL EXPERTS WARN ANC AGAINST LAND EXPROPRIATION WITHOUT COMPENSATION 
 We wonder just WHO is Cyril Ramaphosa's "handler" within the "New World Order?"  Is it George Soros? It is easier to "create a leader" who is greedy for Wealth …than for a "real leader", to stand up from the dirt of destruction…and lead with character! It is commonly known that the manipulated forces of the NWO, has captured leaders of State in the erstwhile National Party, and in the current African National Congress! What is Ironic… is;that despite the fact that the NP is dead their erstwhile leaders like FW de Klerk ,Roelf Meyer, Leon Wessels, Fritz Eloff and others are still roaming the passages of political "Manipulation" or rather "strategic application" of their motives. From time to time they would rise up, as if from the dead…buried in institutions like FW de Klerk 'Foundation', Thabo Mbeki 'Foundation', Nelson Mandela 'Foundation', Kader Asmal 'Foundation', Khalema Mothlante 'Foundation' and others…one wonders where do these
"Foundations" get their finding from?
It's time that South Africans realize after our sell out to the "NWO" and their handlers like George Soros , by previous/Current NP and ANC leaders…that the people of South Africa needs to stand up from the rubble as a Nation in distress…and that our "true character takes control of our destiny!" Stop being  be manipulated by stupendous political leaders acting as if a "Puppet on a String"to George Sorros, Gupta's…and the likes! Follow true character,- follow and become a tax slave.We  respect that we have to pay taxes, and will bend over backwards to pay our  due if er benefit from it....however what is happening now is ridiculous! We are expected to pay more and more taxes whilst the very same political leaders whom have stolen , misused and abused tax payers money is constantly increasing taxes to fund the shortcomings of our fiscal demise!
Since 1996, at the end of over twelve years of international sanctions, South Africa's Gross Domestic Product almost tripled to peak at $400 billion in 2011 as international investors was still blind-folded by the "Mandela" era , but has since declined to roughly $385 billion in 2019 when they realized the ANC gangsters are nothing but corrupt hoodlums. From 1963 to 1971, South Africa had economic growth of over 5% and sometimes over 6% under Verwoerd and Voster. Since 1994- 25 years later, the economic growth is dismal, unemployment is catastrophic, and industry is in full retreat. It was inevitable that the beatification of our mineral treasures, which happened to some extent under white rule , would end under the ANC. It was inevitable that we now should send all of our raw minerals overseas to be processed into high-value products where we used to manufacture such products ourselves pre-1994. . It was inevitable that our business people, terrified by the violent ANC trade unions, who demand double-inflation pay increases and threaten anybody who breaks their strikes, would take all of their money away from industries using unskilled or semi-skilled labor (mainly black) and put it instead into service industries, into banking and insurance. The white  regime regarded Eskom as an institution for making electricity; it was inevitable that the ANC would change it into an employment agency, a magic pot of value to be looted, and an agency of political and racial engineering, of affirmative action, transformation and black economic empowerment.
The inevitable future under the ANC, they suggest, is this: a massive and growing government and civil service with huge salaries; vast SOEs failing calamitously and sucking our treasury dry; mass emigration of skills; a small number of rich people working as bankers and brain surgeons; and a vast and growing army of people working as beggars and prostitutes or surviving somehow on our rapidly expanding social grants, which provide a miserable existence just short of starvation. The ANC has wrecked Eskom  and about all the state departments and SOE's. South Africa's GDP growth since the ANC captured the state is a dismal 0.2 %. Fact Check is that the ANC – Ramaphosa included- will NEVER match the growth Verwoerd or Voster maintained- simply because they have no idea how to run a country- PERIOD!
So we are slowly looting the State Pension Fund. Farm-land sold for  1 million per

HECTARE!
Ok..so Municipalities cannot pay salaries. SABC cannot pay salaries and is bankrupt. Denel cannot pay salaries and is bankrupt . Transnet is bankrupt .SARS is running in a minus.SAA cannot pay salaries and is bankrupt.Escom is Bankrupt.Telkom is also going down. Sandf has no more funds and is in shambles. State Hospitals don't even have money for bedding and our whole health system has collapsed.Our police force don't even have vehicles to go out to a crime scene and most of police officers are the actual criminals.. Nearly every minister in the ANC Government has been involved in corruption , bribery and mismanagement of tax payers funds .Unemployment is the highest it's ever been in the history of our country .Our education dept has run out of funds. Crime is out of control .Uneducated half-wits  have been put into power who earns millions a year but are as dumb as shit .Fuel prices has never been so high. VAT is being pushed up, taxes are rising- land grabs are falsely touted as the 'save all'. The ANC are just as racist as the NP Government was. South Africa has hit rock bottom and the ANC Regime bandits  is the cause of this all
The horrible truth that is facing the ever "struggling" communist rats is that a black man cannot run a country– 48  African states bar Botswana- is proof to that.  So now all these political failures can do after realizing they have "governed" the country into the abyss – is do what they do best- stealing. And steal they will until a civil war erupts around them- then they will do what they do next best- fleeing for safer havens !  The corruption and looting will never stop and never go away- once a thief- always a thief. SO– what these conglomeration of "socialist" degenerates  "discussed" at their little " Legotla" is still a mystery- but whatever "solution" they come up with between the bones of the Nandos chicken and Johnny Walker gurgles  cannot be in the best interest of the country…and naturally- the pocket of the tax payer! 
Ek wil net seker maak my Vriende mag nie hierdie Verraad vergeet nie.!!!!

Posted by Sakkie Claassens on Friday, January 8, 2016
AND this is where the decay of South Africa had it's origins.
SOURCE:
White Nation
MEME OF THE DAY:
Poor terminally ill Zuma busy with "therapy"...
" AAHHHH…yea…thank you for covering my arse…..after all- I'm a sick man!They say swimming pool water washes away Corona virus. Now I am under strict "therapy." Shabir he plays de golf- I play de fool. " 
They said he couldn't attend the Zondo Commission due to an illness, but hey, look

Posted by The Daily Talk Online TV on Sunday, February 2, 2020
"I'm

ALIVE

….dancing in the city….the Zondo commission can wait till hell freezes over….

I'M ALIVE!
WHITE NATION– WE DO NOT HATE WHITE LIBERALS– WE SIMPLY DESPISE THE FILTH!!
C'MON- SHARE OUR LINK