Do you have news to tell us? Send your e.mails with news and inquiries to: w.nation@mail.com
Register to follow our news on the right-hand tab
OR
Register for free on  our social site HERE to join our world for more news
Article posted  by: White Nation Editorial February 19 2020
ALSO VISIT:
Inside Britain's concentration camps: Harrowing photographs reveal the plight of thousands of Afrikaners detained in disease-ridden tents during the Second Boer War
The budget is going to bite: Tax increases of more than R25bn can be expected.
Coronavirus Outbreak: 760 Million people quarantined in China
Apartheid, Communist Gulags and ANC Torture Camps: Time to revisit the REAL "Crimes Against Humanity"
South Africa's Plan to Seize Land Would Be a Disaster for the Economy, Pompeo Says
ANC Hide Their Crimes Behind Apartheid, Which Was NOT a Crime Against Humanity, as the Communist Soviet Union Propaganda Tried To Claim at the UN
SOUTH AFRICA– FAILED LAND OF COMMUNIST ANC ORGANIZED CRIME : THE  PIRATE's REALM DOWN SOUTH
" South Africa is utterly under Marxist domination. We are right the step before mass liquidation of the class enemies begins. How did we get here? Internal Subversion by the Afrikaner Broederbond and the  National Party  during the early 70's to about 90's  of serious communist introduction . Along with Money Bags from Europe and the USA that financed the Marxist agenda among the Jewish Wits Academics and liberal white Corporate  Elite. Yeah. Easy really."- Andrew K. 
THIS past week the poor leftist communist realm was shaken into  it's foundations when one of their most appraised prophets- FW DE Klerk– announced that "apartheid" was no crime against "humanity"– but factually a neat ploy designed  by the Soviet Union and their charlatan ANC Geishas  to demonize especially white Afrikaners. 
For ONCE in his miserable existence did the treacherous old decrepit fool spoke  the truth. And with this statement he neatly exposed all the communist rubble , black racists and liberal deceptionists   in all their glory in  one clean swoop. And not only did he expose all the leftist race-baiters- he also exposed the fake South African Council Of Churches as a communist abomination  filled to the brim  of false prophets. Well done De Klerk…..Good one man!!! You have truly showed us how you can mastermind the racist masses to reveal their ugly underbellies  with one single statement. After he did some serious collateral damage and inflicted a deep wound to the red serpent- De Kleck nonchalantly "retracted" his statement…damage done! Even if we despise this old white sell-out- we must acknowledge he showed some genius mastery in forcing the serpents to raise  their ugly heads , spit some unsavory venom- and thus exposed their lairs.
The first abomination to spit venom was no other than that Babylonian conglomeration Churches- the South African Council of Churches who immediately "demanded" from De Klerk to retract the statement.  And Lo…this Babylonian hive is nothing than a liberal communist supporting establishment. The hive's secretary general-  Bishop Malusi Mpumlwana has called on FW de Klerk to retract and apologize over his recent statement that the UN categorization of apartheid as a crime against humanity was a Soviet propaganda ploy. In a City Press article with the headline "SACC calls on de Klerk to retract and apologise for his apartheid remarks"–  Ntwaagae Seleka reports Mpumlwana saying: "Apartheid made all South African Whites and their future generations, its beneficiaries in superabundance."-  the Bishop proclaims straight from the communist's handbook.
Malusi Mpumlwana

– another liberal communist dressed in church garments. 
Mpumlwana continued that if the De Klerk Foundation suggests that the international categorization of apartheid as a crime against humanity was propaganda by the Soviet Union, then it means that the SACC, that campaigned under God to humanize South Africa against apartheid, was a Soviet propaganda pawn. "It suggests that the apartheid government's charges through the Schlebusch and Eloff Commissions, that the work of the Archbishop Desmond Tutu's SACC for social justice and national reconciliation against apartheid was not Christian work. "It justifies the banning and banishment of the more than 2 000 citizens of all races between 1950 and 1990 through the provisions of the wholly unjust Suppression of Communism Act." he defends communism in contradiction to an apparent guilty conscience. The atrocities committed in the name of communism is the same destiny the ANC/SACP/EFF plans for South Africans with the blessings of the SACC.
Short on the heels of the communist church was Bra' Julius and his merry gang of EFF  VBS looters  in parliament during the Squirrel's SONA after the EFF called for De Klerk to be removed from the house.. Sez bra' Julius: "We have a man who has got blood of innocent people in this house, which is supposed to represent the wills of our people — and therefore it's incorrect for you to have extended  an invitation to De Klerk because De Klerk is a murderer. "The people of Boipatong are still crying and De Klerk said apartheid was not a crime against humanity. He is an unrepentant apologist of apartheid; he is not willing to accept that apartheid was a crime against humanity," (Bra Julius conveniently forgot to ask the Squirrel to leave the "house "too for the Marikana massacre and the rest of the ANC cadres for the 120 bombs they planted which killed and injured multiple innocent victims, the Quatro camp atrocities, Shell House massacre, Diepsloot hostel massacres, Winnie Mandela necklace murders and so on. But then we know bra' Julius to be  a flip-flop hippocrate that continuously changes his sails to the direction the wind blows the most favorable.) 
The we had that hard-lines ol' corrupt commi boy from Robin Island- Thabo Mbeki– who alsi saw it fir to spot a bit of pipe venom against De Klerk's statement. On Sunday, Thabo Mbeki, who was sitting next to De Klerk during Sona, said when he asked him about the statements, De Klerk "did not know apartheid had been declared a crime against humanity."  "He did not know that there is a legal document in international law which says apartheid was a crime against humanity. I want to send him the convention so that he knows that there is an international convention which says apartheid is a crime against humanity. That is how we discussed it."  In November 1966 the UN General Assembly declared apartheid to be a crime against humanity — and in 1973 it adopted the Convention on the Suppression and Punishment of the Crime of Apartheid. BUT never have we heard or see this same two-faced UN bench warmers declaring the Bolshevic murders, Stalins genocide, the Alliies' genocide against the German civilians in Dresden, Mau Tse Tung's  Red Chinese brutal murders against their countrymen of Sjang Kai Sheik, George Bush's brutal murders during the Middle East war, America's atom bombs against Japan,  ISIS crimes in Syria,  Eisenhowers's  starvation camps during WW2-  or the British atrocities against the Boer women and children or the massacre of thousands of Indians by the British as "Crimes against humanity"- JUST "apartheid." What a farce the UN has become indeed. 
AND as expected we had to have some more racist-based "heavy weights' too that had to add their bucket of spit. The Desmond & Leah Tutu Legacy Foundation has called on the FW de Klerk Foundation to withdraw its statement on Friday that apartheid was not a crime against humanity. The Tutu foundation said it was "irresponsible" of the De Klerk foundation to debate the "degree of awfulness of apartheid" and unsuitable behavior by a Nobel Peace Laureate. "Let us not reverse the gains we have made since apartheid," said the Tutu foundation in a statement on Sunday   "SA is on an economic precipice. It is beset by radical poverty and inequity. Those who suffered most under apartheid continue to suffer most today. It is incumbent on leaders and former leaders of the white community in particular, to  demonstrate the courage, magnanimity and compassion necessary to contribute to societal healing . "The Desmond & Leah Tutu Legacy Foundation agrees with the SA Council of Churches that the FW De Klerk Foundation should withdraw its statement." We are not even going to place all the anti-white sentiment, racist rubble rousing and "apartheid victims" with  all their sorry-arse bleating on social media here. It really is astonishing how deeply  "apartheid" has mentally scarred  some children of the lesser g-d – looking at all the replies and comments on the social sites. Did you also notice a  strange phenomena manifesting among the young blacks of South Africa since the ANC captured the country?  With every  new  younger generation blacks that emerge- the more are  they "suffering " because off "apartheid." Truly amazing isn't it? 
In short- how "devastating" was "apartheid" then that left such deep psychological damage on this poor communist wretches to retaliate with such ferocity against De Klerk ?
The British press was the main drive behind the "apartheid" phenomena in the early sixties and seventies. Today many uniformed bumble-heads  in general still believe that Dr. Verwoerd was "The Architect of Apartheid".   This is plain nonsense.  Most of the Apartheid laws were already in place when the National Party came to power in 1948. These laws were drawn up under British rule when South Africa was still a colony and during the time of Jan Smuts who was a liberal puppet of the Crown.  Verwoerd's biggest critics were the English speaking press in South Africa, but let us look at what the "Rand Daily Mail" (a sworn enemy of Verwoerd) on 30th of July 1966 wrote about this great man:
"At the age of 65 Dr. Verwoerd has reached the peak of a remarkable career. No other South African Prime Minister has ever been in such a powerful position in the country. He is at the head of a massive majority after a resounding victory at the polls. The nation is suffering from a surfeit of prosperity and he can command almost unlimited funds for all that he needs at present in the way of military defense. He can claim that South Africa is a shining example of peace in a troubled continent, if only, because overwhelming domestic power can always command peace. Finally, as if that were not enough, he can face the session (of parliament) with the knowledge that, short of an unthinkable show of force by people whom South Africans are rapidly being taught to regard as their enemies, he can snap his fingers at the United Nations. Thanks to the recent judgement of the Hague Court (on the South West Africa issue) he can afford to condescend to the world body, graciously remaining a member as long as it suits him. Indeed, the Prime Minister has never had it so good."
A few months before Dr. Verwoerd was assassinated, the editor of the British periodical, "Statist", Paul Bareau, wrote. "At the rate at which South Africa is now expanding the term "miracle" is likely to be appropriate to its development over the next few years". In other words, South Africa was an emerging economic and military threat to the Anglo American establishment. Nevertheless... All of this, South Africa under Nationalism, achieved despite of worldwide arms embargoes, economic sanctions and the entire world supporting the enemies of South Africa.It has to be remembered that after the Anglo Boer War where the British destroyed all the economic power of the Boers by a "Scorched Earth Policy" by burning their farms to the ground, killing their livestock and interning their women and children in horrific concentration camps where 27,000 white women and children died…there was no "Bailout" or "Marshal Plan" to rebuild South Africa. The Boers rebuilt South Africa and created their own wealth single-handedly with absolutely no foreign support.
Time magazine", eleven days before Dr. Verwoerd's assassination, wrote,
"South Africa is in the midst of a massive boom. Attracted by cheap labor, a gold backed currency and high profits, investors from all over the world have ploughed money into the country, and the new industries that they have started have sent production, consumption – and the demand for labour – soaring. Such are the proportions of prosperity…" This now was the "evil system of "apartheid" which the communists loathed so much.
Karl Marx predicted that the more Capitalism grows – the poorer the common man will become and the more he will be and feel exploited. Nationalism in South Africa proved Marx wrong. The more industries were created, the more jobs were available and the living standard of blacks in South Africa was the highest on the continent of Africa. Not only that, Nationalism ensured the survival of all the nations of South Africa….It ensured the survival of their languages and their cultures. It was obviously a massive blow to the  red communists in Britain and the Anglo America establishment who wanted to destroy South Africa and get their hands on the riches of the country. The spite and envy came out in the word of Lord Deedes who said that "The Afrikaans speakers made two big mistakes. One was to leave the Commonwealth – and the other was to survive." So they did not reckon with the tenacity of the Afrikaners and their will to survive…not only to survive, but to prosper!
But even Lord Deedes admitted, "White South Africa grew to become the economic giant of the continent, the other members of the Commonwealth virtually sank into poverty." The British Foreign Office and the US State Department were disappointed to say the least. South Africa turned out to be a major success under Nationalism and every other country in Africa opposing the system of Apartheid was sinking into poverty. What was happening at the time was that Dr. Verwoerd was winning the Cold War all by himself. He was showing the world how successful Nationalism is and he was showing up the failure that Socialism/Communism is.
Verwoerd also initiated an investigation into power monopolies known today as the "Hoek" report (1965). Verwoerd delegated the job to Professor Piet Hoek and asked him to investigate the stranglehold that economic monopolies such as Anglo American (the Oppenheimers, mining), Rembrandt (Anton Rupert, liquor and cigarettes) , Trust Bank (Jan Marais), Sanlam (A.D. Wasenaar, insurance), etc were holding. In addition, Verwoerd destroyed the Marxist terrorist onslaught against South Africa by nipping arch Communists (including Mandela) in the bud by arresting them in Rivonia and destroying all their cells in South Africa. By 1965 the ANC and the SA Communist Party was defeated.
In her book, "People's War", Dr Andrea Jeffrey on page 7 quotes Oliver Tambo the leader of the ANC saying in 1964, "it appears as if the guns of MK (uMkhonto we Sizwe, Spear of the Nation, armed wing of the ANC) have been silenced for all time." There is no doubt that Dr. H. F. Verwoerd was a remarkable man. The best Nationalist leader and politician who ever lived and the best Prime Minister South Africa ever had. Dr. Hendrik French Verwoerd loved South Africa with all his heart. He loved all the nations and all the cultures of South Africa. He wanted to protect and secure the future of all the rich cultures that make up the country of South Africa. "Seperate Development" was his vehicle. He was a true patriot who turned South Africa into a first world country and the envy of the world. He laid the foundation that turned South Africa into the only nuclear power on the continent. He was "The man of Granite" who stood up against the entire world who wanted to destroy South Africa and the last vestiges of White success on the continent of Africa. He wanted to protect the culture and survival of his own people as much as he wanted to protect the culture and the survival of all the black tribes of South Africa. Today he is despised as a "Racist" when he should be praised as a visionary. " Apartheid" now is referred to as an evil instead of being hailed as the only  era of prosperity which defied all international greed and defeated communism.
The general secretary of the HNP, Mr. Louis van der Schyff, said in a statement it was fashionable for the ANC government to blame what happened to all, not because of poor governance and management,-  but rather to lay it at the door of "apartheid. Therefore it is now necessary, with this downgrade, to make a comparison between the governments of the ANC, and NP under the late Dr. HF Verwoerd with its successful policy of separate development." "In the sixties, South Africa was a first world country. South Africa counted economically among the top ten western nations and was the strongest economic country in Africa. The English press wrote that South Africa is suffering from a surfeit of prosperity and is a shining example of success on a troubled continent. (Rand Daily Mail, 30 July 1966) The economic growth rate was 6%, and the inflation rate was 2%, and 74% of new labor could be incorporated into the formal sector annually. Unemployment among ALL races was almost non-existent. The economic growth rate among the white population was 5.7% and among the black population was 7.8%. It went well with all people in South Africa. The success story of Dr. Verwoerd has captured the imagination of the world. It's all destroyed by an avaricious ANC rule. The latest "success" of junk status of the ANC, means more economic pressure on the taxpayer and which will mainly affect the European taxpayer. The Afrikaner nation, when they had the political power, cited the success as above, obtained for all South Africa's people. We are tired of being the economic milk cow of an incompetent government. We would ideally like to be free as a nation and to govern ourselves, not to give up. Then we will again succeed and repair our nation," said Mr. Van der Schyff.
Liberal Western (British) journalists want to bleach this history into a noble "people's war" against an evil, murderous," racist " regime. It was hardly that. The MK led a terrorist insurgency that included bombings of public places. It killed many, many more civilians than it did members of the regime's security forces — copiously including women and children. Indeed, it killed many more people than the approximately 7,000 black South Africans who, according to the post-apartheid Truth and Reconciliation Commission, were killed by the regime during the 46 years of apartheid. In fact, twice that number, over 14,000 people, were killed between 1990 and 1994 — the period during which the ANC was legalized and black-on-black violence became rampant, just as it is in South Africa today.
Learners at UFS, aspiring to become an integral part of the economy.

Posted by Andre John Cilliers on Thursday, February 13, 2020
This is the "future" leaders of your so much hailed "democracy." This is better than "apartheid?" 
The ANC systematically killed rivals for power and suspected regime "informants"  — most notoriously, by the savage method of "necklacing," in which a tire filled with gasoline was hung around the terrified victim's neck and then set on fire. As Ron Radosh further recounts, Mandela struck alliances with the world's worst Communist thugs. A particular favorite was Fidel Castro, the leader of a Cuba that, Mandela brayed, "stands out head and shoulders above the rest . . . in its love for human rights and liberty." He similarly courted Moammar Qaddafi, Yasser Arafat, and the totalitarian regimes of North Korea and Iran. Mandela was thus, naturally, stinging in his rebukes of the United States. In 2002, President Bush — much like the press this week, preferring to see the Mandela of Western lore rather than of South African reality — presented him with the Presidential Medal of Freedom.
A year later, after the American invasion of Iraq, Mandela ripped the U.S. as "a power with a president who has no foresight and cannot think properly," who was "now wanting to plunge the world into a holocaust. . . . If there is a country that has committed unspeakable atrocities in the world, it is the United States of America." He is deservedly lauded for not following the path of Zimbabwe's monstrous Marxist dictator, Robert Mugabe. Nevertheless, the thunderous ovation Mugabe received upon arriving at the Soweto stadium for Mandela's memorial service spoke volumes about "democratic" South Africa, and where it is headed.
Defying fears justified by his past, Mandela did not allow South Africa to slide into civil war upon becoming president in 1994. Nor did he immediately fulfill the revolutionary hopes of his fellow Communists. Nevertheless, as the South African journalist Ilana Mercer recounts in Into the Cannibal's Pot, a searing if depressing account of her country post-apartheid, approximately 300,000 South Africans have been murdered since the day, almost 20 years ago, that Mandela took office. Admirably, Mandela served one term and relinquished power, setting an example of political transition rare in his corner of the globe. In his term, however, he made capitalism the scapegoat for apartheid and set in motion the government-orchestrated redistribution of wealth, to the great benefit of his ANC cronies. He perversely called the program "deracialization of the economy" — even though the gradual, racially driven divestment of white South Africans is the program's obvious aim.
Fellow Americans, and citizens of the world. Now its OUR turn to shine. Wherever we are, we will become the PLAN when we choose to reject what they called GLOBALISM. We recognize the words they used to bend us to their will, and we say no more.Follow your instincts, trust yourself and BE THE PLAN!

Posted by Follow The White Rabbit on Wednesday, January 29, 2020
TODAY South Africa sits in a terrible situation where it is being ruled by a corrupt ANC clique that has not the will- nor the power to save the country from sinking into the abyss. With a tyrant at the helm who only cares about himself and his personal family- all hope of saving the last remnants of a once flourishing world power under the leadership of HF Verwoerd- went down the drain last week when South Africa- for the first time in it's Republican history- went to junk status in the hands of the same squeamish and useless despots that blames Verwoerd for the troubles they now finds themselves in.Even radical despots like Julius Malema must accept the fact that the Verwoerdean era was not nearly  as violent as the ANC dispensation and what the mentally deranged British press advocated: "But here's something you don't know about SA apartheid regime and the ANC agitation against the apartheid guys: "The ANC killed more black people in its camps and in the townships than it did any police or army forces of the  apartheid regime."(Link)  Liberal Jews that also now have a wake-up call admitted that the "Apartheid" era was much better and that the whites brought prosperity to South Africa. Leftist Jewsterss Hellen Zille had to acknowledge this fact when she tweeted: " "For those claiming the legacy of colonialism was only negative, think of our independent judiciary, transport, infrastructure, piped water etc."(Link) which ostensibly brought the black racist wrath tumbling onto her head from all the black political minions- even her kitchen boy Mmusi Miamane. 
THIS type of sh*t you never saw during the so-called 'apartheid" years…whole provinces and municipalities collapsing due to corruption, maladministration  and plundering, , the main energy supplier collapsing and continuous "load shedding"  for years on end due to corruption, ineptocracy, plundering and state looting, big companies slashing jobs and disinvesting, whole once productive farms becoming derelict, farms and crops set alight by black vandals, race based discrimination against students, race based violence against a certain groups,police officers that cannot even read or write, stealing someone's property without compensating him for it, escalating  farm murders, collapsing education system, sex education for minors,National carrier moertoe, Defense Force on the brink of collapse, all state departments dysfunctional, State Hospitals in tatters, water systems totally screwed up, railway system bankrupt, treasury plundered empty, country on the brink of junk status, navy non-existent, a white genocide in process,  etc.
Ahhhh…what a beautiful sight of our new "democracy " indeed. Pretoria- North station decorated with all it's beautiful paper mace flowers. 
Just observe how our new "democracy" is training our future artisans to build their own roads, toll gates , planting of trees on the road and lots more…
This is what you now experience under this farce "democracy" today– but still the majority people recons "apartheid " was worse than this communist inspired democracy rubbish?  Are they brain dead? 25 Years later and nothing has changed- on the contrary it only became worse….MUCH worse than "apartheid" ever could be- and still leftist rubble are looking for "excuses" to vindicate this communist filth for what they have done to the country and it's people.   Apartheid a crime against "humanity?" Never in a million years– rather try this communist driven "democracy" as an evil crime against humanity and a destructive force to  the country. 
On a daily basis we hear Ramaphosa et al placing all the miserable woes of this country on the shoulders of "apartheid"(ie whites.) For instance I was looking at the websites and came upon one specific poor mouthy drama queen – one Amy Jephta–  that had another anxiety attack  about that era at the (non-white)Afro Vibes Festival in that liberal haven  Amsterdam . Apparently ALL the "shows" was all about "apartheid."  How DREADFULLY boring it must have been? She recons that issues of "apartheid" must be exposed and talked about. (Link)  Then she goes on and tell the world how her mother had to "suffer" the "inequalities"  of those days.
One wonders if Me.  Jephta  really believes that the whites of those days really had it all that easy? This white haters just cannot bury the hatched and try to go forward on their own – trying to make a success of their future- but no- they have to bring 'apartheid" into the equation every time they feel miserable or fu*ked up something. Apartheid was maybe the best and most prosperous time for South African growth that saw the country booming on about every technological, industrial and social level. Apartheid saw more than 60% of white taxes spent on BLACK upliftment. Apartheid build thousands of  schools , libraries and clinics for non-whites. I wonder if   Jephta's mother really did tell her everything?
I wonder if Amy Jephta's mother told her how the white government specially made compromises for the colored community by accommodating them into parliament? I wonder if her mother did tell her that their own representative in parliament – Alan Hendriks– stole millions from his own people through corruption? I wonder if her mother told her that the most of the youngsters of the Western Cape colored community was embroiled in gangsterism on the Cape Flats most of the time during those "dark days" – (like they still do today)- spending most of their prime time participating in   drug wars and killing each other rather than attending school?
Noord Kaap. Swart en kleurlinge aan mekaar. Mense word verbrand. Wat noem mens hulle?Hier kom groot moeilikheid.Swartes het n ma en haar twee kinders aan die brand gedteek. Pas gehoor dat die grens by Namibia gesluit is.Wees waaksaam !

Posted by Antoinette Rader on Wednesday, February 19, 2020
Today…25 years after 'democracy"- they still brutally murder and burn each other. So- what specifically has changed between their brutality during 'apartheid" and their brutality during  'democracy" then? 
Yea- I bet her mother did not tell her the real reason why misinformed liberals like herself could have been much further today if they actually stopped acting like hooligans and like the whites- start to their in their resources and made something of their lives- rather than again blame "apartheid" for their own misplaced troubles and tribulations they now endure today. Can Me. Jephta show us ONE invention that came out of the colored community those days? I bet none! Like their black counterparts they forever were riding piggy-back on the WHITE inventions( which they still use today)– but still has the audacity to bitch and complain about it.
Apartheid- as "bad" as the British media puppeteers want to make it – gave work to literally MILLIONS of non-whites- local AND from African countries. Apartheid build the biggest university – MEDUNSA– AND the biggest hospital – Baragwannath Hospital- with the most modern technology available  in the Southern hemisphere for NON WHITES.  If "apartheid" was so bad – then why would all these so-called "oppressed" non-white people flock in their thousands across the border numerous times on a monthly basis into a "dreadful" country that had no place or sympathy for non-whites , had such a terrible reputation of killing blacks – and had a system that has been hailed as next to the Holocaust- the most atrocious system if you had a black skin- to come and work here for more than 50 years? Something tells me the British corporate media and the black commi vultures were talking a lot of "kak" about the so-called "apartheid." 
You NEVER had this type of discrimination against blacks under white rule. But this is "OK" under "democratic" rule? 
BUT it was because non-whites were MUCH too busy f*cking up everything they got for free. During "apartheid" they got free schools, free universities, free medical aid, free clinics, free services and much more supported by WHITE taxes! THAT part the freakin British media or dimwit libs like Jephta will not tell you. You are supposed to see only the "bad" side of "Apartheid"– NEVER the truth! It was because most non-whites was not interested in going to schools or reading books– but spent most their time listening to false British propagandists and militant extremists like the PAC and ANC – "toy-toying " in the streets , burning  down schools (like they still do today) – and necklacing their own people with petrol and car tyres rather than use the opportunities given by the government of the day to study and enhance their own personal status.
Student unrest outside #UKZN campus. Rocks are being thrown.

Posted by Morne Swart Page on Tuesday, February 18, 2020
Desperate refugees continue to battle to flee South Africa. Join #TheLead with @ShahanR this afternoon from 4pm when they'll be given a chance to voice their distress. We'll also hear about possible solutions from the authorities. Courtesy #DStv403

Posted by eNCAnews on Friday, February 14, 2020
South Africa's so-called "democracy" at work……
Remember how these non-whites burned the school books, burned their classes- burned their schools in "protest" against the white government?  Now they only reap what they sowed those days. Now they want to cry rivers because their own culture of destruction and chaos caught up with the next generation? You cannot plant tobacco today and expect corn to grow tomorrow. You simply reap what you sow. They sowed chaos and destruction yesterday – they reap the product of illiteracy and a crime infested hell hole they call "South Africa" today with more than 70% of their so-called Rainbow Nation "leaders" being ill-educated and corrupt. NOW liberal idiots like Amy Jephta  want to again blame her woes on "apartheid?" How quaint! How utterly despicable can liberals get?
Solomon Mkhize- a black South African-  wrote the following:
"South Africans are psychologically sick as a result of violence inflicted upon the majority of the country's people
during the apartheid era", President Jacob Zuma This lie is getting really old!
The history of black South Africans has always been that of violence, death and destruction – NOT inflicted upon them by white people in this country. Shaka Zulu, during his 10-year reign butchered more than 2 million black people  in his "Mfekane" genocide in South Africa, not counting the deaths during mass tribal migrations to escape his armies. He had his warriors clubbed to death upon the merest sign of weakness.
He neither took a legal wife nor fathered a son, for fear that his heir would plot against him, and had his concubines executed if he discovered they were pregnant. When his mother died, he massacred thousands of his subjects so their families would mourn along with him. Shaka retained his throne through the worst kind of sheer terror, vast mass executions, torture and mindless butchery. His brother, Dingane, was no better. He took power after the assassination of Shaka (Dingane himself murdered Shaka for the throne) -and started his reign by butchering those loyal to Shaka.That, among many other horror stories of black-on-black violence, is the history of Black South Africa.
During the Apartheid years it was not better. Factional fighting and tribal conflict was again the main cause of violence and death among black South Africans- especially between the Zulu and Xhosa tribes. During the Apartheid era, from 1948 to 1994, the average life expectancy of black South Africans had risen to 64 years, on par with Europe's average life expectancy. Infant death rates had by been reduced from 174 to 55 infant deaths per thousand, higher than Europe's, but considerably lower than the rest of the African continent's. The African population in South Africa increased by 50%.
Facts about that "dreadful" apartheid the communists will not tell you are :
In 1988, a German book published how benevolent the White giant of Africa actually was. Below are some of the facts referencing 1988:

In 1972, SA blacks owned 360,000 vehicles. (More than all the black African states together)
The monthly income of blacks per capita in 1988 was R352 per month in South Africa – Malawi and Mozambique was less than R20 per month.
In 1988 black people could undergo a complicated heart valve surgery for just more than $ 1 while black Americans had to pay $ 15,000. In a Pretoria hospital between 2,000 and 3,000 of these surgeries were done per year.
In 1970, black workers earned R1,751 million, or 25.5% of the total wage fees in SA and increased to R17,238 million in 1984 (1,000% growth) and 32.3% of total wages in SA.
In the 1986/1987 financial year, whites paid R9,000 million and blacks R171 million tax. Indians paid R257 million and coloreds paid R315 million on tax.
Between 1962 and 1972 the UN paid $ 298 million to underdeveloped countries compared to South Africa that spent $ 558 million on the development of its black areas.
The budget amount for black education increases every year from 1970 to almost 30% more than any other government department.
From 1955 to 1984 the number of black scholars increased from 35,000 to 1,096,000. In 1988 71% of the adult black population could read and write versus 47% in Kenya, 38% in Egypt and 34% in Nigeria. On average during the year 15 new classrooms per working day were built for black scholars.
In 1985 there were 42,000 black students enrolled at SA universities.
There were 5 black universities and 28 higher education institutions funded by the government.
Soweto with its population of 1.2 million had 5 modern stadiums versus Pretoria with its 600,000 whites who had three. Soweto had 365 schools versus Pretoria 229. In Soweto in 1978, there were 115 football fields, three rugby fields, 4 athletic tracks, 11 cricket fields, two golf courses, 47 tennis courts, 7 swimming pools, 5 bowling halls, 81 basketball fields, 39 children playgrounds and countless community halls, cinemas and clubhouses.
In Soweto in 1978, there were 300 churches, 365 schools, 2 technicons, 8 clinics, 63 kindergartens, 11 post offices and its own fruit and vegetable market.
The white government built a huge hospital Baragwanath 3,000 beds in Soweto. One of the largest and most modern hospitals in the world.
Its 23 operating theaters were equipped with the best equipment money can buy.
Here blacks were treated at a nominal cost of R2 for an unlimited period.
In 1982, no fewer than 898 heart surgeries were done here.
Next to the Baragwanthath Hospital is the St. John-eye clinic, famous for the treatment of glaucoma, previous fix retinas, traumatic eye injuries and rare tropical diseases.
There were over 2,300 registered firms, 1,000 taxi operators and 50,000 car owners in Soweto.

Dr. Kenneth Walker, a Canadian physician, visited Soweto and made the following observations: He saw several houses worth more than R100 000 with various BMW's at the door. Only 2% of homes are shacks with neat buildings with lawns. If he had to choose between the decaying apartments in New York, Detroit or Chicago than he would rather stay in Soweto.
He'd rather be very ill in Soweto as in some Canadian cities. He says the city has more schools, churches, cars, taxis, and sports fields than any other independent African states.
In 1978 the South African government built a highly modern hospital MEDUNSA on the border of the independent state of Bophuthatswana at a cost of R70 million on 35 hectares. In this "city" there were living and sleeping facilities for male and female students.

Black doctors, dentists, veterinarians and para-medical staff were trained. It is the only specialized university of its kind in Africa and one of the few in the world financed by white taxpayers exclusively to benefit blacks. Almost all students who mainly came from the national homelands costs were taken care of by the government.
The practical training took place in the nearby Garankuwa Hospital farm where the whole range of human ailments is covered.
Garankuwa had the facilities for kidney transplants, isotopes units with specialized laboratories where 200 doctors were trained practically every year.
South Africa provided training for the airline personnel of Swaziland, Botswana, Zimbabwe, Zaire and the Comores.
In 1979, when the train traffic to the Malawian capital Lilongwe was interrupted by rebels, SA sent transport aircraft with fuel drums to keep their economy going.
In 1986, 80,000 black businessmen from Africa visited Cape Town to finalize business deals.
South Africa provided the grain needs of its neighboring countries and wider. In 1980, Zambia received 250 000 tons of maize, Mozambique 150,000 tons maize and 50 000 tons of wheat, Kenya 128,000 tons maize and Zimbabwe 100 000 tons. Other countries that also received South African grain were Angola, Ivory Coast, Malawi, Mauritius, Tanzania and Zaire.
At least 12 countries of Africa, according to the "Argus African News Service" were so dependent on SA grain that a total ban on imports and exports would have destroyed them economically.
About half of Lesotho's male population worked in South Africa, about 146,000 in 1983, and earned R280,6 million which was about half of Lesotho's treasury.
In the 1982/83 financial year SA budgeted R434 million for assistance to the independent neighboring states.
SA produced more electrical energy than Italy, as much crude steel as France, more wheat than Canada, more wool than the US, more wine than Greece and more fish than Great Britain.
South African trains ran on more rail lines than in West Germany, carried more passengers than Switzerland, have better punctuality record than Austria and exported car parts to 100 countries.
SA mines bore down to the depth of 3,480 meters and holds the record for the deepest vertical shaft at 2,498m deep into the hardest rock in the world.
They were accused by the world that they were a police state:
In SA 1.4 officers for every 1,000 people while the world is as follows: UK 2.2, Israel 3.5, New York 4.3, and Moscow 10 per 1000. In South Africa there were 16,292 white policemen versus 19 177 non-white.
They were accused of killing their political offenders:
In 1979-1980 there were no deaths in SA prisons. In the previous 10 years 37 died versus 274 in the same period in Wales and England.
They were accused that they payed starvation wages:
In 1974, the average monthly income of black workers in South Africa were $ 127 versus the $ 140 in the US, the richest country in the world.
They were accused that they locked up thousands of political prisoners:
In 1983, 127 such prisoners are confined in SA and 11 whose movements were limited. A further 32 were under house arrest. Now the question to the ANC communists who pretend themselves to be "democratic"- is simply: How much have YOU done for the uplifment of the white Afrikaner people in return – seeing that the Afrikaner committed himself to spent 60% of his annual budget on the upliftment of blacks?  The answer is ZERO- on the contrary have the ANC done just the opposite– they have been horribly  discriminating against the white Afrikaner– persecuting and prosecuting them and abusing their human rights to the ends of the earth up to today. And you still want to demonize "apartheid" as a sin against humanity whilst glorifying a much more evil system such as "democracy?" 
Can you compare the current "democracy's" achievements against the "horrible" apartheid if you please? 
https://www.facebook.com/jali.mabona.1/videos/518849345407198/?t=3
Chaos during SONA debate as Malema accuses Ramaphosa of abusing his ex-wife
AND the psychopathic leftist rubble  want to compare THIS spineless  corrupt commi's performance  to that of or better than Verwoerd? 
Deaths due to political violence during apartheid: 21 000 people died in political (black on black) violence in South Africa during apartheid of whom 14 000 died during the transition process from 1990 to 1994. This includes SA Defence Force actions, for instance the 600 deaths at Kassinga in Angola during the war in 1978. Of those deaths, the vast majority, 92%, have been primarily due to Africans killing Africans, such as the inter-tribal battles for territory. During the period June 1990 to July 1993 a total of 8580 (92%) of the 9 325 violent deaths during the period June 1990 to July 1993 were caused by Africans killing Africans, or as the news media often calls it, "Black on Black" violence – hostel killings, Inkatha Freedom Party versus ANC killings and taxi and turf war violence.
DE KLERK– Judas sell-out of the Afrikaner people. His "democracy" would have been a disgrace and stain to  the honor of true leaders such as Verwoerd. 
TODAY nothing much has changed much  since that so-called "dark" days of "Apartheid." The non-whites still are rioting, burning, destroying and vandalizing everything in their wake. Shaka Zulu's ghost is very much alive in South Africa today. The non-white population still are murdering whites on a genocidal scale.This deliberate white genocide – being orchestrated by the British communist Jews such as Rob Davis and their communist rulers brings the murders on whites at nearly 10 times more during this past 20 years than all the blacks killed by the previous government- including those killed during the war.
The security forces during the "apartheid" era caused 518 deaths (5.6%) throughout this period. During the transitional period, the primary causes of deaths were not security forces nor white "right-wing " violence against blacks, but due to "black-on-black necklace murders", tribal conflict between the ANC-IFP, bombs by the ANC and PAC's military wings in shopping centers, landmines on farm roads, etc. In this country TODAY (under black rule) as many as 18 000 people are murdered EVERY year. …and those are the official statistics. More than 400 000 people have been murdered in South Africa under ANC rule. The past 25 years have been the most violent in the history of this country since the death of Shaka Zulu…and NONE of it has anything to do with WHITE people or APARTHEID… but I guess if you repeat the lie often enough foreigners actually start believing the drivel coming from your mouths, Mrs. Uneducated ex-President, Tutu, et al !!!" Unfortunately people from all over the world believe the lies you have spread and wrongly blame the Whites for Racism!! (Link) Now there you have it- STRAIGHT out of the proverbial horse's mouth I dare say!!
This is AWESOME! Paul Harvey is SPOT ON! VP Mike Pence posted this Tuesday night after Michael Bloomberg's condescending remarks about Farmers. Please give a huge"THANK YOU" to our American Farmers…🇺🇸🇺🇸

Posted by Derek Utley on Tuesday, February 18, 2020
SOUTH AFRICA– under the evil spell of communism- now also entered the stage where "denial of apartheid" is declared a crime, especially following the repeated arrests and criminal trials of the elderly German woman, Ursula Haverbeck, who flatny stick to her narrative to deny  the so-called "Holocaust" or "massacre" during World War II is exaggerated and never was as the Jews throughout the years promoted it to be. The communist lie and denial of it punishable by law now is spread Southwards as well. Holocaust Denial" has been declared a crime in a number of countries, including Germany, Canada and Austria. It will be only a matter of time before "Apartheid Denial" will follow the same route and will result in anyone saying "Apartheid was not a crime, it is now far worse" him or her. committing herself to a punishable offense just as the bogus "hate speech" also is a punishable offense ( only for whites that is.)
ALREADY the despicable Jews and filthy communists start to holler for Nuremberg trails for "apartheid." 
AND as quite expected did we not have to wait too long for the Squirrel to- in true communist-style- also leave his bit of testosterone on the "apartheid" issue. Denying apartheid was a crime against humanity is 'treasonous',says Ramaphosa. Ramaphosa on Thursday told parliament that in his view it was treasonous to deny that apartheid was a crime against humanity, thereby publicly repudiating former president FW de Klerk. Ramaphosa opened his reply to the debate on his State of the Nation Address by saying it was clear that apartheid was a "crime against humanity " even before the United Nations declared it such in 1973.  "They knew as they  looked at this country that this was a country where a grave crime was being committed against the majority of the people against South Africa," the Squirrel  said.
Ramaphosa added that there was not a single South African alive who was not touched by apartheid.
De Klerk was indeed 100% correct in his initial opinion that the statement was not a Universal statement. The motion was tabled by the then Soviet Union, supported by Guinea, before the General Assembly of the then UN. The wording of the policy document "International Convention on the Suppression and Punishment of the Crime of Apartheid (ICSPCA)" was accepted in 1973 and signed by 20 countries. These 20 countries were: Benin, Bulgaria, Belarus, Chad, Czechoslovakia, Ecuador, The GDR, Guinea, Hungary, Iraq, Mongolia, Poland, Qatar, Somalia, Syria, Ukraine, the USSR, the United Arab Emirates, Tanzania and Yugoslavia Yugoslavia. Ironically but not surprisingly these 20 countries happened to be  either part of the Communist Soviet sphere of influence, which was at that time in a state of war with South Africa, or the USSR was well-liked. Do you further notice which countries have never signed the policy statement and have not done so to this day? Countries such as Canada, France, Germany, Israel, Italy, the Netherlands, the United Kingdom, Australia, New Zealand and the USA do not yet regard apartheid as a crime against humanity. Against this backdrop, one has to ask yourself whether the 20 countries' motion was actually more of a war strategy than anything else, and where the signatories of the time, given the fall of Communism in their countries since 1973, stand today regarding the issue? Would Poland, Hungary or Slovakia with their current center-right, conservative and nationalist governments still support the motion? We highly doubt. 
De Klerk has tried to excuse himself by saying that he is " afraid of prosecution for crimes against humanity. " The probability of this is a dazzling, bulletproof zero and De Klerk, as a lawyer, should be very well aware of this.  The statutes of the International Court of Justice clearly state that no one can be prosecuted for any wrongdoing committed before the court. The court was established on July 1, 2002, almost a decade after the end of apartheid. There is no chance that De Klerk or any member of his cabinet, government or party could ever be indicted before that tribunal. We  personally are convinced that  De Klerk had no intention whatsoever of declaring himself an apologist for apartheid, as he is now accused of. We  believe his intention was simple: "It was time to compare the apartheid dispensation with the present. It's time to ask: How do people's rights, quality of life, safety and well-being compare between then and now? And if it has been determined, for once and for all, stop excavating the disguised carcass of apartheid as an excuse for the flawed post-1994 dispensation that is destroying South Africa. " And with that, no reasonable person can differ from him 
De Klerk's initial statement was not his fault. His flip-flop  afterwards  (just as with his speech on February 2, 1990, just as with his businesses before the March 17, 1992 referendum, just as his promises before the April 28, 1994 election) was his mistake. Anyone can be granted  a mistake once, but four times the same mistake is really gobsmacking. Helen Zille has defended her stance on Colonialism even after she has had major adversity within the DA. At the same time, De Klerk rolled over to the great relief of his handful of fans (including Theuns Eloff and Co.) –  and displayed his cowardly yellow belly.  And there he once again gave up any credibility and deprived South Africa of the opportunity to compare once and for all the pre-1994 dispensation with the present and expose the flagrant lie of the ANC communist "apartheid" propaganda hoax. 
On the flip-side we must ask the ANC communists- who so quickly can holler about "apartheid" what happened to Mandela's soothing speech during his inauguration when he "promised":" Let there be justice for all. Let there be peace for all. Let there be work, bread, water and salt for all. Let each know that for each the body, the mind and the soul have been freed to fulfill themselves. Never, never and never again shall it be that this beautiful land will again experience the oppression of one by another and suffer the indignity of being the skunk of the world. Let freedom reign." This past 25 years saw NOTHING of that speech manifested in the ANC's racist policies at all- but the opposite became the truth.   This promise quickly was disbanded and the communist ANC immediately started their witch hunts and discrimination against whites– continuously making them out as the "skunk" of the world. After that the genocide of whites was initiated when Peter Mokaba  hollered the first phrase of " Kill the Boer- Kill the Farmer."  Now Ramaphosa and Malema holler let us start "expropriating white farmland without compensation." Yea…like the rest of the world the ANC also adopted a policy of "F*ck Mandela- let's impoverish, discriminate against , oppress and  kill those whites." And guess what? The Jews and the liberals are a-ok with it. The black majority racists are a-ok with it. Even the friggen white Europeans are a-ok with it. Killing whites in South Africa appear just to be one helluva cultural game to these despicable international and local thugs. We now await the ANC  mass murderers to "invite" the rest of their international " guest" hunters to come and enjoy hunting a few white farmers while "hunting season" is open- like they already did invite their African "guests." 
This is how sick whites are treated in state hospitals- forced to lie on the floor. 
Blaming "apartheid" is such a convenient scapegoat to blame all your troubles, incompetence and ineptocracy onto. Whites are tired to be blamed for everything that goes wrong with the non-white incompetents. Whites are "gatvol" to be targeted for witch hunts by the heinous political parties to score cheap political points, corporate villains that want to such up black political correct arses, , black racists that want to blame their own government's incapable blunders onto – and liberal leeches that only want to exploit "apartheid" again to enhance their own selfish agendas.During 'apartheid" almost 90% of all blacks had work- they never were banned by legislative actions as a race from the job market. Yet today we have discriminatory BEEE laws against the minority group- especially whites- that bar them from the job market. More than 400 000 whites already were pushed into poverty through this draconian action from Rob Davis and his communist cohorts. But this is all facts that misdirected liberal bottom dwellers like Me. Japhta conveniently "forgot." You see- liberals have this eerie mental deficiency of being genetically constructed to have  a selective memory. 
Oppression against minority groups are ten times worse that what it was during "apartheid." Discrimination against minority groups are ten times worse than during 'apartheid." The economy is ten times worse off  than during apartheid. More blacks are murdered per month than under "apartheid" per year. More coloreds are killed during gangster "turf wars" for drugs than under "apartheid." Ten times more corruption and government extortion are taking place than under "apartheid." Crime has sky-rocketed and are about a hundred times worse than under " apartheid." Yet The South African Council of Churches, Mbeki, Tuta et al wants to cry foul when the truth being told?  And  the UN never up to today declared the ANC as criminals against humanity- but the same communist criminals now wants to lambaste De Klerk for calling a spade a spade. But because "apartheid" created so many instant black millionaires after 1994 and helped so many " academics" the likes of  Tutu , Frank Chickane, Allan Boesak and others becoming stinking rich- the goose that lied the golden eggs must not be killed but kept well alive.
This is the way Africa shows their gratitude towards liberal white Europe-the same way blacks now show their gratitude towards white Afrikaners  for "apartheid." 
Mmm……Me. Mokobe– a B-Edu student at the University of the Orange Free State. This is all happening under your fake "democracy" – a system LOADED with anti-white black radicals threatening whites, murdering white farmers, desecrating white statues, exterminating white cultures, languages, flags, history and everything remotely white. Why- because of communist thugs as mentioned in the opening paragraphs of this article and their brutal race hatred. South Africa's universities now have become breeding hives for communist serpents. THIS never happened under "apartheid." 
Nothing has changed in the distorted mind-set of the majority black South African 'democrats." They still are the same destroyers they were 25 years ago. They still riot, create chaos, murder and destroy everything in their wake. They still are the deep rooted racist masters of chaos they where 25 years ago. Nothing has changed- even with their own selected hoodlums in control. Yea– THAT is your new South African "democracy" for you- the "democracy" Jephta an her hippocratic liberal cronies are hailing as much better than "apartheid." A "democracy"  full of crime, murder, genocides, violent riots, assassinations , arson, corruption and child abuse and a system that destroyed all South Africa's state organs and brought South Africa on the brink of junk status. Frankly I would prefer "apartheid" ten times better than this Jew-created ill-discipline war zone they now call "democracy." In this sickening environment the black racists can destroy a whole country- kill as many innocent people as they want- just as long as NO white have any part in it- for "racism" is deemed a much more punishable crime than black rioting  racists murdering people and torching whole towns.
This is how sick and misdirected South Africa's violent black society who still  is blaming "apartheid" has become.  On Friday they que to vote against the  white at the ballot box. Saturday again they sit in their thousands at shopping malls- waiting for that same white they vote against to come and pick them up and give them a job. Sunday they parade in their white church garments-singing " Praise the Lord"- and on  Monday they run in the streets burning and killing- singing " Kill the Boer- Kill the farmer."   That is South Africa's black hippocratic  populace for you under the illegal communist rule. The ANC should NEVER have  been allowed to govern after the last corrupt elections- in fact the elections should have been declared nil and void as the ANC again bamboozled and forced their way back into power- ignoring all the opposition voices that clearly indicated the last elections in 2019 was rigged and smut with discrepancies. And only 25.3 million people voted that showed that the majority was not even interested in the ANC's rule anymore.  That is why we never will accept the ANC as a "democratically elected" government. They now illegally rule by force and deception.And such will they again do in the next elections. In South Arica elections never were designed to be "free and fair"- but mostly elections were engineered to appoint the chosen front men in power than the people's choice.  Lairs and hippocrats they are- ALL of them! No wonder the poor lost liberals the likes of Jephta  also tag along this big " democratic" hoax.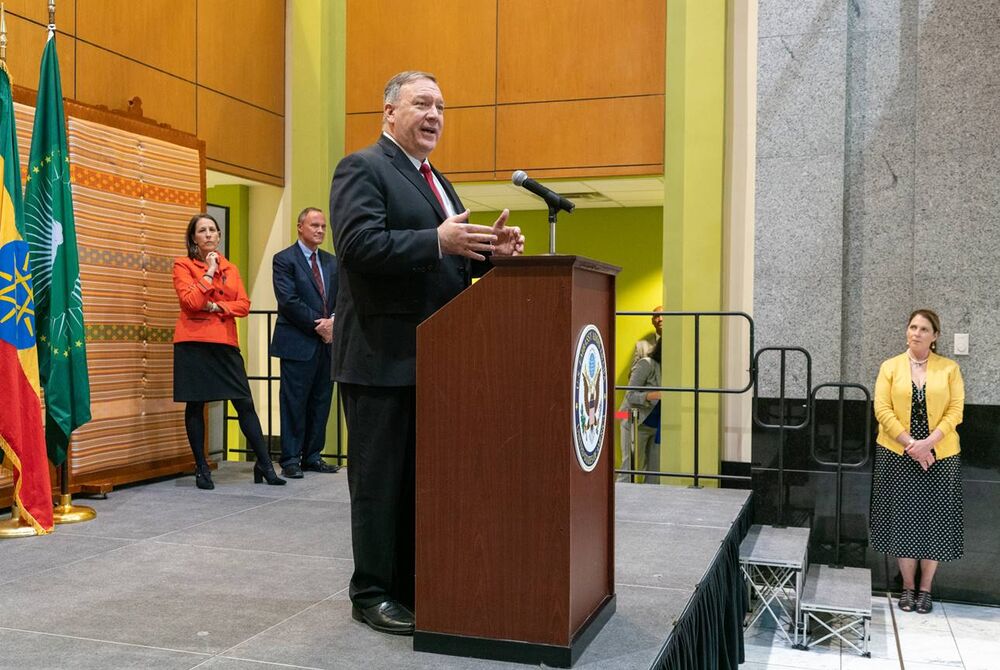 WATCH: US secretary of state Mike Pompeo @SecPompeo says land expropriation without compensation would be disastrous for South Africa#EWC #UN #USA #SouthAfrica #LandDebate https://t.co/PmAVv5mtJ6

Posted by Catherine Rodrigues on Wednesday, February 19, 2020
The South African communist regimes plans to expropriate land without compensation would be disastrous for the economy, U.S. Secretary of State Mike Pompeo said.The policy proposal is an example of centralized planning that has failed in other African states like Zimbabwe, Tanzania and Ethiopia, Pompeo told reporters Wednesday in the Ethiopian capital, Addis Ababa. Donald Trump already condemned the farm attacks and the expropriation of land in the strongest terms on 19 February 2020. Ramaphosa is about to get his arse fried soon. America is about to take a hand in the Squirrel's little macabre fantasy dreams. Also came very important warnings for Cyril from the Netherlands minister Stef Blok and many other diplomats to stop his hare brained and way outdated socialist "expropriation" theatricals or else….Whether the Squirrel will pay any attention to the dire warnings  is yet to be seen. This specific animal seems to have a very thick skull and a very short memory. 
LIKE we said…this animal has a very thick skull and an extremely  short memory. 
A Black reader wrote the following:
" It's funny. Most of the people who mindlessly chant that De Klerk is an Apartheid mass murderer, obviously do not know anything about South Africa, its history (with Apartheid) and post 1994. How can they, when many of them were born between 1990 and 1999? They have never struggled for anything other than to get a social welfare grant, free education and the freedom to twerk on Instagram in the hopes that an ANC Blesser might recognize them. They have never seen a jail cell on account of their race nor have they endured any form of punishment on behalf of another Black; other than their own black bellies.
They dont even know what Genocide actually is; if they did, they would know that the most brutal, monstrous murderers this country has ever seen are all Black. Their own fellow brothers and sisters. Meaning, almost each and every hero these Post '94 children have has at least one liter of Black people's blood on their hands. I mean, look at Shaka Zulu. In his quest to establish and expand the Zulu Nation-State, he managed to kill well over 2 million Blacks. Okay, let me correct this. His wars against neighboring Blacks (to consolidate his power) led to the displacement and murder of over 2 million Blacks. He didn't even know Whites existed as a human species until he was King, long after 2 million Blacks had been buried. When his mother died, he killed 7000 Black people for not mourning "sufficiently". He even killed thousands of cows so that their calves may knew what it felt like to lose a mother.
Now, I have never heard a single Black historian, leader or commentator characterize this as Genocide. Let's look at the Apartheid era (1948-1994). In 1948, there were less than 15 murders per 100,000 people, and we only saw this number escalate (dramatically) in the 1980s, when it reached 30 murders per 100,000 people. This was of course due to the severely violent political unrest that was driven by Anti-Apartheid protests, as well pressure from the international community to rightly sanction Apartheid South Africa. Since most of this violence was political, it was really between the state and anti-Apartheid movements (e.g. UDF); as opposed to the State actively and indiscriminately targeting Black people like Hitler did with the Jews or as we saw in Rwanda.
It was only in 1990 (a few months after de Klerk became president; the year he released Mandela and unbanned the ANC) that murder rates reached and boldly passed the 60 murders per 100,000 mark. It was from this year that a real Black on Black Genocide (although it was never given that term) inked itself in the psyche of South (Black) Africans. Between 1990 and 1994, an estimated 14 000 South Africans (mostly Zulu/IFP and Xhosa/ANC) were murdered in the hands of Black South Africans; with over 130 murders a day. So much that in the period July 1993 to April 1994, the conflict intensified, that by election month it was 2.5 times its previous levels. Since 1994, 500 000 people (mostly Black) have been killed (by Blacks) in this country, mostly due to failed ANC socioeconomic policies which only encourage violence, instead of curbing it. So much that today's murder rates are 36 murders per 100 000 people. On the other hand, Mbeki's AIDS policies killed over 300 000 South Africans (mostly Blacks); about 90 deaths a day in 2005. Syupy Cyril used his power to get 34 Black miners killed in 2012, and today he is president of the Republic. While Zuma's health department killed 143 mentally ill patients, who were mostly Black, and still managed to keep their jobs and evade prison. Yet none these atrocities get the "Genocide" label? Or is this label exclusively reserved for Hitler and Rwanda? Yet again, De Klerk is White and therefore he is a " Racist Genocidal, Colonial Oppressor"  who ought to take the Blame for Black on Black atrocities. While we Blacks continue to reward the actual murderers, who actively advance more Black on Black Genocide than Rwanda did in 1994. So who really cares…"
Hoor wat sê Trump oor vuurwapen besit

Posted by Elize Doherty on Tuesday, February 18, 2020
MEME OF THE DAY: This is South Africa…
Speaking on eNCA on Wednesday morning, Ndabeni-Abrahams said that questions over her having used taxpayers' money to fly herself and her husband, Thato Abrahams, to Switzerland to celebrate their wedding anniversary, were outrageous. "What do you think?" she scoffed when asked if she had visited the mountainous European country. "I have said on this matter that I have never been to Switzerland, my husband has never been to Switzerland. We went to Geneva and New York to do the work we needed to do," she said.
Hmmmmm. pic.twitter.com/A9UyH3OFil

— Karabo Ngoepe (@karabongoepe1) February 19, 2020
-and they try to  rule the country !!!!! God help us!!
SOURCES:
IT IS TIME THE "APARTHEID vs DEMOCRACY" DECEPTION IS EXPOSED- THIS IS HOW YOU HAVE BEEN LIED TO ALL THESE YEARS!
SOURCE:
White Nation
WHITE NATION– WE DO NOT HATE WHITE LIBERALS– WE SIMPLY DESPISE THE FILTH!!
C'MON- SHARE OUR LINK