Do you have news to tell us? Send your e.mails with news and inquiries to: w.nation@mail.com
Register to follow our news on the right-hand tab
OR
Register for free on  our social site HERE to join our world for more news
Article posted  by: White Nation Correspondent Johannesburg February 26  2020
ALSO VISIT:
Afriforum to appear on Fox News and speak to White House about land expropriation and farm murders
Parliamentarian in the Western Cape calls for a referendum for federal autonomy
UK effectively shuts the door on most South Africans hoping to emigrate
Farm murders a form of terrorism, says John Moodey
Desperate white South African farmers who rushed for protection visas in Australia have their claims rejected
Farm murders: AfriForum lays complaints against Ramaphosa and Sisulu at UN
South African Murders Increase to Highest Level in a Decade
Prosecution of 7 black  farm murderers again postponed
The scary numbers behind SA's farm attacks and murders
Farm murderer gets death penalty in Botswana
We're satisfied with SA's land reform policy'— US Ambassador
Woman robbed and stabbed in Bluff after car breaks down
SOUTH AFRICA– FAILED LAND OF COMMUNIST ANC ORGANIZED CRIME : THE  PIRATE's REALM DOWN SOUTH
ARM MURDERS and brutal attacks on farmers and their families  in South Africa continuous  to escalate into a wide-spread genocide among the food producers of the country. Although so many attempts already has been made by various organizations, politicians, media networks, activists and normal citizens this past 25 years since 1994 to try to warn, inform, educate and enlighten the international world of the human catastrophe playing itself out across the rural farming communities in South Africa- little or nothing has been done by the careless international community , United Nations , church groups, – or human rights organizations to focus their attention and act upon  to what already has  become one of the most horrendous onslaughts on food producers  in modern history. 
The unacceptably high degree of human rights abuses, persecutions, oppression and discrimination experienced by whites in general in South Africa by the current regime continuously is downplayed by liberal false media propaganda campaigns and the power flat denial by the illegal ANC/EFF communist rulers and their paid South African Main Stream Media  lackeys. In the face of the international world the communist mass murderers ruling South Africa portray the white South African as a brutal "racist" that factually "stole" the land from Africans and therefore "deserves" to be exterminated in order to "rectify" the "injustices" of "apartheid." But  unknown to most observers is that behind this totally malicious diabolical onslaught against the white Afrikaner and white farmers the "deep state" in the form of arch fiends such as George Soros, the Rothchilds, Oppenheimers, Ruperts, the British communist Party and liberal-controlled news outlets such as the Daily Mail, Washington Post, Huffington Post  and many other globally-controlled leftist organizations forms the back-bone in the diabolical war against the white South Africans.
The more the internationally instituted ANC's criminal nature, incompetence and large scale looting is revealed, the more the ANC needs to keep the narrative in place that "all land was stolen by whites. " This of course is to keep black majority support. The ANC, supported by liberal media, is deliberately creating the notion that whites are "evil thieves " against who the black majority needs to be "protected. " This perception leads to a sort of justification among the black majority, the international community and even some whites who are naive that it is acceptable to murder and rob whites. A target is in other words being painted on the white community and this has been happening for decades. As an example, it should be remembered how the ANC MP Duduzile Promise Manana shouted " Bury them alive" in Parliament, referring to white farmers, when Dr Pieter Mulder of the FF Plus initiated a debate on farm murders in 2017.
As quite expected were none of these black racists reported to the Human Rights Comission for "Hate Speech" as with the Eben Etsebeth case. Again- deliberate victimization of whites and hippocracy rules supreme in the wastelands of South Africa. 
This narrative – Cyril Ramaphosa is a good example of a man speaking in narratives and code – is being used by the ANC – and accepted by the international liberal world and liberal media  to justify the suppression of minority rights. Of course the Courts including the Constitutional Court are just an extension of the ANC ideology and it is after all the ANC that appoints the judges. The regular and constant attacks on whites also lead to the white minority – who are really the ones who should care most – being left numbed and starting to put their heads in the sand because they are unable to deal with it anymore. Because the ANC – being mainly pathological lairs in general- is so good at twisting history, they own the narrative of the absolute "evilness " of " apartheid " and whites in general and that situation in turn seems to lead to a situation where the international community don't seem to care about the large scale farm murders and general onslaught against the white minority. The ANC narrative is strengthened in various ways, for instance school history books. Now that the ANC completely owns history and the narrative of the day, they felt safe to implement expropriation without compensation.  All the major mainstream media houses in South Africa were already captured by the ANC and black elites supporting them. As-if the global communist and media onslaught against the white Afrikaner is not enough- you also have a whole battalion Kazaar Jews in support of the total elimination of the white Christian Afrikaner in South Africa.
"Right Wing Racism" is a scrumptious topic among the leftist garbage. But nothing is ever mentioned about "left wing" racism. As in so many historical documented cases you will find the Kazaar Jew instigations behind many of the white  murders committed by blacks. Here we have the ex-editor of the leftist Citizen newspaper– Kazarian Jew  Daniel Friedman  openly calling for the extermination of "right wing" white people- not mentioning anything about the "left wing."And this was done on National TV! But you did not hear one single condemnation from the leftist media in South Africa against Friedman- in stark contrast with the Penny Sparrow, Vicky Momberg and the Adam Catzavellos incidents. This again highlights the fact that in the ANC communist dispensation double standards and hippocracy are two of the main pillars to demonize the white conservative Christian in South Africa. 
BETWEEN  the illegal communist political thugs and their filthy media they already have branded whites as "racists" to such an extend that black racists now have a free hand to insult, threaten and slander a white without the white daring to reply a single derogatory word. This again was the case at a SPAR shopping mall where a black racist thug verbally abused a white person. The white male just asked him about how he parked his car. The black thug  then started verbally attacking the white man saying that "he does not belong in South Africa " (Zuma and Malema's legacy) -and that he is a "foreigner. " (Again this is due to black political thugs propagating these hate instigation against whites ) He Said that if you do not look like him you do not belong here and shouting repeatedly "Kill me if you can". The black man also said, "Jan Van Riebeeck is you". You can see in the Video the car behind the man parked in front of the Spar. The white male stayed calm throughout the whole video. If the roles were reversed and it was a white man shouting at a black man it would be "racist " and the heading of every newspaper. This is how the ANC/EFF and leftist media mind-f*ck the black population into hating whites. This all forms part of the silent genocide orchestrated by the communists against whites in South Africa.
Keeping blacks out of heaven.
You've just got to love this new South African tribal circus!!! In a new initiative to advance racial integration in South Africa, the ANC government has proposed a bill to Parliament which states that all Angus Buchan's "Mighty Men" conferences must be representative of the population of South Africa. The proposal includes legislation that will force the sellers of these tickets to first sell 70% of all tickets to native Africans, before any tickets may be sold to whites/settler. One of the clowns in the South African open air circus-  Mrs Beauty Kumalo,-  (proud to be a black) Chairperson of Africans for Jesus, has commended the initiative by the ANC government. "Too long real South Africans (blacks) have been excluded from having the same privileges as the whites in serving our Lord Jesus Christ from Nazareth (now relocated to heaven).Apartheid has given the white man better churches, Bibles and theologians which gives them an unfair advantage of reaching heaven. We require equal rights for all Christians. We are tired of the racist white man trying to keep us out of heaven." 
Farm Attacks:
Living in the city, we're comforted by the presence of security companies and public safety officials, and crimes that happen on farms are a remote concern for us. However, two farm attacks in January hit close to home. On January 15, a local Sec Pros control room operator, *Pieter (21), received a call from his uncle informing him of a horrific farm attack in the early morning hours near Polokwane. Pieter, a Glen Marais resident, said the four black suspects, if eventually caught, would face charges of house robbery, theft, murder and rape after killing his grandfather (69) on his farm about 25km from Polokwane, and raping five women, including three young cousins. "My granddad, grandmother (63), aunt and three young cousins were all on the farm during the time of the attack. The attackers tied up the entire family and all the women were raped," he explained. Pieter's cousins are all in primary school. The youngest will turn seven later this year.
Pieter's grandfather was rushed to hospital where he died on January 24 after suffering a heart attack. Pieter's female relatives received trauma care and spent two nights in hospital. "The attackers got away and police are still investigating." His widowed grandmother and other female relatives went to live with family until further arrangement could me made. His grandfather will be remembered as a successful sheep and fig farmer who always made time to play with his grandchildren, no matter the time of day and whether he was busy. "I will always remember how he taught me to ride a tractor. Even as little as I was, he allowed me to change gears and control the petrol and brake pedals," said Pieter. In a separate attack on January 29, in the early hours of the morning, Timothy Rademeyer (51) and his partner Dirkie Voges (61) were attacked by four suspects on their farm in Bapsfontein. Dirkie's son, Rudi Voges, told the media  how his parents were disturbed by the noise of someone breaking into their home while they were asleep. He said his mother got up to investigate and that was when four black thugs attacked her. "My dad reacted to my mother's cries." Voges said the thugs also overpowered his father. The terrorists fled with  tools. "After the attack, my mother managed to break free, injuring herself in the process. She crawled to the farm gate and lay in the road until someone stopped to help." The brother of paramedic Candice Allison chanced upon Dirkie in the road and rushed off to call his sister. She arrived and urgently assisted the elderly couple, who needed medical attention. The couple is lucky to have survived the attack.
Can one imagine the intense fear a person experiences when under attack? Words alone cannot describe the horrific and brutal attacks on farmers in South Africa. Yes, every attack is despicable, egregious, terrible, brutal, and horrific but those words alone do not describe the ruthless farm attacks. A farm attack is not an ordinary crime; it is nothing more than an inhumane act of violence against farmers who have over the years become victims of merciless criminals obsessed on killing the minority. On Christmas day December 25, around 21H00 Mr. and Mrs. Keiser were at home on their Wolhuterskop farm when they were assaulted, kidnapped and the black thugs never stole anything. This attack reveals the extremely inhumane act of cruelty.
A Local female farmer Mimie Jacobs was brutally stabbed last week  in a farm attack that occurred on her farm Rosemead, just outside Bloemfontein. Jacobs was stabbed by three black thugs who were armed with knives. According to the victim's brother, Graham Jacobs, at around 8 pm, the terrorists  kicked open the door of her farmhouse and attacked her with a knife. "They wounded her on the head and part of the knife broke off and stayed in her skull. They then tied her up with an electric cable and forced her to make an e-wallet payment. They then threatened to rape and kill her if she did not give them the pin number, which she did," explained Jacobs. After they received the money she managed to escape. She then ran to her neighbor who called an ambulance and the police. "She was taken to Pelonomi Hospital at around 11 pm, and was there until around 7 am this morning without receiving any assistance. We then decided to take her to Mediclinic where they managed to assist her immediately. The hospital removed the metal bit of the knife stuck in her skull quickly and she did not require extensive surgery," he added.
Mimie Jacobs, who received the Free State Female Farmer of the Year Award from the Free State Department of Agriculture in 2016, is also currently the president of the Free State Chamber of Commerce and Industry. While speaking to Bloemfontein Courant, Jacobs added that the victim was doing well regardless of the incident and that they now had the traumatic task of cleaning her home which was drenched in blood from the attack. Police spokesperson, Thandi Mbambo said that the suspects are still at large. "Any person with information or enquiries concerning the case is requested to call Sergeant Monaheng Johannes Masiu at Soutpan Detective Branch," said Mbambo
FARM attacks and attacks on whites is on the rise- despite the lies , false information, – and power of flat denial offered by the current ANC terrorist regime of Cyril Ramaphosa. This past month or two alone the following incidents were reported:
92 Year old Piet Raath and his co-worker were attacked by two  black terrorists on his farm in Migdol in the North-West Province. They were assaulted, tied up and a shotgun was taken from Piet.
Local farmer Mimie Jacobs was brutally stabbed  in a farm attack that occurred on her farm Rosemead, just outside Bloemfontein. Jacobs was stabbed by three  black terrorists  who were armed with knives. According to the victim's brother, Graham Jacobs, at around 8 pm, the assailants kicked open the door of her farmhouse and attacked her with a knife. "They wounded her on the head and part of the knife broke off and stabbed in her skull. They then tied her up with an electric cable and forced her to make an e-wallet payment. They then threatened to rape and kill her if she did not give them the pin number, which she did," explained Jacobs.
Chris (79) and Tolla(76) Hattingh were brutally attacked by three black terrorists  in their farm near Delportshoop in the Northern Cape. The elderly couple  was assaulted, threatened and bound with electtrical cords. The terrorists then ransacked the homestead after which they stole the couple's Ford Ranger and fled.
Three white  brothers were rushed to Kalafong Hospital last night after being shot by three black terrorists  at their smallholding in Constantia Street in Mnandi, Centurion. The men, in their late 20s, were sitting in their barbecue  area when the black terrorists  gained entrance to the plot after jumping over the fence around 23:00. Member of sector 2 Community Police Forum Charl Homan said the black terrorists  were armed, carrying guns and crowbars. The brothers were sitting outside when all of a sudden they were surprised by three robbers who opened fire at them. One of the brothers was shot in the chest and another brother was shot in the leg.
Farm murder statistics have again added another case after an earlier farm attack become a farm murder. Last week, 58-year-old Mr. Dries (Bloubul) Botha was shot at his farm near Brits and died almost a week later in a Johannesburg hospital from injuries sustained during the attack. During the incident, Mr. Botha's wife managed to lock herself in the bathroom and call for help. She could hear her husband shouting that he had been shot. He was injured in the shoulder, right arm, and upper body, and his intestines, especially his pancreas, were severely damaged. The black  terrorists  shot him without stealing anything, and seven terrorists have been arrested.
A 72 year old elderly white resident of Nigel was shot dead by a black thug while he was doing some garden chores in his front yard. Deon Botha allegedly made his home when a black thug  who had earlier broken into a nearby home shot him in the chest. Quintin Joubert, a member of Nigel's community police, says the attacker initially ran through the yard of a kindergarten near Botha's home. "He then stole a firearm and jewelery from an uncle in Bloekom Street and then fled. A woman from kindergarten saw him running and chasing him with her vehicle down Violet Street. When she confronted him, he threatened her with a firearm and then fled to Tulp Street. Here he apparently shot Uncle Deon, "says Joubert. Joubert found Botha's body.

Two white women were atatcked on their small holding in Amandasig in Preoria North this past two weeks. Two black terrorists wearing balaclavas attacked them , bound them and robbed them from a laptop and cellphones.

An elderly white resident was attacked by black terrorists in Port Elizabeth last week. His son found his father on a pool of blood when he made a quick visit to the elderly man.
One of the four black terrorists  accused of the brutal murder of a 76-year-old elderly white woman told the Port Elizabeth High Court on Wednesday he had been "threatened with his life " if he did not co-operate in the planning and execution of the house robbery which left Denise Webber dead. Testifying in his own defence, Fikile Mengo, 27, said his co-accused, Sinethemba Nenembe, 33, had told him that if he did not give him his cellphone number and details of where he was working in Kabega Park, Mengo and his family would be murdered. The threat was allegedly  made two days before the August 20 2015 incident.

Two white friends had their Monday evening shattered when a black armed terrorists  invaded a Glenmore home and shot the resident. "The incident occurred just after 7pm, last night, when the resident went outside to investigate why his dog was barking," said Blue Security community and media liaison officer, Andreas Mathios. When his friend, who was sitting inside, heard a scuffle and went to see what was going on he saw an unknown intruder wielding a firearm. While hiding behind a wall, the friend heard a single gunshot and then discovered his wounded friend lying on the ground. "The resident had sustained a gunshot wound to his right leg," said Mathios. The terrorist had fled. "CCTV footage confirms the incident," said Mathios. "The two balaclava-clad terrorists  are seen scaling the front gate, a firearm is passed over and they run onto the veranda. A few seconds later they can be seen fleeing the property. "The footage also reveals a white BMW passing the home a short while prior to the incident before returning and parking near the entrance."

The police are baffled by the murder of a local businessman that took place at a townhouse complex in Elandia on Valentine's Day. The family of the victim is offering a reward for information about the murder of the 49-year-old Dickie Els who was found stabbed in the parking area of the townhouse complex that he also owned.
A gruesome discovery was made by police after a forced entry to a house after a report was received on 17 February 2020 at about 12:00, at Maclear SAPS from a concerned citizen who had not seen the occupant of the smallholding since the previous week. The smallholding is 5 km outside Maclear on the Mount Fletcher road. The bodies of two white men-Eugene Peter du Plessis (54) en Sidwell Pepper (44)  were found lying on the floor in the bedroom. Their hands were tied behind their backs and their throats slit with visible signs of a struggle and severe assault. Maclear SAPS arrested three black terrorists , two, aged 40 and one aged 18 after the double murder on the smallholding outside Maclear on 18 February 2020. The alleged possible motive at this stage could be robbery as the terrorists had locked the house from outside. At this point, a TV and cash were recovered from the house of the thugs.
A white farmer- Johannes Cornelius Meyer was shot dead on his farm near Standerton when a group of black terrorists attacked the farm and shot him twice in the chest. After robbing Meyer and his wife Ilse– they were forced to the lounge. There a black terrorist told Meyer he is going to shoot him. Meyer asked the terrorist why he want to kill him after he gave them everything. The black terrorist summarily pulled the trigger of his firearm and shot Meyer twice upon which Meyer died on the scene.
A farm murder took place on 10 February 2020, in Seven Fountains, Eastern Cape province. A white couple was walking home to their farm when they were stopped by two unknown black terrorists . Without warning, one of the terrorists  drew a firearm and shot and killed the male victim. Nothing was stolen during the attack and the terrorists  fled. There is no other information available at this stage. Police are investigating but there have been no arrests.
The two vile black murderers of a white farmer Piet Els(78) were given bail of R 1000.00.  Els(87) sustained multiple injuries, including burn wounds, a head injury and stab wounds. His partner also suffered multiple injuries, including  burn wounds and cuts. Both victims were callously tortured– but the perps walk out of court slapped with a mediocre bail payment.
A farm attack took place on 15 February 2020, at 15:00 in Burnside, Nelspruit, Mpumalanga province. A white woman who was outside in the garden of her home busy cutting grass, was surprised and attacked by three black terrorists, one of which was armed with a firearm and one with a crowbar. The woman was overpowered and the home was ransacked. The terrorists  who were all dressed in jeans and jerseys and were wearing black boots and balaclavas, fled with firearms, jewelry, laptop and cell phones. The woman was not seriously injured but has been left traumatized by the attack. The police are investigating but there have been no arrests. There is no other information available at this stage.

A white woman described the trauma of being tied up and robbed with her seven children and husband on their smallholding in Bronkhorstspruit. Melanie Prinsloo and her husband Hugo were sleeping when five armed black terrorists  entered their bedroom. "I woke to find the men in our bedroom and I screamed, that's when my husband woke up," she said. "He was then tied to the bed. The children were taken to the bathroom where they were also tied up." She said the thugs  kept asking Hugo for his gun and where the money and the safe were. It is alleged the robbers also had a gardening spade in their possession. "Because my husband is hard of hearing, I was worried they would think he was not co-operating, so I offered to show them where the safe was," said. While leading them to the safe Melanie said the men kept threatening to burn her with an iron and that they would rape her if she didn't co-operate. She opened the safe for the men, but they were not happy with what they found. "We do not keep a lot of money in the house, so the safe didn't have much in it. "They kept asking me where the rest was." Melanie, who runs a feeding scheme for a farm school, said the thugs  took her feeding scheme money she collected from parents. The thugs  then disappeared after tying her up with cable ties.

A two year old baby was killed when black thugs fired shots through the window of their home in Booysenpark in Port Elizabeth. Her mother and three year old brother also was injured by the flying bullets. No motive for the attack was established. The toddler was sleeping when the shots were fired randomly;y into their home.
A farm attack took place on a farm in Franschhoek on 11 February 2020, at 00:05. Guests who were staying in a cottage on the farm were held up by at least three black thugs just after midnight. Two of the terrorists  entered the house whilst one stood guard and shouted instructions. It is unclear if there were any more thugs  present outside the premises. The guests were held up and robbed but there were no serious injuries reported. The thugs  fled on foot after the attack. Police have opened a case of house robbery but there have been no arrests. There is no other information available at this stage.
A white father and son were brutally attacked during a house robbery in Piet Bosman Street on 11 February 2020. According to Christiaan Haefele, operations manager of Mooi River Protection, the company received a call about the burglary at 1:45. According to him, officers responded after they were able to confirm that four men allegedly broke into an apartment in the street. The father was stabbed near his eye and the boy in his hand with a knife. One of the black terrorists  was arrested. Police were on scene to investigate. Both the father and son were treated by ER24.
Although a white Rustenburg accountant is still in the hospital's emergency room after being shot by a black thug  who broke into his neighbors' home on Saturday, his anesthetic is gradually reduced.
A white farm worker was attacked on a farm in the Redelinghuis area. He was stabbed multiple times by a black terrorist. He survived the ordeal though.
Another attack by black terrorists took place in the Wemmershoek area in the Western Cape on 11 Fberuaty 2020.  Two tourists were attacked by three black terrorists  in their cottage on a farm. No further details available, other than that no firearms were stolen.
An innocent white man on the verge of emigrating to Canada has been shot several times during a home invasion in Rustenburg. George Spalding (54), who was going to emigrate to Canada shortly, is now being treated in the ICU of Rustenburg provincial hospital after he was shot at least 4 times by a black terrorist  in his Cashan, Rustenburg home on Thursday morning.The incident happened between 0300-0400 when Spalding was sleeping, when he heard a noise which woke him up. When he opened the door of his sleeping room, he was shot several times by the thug, a black man, who came shooting down the passage. The thug then fled with a laptop.

A white Rustenburg dad of three children was shot by a black thug  when he went out of his home to fetch a budgie.

Albert Maritz jr. (19) of Wonderkop agricultural holdings, in the Mooinooi area, was attacked with a knife on Sunday afternoon by a black thug , around 18:00, after he caught a thug  on a hot act, according to Captain Aafje Bothma, spokesperson for the SAPS Northwest Communications Department. Albert was alone in the house when he heard glass breaking. He thought it might have been something that broke down at the home of his older brother, Renier, 26, and he went to investigate. "When he got outside, he saw a burglar who broke the dining room window of the house. He and the burglar started wrestling and Albert jr. saw from the corner of his eye that there was still a man, "said Albert Sr. (Albert Jr.'s father) told the British Post. "He knocked the burglar away when the second man, who apparently came to help the burglar, told Albert jr. attacked with a knife. " The suspects then fled.

The South African Police Service in Makhado have launched a massive manhunt for a group of black armed terrorists  involved in the murder of a 64 year old white man on Tuesday night 4 February 2020, between 17:00 and 18:00 at New Town suburb of Louis Trichardt town. It is alleged that the deceased was entering his home when he was attacked and shot by unknown terrorists before they fled the scene with two motor vehicles, a black VW Jetta and a white VW Polo with unknown registration numbers. The police were called to the scene and reacted swiftly. The deceased was immediately conveyed to the local hospital but was certified dead on arrival.

 Four black terrorists were nabbed, a vehicle and possessions retrieved after a house robbery on a Biesiesvlei farm. Potchefstroom: In an effort to turn the tide against crime, a joint operation was conducted by Provincial Organised Crime, the Tactical Response Team (TRT) and Gauteng Organised Crime. Four black thugs aged between 29 and 61 were arrested only five days after an alleged house robbery was reported to police. The thugs'  apprehension came after they allegedly robbed a white farmer and eight members of his family on Saturday, 25 January 2020 at about 22:15 on a farm in Deelpan, close to Biesiesvlei. It is alleged that the farmer was with his family and relatives, seated in the lounge, when suddenly a group of five armed thugs  entered their home and threatened them with firearms. Furthermore all victims were ordered to lay down on the ground and they were tied-up. Jewellery, cellular phones, laptops, liquor and cash were taken by the suspects, before they fled the scene.

 A white couple was hijacked in the Kliprivier region by black thugs .  The white Male victim was released unharmed. The female was taken hostage and she has been found murdered. Four black terrorists  in plain clothes driving a white GTI with blue lights hijacked the couple. A case of murder, hijacking and robbery is being investigated.

The looting and plundering continues, and another life is taken for a phone – Charles van Heerden, 70, who was wounded in a house robbery in Durban , died of his wounds. One 70-year-old man versus FOUR armed cowardly black terrorists . Charles van Heerden, 70, was shot in the abdomen and his loyal dog, Hunter, was also shot when 4 black killers stormed through the front door at his home in Moseley, Durban, on Tuesday night. Mr. Van Heerden's dog Hunter tried to protect his owner and attacked the invaders, but Hunter was then shot by the thugs. Van Heerden's wife Hettie was also present in the house, but was fortunately not injured. Van Heerden was admitted to a local hospital and his dog to a local veterinary hospital. It was reported that Mr. Van Heerden passed away on Friday, January 31, 2020 due to complications from the gunshot wound to his abdomen. No arrest has been made and unfortunately this is just another case of living in South Africa for a cellphone.

An unborn baby was killed when black thugs held up a highly pregnant white woman and demanded her cellphone. The woman was for no appearant reason shot in the abdomen- which killed her unborn child.
32. An elderly couple at the Kameeldrift smallholdings near Pretoria was attacked in the dead of night by a group of black terrorists. The couple were sleeping when they were woken by cellphone lights being shone in their eyes. Th thugs then blasted the couple with pepper spray. The two elderly people decided to fight back- and the perps fled. The elderly male victimMr Peet van Wyk (74) gave chase- but was stabbed several times and struck over the head with a heavy object. He died later on of his injuries sustained.
33. A white woman- Maritza Van Der Linde (43) of Joubertina in the Eastern Cape  was stabbed to death in a pharmacy in front of her own mother. The black perp entered the pharmacy- ordered all the other staff and clients out- then took Van Der Londe and her mother to a back-room where he stabbed Van Der Linde several times in the abdomen. She died on the scene. The perp was duly arrested.
34. A white couple was attacked by black terrorists on their farm near Roodeplaat in Pretoria. The male victim Peet Van Wyk died and the woman Rina Van Wyk is in a critically condition.
35. An elderly white woman was brutally murdered by two black terrorists  on her farm Elandsfortein near Fochville. Susanna Maria Elizabeth Nell, 84, is believed to have been suffocated in her living room, and her body was hidden with a pile of clothes. Neighborhood watchers from Fochville confirmed that the elderly woman was attacked by thugs renting a flat on the farm. According to a farm worker, the victim was last seen alive around 4am when she asked him to recharge her cellphone. When the worker arrived later that morning to get the keys to unlock, Nell did not answer. JC van der Merwe, of the Fochville Community Policing Forum, says the worker knocked everywhere and received no response. "He walked around the house and saw that the bedroom window and the burglar bars were forced open. He immediately raised an alarm, "says Van der Merwe. According to him, they struggled to locate the victim and the police dog unit had to be called. "The unit later found her body and she was presumably strangled. The body was hidden under many clothes in the dining room. " The victim's cellphone signal was last picked up at a cellphone tower in the Klerksdorp area. Van der Merwe said the family suspected the two black perps  lived on the farm.
36. Another brutal murder by black terrorists took place on a farm near the Mooiriver area in Kwa-Zulu Natal this week.  One white victim shot dead and another tied up by 2 masked terrorists. Entrance to house was managed through a bathroom window. TV's, safe and vehicle taken. Vehicle has been recovered. No arrests yet.
37. Another elderly farmer was attacked on his farm near De La Reyville this past month.
38. IN Polokwane a grandfather was murdered in cold blood and his 63 year old wife and three young girls were brutally raped by a gang of black terrorists. This horrific and violent attack was not reported on by the mainstream media. And the question is, why was the information kept quiet? Details of the attack that took place on 15 January 2020 have only emerged.The story told seems completely legitimate because dates and the place are provided. Understandably the man who narrated the story did not want himself fully identified because then the Primary School girls who were raped would be identified, because they are all his cousins. During the attack the family was tied up by four black thugs, the grandfather was brutally assaulted and has sadly passed away on 24 January 2020, his wife (63) was raped and then three young primary school girls were also raped.
The thugs  got away and police are -as usual- only still "investigating."
39. A 29-year-old white security guard has been shot and killed in Motherwell, Port Elizabeth. Three black terrorists  opened fire. The killers robbed him of his weapon and cellphone, after which they fled the scene in his security van. The vehicle was later found abandoned.
NOT FOR SENSITIVE VIEWERS
40.Three armed black terrorists attacked two  white male victims at Mnandi, Gauteng. The Two male victims retaliated and fought off the terrorists.  One victim is wounded in hand and other shot through knee, bullet lodged in other knee. Victims fought with attackers until they fled.
41. A white man was attacked by four black thugs driving an old Toyota in Wilkeville Klerksdorp.   All 4 were in their thirties. They assaulted the white victim  with some object and kept shouting: "This is not your country white boy. " One kicked him in the face with a safety shoe and he was then stabbed with a knife. Fortunately, his jacket's metal weapon stopped It hit his heart! Someone came out of his yard and they fled. According to police, they said it was the 4th incident in which something similar happened and each time the old white Toyota corolla was involved.
42. Two warrants of arrest (international warrant and a South African warrant) have been issued for a black Mozambican thug implicated in the murder of a white Summerstrand couple in November 2017. Andre Saaiman (65) and Lydia Saaiman (69) were brutally murdered at their Scott Street house on 6 November 2017. Since the murders, their black gardener who lived on the premises disappeared with all of his belongings. Results of forensics evidence collected on the scene suggests the gardener's involvement in the murders. Police are searching for Ezequiel Carlos Cossa (26), a Mozambican national. It is suspected that Cossa may have gone back to Mozambique hence the international warrant has been issued however there is a possibility that he may have returned to South Africa.
43. A White farmer- Japie Van Den Berg (50) – was attacked  by FIVE black terrorists on his farm Hillbrow in the Vierfontein district. The black thugs ambushed Japie at his farm gate- dragged him inside his home-the tied him to a tree while they plundered his home- then tied Van Den Berg and dumped him on his own pick-up- where-after they drove a long distance away and dumped him off. Earlier a family member of Van Den Berg also was attacked on his farm near Wesselsbron by a black thug who was later on released on bail again.
44. A Rosetta guesthouse owner was shot dead during an armed robbery on her remote farm while her foreign housemate was bound and gagged with wire and left for dead in the home by two balaclava-clad black thugs. Patricia "Trish" Vause Taylor (65), who owned the Threeways Getaway guesthouse, and her 70-year-old friend (who did not want to be named) were watching television on Monday evening at about 8 pm when they were attacked.
45. . Corneels and Alta Greyling were attacked on their farm in the Komga area near East London  . One black thug was shot. Three terrorists were arrested. Corneels was hit with hammer. He was taken to a medical facility. 
46.Another farm attack occured on a farm Doornbosch near Magallies this past week on February 26 2020.  A Security company received the call from the farm owner who wasn't home at the time to say that his wife was attacked on the farm. Vehicles were dispatched to scene immediately and upon arrival they found the lady inside the house she had been attacked by 2 young blacl terrorists- both were wearing hoodies and gloves. They opened the safe and removed weapons out of the safe . The South African Police Services (SAPS) was contacted and were on scene very quickly . After searching the area some items were found in the bushes . SAPS is following up leads in connection with the attack. No further information is available at this time as police are busy with the investigation.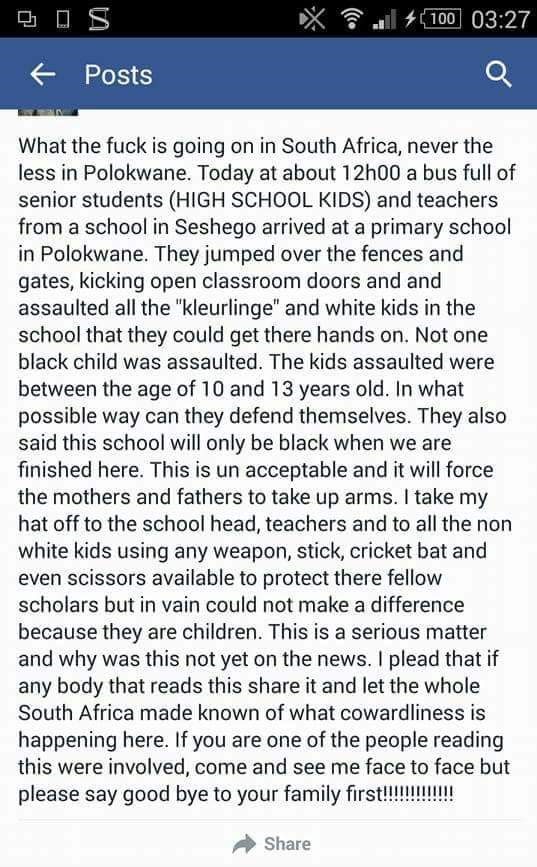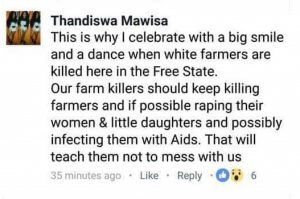 FORTY SIX  attacks on whites by organized groups of mainly black  terrorists. Forty six farm attacks and a president that flatly denies in the eye of the world that farm attacks does exist in South Africa. And this attacks only forms the tip of the iceberg of the diabolical onslaught against the white Afrikaner community.  Forty six   attacks by black vigilantes and not ONE single incident where a white attacked a black. What is wrong with this picture? The picture that emerges here is that there is a definite WAR going on against the white Afrikaners in South Africa- and especially against the white farmers. Why then are the whites in South Africa still acting so passive ? The time to be an obedient slave to the whims and brutal laws against whites in South Africa is something of the past. There comes a time when one must draw a line in the sand and say "enough is enough." 25 Years of brutal discrimination against whites, 25 Years of constant and brutal farm murders, 25 years of continuous alienation, dehumanization and witch hunts on white Afrikaners must now come to an end.  Never during the white rule were blacks so oppressed, discriminated against and murders committed by whites against black families as what the case now is against whites. The time when liberal trash and their communist media slandered whites Afrikaners is something of the past. The time when whites were persecuted and discriminated against because of their skin color is something of the past. The time where black terrorists ran rampant on the orders and instigation by black political thugs is something of the past. The time when these communist filth disarmed white farmers and left them defenseless at the mercy of this black murdering thugs is something of the past. White Afrikaners now must stop being cannon fodder and skunks to be blamed for everything by black politicians and their filthy media alike. The time has come that whites now must stand up, show some back-bone , be counted and start defending themselves. For 25 years the Afrikaner obeyed the law of the communist- and today- looking back at the past two and a half decades- the Afrikaner could only see persecution, discrimination, alienation, impoverishment, human rights abuses, brutal murders and a total disregard for him as a South African- because of the laws fabricated against him. It is time to take a closer look at all those "laws" in retrospective.
The Law– that set of rules and regulations instituted by a country's ruling government to upheld it's constitution and ensure discipline, safety, fairness, order, good governance and equality among all it's people is supposed to be equally applied to all residents of that country. In South Africa the opposite is the truth. There are 3 sets of laws applied in South Africa- One that vindicate all politicians from being prosecuted, One that vindicates all black people from racism, human rights abuses and  human rights atrocities- and One specifically fabricated to persecute, prosecute and oppress white Afrikaners  .
Laws are written by people in the highest legislature who were elected on a fair and honest  system by the majority of a country's inhabitants….people that are supposed to be academically impartial, patriotic to the  progress of the country- and of the highest integrity- people that is trustworthy to carry the interests of the citizens at heart he law. Again in South Africa that is not the case. The ruling Czars have no integrity, is by no means patriotic, are not trustworthy at all- and care less about the interests of the citizens. Laws are  supposed to protect the citizens of a country- the law is supposed to enforce discipline and order among it's citizens- the law is supposed to be fair and impartial. The law is supposed to be sound guidelines onto which every country's principles and moral values are based. The law is supposed to protect it's citizens from malicious elements within it's society- and punish those that offend against those principles and values as being adhered to by the majority of the citizens. That is the Dutch-Roman laws we as Westerners grew up with- and were taught to obey in order to ensure a healthy functional and safe environment for all. That is why we have these laws. They form the essence- the nucleus of every society in order to maintain a healthy  and prosperous society. Because of the diversity of cultures in a country- these laws must therefore be planned and written very carefully as not to offend or infringe any damage to any segment of that society. Should the law then be corrupted or influenced as such- it could spell the danger of an implosion or even the extinction of that society- which now happen to be the case in South Africa.  To ensure the continuation of any society- that laws must at all times be adhered to, obeyed and respected by all levels of that society- including it's ruling society. That is the earmark of a perfect controlled society. South Africa by no means is a perfect controlled society since 1994 no more- but a rogue state controlled by rogue communist elements.
Here we go. Our leaders. Inside Eastern Cape legislature today. Very sad.

Posted by Morne Swart Page on Tuesday, February 25, 2020
The "law" does not exist anymore in South Africa. This is now the " law makers" themselves acting like hooligans.
BUT then what happens if that same laws are turned against us- used as a rod to unfairly punish and control us like in the case with the white Afrikaner society in South Africa? What happens if that same laws are used to inflict damage against those it was designed to supposedly protect? What happens if those same laws are utilized to specifically inflict harm on it's citizens – or a part of it? What if the chosen rulers themselves are not adhering the law- but have different sets of laws and values for different classes of society? What if the rulers themselves are constantly breaking that laws and never were brought to justice? What if those same rulers change those laws to suit their own selfish ventures while oppressing the populace or part of it? What happens if those laws were written specifically to oppress, dehumanize, impoverish or exclude certain segments of the country's homogeneous citizens from their basic human rights- while only certain "chosen ones " can benefit from those laws? What happens if that laws were written by alien infiltrators posing as a country's citizens- or when laws were written by individuals that do not even believe in Dutch-Roman Western morals, values and discipline? What happens if those laws are turned against a certain part of the population with the intend to put them in grave danger, disown- or even exterminate their existence as a homogeneous group? What if those laws are changed on a regular basis only to benefit a certain few? Is the law then still applicable? Is the law then still deemed fair and impartial? Is it still a law at all? What if the judiciary system- the very system that is supposed to enforce that law- is corrupted or influenced by outside factors? Must it still be obeyed- or should it be discarded as a possible threat to society and the "Law of Society " not rather then be adopted as the guideline with which the society must control and navigate their own environment and destiny? This is questions every citizen- irrespective color or creed- MUST ask himself. Freedom is the essence of any society- the core of society- freedom of speech, movement, trade and ownership-and laws are created around the preservation of that freedom.    Once that freedom is threatened- it becomes obligatory for the citizen to stand up and start asking questions as to why? If obstinate silence will prevail- then the inevitable omen  of loosing that freedom becomes a reality. We are people- not sheep– we have a free will- we have free spirits that God gave us- and God never said we must be ruled by means of dictatorships or oppression.
UNFORTUNATELY we do not live in a perfect world. Unfortunately we do not live in a perfect country either. Unfortunately we do not even live in a perfect society. There are many countries that do not even come close to a "perfect society. " Our countries ' rulers are not even the choice of it's people anymore. Most countries' rulers were instated by means of corruption and deception. Devious outside forces have infiltrated our ruling societies , corrupted them- and exploit them in order to impoverish us for their own greedy nature.  Most countries do not even have rulers no more- but factually political con-artists who's best interests are their own selfish gain. Most countries have rulers that are being influenced by mentally deranged corporate demons that only hunger for power and might. Most countries have rulers that are corrupt and wicked. Most elections are not even "free and fair" anymore- but factually pre-arranged like we have seen in South Africa , USA- and  in Scotland – where votes were rigged, voters ballot papers destroyed, tampered with– and in some cases- the electoral commissions- the supposedly guard dogs – THEMSELVES being part of the corruption. Thus- if the elected "leaders " then assume portfolios  in the highest positions of public office due to corruption- what type of laws can we expect then when they are the ones that eventually will be writing and enforcing them? Will it still be deemed as "fair" and "impartial?"
When we look at the type of governing office bearers we have today across the globe- we will find that most of them are being controlled by financial moguls…most are connected or involved in secret societies- most are being bribed by corporate wolves- and most of them do not even belong in that position or office they occupy. Our societies thus then have been infiltrated and our true leaders usurped by wolves and vultures of the worst kind. This then brings us back to the laws we have to obey. The question is- WHO's "laws"…our society's …or theirs? They mere fact that these corporate predators  have wormed themselves into our countries' highest legislatures through deception does by no means give them a blanco cheque to start writing "laws" that on the end of the day- will do more damage to our societies than good. Once such a law was identified that have the potential to harm any segment of the society- it should then therefore be scrapped and declared nil and void immediately- NOT kept on the books as long as only a certain element of society benefit from it. The country belongs to the people- rulers are public employees paid by the taxes of the people- and they should adhere and obey the wishes of the people. Ironically in most countries the ruling office bearers these days have this contorted idea that they are the "owners " of the country – thus "untouchable" by the law and therefore have a free hand to do whatever they wish. By building a "ring of steel" around them through exploitation of the security forces and implementation of sets of "laws" to oppress and impoverish and oppress the very people that voted some of them in power- they keep the populace at a distance while they plunder and rob the resources on instructions  of their corporate controllers. History has uncountable examples of such devious socio-corporate dictatorships such as Caligula, Ivan the Terrible, Nero, Stalin, Idi Amin, Pol Pot,  George Bush, Tony Blair, Obama,  Mbeki, Jacob Zuma , Cyril Ramaphosa , Angela Merkel, Mau Tse Tung and David Cameron. Normally it only is a small clique that abuse the power given to them by the people that cause whole countries to implode if they are not stopped in time. Why then can a small band of dictatorial thugs get the cream of the crop while the majority have to live-off the indigestion? Simply because we ALLOW them to. We tolerate their miscarriage of justice and social abuse of powers for too long. We do not act against corrupt politicians. 
This then brings us back again to the question of the law. Many scrupulous politicians will hide behind the fact that it is difficult to govern a country- which in fact- it is. The question is then if you do not want to run a country- or feel incompetent to do so- why then choose to become a president, prime minister- or politician? To blame a previous dispensation or dynasty for the current problems only expose one's inability to act as a leader. Why then proceed with a Republican or "Democratic" system instead of a confederate system where the country is divided in various states each with it's own legislature? This SURELY would ease the burden of trying to run a country which seem to be an impossibility due to diverse ethnically differences. In the olden days gone by- each CITY and TOWN had their own a KINGS -and taxes from that city or town went to the city or town alone. One city's downfall or ill-governing did not affect any other city. So – why must a whole country suffer due to a small band of despots taking the wrong decisions?   Ironically do these politicians find it hard to govern a country and please each citizen effectively- but very well have the ability to  TAX each and every citizen  effectively!  What are we missing here? It was with the Assyrian Empire and their conquests that things start to change and all taxes came to one supreme power- and the Romans officially brought in the Pax Romana. Today we have a very evil system of taxation that borders to a burden and impoverishment of the people. The taxes do not even go for the benefit of the people anymore- but rather does the lion-share go straight to the pockets of devious politicians, corporate oligarchs and alien banksters. Out of every $10.00 you earn- around $ 6.00  goes to these verminous scavengers who preys on the hard working general populace. This high-way white collar robberies are executed by LAWS- iow THEIR laws.
Again we are faced with the question: When is it legal to take the law in your own hands? The answer is straight forward quite simple: The day YOU were forced to stop ruling your government- and your government started to rule YOU…i.o.w you as the people were conned/forced/propagated/cheated into relinquishing the power to political infiltrators posing as your rulers! Whenever the nature between the power of the people and the power of the rulers are disturbed- the perfect equilibrium gets unbalanced- leading to sometimes catastrophic social inequities such as we have seen in France, Russia , Vietnam, Britain- and recently South Africa. The USA and Europe is to follow soon IF the people do not wrestle the power they once had as sovereign nations back from the hands of their current fake Zionist rulers. Once in power- they will NEVER relinquish it again- but by means of deception, taxation, secret societies, alien influx, unions, oppression, diversion, propaganda, impoverishment and corruption they will rule until- IF I may use the words of Jacob Zuma: " 'Till Jesus comes." Whenever a nation is forced to submit to it's unchosen rulers by means of "laws" – it changes the game from a free country into a despotic dictatorship– and it becomes time that the nation ITSELF take the law into their own hands- abide by The Law of Society– and oppose the dictatorships that oppress them….even if it means a revolution or a rebellion. This  action might be the last ditch effort to stop unnecessary genocides like Rwanda and this we now have in South Africa against white Afrikaners – and the survival of that nation into the 22d century.
Ask yourself what would the case be if whites start to chant " One farmer- One politician?"  What would the scenario be if the murder rate against politicians were as high as the murder rate against white farmers? I daresay South Africa's white farmers would enjoy royal VIP protection  on a 24/7 basis- or would have either been governed by righteous and honest leaders- or would have been a politician- free country decades ago. The current problems South Africa face today is not because of the country or it's people- it is because of the criminal elements that call themselves "the government." They are the main problem and causes the most collateral damage to the country- and they are the ones that must be disposed of.  MEANWHILE– while the Afrikaner still plays the "wait and see" game, while they still sheepishly follow the corrupt and oppressive "laws" manufactured against them as a race-  more and more white farmers and elderly people will be murdered, more innocent white women will be raped, more white children will be abducted as sex slaves-  more laws will be fabricated to oppress and discriminate against their nation- all while  their land will be stolen from them whilst America and the rest of the world are still playing their "democratically correct" games and  be quite "satisfied with SA's land reform policy " The reason for the obstinate and deliberate  silence coming  from the international world against this human catastrophe is quite simple: The  war against the white Afrikaner is a globally sanctioned genocide by means of a communist inquisition. 
#BEEisRacist Let us see what response this video will have. Proud to be Black or White right!? Just not in South Africa when anything White is wrong or at a disadvantage.

Posted by The Anti-BEE Movement on Wednesday, February 19, 2020
SOURCE:
White Nation
WHITE NATION– WE DO NOT HATE WHITE LIBERALS– WE SIMPLY DESPISE THE FILTH!!
C'MON- SHARE OUR LINK