Do you have news to tell us? Send your e.mails with news and inquiries to: w.nation@mail.com
Register to follow our news on the right-hand tab
OR
Register for free on  our social sit

e 

HERE to join our world for more news
Article posted  by: White Nation Correspondent Potchefstroom July 10 2020
WE APOLOGIZE FOR THE BLANK PICTURES DISPLAYED  ON THE MAIN  INTERFACE. OUR TECHNICIANS ARE WORKING ON THE CONTINUOUS PROBLEM
ALSO VISIT:
Treasury 'considering possibility of inheritance tax, solidarity tax' – report
SOUTH AFRICA– A FAILED LAND OF COMMUNIST ANC ORGANIZED CRIME : THE  PIRATE's REALM DOWN SOUTH
IF ever the paraphrase " Cry my beloved country" was  applicable to South Africa- it will be now. Not since the callous British invasion on 16 December 1880 was South Africa facing such a terrible and dark uncertain  future as it does now under the watch of a greedy and brutal bankrolled Pan Africanist destroyer who deliberately and purposefully rule without mercy. In his wake of economic destruction and human rights abuses we clearly can detect the spirit of a mixed potion of an oppressive pre-paid globalist dictatorship and an Africanist brutality equal to those past despots such as Yomo Kenyatta , Bokassa, Aristeed, Idi Amin and Robert Mugabe- who also were paid protege's of the Caballah of the Crown.
CYRIL RAMAPHOSA– a staunch communist – trained and groomed by the Oppenheimer mob – who does not even bother to  hide his contempt for  white Afrikaner people – and his unstoppable lust  for power. Ramaphosa  is on a one-man quest to totally destroy South Africa into rubble, cripple it's economy, hi-jack all it's businesses- and impoverish it's people. And what better system to use as a wagon to do just that than "Socialism"- with it's age-old false rhetoric of " the land belongs to the people?" Ramaphosa's permanent Lenninist propaganda of everything I do I do for "My people" is nothing new.  This fake smokescreen of hiding one's own devious and selfish "get rich quick" agendas behind the shadows of the "my people" had it's roots during the 1917 Bolshevik terror campaign already- and every dammed political power hungry  opportunist and front man since  used the same  blood stained "revolutionary" score to sing from. What happened in 1917 and what happens now in South Africa are basically the same- the modus operandi of the stakeholders are the same, the propaganda, agenda and end result also is the same- to ultimately gain total control of a country,  its assets, it's infrastructure, it's economy- and to enslave the masses. This is about where South Africa finds itself today. Ramaphosa– like his predecessors such as the dictators and  despots named above- merely do what he is paid by the Caballah to do- destroy the country so we can move in for the "Great reset" and plunder the country into a wasteland full of scavengers that have neither the resources nor the will to fight or resist our oppressive reign.
How it is done:
This is how Ramaphosa and his "Covid"  gang went into operation: Scare people with a virus. Place them in quarantine. Count the number of dead every second of every day in every news headline. Close all businesses. 40,000,000 out of jobs . Peak unemployment. Claim you are fighting a war against a deadly disease, and ask the people to fight with you against it. Make sure you have a popular President, make him speak to the people. Let him make promises, talk about "Billions of Rands" in help for the people. Over-budget for each and every thing you promise. Write his speech to say that you will give food parcels, increase SASSA, promise help to small businesses, relief to workers. Form some kind of fictitious "Disaster Fund", ask for donations from other countries and the people you see as rich. Let him ask the people again to help you fight this "war against a deadly disease". You will not have to keep any of your promises to the people. You won't forget to pocket most of the money donated to your course.
Put a ban on selling of tobacco products and alcohol, irritate the people by forcing them to buy illegal smokes and booze, at exceedingly high prices, become part of the smuggling. Some of your friends could even pocket some money on the sideline, so they will support you with pleasure. Remove entertainment: parks, gyms, bars, restaurants, sports. No dating. No touching. Mask people. Dehumanize them. Close temples and churches. Create a vacuum. Force them to wear masks. Let depression and anxiety and desperation set in. Let the army and police lose on the streets; they will confiscate the banned products, sell it, and support you. Once again, over-budget for this, and keep the change. Empty the prisons because of the virus and fill the streets with criminals. Send criminals in to vandalize property as if they are" freedom fighters."  Undermine the law. Loot, Attack law enforcement, but tell government to order a stand-down.
By the time the initial 21 days you said the lock down was supposed to last, create "levels", by which you claim to "phase out"  lock down, tell them that we cannot suddenly stop, we have to "phase it out."  Each level will be more relaxed, until one of the members come on the next day, announcing the new rules. The people will then endure it, looking forward to, and hoping for the next moving down a level. start with level 5, see how they react to it, while doing what you feel you want to do. The people will be so happy for each moving downwards through the levels, and appreciate us moving down, that they will forget everything, so you can go on, until they get tired of this level, and then you simply move down one more. Now, first unban alcohol; the people are happy. And when you notice they are still unhappy, you may just unban smoking…play the "Stockholm" game on the rabbits.
Remember, it may ignite hatred and civil war. Civil unrest. Spread stories about" racism " from the enemy. Use the Public broadcaster and social media, and the media in general. Blame anything else for it, but yourself; blame "apartheid,"  Jan v Riebeeck Colonialism, white people, and now, the Coronavirus, as long as you blame someone else, and get the attention off from yourself. Blame others is always an easy option for the ANC. They can take you to Court, if they feel so, you will pay your legal costs from their tax money, anyway. If they threaten you with legal action, you will simply "consult" with them, make some promises, which you will not keep anyway. And so you will drag it all out, until they give up. Then you can declare a state of Emergency, and do whatever you want, no enemy any more, Elections and Constitution is out the door. And, wow-wee! We will never have to worry about voters again, as there will never be any elections to worry about again!" We are being conditioned, manipulated, and programmed by multiple agendas as never before.
Ramaphosa exploiting the fake "Covid 19″ agenda for his own agendas
It also then is for this reason that Ramaphosa and his mangy African populists are exploiting the false "Covid 19" operation to deliver the best results in their destructive campaign to finally destroy South Africa once and for all. This evil agenda was laid bare a few weeks ago when the Democratic Alliance (DA) came  in possession of what appears to be a government document that describes the fake Covid-19 "pandemic " as an opportunity for the "macro re-organisation of the state", and proposes to make the Command Council system (Polatriat) a model for government beyond the never ending "lockdown."
The hellish document discusses the financial ruin in municipalities that it says is due to South Africa's credit downgrade ( not the continuous cadre corruption and plundering) and the "lockdown,"- and uses this as a gap to extend and consolidate central state control. Do you see the tentacles of communism exposed here? The credit downgrade and the "lockdown " did not result in municipalities collapsing, the ANC did. If the "Lockdown" was partly responsible for the collapse of the municipalities- then why extending this draconian system far and beyond it's intended date then? The fundamental reason for the collapse of many municipalities across South Africa has been the ANC's cadre deployment policies and the wholescale mismanagement, corruption and criminalization of the state that followed. Municipal officials were not appointed for competency, but rather political expediency. Apart from relying on bad government to solve the problems caused by bad government, the DA said it is most concerned by the constitutional implications of what is being proposed. The document seems to reveal an ANC plan to slowly roll back the powers of democratically elected local and provincial government. In other words Ramaphosa and his Brirish Caballah cronies slowly wants to introduce a communist state were everything belongs and is controlled by the "state"(Read British Caballah)

This is nothing short of a coup d'état. The document literally invokes the phrase "Never waste a good crisis" and describes the response of this ponzi  regime to the Covid-19 "pandemic " as "exemplary", and proposes using the "District Development"  Model and the "Command Council"  system as a means of centralized government policy-making. This model, it argues, "should inform South Africa's economic response and it will do so in a way that will disrupt current and old ways of how government has been working". It will also "bind" all spheres of government. IOW ONE socialist state! NO independent policy making no more. One of the specific proposals in the document has already been adopted: government ministers will be appointed as "district political champions" to oversee the other spheres of government. This presumably includes ministers like Lindiwe Zulu who can hardly manage her own department. If the DA's suspicions are justified it means that the inane-sounding "District Development Model " was never about improving service delivery; instead it was a cover for the ANC grabbing more government power, and eventually doing away with provincial and local elections. What a sneaky way to rake in the Western Cape as well- one province the dastardly ANC never could win.
The ANC is not above using its own failures in order to attack the Constitution. Just like the failure of the government's land reform program was used to argue for an amendment of section 25 of the Constitution, so the ANC will have no shame to use the damage done by its own cadres in government to argue for scrapping the nine provinces, and turning municipalities into extensions of the national government. The stated intention behind the District Development Model has also been at odds with the hands-off response of national government to the collapse of municipalities. If the national government really cared about the communities that suffer the collapse of municipal services, then why has it been so hesitant to use its existing powers of intervention? Section 139(7) of the Constitution gives the national government considerable power to step into the shoes of useless provinces, and so to stop municipalities from self-destructing. But asked about municipalities defaulting on their Eskom debt, hiring reprobates implicated in the VBS scandal, or entering financially ruinous contracts, Minister Dlamini-Zuma has made a conspicuous display of wringing her hands.For example Gauteng municipalities is in a state of irreversible mismanagement- was the warning issued by the Auditor-General (AG) in his audit report that local government in Gauteng is headed toward financial ruin has come much too late. One of the burning issues that the AG focused on in his report is Gauteng municipalities' under-performance. The FF Plus forewarned that the ANC's trail of mismanagement, corruption and state capture will leave an ugly mark on Gauteng. These are the main reasons why municipalities in Gauteng are in such a terrible state under ANC rule and the AG and provincial treasury should have intervened a long time ago already.
Said John Steenhuizen– interim leader of the DA:
" During the lockdown we have seen a lot of muscle flexing from ministers around meaningless regulations. We have seen plenty of force and brutality used against our citizens. We have seen inexplicable decisions that have caused untold harm to our economy with no measurable impact on the virus. We have seen ministers repeatedly slapped down by our courts for abusing their power during this crisis. But we are yet to see leadership from the one man who matters. Throughout all of this – as the rogue ministers of the "National Command Council " compounded our problems with petty regulations, as our hospitals filled up and our economy imploded – President Ramaphosa has been little more than a spectator. We needed someone to step up and take charge, but what we got was a president obsessed with dialogues, reaching out and building consensus. And this has been the story of his presidency to date: a lot of talk and a lot of promises, but very little action or leadership.
Going into this crisis he had all the public support he needed if he truly wanted to be bold, but he squandered it. Martin Luther King once said, "A genuine leader is not a searcher for consensus, but a moulder of consensus." We desperately needed the latter, but we got the former. And that's not what you want when your country is facing a devastating double-blow of healthcare and economic crisis. But thanks to this dithering, we now have a third crisis to contend with – a political crisis. Because while our president has been watching it all unfold from the sidelines, others have been very busy. Most notably, COGTA Minister Nkosazana Dlamini-Zuma. Since the declaration of the State of Disaster, the unchecked power handed to the COGTA minister has made her our de-facto president. And she has wasted no time digging herself in. We've already seen multiple commitments made by the president on live TV undone a couple of days later by Dlamini-Zuma. Her stubborn refusal to reverse the cigarette ban is her way of letting the president know exactly who is in charge. And consider that she has the power to extend this State of Disaster indefinitely. But even that is not enough.
This week a top-secret document was leaked to the DA in which the COGTA department put forward several extremely concerning ideas on how they think our country should function. At the heart of this document is a proposal to extend government's centralised Command Council system well beyond the Covid19 crisis, and to include provincial command councils. Simply put, it is a bold play to try and centralise provincial and local government power in the hands of a few. To call this unconstitutional is an understatement. It is tantamount to a coup, as it attempts to put unelected national politicians in charge of provincial and local government functions, against the wishes of those who voted for these governments. This is the RET faction of the ANC showing its hand against the Ramaphosa faction. And they feel comfortable doing so because they recognize weak leadership. They are using the Covid crisis as cover to pull the rug of government from under the president's feet, and he seems incapable of stopping it. And all the while our country's economy and healthcare are imploding as we head towards the really big Covid numbers. When infections in the Western Cape were rising faster than anywhere else in the country, there was much talk of sending in the big guns, and even of threatening the province with a return to hard lock-down. But now that provinces like the Eastern Cape and Gauteng are collapsing, national government is strangely silent."
One landmark ruling was the Makhanda High Court that ordered the Makana Municipality to be dissolved and placed under administration for violating its constitutional mandate by failing to provide basic services to the community. Now as mismanagement and corruption continue to plague most municipalities around the country, this new court judgment is helping fed-up residents finally fight back. People do not trust the ANC anymore and want their country back.They are fed up of the ANC.  They will not allow Ramaphosa and his incompetent and corrupt ilk to take the country further down the sewer pipe anymore.
If indeed the ANC's plan is to govern South Africa by way of Command Councils, then maybe it suites the party simply to let the municipalities under its watch collapse entirely. It could then say  "look, the Constitution no longer works", escape the wrath of voters in places where ANC majorities are thin, all the while securing permanent ANC control. But this is allowed to happen .Communities across the country will be prevented from doing in future what the people of the Western Cape have already done: To escape life under corrupt and incompetent ANC leaders, and to buck the downward economic trend of the rest of the country. The DA said it will put a formal question to the Squirrel  asking whether the document has any formal status in government, and whether its contents reflect current or proposed government policy. The DA said it  will also be keeping a close look at what further proposals emerge under the guidance of the so-called "district model, "- and it will be requesting a record of decisions and discussions of all the communist-type of " Command Councils"  (Polatriats) that have been established across the country.
Ramaphosa and his "Covid" theatricals:  The mass psi-ops to drive people insane and plunder  millions to fill the ANC pockets
More than one million grave-sites are being prepped in Pretoria as the province braces for an "increase"  in COVID-19 deaths as been falsely propagated this past two weeks by the ANC witch doctor Mkhize. Zweli Mkhize announced that the "Covid-19 storm is approaching."  Mkhize said, as of Tuesday, there were 10,144 new cases in the country. He said, to date, 139 quarantine facilities were activated across the country.  Gauteng's health department is " feeling the effects of the growing COVID-19 numbers" the fake Main Stream Media blasts it out . Gauteng Health MEC Bandile Masuku says the province has approximately 1.5-million burial sites that can be easily accessed 'should the need arise'. As of Tuesday, the total number of "confirmed " COVID-19 cases in Gauteng is appearantly  71,488, with 21,414 recoveries and 478 "deaths. "
Are these people insane? Now the facts are that over the past 103 days of this nonsense, 31 people died each day. They claim from the "virus " but who knows. This number is a national number, not for Gauteng. This means that they are digging enough graves for the country for the next 88 years at 31 deaths per day. What can one  say? Any way to scam all of us out of money. Now we all are quite aware of the fact that anything the ANC touches- turns into a fatal hoax and a bag of sh*t- as is the "Covid" case is as well. Most of these alleged "Covid deaths " is deaths caused by other causes- but to make it easier and also getting a smack at the "Covid relief funds-" and naturally the TAX money–  every person tested- even for a common flu virus is a "positive Covid" case-and cadaver leaving the mortuaries is a "Covid" death.  " Truth be told, the original intention of the lock-down as well as the "Covid" hysteria has been abandoned. It's now about looting the R500 billion loan and about the ANC re-organising its grip on power and  on the people" – said  Vytjie Mentoor ( Former ANC MP )
Empty promises to create something out of nothing
The ANC's economic proposals contained in its "Reconstruction, Growth And Transformation" discussion document does nothing to fundamentally change South Africa's current path of decline. The document is a manifesto of more of the same bad ideas that have crippled our economy already, and some new ideas that are even worse. Rapid economic growth is the only way to stop poverty and bring down unemployment. To grow the economy, we need far-reaching pro-growth economic reforms that nurture enterprise and take honest account of the capacity of the state. Instead, the ANC is committed to a policy course that stifles entrepreneurship, and makes it harder to run a business and invest in South Africa, in favour of 'state led development'.
Ramaphosa and the "disappearing" R 500 Billion
Stealing land for the state
WHILE the Squirrel keeps on telling the populace fairy tales of futuristic "Utopias " under his "socialist" nightmare- he himself does not trust his own macabre creations- and moved his own assets off-shore..
Cyril and his pathological lies
Ramaphosa is a con artist, shrewd willo-wisp– and a pathological lair- irrespective waht the Main Stream fake Gaggle such as IOL, NASPERS or EWCN try to glorify him as- and irrespective of his flamboyant appearances and smooth talking. On many  occasions the Squirrel was found wanted for all his lies, empty promises and blatant disregard for reality. But TWO incidents maybe stands out as proof that Ramaphosa cannot be trusted whenever he opens his trap- and that two incidents are  his blatant lies about Farm murders and land invasions.
"There's no land grab in South Africa."

President Cyril Ramaphosa says Trump's tweet about the country's land reform was misinformed pic.twitter.com/xB1C2FZB2G

— Bloomberg QuickTake (@QuickTake) September 26, 2018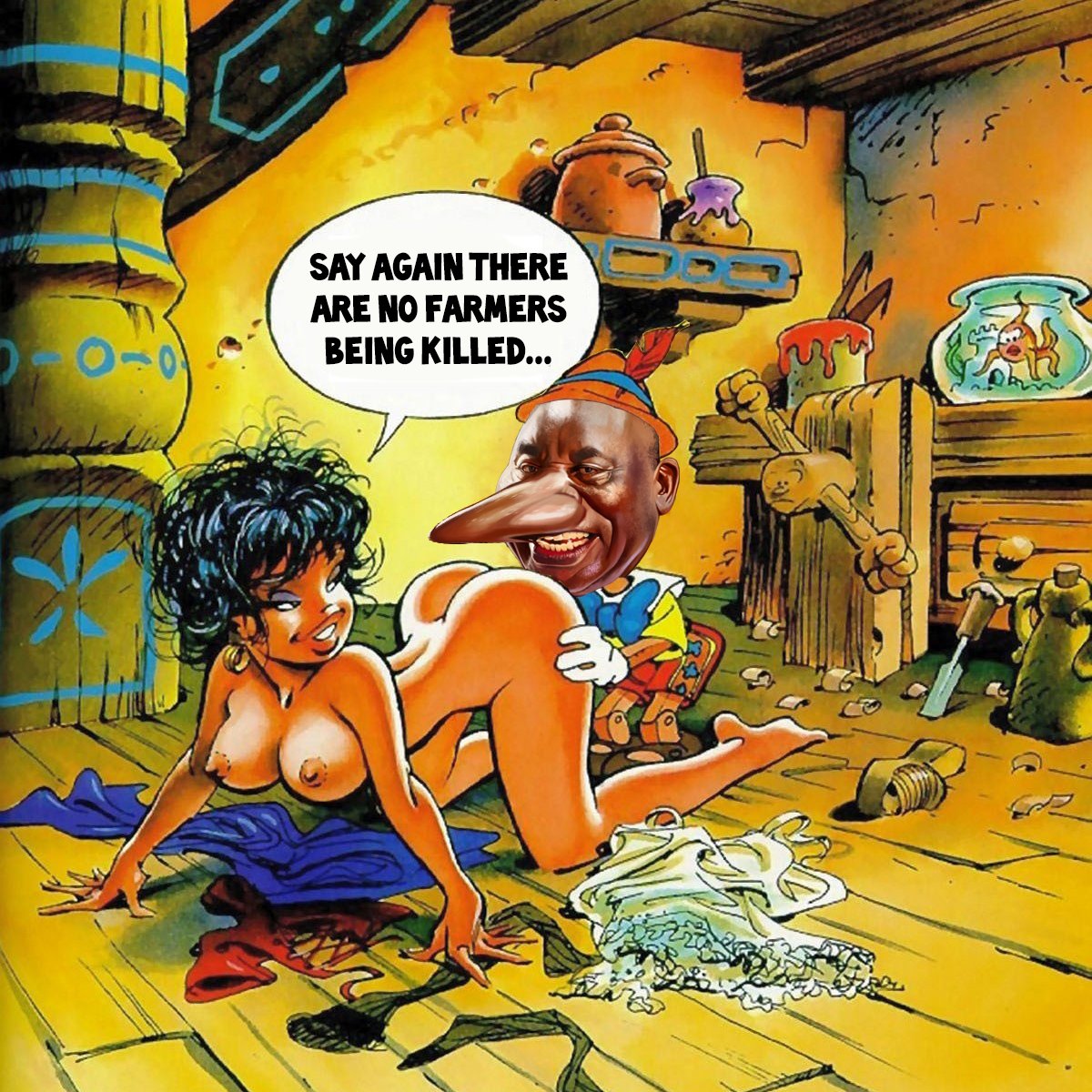 Farm murders
https://www.facebook.com/johnpaul.grundling/videos/3298002016897606/?t=1
The Democratic Alliance (DA) called on  Cyril Ramaphosa to tell South Africa what his government will be doing to address the long-ignored and again increasing numbers of farm attacks and farm murders. Or is he going to continue to pretend that they are not happening, as he did in an infamous 2018 interview? Since the DA requested a debate of national importance in the National Assembly last week, there has not been a peep from the side of government indicating that it is paying this problem any attention. Unfortunately, this is not out of character for a government that likes to praise farmers when they need them but is never forthcoming with assistance of any kind to the farming community when it is in crisis. It is as if farmers and farm workers have been declared persona non grata. They are needed to ensure food security but is left to try and solve any and all problems they might encounter on their own.
According to the African Center for Food Security the underlying issue of food insecurity is contributing to the spike in crimes on farms. Millions of poor South Africans are in despair due to the continued Covid-19 "lockdown " and ill-conceived regulations. In South Africa, one of the things people across socio-economic circumstances have in common, is the fact that almost no-one feels safe in their own home. Violent crime is rampant, but few crimes seem to illicit such a poor response from government than farm attacks. The victims of these attacks are often tortured in the most brutal ways, and most are considered lucky if they escape with their lives. Yet the government remains quiet. According to TLU SA there have been 88 farm attacks and 12 murders since 1 April 2020. There has been no outcry from government. No possible solutions tabled, no campaigns launched to ensure the safety of those living in rural areas, or engagement with them.
Land Invasions
Cyril….the hippocrate
The Indomitable Cyril Matamela Ramaphosa The Brave Unconquerable cannot Be Defeated. The Motsepe/Ramaphosa Empire has belief that it is the indomitable South African spirit, that spirit that was taken from the whites.  If confronted with injustice, he will deal with the belligerent without any fear or hesitation at all, with indomitable spirit, regardless of whosoever and however many the numbers may be. However- the same Ramaphosa that continiously "sides" himself as part of the "struggling" blacks at various times  has been ranked as one of the 10 richest South Africans.  His Net Worth is estimated at $464.2 Million (R6.4 billion). His wife Tshepo, is the sister of fellow tycoon Patrice Motsepe (net worth R33.9 billion). Dr Tshepo Motsepe/Ramaphosa, herself, is worth USD $876 millionaire.  Then comes Cyril with all his hippocracy and declares "I believe that the human spirit is indomitable. If you endeavor to achieve, it will happen given enough resolve. It may not be immediate, and often your greater dreams are something you will not achieve within your own lifetime."
Cyril Ramaphosa was Chairman of investment  firm Shanduka Group, which owned stakes  in mining entities, financial institutions, like all McDonald's South African subsidiaries and Coca-Cola bottling plants etc. etc. etc. In May 2015 he invested 30% stake of Shanduka which merged with Pembani Group to form a "Pan African Industrial Holdings Group", with $900 million in assets.  The 2019 South African Wealth Report  by New World Wealth (NWW) revealed that  there were around 17,300 millionaires from 'previously disadvantaged groups', or Blacks, which equates to 45% of South Africa's total millionaire population. New World Wealth   revealed that the overall number  of dollar millionaires across the country  were 43,600, while the country had lost  130 residents with $10 million or more over the same period. BUT here we have Cyril- an utter opportunist that will try to benefit from any situation where he himself can benefit the most out of the situation without blinking an eyelid who in turn will suffer the consequences of his personal greed. This we already saw during the ANC's "struggle" years when all his cronies were locked up in Robbin Island and Cyril was running boy scout for the Oppenheimers as well as the Marikana affair. Then we again saw what inhuman attitude Cyril is capable of when he dumped the whole country in one of the most cruel "lockdowns" ever recorded in South African history- leaving literally MILLIONS without a job and without an income to fend for themselves during a 3 month long ordeal and thereafter.
Mean-while Cyril and his cronies have been digging deep into the "relief" fund cookie jar and Cyril have been VERY busy with bro' Patrice Motsepe to rig up some 700 5G towers as well as go cut some lucrative deals with Bill Gates on the tax payers cost while the rest of the poor monkeys were kept in cages back home with some not even having a crumb to eat. With all Cyril's big talk about "his people" and the "poor blacks" we could up to today not find a single thread of evidence that Mr. "Nice Guy" himself donated or shared a single penny with any impoverished member ,  needy or any one of the "black majority  " of "his people" so far. Ramaphosa- like all the African dictators- is cunningly exploiting both white and black for his own personal enrichment. He is nothing but a dangerous  opportunistic political  lair, capitalist, racist, word spinner – con artist of the lowest order – as well as secret agent , conspirator and collaborator for the global corporate  Caballah who would spare no resources in exploiting  whatever it takes to benefit his own selfish greed- even murder. And now he again is showing us how deep his rabbit hole can go by trying to secretly capture the whole of South Africa to be run by British money mongers and black dictators in an "unseen" Coup De Etat by trying to  sneak unlawful legislation and create organs to take away the voting rights of the people, powers of the provinces and municipalities  behind the backs of the very people who supported him. Ramaphosa has lost it all- he became a dangerous power mad psychopath and a serious threat to the state of the people. The people must act decisively . He and his "Corona Council" with all his ANC "Big Wig" cronies MUST be removed from the powerful positions they occupy  and be charged with High Treason ,economic sabotage and Crimes Against The State  and the people.

The Corona hoax
IT simply amazes me how the "sheeple" can ever believe this "Covid-19″ cockamamie dribble. First- let me first TRY to get this distorted picture and spider web of confusing controversies figured out:
1. A well known flu virus with an unknown" novel" strand suddenly popped out of no-where on a cold and rainy day in a filthy little unknown Chinese street pet cemetery from a yet unidentified and unknown species of bat- or so the fairy tale goes right?
2. Then – on a certain day and without warning- the "novel" new "virus" suddenly springs up and start creating havoc in that now well-known mega city of Wuhan for TWO weeks- sending slant-eyed little communists running in all directions yelling for mercy at the top of their voices. After two weeks of grueling chastening- it decided it had created enough mayhem among the little yellow invaders- fine-tuned it's GPS- and headed straight for EUROPE– skipping about all the major Chinese cities with more than 13 million rice eaters flashing by. Meanwhile back at the starting line the wizards of Wuhan "miraculously" figured out the perfect antidote to "control" the "virus"- and everything went back to normal after 1 month of Chinese ingenious mastery in Wuhan again -right?
3. When it hits Europe in a short flight of only 3 days – that evil Bilderberger brain child- the World Health Organization- which is sponsored by the Rockefellers, Bill & Meilinda Gates Foundations and China- heard alarm bells clanging in their dark offices and picked up the "terrible" omen lurking in their back-yard. Like the Lone Ranger the little specked Transvestite Freak Tedros Adhamon show that chiefs the notorious WHO cavalry suddenly went ballistic (after the WHO already wonder above wonder predicted in their September 2019 issue report that such a virus is on it's way soon.) – and screams blue murder- immediately ordering that the whole friggen WORLD must seize to rotate around it's axle- and everybody must without hesitation go into a deep state of passive mourning when the news about the arrival of the pale horse of the apocalypse reached their computer screens – ordering all the inhabitants of the free world to start preparing themselves for the inevitable by starting to wear death masks and cleanse their bodies for the future burial ceremonies while going into a total "lockdown" mode for an uncertain time while patiently awaiting their turn to DIE!– Right?
4. THEN after a week-or-so the virus decided it had enough of cold Europe- and decided to migrate South for warmer weather- and with the next flock of geese- mounted his pale horse again- joining the gaggle of geese- and subsequently reset it's GPS and found it's way to AFRICA! For some strange and explainable reason some of it's ambassadors descended onto South Africa- and also presented their arrival papers to the presidency in Pretoria- where it happen to land in the hands of the Mafia mob.
5. The boss boy that rules the Pretoria clan – a well known notorious communist criminal with a history of terrorism, racketeering, corruption and scandals then issued a decree that ALL sheep will follow Europe's example and become part of the global flock- prepare themselves to DIE by wearing death masks , cleanse their bodies with sanitizers and only buy "essential " blessed  cold meals for the rituals accompanying the mass burials that is "sure to come." With this all (mainly white) small and medium businesses was put on ice and "locked down" so people can go home for their last 3 weeks, 3 months, three years or for infinity to bade their "farewells" to their loved ones. NO-ONE was allowed to walk the streets out of fear that you will know the next victim to die.and might decide to rob his business after his early unplanned "retirement." The "virus" was so "terrible"- the boss boy ordered the WHOLE friggen Police Force and Army to go hunting for that elusive and "deadly" virus (mostly in cigarette shops, liquor spazas and beaches where it appears to have preferential appearances ) Right?
6. Meanwhile thousands of scientists across the dammed world are scurrying around- trying to fix the DNA of this strange "virus"– and where it originated from. Was it a bat, an engineered lab omen, an Armadillo, an animal from Africa, the CIA, the Germans....nobody knows- but hundreds of fake "models" predict and assumed that MILLIONS of poor hapless souls from hundreds of different religions are about to meet their different makers as the "virus" is very hard busy preparing the various meetings with all the gods across the universe….right?
7. In South Africa tensions are mounting as some strange phenomena are busy taking place. All kinds of "bans" were put in place to "purify" the nation for their meetings with the ancestral gods, from bans on liquor so no intoxicated human will enter eternity, – to tobacco products so no human soul will disappear up in smoke like the billions of dollars of "relief funds" donated from abroad just did that mysteriously "disappeared" straight into the pockets of the " undertakers" and "ANC priest fiefdom"-, to "social distancing" so no unclean human soul will by accident be extracted together with the 5 G radiation purified souls as well. Am I still on track here?
8. To honor the wishes of the ancestors that NO material things will enter the kingdom of Heaven- the Cappa Di Tutti of the ANC priesthood decided that all property must remain here on earth after the Covid-19 messenger of death finalized all the scheduled meetings with the various gods- -and therefore all assets of those (whites) , fixed and moving- who is about to embark on their final voyage to eternity must be taken away by force and placed in the "care" of the "state"
– seeing that the poorly departed will have no further use for material assets in heaven. Africa's land belongs to Africa and will just have to remain here on good ol' African Terra Firma for all the graveyards to bury all the local starving nomadic fighting tribes after all the whites have departed. .According to the priestly fiefdom the Gods will in any case supply new homes to them (whites) together with the 7 promised virgins. (I am not so sure what the poorly departed women will get- maybe 7 vibrators?)
Well here we are– 100 days from the start of this "Covid" disaster…with so many uncertainty, changes, empty promises, more corruption, lies, deviations, more lies, more adaptions, more extensions, more silence- and more threats of more "Covid" disasters to follow, more tenders to dig more graves for the coming "Covid" apocalypse, socialism in the making, land expropriation threats, land invasions , more brutal farm murders, more oppressive laws, – more political infighting and more anti-white hatred spewed that all came with this "Covid" virus. In South Africa this "virus" lost all it's characteristics as a "pandemic"- it now became a lucrative culture. for the small "elite" flock of vultures on top to rake in new found billions in "donations." and racketeering in all the "bans" again.
To substantiate the fact that Ramaphosa and his cronies are busy with very VERY devious little " power plans" – is the most recent revelation that the Democratic Alliance (DA) is in possession of what appears to be a government document that describes the Covid-19 pandemic as an opportunity for the "macro re-organization of the state", and proposes to make the Command Council system a model for government beyond the lock-down.(https://www.da.org.za/…/da-exposes-top-secret-government-do…) The document discusses the financial ruin in municipalities that it says is due to South Africa's credit downgrade and the lock-down, and uses this as a gap to extend and consolidate CENTRAL STATE CONTROL.The credit downgrade and the lock-down did not result in municipalities collapsing, the ANC did.
Strangely- the Boss-boy- with all his connections with the Chinese- and with literally millions of Chinese already blessed as " honorary blacks" in SA – could as yet not found a way to "control" the virus as his Chinese masters in Wuhan did? Maybe he only has a slow internet Wi-Fi connection ( He still must be operating on 3G I think) – and the cure will only reach him around February 2021 when Huawei's 5G will be hitting us from all four corners of the earth I gather. But that is precisely how this whole web has been weaved- to keep you in the dark and continuously on the guess what will come next. You only are to know what they want you to know- 'cause if you know what they do NOT want you to know- the whole world will come in rebellion to their evil plan to make all of us subservient to their agendas. But HEY– we are wearing masks and no virus would affect us. I hear the new generation masks also will be sporting RAYBANS and EAR PLUGS too- so we not only will not be able to inhale the virus- we also will not be able to SEE it- and for it to penetrate our minds. See no virus, hear no virus-speak no virus- and there we have the solution- there IS no virus. Better solution than those yellow rice eaters in Wuhan could we "control" the virus!
The question is just how long still are we- the real victims of this entire global hoax- going to tollerate the continuous malicious propaganda and human rights abuses , how long are we still going to be forced to wear silly masks around our faces to hide our identity, how long still are we going to be forced to "cleanse" ourselves every time we walk into a shop,- how long are we still going to be forced to accept irrational edicts and laws, humiliate ourselves, believe all their lies of escalating "Covid" infections, how many businesses are still going to go bankrupt, how many people still will loose their income and jobs, how many people must still become poor and destitute, loosing all their live savings, their properties and livelihoods , how long must we still listen to their daily and continuous malicious propaganda that we must "accept" their "New Normal", change our lives, accept their toxic "vaccinations", ID Chips, sacrifice our human rights and freedom – all for the sake of pleasing the whims and "rights" of those that worship a "New World Order," a "New Normal"- and a "New" this-or-that we are forced into against our free will while they- the small "elite" politicians and globalists- trample on ours as and whenever they wish? All the discomfort, sacrifices and human suffering that this alleged "Covid" disaster brought upon us by a reckless and greedy world government that cares less for it's citizens- is it worth still paying attention or worse- let ourselves be intimidated, oppressed , divided, discriminated against and our very private G-d given rights to a free existence be "controlled" by these unknown dark powers any longer ?
https://www.youtube.com/watch…
They had planned this human disaster long ago already. Three weeks became a month- became three months- now on it's way for six and aiming for INFINITY. They KNEW right from the start this evil scenario would not last only three weeks- but they deliberately LIED to us in order to take us step-by-step deeper into their spider web of confusion and suffering- they DELIBERATELY planned to 'acclimatize" us with each and every step they planned to get " accustomed" to their "New Normal" control plan. And they have not finished their agenda by far. They want to take us deeper into the rabbit hole for more months to come, more "lockdowns", more "bans" more suffering until we are totally drained from any will to resist their attacks- then they will finally enforce their "One World" enslavement upon us with brutal persecutions, prosecutions and socialist dictatorship. Your right to freedom, sovereignty, the right to posses and the right to decide will all be squashed in one swift move. And the irony is YOUR so-called "chosen democratic" government knows all this – and chose to be part of it. So much from Ramaphosa and his devious small ilk about "caring" for "their people."
Now we are faced with reality and time to start asking some SERIOUS questions: How long still are we going to allow and endure this gross human rights abuses from the "elite" to DELIBERATELY waste and destroy our private and social lives so they could "control" us? How many empty business offices must still appear before the whole economy grinds to a sudden halt? How many cries of hungry children must still echo across the land before someone wakes up and takes action?
Multiple questions hangs in the balance without ONE single definite answer! All we hear is " Covid 19, Covid 19, Covid 19!" We are tired of listening to Mr. " My Fellow South Africans" and all his non-nonsensical "Covid 19" dribble and vague explanations. It almost sounds like that "other" idiot's vague explanations why she still keeps the bloody tobacco ban intact. But rest assure- at the end of all this vagueness and illusions there is always the REALITY of millions to be gained if you are at the "right" place at the "right" "Covid 19″ moment.
They want to inject healthy people to see if they get sick after a zap with another virus – then want to zap you again to see if you now will get healthy again after zapping you again with yet another virus.NOW please bear in mind that these are the same "NWO" critters that wants to exterminate three quarters of the worlds population that now all of a sudden wants to "save" the world's population from the "virus" again. You still "savvy" this logic? They plan to infect 7 BILLION people in order to "save" humanity from the spreading of an imaginary "virus " they up to today, cannot even determine it's origin- nor it's composition or effects it have on human society ? And they want to launch this global catastrophe onto us simply based on "assumptions, failed projection models and "possibilities?" And all this because "they" deliberately CREATED this "pandemic" themselves specifically for the reason you and I now are enslaved for- to gain "control" over us!
THAT is why you NEVER will get any straight answers from "them " as to the real origin, composition- and motive for this "novel" so -called "virus." You simply must not ask too many questions- just "obey!" And when some clever scientist or member of the public gets too close to the truth- they simply change the rules of the game again to confuse you more. But the truth they always will keep just out of reach of the curious. They are playing you for time- time to get their final showdown ready. And that is why Ramasquirrel keeps on-and-on with the "Covid19″ rhetoric. He makes a lot of dough out of the hoax, Big Business makes a lot of money, His henchmen in the ANC makes a lot of dough, family members, Patrice Motsepe and his 5G team are making money as well as a lot of other scrupulous "connected" vultures down the pecking order. And when Bill Gates lands with his little Pandora's Box full of evil little needles and pins there is even MORE money to be made! So why stop the goose from laying the golden eggs?
Will you run your business the same way and take decisions based on alleged presumptions like this? What is wrong with this picture? At the end of the line it all revolves around lining some pockets again..a mass media hoax driven by the greedy kleptocracy and power mad zealots- .at the expense of our health and lives that is. They want to take EVERYTHING away from us. They want your "democratic" government to be the SOLE "proprietor" of every facet of our lives- what we owe, what we eat, when we eat, where we move and what we are allowed to do. .We are the bloody sacrifice, we are the guinea pigs- the lab rats on which they want their evil tests to be done and exposed to mind control programs in order to fill the coffers of all these bogus politicians and pseudo "scientists." And the best "excuse" they can come up with time and again is "Covid 19."
Is it not time that we – the actual victims- will decide enough is enough- and wrestle our freedom back from those selfish and greedy conventicles that only sought power and might at our expense? Is it not time we kick in our own immune system against this fake " virus" and fake "politicians?" Is it not time that we put away those intimidating and humiliating masks, – grab our identities back- refuse to listen to their fake and destructive media propaganda, fear mongering ,lies about fictitious "escalations", stats, "projections ", false models and cooked "Covid" death certificates, ,- and refuse to be cleansed like some dirty slaves again? Did we not now reach a point to start forcefully to take our normal lives back? If you have not reached that point yet- then sadly you became thoroughly brain washed and thus became part of the "New Normal" problem as well!
Wrote Moegamat Shafiek Fiekie Jakoet- (Unedited)
These are your incompetent ministers a whole bunch of clowns.
Transport minister
Fikile April Mbalula
He is a joke… All he does is talk no action. The taxi industry is tax free that's why they can do as they please, they get everything right but we must just sit back and shut up fuck that shit no more this party is coming to an end.
Trade and Industry minister
Ebrahim Patel
Another fool he sits on his ASS and talk, talk with no fucking action. People are unemployed and suffering big mouth create jobs so people can live.
Police minister.
Bhekokwakhe Hamilton Cele.
This is another big fuck up. He sucks things out of his fucking thumb and want to make it law. If it's not in the government gazette it's not law you dumb fuck. You would fight real crimes make it your fucking duty to get rid of all the drugs that's killing our children. Bomb the fucking drug lords. Catch the rapist, the murderers, the child trafficking the cable theft the GBV corruption the list goes on and on leave us the fuck alone. This is enough work to keep your ass busy for 8 hour a day.
Heath minister
Dr Zwelini Lawrence Mkhize
You my friend think with your balls. You calling for the country to go back to level 4 and 5 of the lockdown FUCK that shit!!!!! Didn't you damage the economy enough, yes the pandemic is here and it's getting worst by the day however peoples livelihood is also important do you want us to die for hunger then I'd rather die of covid 19 instead. It's about time you think with your fucking head.
Cooperative governance and traditional affairs Minister
Dr Nkosazana Clarice Dlamini Zuma.
You are the most hated among them all. You are only a minister not the president act your fucking role and stop interfering in what does not concern you. When people zol they put saliva on the paper this got nothing to do with you. This is our lives so let us live our fucking lives in peace. How many people died of covid 19 that were smokers. I want answers to this. If 11 million people object to your ruling then we win stop your arrogance and listen to the people. You suck your facts from your your thumbs and you make people believe this is true. You winning all the court battle because once again the judges is under your belt. Celebrate now but remember your time to fall is very near. You are well over 60 years old you belong in an old age home you old hog.
The president of South Africa……
Mr Cyril Ramaphosa
You should lead by example. You are not competent enough to run this country. Since 1994 this country went down. You call this democracy no this is not democracy this is dictatorship. You take orders from people below you which make you a damn puppet and show that you are not capable of being a president. You borrowed R500 billion to assist the country where is that money now? Looted!!! Which is a lie you people are so corrupt so we don't believe a thing you say anymore. Never in history did I ever hear of a president that goes back on his word because of a minister that overpowers his decision. We in the peak of a pandemic but you see the need to open schools does this make sense at all. Rather loose a year than lose a life. This it another reason to prove my point of incompetence as a president. You lift the ban on alcohol in the pandemic know that alcohol leads to violence and that hospitals which needs space for the covid 19 patients now has to deal with drunk injured assholes. Another point of incompetence. The ban on tobacco remains in place. Why? So you can loose taxes and borrow more money so that money can disappear again. What exactly is your motive behind the tobacco ban? Do you support the criminals? Do you want this country to fall to the ground? Do you have any concerns about the people of this country? We the people of this country needs answers"
Moegamat Shafiek Fiekie Jakoet
MEME FOR THE DAY:
SOURCE:
White Nation Network
WHITE NATION– WE DO NOT HATE WHITE LIBERALS– WE SIMPLY DESPISE THE FILTH!!
C'MON- SHARE OUR LINK