Do you have news to tell us? Send your e.mails with news and inquiries to: w.nation@mail.com
Register to follow our news on the right-hand tab
OR
Register for free on  our social site HERE to join our world for more news
ALSO VISIT:
SOUTH AFRICA– A FAILED LAND OF COMMUNIST ANC ORGANIZED CRIME : THE  PIRATE's REALM DOWN SOUTH
SO– here we are. As ever again does Ramaphosa and his ANC "Corona" mafia not pay any attention to any court order or court ruling. The question we must ask ourselves is that if Ramaphosa and his ilk ignores the rule of law whenever and however they wish- how come must we pay any attention to the erratic and humiliating "laws" he and that "Corona" mafia of his pump out under the cover of a "virus" that simply just does not seem to go away? And as it happens to be- that "virus" are kept well and alive not by natural causes- but rather by POLITICAL causes.
Now-as you already are well aware of was there a definite court ruling between the State and the Liberty Fighters Network in which the Liberty Fighters won the case and the judge ruled that all rules and regulations under levels 3 and 4 were deemed an infringement of the peoples' rights and unconstitutional. The Judge ordered the regime to amend the rules within 14 days. The High Court Gauteng Division Pretoria has ordered on 30 June 2020 that the Minister of Cooperative Governance and Traditional Affairs, Dr. Nkosazana Dlamini-Zuma, to ammend the regulations. The Nappyhead can appeal against the ruling of the  Disaster Management Regulations  to the Supreme Court of Appeal in Bloemfontein, but not those regulations which clearly violated basic human rights of all our people and gave her 10 days to formally get rid of it. However, this period is only academic and does not overrule the declaration of invalidity. Liberty Fighters Network (LFN) and its President Reyno De Beer were overjoyed when they received the order of the High Court Gauteng Division Pretoria in the Application for Leave to Appeal late yesterday afternoon wherein Davis J ordered that above others the restrictions on all businesses, religious and other gatherings, exercises, walking on the beach and the public parks, freedom of movement must stand as obvious constitutional violations, no doubt. In a surprise move, Justice Davis, also excluded Regulation 48(2) from the appeal, which forms the heart of the Government's stronghold over us as the people during the Lockdown by having decriminalized the violation of the Lockdown Regulations in respect of the holding of funerals (Regulation 35), initiations (Regulation 38), access to all events (Regulation 39), on premises liquor consumption (Regulation 44), and the sale of tobacco (Regulation 45).
Up to today the ANC terror movement has as yet not even bother to "amend" that rules- but blissfully proceed to act as-if there never were a court order.Ramaphosa – ignorant as he is- blissfully went rambling ahead on the night of July 13- telling the "Nation" that liquor again us banned, movement restricted- and a curfew in place from 21h00 until 04hoo. Further more did the Rupert donkey announce that the "Level 3" will not be lifted. In contravention with the court order Ramaphosa arrogantly defied the order and announced the following:
* Regulations on wearing masks will be beefed up and people will be refused entrance to buildings or transport without one.
* The entire country remains on lockdown Level 3.
*  A curfew will be put in place between 9 PM and 4 AM except for people who travel for work.
* The sale, dispensing and distribution of alcohol has also been suspended with immediate effect.
* Family visits and other social visits remains prohibited.
Now all of this rules- bar the liquor ban- is in direct contravention with the court ruling.
Then to top it off came that other "Corona" idiot- Ronald Lamola– and added his squirt of testosterone: " It must be embarrassing to move around without a mask. It must be cool to move with a mask," he said. "You can be prohibited from entering a public space if you are not wearing a mask." Lamola added that  permits will be required for those who are not home or at work during the curfew hours. You can't visit family because you will hug each other. (But you can sit close to each other in a taxi.) Lamola lamented that "people are defying the rules". He said they had to make not wearing a mask a criminal offense because people were simply not adhering to this regulation in public. Again this idiot too totally ignored the High Court ruling which decriminalized mask wearing.He even threaten that you will be fined and even receive a jail sentence for not wearing a mask. Can you ever believe their total ignorance of an court order and their blatant arrogance? "During the day there are many other things which could be done which may not really need a permit — like going to the mall or going to the doctor for an emergency or to consult — and the various activities which do happen during the day.But even during the day, if there is a need in public places, you could be asked 'where are you going?' because it is important for us whenever we leave our places of residence we do have a reason. If it is not necessary [to leave your place of residence] – stay at home."– the ignoramus added
"COVID 19" is not the virus destroying our country, our lives and our economy. It is a

MUCH

more deadlier menace- the virus

BEHIND

  the Covid virus- called  the ANC

virus

– doing that.

THAT

is the virus we must get rid of.

THEN we had that old decrepit fool we now are so used too- in a VERY late  stage (as expected) for what it is still worth launched  an appeal  against the ruling in a bid to slow down the process and keep on antagonizing and harassing the public with nonsensical "bans" and "laws." Sher also had her squirt of estrogen on  the matter:
https://www.facebook.com/newzroom405/videos/309536573521476/?t=1
Nkosazana "Nappyhead" Zuma– on a very late stage- now asked the Court of Appeals if she could appeal against the Court Order- but until that appeal was successful do the court order stand. She too totally up ro now disregarded and defied the High Court Order about walking on beaches , "social distancing" and get togethers. The Court specifically gave this ponzi ANC 14 days to amend their bogus and erratic "rules"or the whole "lockdown" will be scrapped- exactly what just happened. The lockdown according to the court ruling- now since July 02 2020 is nil and void and people can resume their normal lives. Yet here comes the impostor- Cyril Ramaphosa- and his merry band of 6 communist "polatriat" thugs- and declare their own bogus rule of law above the High Court order. And still Cele and the cronies proceed to harass, threaten and infringe the rights of normal citizens.
On The Gareth Cliff Show 13.07.20:It's rant time! But do you agree? Full #GCS podcast ▶️ http://bit.ly/1GCCxI9Available on CliffCentral.com, CliffCentral App, Apple/Google Podcasts, Spotify or wherever you get podcasts.

Posted by CliffCentral on Monday, July 13, 2020
Hy se dit soos dit is. Ons regeering het nie n fokken clue wat hulle doen nie.

Posted by Neil Schoeman on Wednesday, July 15, 2020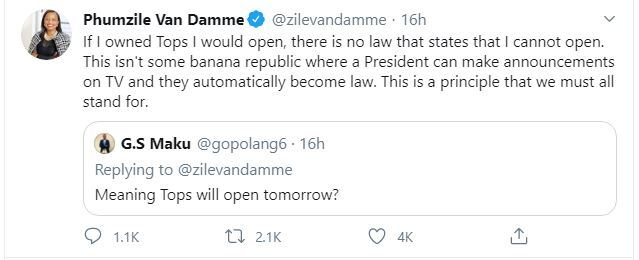 Indeed, when was the government allowed to become our keeper? Who the hell are they and their media-made coronaphobics to prescribe to others? Who are these fools that we should abide by their law and regulations? Professional liars and thieves are suddenly presented as upstanding citizens to be respected?

Posted by Johan P Prinsloo on Saturday, July 11, 2020
Mike Smith wrote in his review the following:
Eish! South Africans have been had…again. Good move on a Sunday by president (yours not mine) Cyril Dlamini-Zuma Ramaphosa. Booze has been suspended once more courtesy of the ANC. I bet you most people didn't even stock up since the last time, because they believed the lying ANC trash. South Africans are being treated like children by Mama NDZ and Baba Cyril in a show reminding one of Looney Tunes meets Planet of the Apes. The absurdity is a disgrace. That people go along with it all is mind-boggling. The disgusting MSM keep on spreading more lies and panic about the amount of cases, the severity, etc. with their rubbish that "A storm is brewing"
By now everyone knows that the Covid-19 Corona virus is not a deadly virus. It is not even a pandemic. The survival rate is 98.6%. There is absolutely no reason why anybody anywhere in the world should still be under lockdown and/or these draconian measures should be applied, let alone wear a mask. You know what I am sick of? Those stupid communist adverts telling us to hold together. Together we will get through the pandemic...Blah, blah, blah… I want them to shove those adverts so far up their arses that you will be able to see it when they yawn in parliament. The time for massive defiance has come. We should do what the taxi drivers in South Africa did…show the government the middle finger and carry one with our businesses as usual. Funny enough the government accepted it from the taxi drivers! All they said was, "Well OK then, but just drive with open windows when you fill up to capacity." See? It works! The moment the people stiffen their backs and push back, government backs off. Unfortunately, that is the only way you will get them to back off. In the case of the ANC…the ANC has been at war with the people of South Africa since 1961. They stepped up their war in 1994 when they came to power. The ANC thinks nothing of it to destroy the economy, destroy jobs, destroy businesses…as long as they can STEAL.That is all they have been doing in the last 26 years. Stealing, stealing, stealing! Billions, Trillions…gone.
Now I have heard everything. Dear Lord please help us!!!!!!!

Posted by Jeanne De Waal on Tuesday, June 30, 2020
AND this is the monkeys enforcing your "Covid" lockdown agony…
The ANC is just concerned about staying in power for as long as possible. They misuse and abuse the blacks to keep them in power so they can steal. That's all. They are not interested in good governance, not interested in improving education, building houses or eradicating poverty. All they are interested in is stealing! Bunch of Marxist terrorist thieves. Scum of the earth. My only wish is to live long enough to see them all lined up against a white wall with a blindfold. Point in case is the 1.5 million graves they want to dig in Gauteng. The province so far had less than 500 Corona deaths. Countrywide about 3,600. In the whole world 550,000 Corona deaths. Yet Gauteng is digging 1.5million graves…which they now backtracked on and said it is just the capacity, it doesn't mean they are actually digging the graves. Personally, I would like to see the people just ignore the ANC regime and open their businesses. Ditch the useless masks that don't work anyway. Return to normal as soon as possible. It is either that…or the country will be destroyed and impoverished by the ANC on a mega scale. We cannot allow that to happen.
Andrew K wrote in his quite accurate monthly review  the following:
The truth be told
THIS "Pandemic " is a total HOAX. I've said it once, I've said it twice- and I say it again. In fact I said it right from the beginning.
Now I understand there are many that will counter argue that this "thing" is real- and a family member was tested "positive" and died of the "virus" simply because you don't know any better, never took the time to investigated deeply enough what or who is behind all this- and simply believed the Main Stream Media propaganda, government dribble- and the doctor who signed that death certificate as "Covid" related. . If "Covid" did not exist- what then would be the cause of death on that certificate…heart attack…tumor…cancer…natural causes…organ failure…old age- but now all suddenly are classified as "Covid related" deaths- the same dribble as farm murders that were classified as "natural causes." And you believed without a single doubt what "they" told you? Like one Facebook user put it: " Have our hospitals became slaughterhouses under covid-19 instead of lifesaving facilities.Why are people prohibited to see or visit family members when they are admitted to a hospital?But when the admitted family member die you are welcome to see and collect the DEAD BODY?….the now dead family member didn't even had covid-19″
That person that died of "Covid19" was rested "positive " for WHAT precisely? The IS no such a biological virus such as a "Covid" virus. A "new" strand of the old Corona Flu virus? Utterly BS that is. In 1000 years the common Corona virus had no recorded new mutations. It's core elements stayed the same- UNLESS being tampered with which brings us to the next counter argument: "Yes but the Chinese fiddled with the virus and created a new deadly category virus." Also BS. The Chinese…devious masters of doom as they are– cannot create new viruses but in the same instance cannot get a cure for it. Factually did the Main Stream Media brag for weeks going that China "found" an antidote for the "virus" and that is why they so quickly could get back to "normal" again! So…then why still did your dearly departed die of the "virus" then if there was an "antidote" available…or did the Chinese not tell us "everything" again? It appears that a few Hollywood directors of movies such as "Contagion" – a 2011 movie about a pandemic with potentially eerie similarities to recent events , the 1971 thriller "The Andromeda Strain" and "Outbreak," also seem to have been involved in that Frankenstein lab in Wuhan as all of these movies- especially "Contagion" precisely describe what is happening today.
Eerily in 2015, did Ezra Klein of Vox, after speaking with Bill Gates about his algorithmic model for how a new strain of flu could spread rapidly in today's globalized world, wrote that "a pandemic disease is the most predictable catastrophe in the history of the human race, if only because it has happened to the human race so many, many times before." If there was anything humanity could be certain that it needed to prepare for to prevent the deaths of a lot of people in little time, it was this. How did Klein know about this "virus" then? The "virus" hit the world only in March 2020- however on January 30th 2020 already , the World Health Organization (WHO) declared a Public Health Emergency of International Concern (PHEIC) in relation to China's" novel corona virus " (2019-nCoV) categorized as a viral pneumonia. But footages of the Chinese in Wuhan going berserk only surfaced in March 2020. So where did ther WHO get their data already in January from?
But this "virus" was planned even before the Wuhan rice poppers started /invented it in 2019. And this was not the first time that the WHO decided to act in this way.Remember the unusual circumstances surrounding the April 2009 H1N1 Swine Flu Pandemic. An atmosphere of fear and intimidation prevailed. The data was manipulated. Based on incomplete and scanty data, the WHO Director General nonetheless predicted with authority that: "as many as 2 billion people could become infected over the next two years — nearly one-third of the world population." (World Health Organization as reported by the Western media, July 2009). It was a multibillion bonanza for Big Pharma supported by the WHO's Director-General Margaret Chan.
In June 2009, Margaret Chan made the following statement:
"On the basis of … expert assessments of the evidence, the scientific criteria for an influenza pandemic have been met. I have therefore decided to raise the level of influenza pandemic alert from Phase 5 to Phase 6. The world is now at the start of the 2009 influenza pandemic. " Margaret Chan, Director-General, World Health Organization (WHO), Press Briefing 11 June 2009) SO…as you can see- they already "planned" this virus (and there is many more evidence of this) long ago. Why- To make MONEY out of it.
You see- this is all a big game they play with us. The "Covid" virus only exist as a reality in the deranged minds of those that would benefit the most from it's terrible aftermath.  And they ALL– including Donald Trump– are part of this global agenda. The virus outbreak was then supposedly centered in Wuhan, a city in Eastern China with a population in excess of 11 million. Why then- if this virus was so "devastating– did the WHO "big boy" Tedros Adhanom Ghebreyesus. take so long to send out a warning…did he attend too many Tranny Parties? In September 2019 the WHO already predicted this "pandemic set out in two phases as " experiments" to hit the world- one an airborne virus- and the next a bionic plague. If you look at the Rockefeller note I attach below-it precisely describes their evil modus operandi. Conspiracy theorty? No..definitely NOT as this scenario came STRAIGHT from their own website.
You see- this is all a big but deadly and devastating game "they" play with us. Your family member was tested "positive" with an unreliable Chinese testing kit that would test the slightest trace of any infection as "positive." Factually did a professor in Ghana take up the challenge and ended up finding a PAW PAW and a Peacock also was tested "positive." Your family member died due to other complications than "Covid" related reasons. Mostly old people die normal deaths due to many other complications – but quickly are classified as "positive."
Why- 'cause MONEY is to be made from every "positive" case and doctors and hospitals makes a lot of money for every case registered as "positive" and more for every patient on a respirator. Your government makes BILLIONS out of this "Covid"-thing. There IS no "Covid" pandemic- just a GOVERNMENT and BIG CORP racketeering "pandemic." That is what it really is all about. Why else do you think your government is dragging this "Covid"-thing out into infinite "stages", why are they preparing a "second wave" for you to come? They want to CONTROL you and your BANK ACCOUNT dear naive captured "Covid" slave! Yet somehow this obvious fact did not as yet sink into your numbed and unresponsive senses after 3 months of grueling mind f*cking by your dirty president, politicians, WHO and media vultures?
https://www.youtube.com/watch?v=Zj7ayVjJHcU&feature=youtu.be&fbclid=IwAR3Po5GadNC_a4ow6WfmiXUrl-9eNNPLMBI38OhfoZQyv-zRj4w4EFmuffU
They will keep on pushing the agenda- and so does many other scrupulous stakeholders such as mask manufacturers, vaccine manufacturers, big corporations, retailers, government connected tenderpreneurs, politicians , city Councillors , hospitals, doctors ,media outlets and many more. It is one BIG money spinning venture. So why would they stop driving the "Covid" agenda if it is nothing more than a lucrative "Get rich quick" scheme with YOU as the ultimate looser and hapless lab rat then? Only the Big Business are making billions out of this while YOU are the ones loosing everything in their greedy pilgrimage to the city of El Dorado's gold bullion.This "Covid" – thing is one of the biggest money spinning ventures ever designed- MUCH better than even their "Global warming" hoax. That is why "chasing numbers" is essential to their plan- and their pockets. I already discussed this issue in length in my other previous presentations.
RAMAPHOSA is lining you up for a mass-tracking system:
On Saturday 4 July, day 100 of the world's longest and most stringent plan-demic lockdown, I wish to bring to the attention of those of you who have not yet seen either this report or the proud boast on the firm in question's website, that South Africa has ALREADY SIGNED THE CONTRACT to be one of fifteen countries to pioneer the vaccine and the passport. Once implemented, recalcitrants shall not be permitted entrance to government buildings e.g. schools, drivers' licence bureau, identity document bureau, and passport bureau.  Google Covi-Pass and see that it is all over, yet the world think that it is a good thing. COVI-PASS will determine whether you can go to a restaurant, if you need a medical test, or are due for a talking-to by authorities in a post-COVID world. Consent is voluntary, but enforcement will be compulsory just as they now  force you to wear a mask.
Through the magic of Internet meme culture, most Millennials will be familiar with the famous opening scene of the 1942 film, "Casablanca," where two policemen stop a civilian in the "old Moorish section" of Nazi-occupied French Morocco and ask him for his "papers." The subject is taken away at once after failing to produce the required documents. The cinematic exchange has been used ever since as a popular reference to the ever-encroaching hand of the state, which is now on the verge of attaining a level of control over people's movements that puts the crude Nazi methods to shame.
BUT the whole "Covid" exercise is a global control exercise to "control" and eliminate the "useless eaters" and gain ultimate control of your country's government and natural resources. Can you name me ONE other incident in the history of mankind where the whole world was captured and held at ransom for months on end by an alleged virus? And I am not talking about a regional lockdown such as the Spanish flu or Black Death– I am talking GLOBALLY? IF the media was not in on this and did not report every single case and every morsel of this "virus"- would you still react the way you do now? No you cannot- 'cause there IS no historical record of such an incident ever happened. But yet here we are- supposedly intelligent people that cannot even sit down, bring all the points together, stand back- and re-evaluate the picture before us- and then realize we are being taken for a bunch of fools we became by a bamboozeling few at the "top" of the food chain, scrupulous government politicians- and an ever deceiving media gangland that acts as amplifier for a very deranged conglomerate of psychopaths pushing a very despicable agenda. We have become idiots to out own naivety. And they are taking full advantage of our stupidity and careless ignorance to push their evil agendas for their own benefit.
They ( The "Deep State) had planned this human disaster long ago already. Three weeks became a month- became three months- now on it's way for six and aiming for INFINITY. They KNEW right from the start this evil scenario would not last only three weeks- but they deliberately LIED to us in order to take us step-by-step deeper into their spider web of confusion and suffering- they DELIBERATELY planned to 'acclimatize" us with each and every step they planned to get " accustomed" to their "New Normal" control plan. And they have not finished their agenda by far. They are playing the "Stockholm" game on us- hitting us hard- relax a bit so we start trusting the bad guys again- then reinstate the pressure again. This is clear evidence as Ramaphosa is starting to put pressure on the country again by re-introducing alcohol bans and curfews soon. And soon after then more and more "restrictions" will follow until we are back on "Level 5″ again.. This all will be based on fictitious "positive" numbers they cook up and alleged deaths due to "Covid" infections. We already could forsee that Ramaphosa and his gang are moving for the next level when their witch doctor Mkhize start ranting and raving for weeks on end about a sudden "spike" in Covid cases and multiple "deaths." It only was a prelude for their next step– to slowly start moving back to a "level 5"  lockdown scenario again. They want to drag this lockdown out as long as possibly- irrespective and in contravention with the High Court order. Ramaphosa and the ANC are running their own little fake sideshow. The ANC's support at this time is at a very low- and they know it. For that reason did they scrupelously postponed the municipal by-electons as well. Everything Ramaphosa and his ilk are doing is below the belt. They are blatant lairs, con artists and devious devil's workers.They should be removed and if I may use  Ramaphosa's words-  "With immediate effect!"  It becomes time to revolt against Ramaphosa and his "Corona" mafia.
They want to take us deeper into the rabbit hole for more months to come, more "lockdowns", more "bans" more suffering until we are totally drained from any will to resist their attacks- then they will finally enforce their "One World" enslavement upon us with brutal persecutions, prosecutions and socialist dictatorship. Your right to freedom, sovereignty, the right to posses and the right to decide will all be squashed in one swift move. And the irony is YOUR so-called "chosen democratic" government knows about this all the time – and not only deceived you- but chose to be part of it. They play with words, schedule their attack in small stages- and pretend to be in your side to "fight the virus." Fact is they are not fighting any virus at all- they are fighting YOU!
AND such will Big Business ensure that a cashless society will slowly be introduced- all human rights abuses, changes of monetary systems, police state rule and  extermination of freedom neatly hidden under a "Covid" virus.
PLEASE watch this video carefully- especially the High Court order on Article 48 Section(2) which declared this whole evil "lockdown" unconstitutional and nil-and-void. This the Main Stream Media did NOT inform the public about- and so the ANC "Corona" mafia and their Oppenheimer donkey defy a high court order as they wish – and goes on fooling , threatening and fear mongering the public with their bogus "laws" and "bans." They are past evil and Ramasquirrel and his whole "Corona" ilk must be removed and charged with Human Rights violations against man kind and mass action suits started against them each personally for all the losses and humiliation endured by an innocent public.

https://www.youtube.com/watch?v=jX-mfKuLDGw&feature=share&fbclid=IwAR1f1B5bz2a0UpthttRvbpanjOoPyMYd2GVBaeGD-4_pkZV-Lp7-i1IIRUw
Your local ANC regime is continuously waging a war against the people. The fact that Eskom is allowed to torture the local consumer for 11 years with continuous rolling "black-outs" while selling thousands of Megawatts to 7 neighboring African countries through the back-door is one example of that. The fact that the ANC criminals are stuffing themselves with millions of dollars at the tax payers expense while millions of their own people are starving in squatter camps is another. The fact that they cared less to shut down thousands of businesses and left millions of people without an income during their reckless 3-Month "lockdown" is yet another. "And here again did they ban all liquor sales- again putting thousands of jobs at risk without a care in the world what happen to those people or their families- all while Ramaphosa and his ilk are getting their humongous salaries every month- and  from those same businesses and people they just robbed out of their jobs. The same goes for the cigarette ban exercise. Covid" gave the ANC a perfect solution to grab full power of all the state and private assets and launch their own hidden "socialist" agendas- iow all power and assets to the (deep) state.
100% Positive cases in al the labs? This is how they LIE to you!
The ANC sided with the corporate money powers-iow the "Deep State."  Their greed and lust for ultimate power and control made them turn against the people of South Africa- even those very people  that voted them into power. Their whole agenda is to render South Africa's economy and social structures destroyed so they (Deep State) can start their "Big Reset" where only a few corporate vultures could control the entire world and all it's resources. South Africa- being a very rich country in natural resources- is a prime trophy for these serpents- and Ramaphosa is a well-paid insurgent , agent and front man for them. The ANC- already captured and controlled by the deep state- is the perfect vehicle to bring about that change. So the longer the "lockdown" continuous- the more private businesses will cease to exist and the lesser private influence will dictate the economy  and pose no opposition to the Big Corp- which in turn will put only the "Big Boys" in power which mainly belongs to the Rupert, Oppenheimer, Gupta, Ackerman, Bekker, etc dynasties.  The "Deep State" will then have full control of the economy.
Mandatory mask wearing in shops. Pub reopenings delayed. The "second wave" will finish some airlines and tour operators. They want to stop us going to shops and pubs, cripple and destroy small businesses. Bring in a universal basic income. Make us dependent on the state. Then begins communism. We now have a totalitarian government. And people are delighted, all the "I told you so" brigade.  "The New Normal" is well on the way. What have we allowed to happen?
The ultimate plan is to hand over ALL control to the (deep) state. Here we then see where Ramaphosa's so-called "Fourth Revolution", ""Land Expropriation" and "Nationalization" agendas comes into play. Ramaphosa is playing you for fools. Ramaphosa is out and out a hardened communist and bank-rolled New World Order propagandist acting the "Mr. Nice Guy" for " democracy" sake. He is the devil in disguise. Behind his nonchalant smile there lurks a deadly destroyer. . Why else do you think did the crim went to America to go see Gates? It appears since David Rockefeller's long awaited demise Gates was appointed "Grand Master" of the Rockefeller evil lodge. You call Ramaphosa "your" president- but Ramaphosa is no "president" at all- but rather yet another paid African opportunist Oppenrheimer/Rupert sponsored dictator such as Amin,Bokassa, Taylor , Mugabe and the rest who also was globalist bank rolled minions to execute a certain agenda for the British Empire.  Ramephosa was not elected a well- but the Rupert/Oppenheimer clans paid R 2 Million to the ANC NASREC delegates as bribes to vote for him. So he is an impostor bribed in to destroy the economy for the "Great reset" where all small and medium businesses must be destroyed to give the ultimate monopoly to the "Big (government/deep state controlled ) Boys.
The "Corona" or "Covid" false flag operation thus was specifically created to bring about world change by stopping the world's economy and seize all private assets at the same time. David Rockefeller already planned this long ago and his foundation together with Soros and Gates were funding this specific global disaster. The WHO also is a Rockefeller creation and is funded by the Rockefeller, Gates and Soros foundations with the unilateral back up from communist countries such as China.And if the "Corona" operation is not enough- they will (and are busy) creating an even worse case scenario to ensure the whole world are literally and economically destroyed by another "virus" attack.(Their so-called "Second Wave".) which we expect will be launched between September 2020 and February 2021. This one will be a "Biobonic" attack.
HOW many times must the truth be told in your face, How many times still must facts be presented to you that you are being groomed to get used to their "New Normal" (wearing friggen masks for the rest of your life and "sanitize" your hands when entering a shop?) What the mother f*ck is a simple "mask" or a little squirt of Toilet Duck going to help to prevent such a 'devastating" virus?Now they even think about forcing you to wear a bloody mask in your OWN home? (https://www.netwerk24.com/…/kenner-se-maskers-in-die-huis-d… ) How arrogant CAN they get??? How much more of this insane dribble are you going to digest? Have you lost all your marbles? Have you been brain-washed to such an extend that you totally are incapable of using common sense anymore? If so then you have become a perfect example of a lab-rat being "conditioned" to become one of their submissive slaves?
TYPICAL ANC arrogance at best. The ANC can steal from the tax payer, waste billions of rands from the tax payer, loot the state coffers empty, deal themselves humongous salary packets while the tax payers must suffer and scrounge to make a living  during their dastardly
covid" lockdown theatricals- but according to Mboweni and his thieving cronies' narrative- the tax payer must simply shut up without any resistance – and pay up.
They have tested the results of a global induced tyranny- and the results were to say the least- remarkable against their wildest expectations as 90% of the world's rabbits turned to co-operate and not only co-operate- but factually PARTICIPATE and actively PROMOTE their evil agenda. Your stupidity and lack of knowledge gave them the power to take this deadly operation to the next level- to release even a WORSE phase by introducing even a "deadlier" so called "virus" like a "biobonic plague" https://www.express.co.uk/…/china-disease-news-coronavirus-… ) – ( https://futurism.com/…/china-says-theres-a-new-disease-that… )– with more grueling "lockdowns" , "bans" and all kinds of oppressive controlling and persecuting mechanisms than this one which they already now are busy with. (https://www.youtube.com/watch…)
These savages have no mercy, they have no compassion- and they care less how many innocent lives they destroy , how many people will suffer poverty or devastation- or die for that matter- simply because the orchestrators of this global hoax "pandemic" cares less about the terrible aftermath which their demonic agenda brings about.To them you are mere animals.."Goyim"...iow " .useless eaters. " This "pandemic" was designed to do just that- to destroy all social structures, destroy all small and medium businesses, collapse our economies, impoverish as many as possible, enslave the whole world's populace if possible- and kill as many as possible. Your silence, reluctance to fight against it- and ignorance of the facts gave them just that power to proceed with their global enslavement agenda. How many riots were there this past years in SA because of alleged bad "service delivery", salary disputes and bad governance- but not ONE riot because what happened to the people of this country this past 4 months, the gross human rights abuses, attack on our freedom, enslavement of the people, enforced job losses, "extended" lockdown frustrations, plundering of food aid and relief donations, lies and deceptions ,closure of all our businesses, enforced poverty and police brutality?
Yet not one single WORD or reaction was noticeable from either the demonic labor unions that quickly can mobilize and assemble the troops, the Main Stream Media goes bananas – instigating the masses if ONE company or factory allegedly "offended" it's workers, , taxi organizations that quickly can organize to strike and block roads around fares or legislation- no business objection from all the retailers and businesses that lost millions during this past 3 months- no riots and burning tyres, trucks , trains and buses like when they riot against escalating train fares or bus fares- or a single peep from the populace that suffered humiliation, retrenchments financial losses and immense poverty themselves this past 3 months. The silence is overwhelming. The best we could come up with in the line of "retaliation" against this gross human rights abuses from these vermin this past 3 months against our societies is a weak and feeble attempt to get the SMOKING ban lifted. Does that not strike you as weird?
The populace already has been "costitutionalized"- IOW BRAIN WASHED.../ aka MIND F*CKED by dirty politicians, bank-rolled "scientists, " fake "Health" ministers and the Main Stream psychotic Media propaganda machines to "accept" the "New Normal"….to become enslaved mask wearing minions to a "One World" government. This whole agenda is driven by the "Deep State"- iow the globalist money mongers. And YOU sir, madam…are part of that. You have become a slave to your new "masters." You have become a submissive minion to be prepared for your new king…the antichrist. Make peace with it , take your micro chip ID- your vaccination ( https://www.youtube.com/watch… ) – wear your mask, sanitize your hands, go into private "quarantine" if they tell you you are allegedly "positive", stay in your home like a monkey in a cage if they tell you you are not allowed in the streets, believe it when Ramaphosa and his "Corona" mafia sock you nonsensical dribble about the "devastation" the "virus" creates and "millions of sick and dead people" expected to destroy your social lives more while their cronies get all the tenders to supply hospital goods, masks, respirators, etc,etc and get lucrative 10 million rand tenders to dig millions of graves for " assumed" new "Covid" deaths, -and millions of tax payer's money siphoned for "bro's and buddies" to set up 5G towers across country to screw up your health even more! . You already are wearing your mask- so- go kneel before the global BLM demi-god ( they are testing the power and influence of the media over you to see if you could be mentally forced to kneel before the new "king" as well…all a mass media psi-ops exercise) – like the rest of your sport teams, administrators, government , politicians, celebrities and local enforcement agencies, white counterparts and G-d knows who else does these days. They are thoroughly f*cking with your minds they are- sending you as a white on a guilt trip to go kiss black arse and feel "sorry" that you were born white- THAT is for sure. And the mass media are in the front lines promoting this humiliating hoax!
The mere fact that you still believe the "Covid" virus exist and that your departed family member really died of "Covid" related symptoms render you "acceptable" for more devastating media indoctrination and submissive willingness to accept their "New Normal" if so required. What if "they" did not tell you about "Covid"- or"Covid" did not exist…what would the symptoms of that family member be then? You will never change. Accept it. You are who you are- and the simple fact that you already were banned from FB so many a time, controlled and your posts banned- but still you come back for more proofs just that point. Another proof is that the High Court just recently declared all the bans, wearing of masks, social distancing and all the erratic "laws" unconstitutional which means you do not have to wear a mask in public any longer- but lo and behold- thousands of sheep still drives around and walk around looking like updated Ninja Turtles and when you tell them they do not need to hide their ugly mugs anymore- they look at you with that blank expressions like dogs taking a crap on your lawn as-if you were just farted out from Mars.
And that goes for shop owners as well. Just because their Bible- the Main Stream Media- decided to keep mum about it as it does not fit their government's evil narratives that the sheep must start to revolt. Do you not find it strange that "Napphead " always oppose and appeal court rulings that is set to protect your private rights? They will not let up- the ANC "Corona" mafia are paid by the deep state to execute their final agenda- and they will go on with the "Covid" operation until everything- including you yourself– is destroyed and everything taken away from you.  We as the guardians have been warning you for a long time now- but you have been asleep and reluctant to start taking up arms against this evil that is upon you.  The time is near when even we also- will be "recalled"– seize to exist and stop warning you. White Nation is one of the last remaining websites that vigorously fought against the injustices committed against you…but even our time now have become limited and not very long now- we also will have to stop our operations and close the website. Then the onus will rest upon YOU to take the torch further.
You can call me whatever you want and argue as much as you want- but you cannot refute this facts. Go in peace brother and sister- you have lost your will to resist- lost your fighting spirit, your dignity, your G-d given freedom to differentiate between right and wrong, your will to survive . You forgot your roots and now are a willing slave who gave up his/her freedom and basic human rights( and that of your children) because of social pressure and media propaganda you sheepishly follow. Media 24 and the MSM became your new Bible. "Covid" became your new god. Your corrupt government became your new shepherd and the most ironic of all- you yourself became your own worst enemy.

Anyone that does not understand what this man is saying must really have shit for brains…!!!This is the reality that this corrupt goverment has caused in this country because of their greed and inability to govern!!! …allowing stupid people to do stupid things…and this will be the end result…!!! 😠😠😠

Posted by Allen F Murphy on Thursday, July 9, 2020
MEME FOR THE DAY:
SOURCE:
White Nation
WHITE NATION– WE DO NOT HATE WHITE LIBERALS– WE SIMPLY DESPISE THE FILTH!!
C'MON- SHARE OUR LINK