Do you have news to tell us? Send your e.mails with news and inquiries to: w.nation@mail.com
Register with us for free to follow our news on the right-hand tab
Article compiled and posted by: White Nation correspondent Pretoria August 19 2020
SOUTH AFRICA– THE  PIRATE's REALM DOWN SOUTH
THE TRUTH ABOUT THE ILLUMINATI BEHIND THE "CORONA" VIRUS
https://www.facebook.com/project.uncover89/videos/3121076291309161/?t=16
ON Friday 14 August 2020  the Squirrel Ramaphosa- aka "spokes president" by proxi of South Africa- much to the dismay to his nappy-headed boss-girl- had to announce the end of the level 3, 3 1/2, 3 extended and all the "level 3" attachments and move the country to the "Level 2" phase of their much lucrative and enjoyable "Covid-19" racketeering game under much pressure from political opposition parties and businesses alike. That maybe was one of the most reluctant and hardest decisions taken by the ANC crooks in a long time- giving freedom  their golden goose that laid them a whole nest full of illegal shiny relief fund golden eggs- even if it only is temporarily.  
FOR the drinkers, restaurateurs, pub owners –  and especially the smokers that had to carry the brunt of this illegal and self-made "lockdown"-  it was a joyous occasion- a time of jubilation as they could now- for the first time in 5 months– exercise their constitutionally given right to buy smokes at a reasonable price of R 15.00 a packet rather than paying R 200.00/R120.0/R 80.00 and R 60.00 per packet through the illegal trade as they have been forced to due to the utterly and selfish "ban" placed on tobacco sales by a very unsavory , vindictive and scrupulous clanster crook Dhlamini-Zuma aka   "Madame Zol." One could literally notice the tears in her puffy eyes and the remorseful expression in her face as she also had to announce against her will (and her bank account) on Friday 14 August 2020 that tobacco sales may continue legally.
Dhlamini-Zuma – irrespective  all her obvious flat denials-is long suspected of being a political  king-pin in the illicit tobacco trade in South Africa- roamered to be making millions out of contraband tobacco sales under the lockdown herself. As I said- obviously she would deny it as it would be political suicide to openly admit it.  Her stepson Edward Zuma already has been fingered as a mass distributor of illicit cigarettes before and during the "Lockdown." His one factory was raided and millions of rands of illicit cigarettes found- but up to today not one single arrest was made. And then there is the smoking gun of Dhlamini-Zuma's connection with illicit trader Mariano Mazotti as well. SO– the un-banning of tobacco products surely appears to hurt Dhlamini-Zuma's bank account a titch and as we know this devious operator- she will not take it lying down but will prepare yet another scam to again ban tobacco products for the one or the other dilapidated health "excuse" in the very near future. When operators such as her are in the game- greed has no limitations.
In a shock move on Monday Dhlamini-Zuma annuled the "Level 3" phase in it's entirety. This means she cannot – as she has done previously and was generally feared- return to level 3 regulations- except if a system for level 3 is again promulgated.  This can be seen as a drastic action to escape the spotlight of the courts on the rationality of (Dhlamini-Zuma's) excessively drastic restrictive measures, ( Like the unnecessary tobacco and liquor bans) especially seen against the background of growing public resistance and resentment of the Corona Council and especially the devastating effect this "lockdown" of the ANC had on job opportunities, businesses, state revenue and the economy. The public wants her fired- they had about enough of her dictatorial rule. She and her "Corona" cronies have totally destroyed their social and public lives. The public wants to see them burn on the public stake with her taking center stage.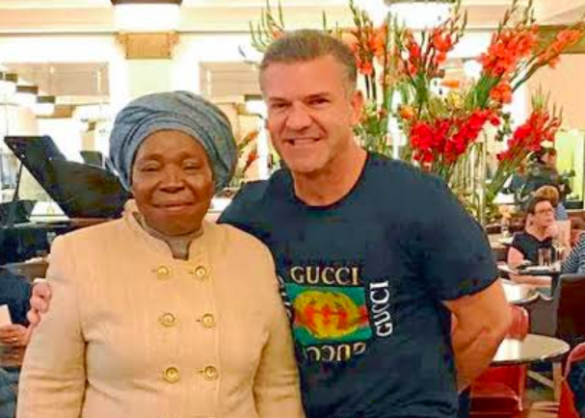 We are swamped with advice on how to combat the "coronavirus. " And there are screeds about how to fix our wrecked economy. We should also pay attention to freedom, which has been grossly abused and curtailed during the ANC's enforced "lockdown. " Freedom remains limited deliberately. Even now under Level 2 we have a curfew and long list of don'ts. The reasons for these restrictions are not always logically consistent. When the final level is lifted, will we be free? Certain ministers visibly derive enjoyment from telling us what we may and may not do. Bheki Cele and Nkosazana Dlamini-Zuma (NDZ) for example. Cele's ridiculous statements included demanding till slips for cigarettes and booze. This is no "democracy" or "pandemic" no more- it is downright a dictatorship with only the dirty politicians  and big corporations benefiting from it. I never lived in a communist state- but after watching this past 5 months what is happening to our country and how Ramaphosa and his "Corona" psychopaths are trying their hardest to turn our country into a socialist state- I simply despise communism in any form. I believe if there is some terms South Africans came to despise with their whole being it will be terms such as "Lockdown, Corona Council, Covid-19, Ban, My fellow South Africans" and " Minister  of Cooperative Governance and Traditional Affairs ." Any of these fore-mentioned terms will in future turn the burning acid on in one's stomach – which will send you puking.  Especially the latter. Dhlamini-Zuma – like her ex husband- became the symbol of political abuse of power. She currently is the single most hated individual in the post-apartheid history- followed closely by Ramasquirrel and his bunch of "Corona" criminals. This public resentment will be seen clearly on the ballot papers in the coming 2021 municipal elections where the ANC dumpster dwellers will be found wanted.
Now we all are quite aware of the fact that politicians by definition are the worst kind of thieves and plunderers and the personification of Satan himself on earth.They are nothing more than elected corrupt smiling tyrants and thieves in suits. Ipso  Facto! So we already are aware of the fact that this ANC " Corona" crooks were well within their "right" and their normal " forte" by forcing down a brutal "lockdown" onto the country so they could get their sticky fingers deep into the tender box bonanza- that is to them "ops normal" as we have learned this past 25 years already- and we did not expect any less from this devious bunch of Robbin Island dumpster dwellers  either. And without shame they  plundered and steal by the billions  they did on a macro level. Millions of impoverished and starving households will now vouch for that. And NONE of this ANC criminals ever gets arrested. "Cosa Nostra" is protecting them….even RE-DEPLOYING them!
"ZULU-NOSTRA"- The bad and the evil???
AND THE SERPENTS  ARE NOT FINISHED YET!!

This "level 2" only is a little "reprieve"- they already are preparing their "second wave" for you. And they deviously are going to blame YOU for it. Politicians used to try to convince you of things. The assumption was, you were in charge. You were the voter, which is to say, the boss. If they wanted the job, they had to win you over. It was a cumbersome process, so they've

abandoned

it. Now – like with the "Covid" hoax- they just browbeat you into accepting their program. If you don't like it,

it's your fault.

You're the bad guy. You're immoral.
PLEASE remember this "Dr. Karim" was asked if "KillBill " Gates gave him money (a bribe?) He refused to answer. Abdool Karim is an epidemiologist and infectious diseases "specialist"  who serves on the ministerial committee that advises Cyril Ramaphosa on the country's Covid-19 response and heads up the Centre for the Aids Programme of Research in South Africa. He is an advisor to the Gates Foundation. How much do you trust this man? They keep on moving the goalposts to confuse and keep you locked-down forever!
WATCH THIS VIDEO:
https://www.facebook.com/FlatEarthStationary/videos/632162330713672/?t=9
AND as always there is the threats, threats and more threats against your freedom from these vile bastard children. NEVER do they arrest their own scandalous and corrupt cronies- always threatening to "arrest" hard working innocent citizens that do not "comply" with their devious agendas. It is time the citizens take on these vile communist human rubble that deem themselves "untouchable." It is time the ANC rats gets dragged before the courts and sent back to prison where they belong.
And the UWC in South Africa  is busy with trails for  a "new" vaccine already to "prevent" this Bio-Terror attack – funded by guess who? Yip! You guessed right- a cool $ 15 million by none other than the Bill & Melinda Gates foundation! These bastards are nothing but pure f*ckin EVIL!

There are rumors that Dhlamini-Zuma and her NCCC criminals  such as witch doctor Mkhize are withholding covid tests to manipulate the numbers. It is suspected another hard lock down is imminent due to the supposed "increase " in infections due to alcohol and cigarettes.This we believe is the ponzi government's  way of manipulating the system for another wave so they can ban cigarettes and liquor again  and steal more money.
REMEMBER- YOUR

OBSTINATE SILENCE

AND DOWNRIGHT

NEGLECT

TO ACT AGAINST THESE ANC CRIMINALS NOT ONLY KEEPS THEM IN POWER- BUT GIVES THEM THE SILENT MANDATE TO PROCEED WITH THEIR MALICIOUS DESTRUCTION OF YOUR COUNTRY , PLUNDER YOUR STATE COFFERS,  ABUSE YOUR RIGHTS-  DESTROY YOUR FREEDOM-  AND IMPOVERISH YOUR CHILDREN. RISE UP PEOPLE OF SOUTH AFRICA- DESTROY THIS UTTERLY CORRUPT  ANC COMMUNIST OPPRESSORS AND TAKE YOUR COUNTRY AND YOUR FREEDOM BACK!

BUT the ANC crooks are not the only ones that excelled themselves in the annals of notoriety this past 5 months. There were others that matched their vile status quo on the same level- lesser in money terms maybe- but if scandalous thievery , blatant racketeering and inhuman treatment of the innocent citizens are mentioned- they could match the ANC crooks at the top punch for punch. There are a few of these parasites that quickly jumps to mind such as the Big Retail Corporations, the illegal liquor and tobacco syndicates and smaller street operators and pimps that all took full advantage of this sudden golden opportunity to suck the consumer dry due to the scarcity of some wanted  commodities- but the worst of this evil bunch I would single out is  the South African Police and local Traffic Department thugs. This two "law enforcement" sectors has distinguished themselves as the most detestable, villainous  and loathsome criminal syndicates operating to do the already impoverished and struggling peoples the most harm  during this "lockdown" fiasco.
MANY a time I read and saw with my own eyes how these "law enforcement" thugs treated the public this past few months- how they assaulted them, arrested them, treated them like animals- and how devious they operate to openly steal goods from suffering people that only tried to make ends meet after Ramaphosa and his the filthy ANC "Corona" rats forced their businesses to close down. I saw how many a time these "law enforcement " criminals stopped vehicles, harassing the occupants because of one single packet of cigarettes, how they barged into shops- "confiscating" all tobacco products(even stashed away in store rooms not for sale during the lockdown) – how they harass and locked up innocent shop owners and common citizens for alleged "illegal"  liquor and tobacco products and again "confiscated" the entire stock. It was a feeding frenzy. NONE of this stock stolen by this nefarious "law enforcement" gangsters will ever be seen again or be given back to the rightful owners. Neither will the owners be compensated for their astronomical losses either. They have already developed a lucrative system to sell and distribute the " confiscated" stock themselves to add a lucrative "bonus" to their pay check every month end. It became a national culture.  Every day the only focus these "law enforcement" goons have is to seek out any shop, vehicle, truck or trailer that possibly could be stocking or  transporting cigarettes and booze. To hell with any other offenses or crimes. They are focused on making money- and BIG money as well.
SEE VIDEO BELOW:
https://www.facebook.com/watch/?v=292045622099638&extid=9VPwaAvjyXWZsEjD
It leaves a bitter taste in your mouth and a sense of shame to  even be associated with a country with common thieves and robbers running the country and also the law enforcement. The rot runs deep.  To the majority of  these heartless political and law enforcement thugs nothing else mattered- not the country, not the people, not the high crime, not any other pandemic, not any other escalating deaths , not any other crimes such as rapes, abductions, child trafficking, women abuse, cash in transit heists, assaults, burglaries or farm murders- just the "Corona" plundering. To these demons only the Corona and the self enrichment frenzy at the trough was all that counted. The percentage of honest officials are far in the minority. Bheki Cele himself- a corrupt fear mongering arrogant despot are one of the main reasons the whole law enforcement sector became rotten to the core  and enemy #1 of the public. Because of his constant threats of arrests and baseless lies about till slips the law enforcement agencies became the vultures instead of the protectors. In the olden days when a police officer gets killed in the streets the people would let out a shocking gasp of "Good G-D!!" Today when a police officer gets killed in the streets the people let out a cynical murmur of " Good Riddance!"
Heavy fines for not wearing a mask of obedience all while a High Court Order declared this "lockdown" unconstitutional. Have "Covid" now also replaced our constitution? It appears to be by "Corona " decree.
Today- under the alleged "Corona" worshiping- the ponzi regime , their controlled media, social media and their urban  strong arm the security services such as the police and metro police devils- are waging an open war against the innocent populace. With "Corona" came oppression and persecution on a level never experienced before such as installing fear and total obedience without question. The first victims of this war always was and is truth and freedom. This type of dictatorship (and worse)  is what we could expect from a government bought and bribed  by the Deep State to oppress it's citizens and suppress all resistance. Fines , arrests , bans from social sites and incarceration all forms part of that agenda to enforce unquestioned obedience and submittance to their evil "total control" plans.
And as the months of "Corona" went by the sickness turned into well…a pandemic too. Today the public do not trust a policeman at all. Respect turned into fear. Fear turned into hate. Hate then turned into retaliation.  A policeman stands a bigger chance to get shot in the urban  streets than be trusted to be  called to a crime scene. For this reason also does many crimes not even get reported. Nothing will be done, court documents get "lost", cases are not filed, court evidence get lost, crime scenes are tampered with, – cases are not logged, investigations lag months if not years behind, -and many discrepancies can be found during police investigations to deliberately hamper the legal procedures or vindicate court judgements against the perpetrators. In many cases the police themselves are involved in these crimes. Nothing ever happens to the culprits in blue. Cronyism and mob law – iow Cosa Nostra– protects them like it does with their political rulers.
That is how bad things are in South Africa. Most of these police officials also are deep into organized crime themselves. If the police are called for say a farm murder- they would not even respond on most of the cases. Mediocre excuses are in the order of the day.  BUT– If the police are called say  for  an "illegal" cigarette or liquor trader- they will respond within the minute and like the towing services racing for an accident to get there first to claim against the accident insurance- so does the police also race to get to the illegal trader to get their hands on the contraband first. It is nothing strange to see 4 or 5 police vehicles rock up in minutes at the alleged trader's doorstep to "arrest" him and "confiscate" his whole stock.  After that the stock never get registered or stored- and the trader will never be called to come and fetch his stock after the court case- or be compensated for his loss. Once his merchandise disappeared into that police van- it is gone forever. It will find their way into the black market sure sure- via police distribution again.  This is the land the ANC rule- by corruption and fear mongering. The ANC came and tarnished the law enforcement agencies'  names forever. The public now finds themselves between the hammer and the anvil- between corrupt politicians and corrupt law enforcement agencies that in both cases wants to rob them . And the "Corona" hoax only made things worse- not by the alleged spreading of a "virus"- but rather by the spreading of corruption into pandemic levels. Under the false veil of a "virus" the real thugs and destroyers of our societies  came to their own. If we have to search for the real corona thugs in our country- remember- they not only are sitting on parliament  benches – but most of them are driving around in marked government vehicles among us.
SOURCE:
White Nation
Sunday Independent 16/08/2020! Responding to Floyd Shivambu and exposes the Corona Scam! All opposition political parties in South Africa have failed to realize that there is an agenda behind the so-called" Covid-19 " pandemic by the global elite to usher in a dictatorial one world government or a "new" economic, political and social order which is going to make apartheid look like child's play.'
MEME FOR THE DAY:
PLEASE NOTE WE WILL SOON BE CLOSING DOWN THE SITE.
WHITE NATION– WE DO NOT HATE WHITE LIBERALS– WE SIMPLY DESPISE THE FILTH!!
C'MON- SHARE OUR LINK