Do you have news to tell us? Send your e.mails with news and inquiries to: w.nation@mail.com
Register with us for free to follow our news on the right-hand tab
in
Article compiled and posted by: White Nation correspondent Potchefstroom   September 18 2020
ALSO VISIT:
SOUTH AFRICA– THE  ANC PIRATE's REALM DOWN SOUTH
THE first wave of state capture had its origins in the cadre deployment and transformation policies of the African National Congress (ANC) which degenerated into the looting of state institutions. These policies allowed the party, through the government, extraordinary regulatory and administrative powers and deployed cadres just could not withstand dipping into the public purse.
A senior ANC leader once told me that what the party desired was a model of 'sustainable wealth extraction' (personal enrichment scheme) – in which the party, through the state, could draw wealth out of the country without driving investment out of the country – but bemoaned that greed and infighting among cadres was so great that they could not help but destroy the institutions they were deployed to lead. The consequences can be seen in Eskom, in creaking infrastructure, failing municipalities, toxic rivers, dangerous hospitals, and corrupt policing.They can be read in the testimony to the Zondo commission, the Gupta leaks, and the reports of the Auditor General.
As Minister of Public Enterprises Pravin Gordhan is reported to have said, 'If you thought it was bad, it was worse.' But I am afraid that if the first wave of state capture related to the destruction of public institutions and infrastructure, the second (and later) waves may relate to the attempts at their rebuilding. The formulae for those subsequent waves will have three components. The first will be large amounts of corporate, pension, and development financing being made available for rebuilding. The second will be the nominal 'privatisation' or private contracting of firms to rebuild that which has been broken. The third will be to apply the above via the same regulatory and administrative mechanisms that led to the first wave of state capture.
Here are some practical examples:
The energy parastatal/municipal water works/public hospital/mining industry is failing. South Africa suffers an electricity/water/healthcare/mining crisis. Something must be done.
New generating capacity/refurbished infrastructure/better healthcare administration/new mining investment must be brought on line to save the country. Large amounts of development financing must be raised, with business, government, labour, and the international community (especially under wave three) working closely together. Collectively they will agree that the 'private sector', or at least private-public partnerships, must do the delivery as the capacity of the state is so eroded. Calls will go out for applications from suitably qualified firms to do the work or lead these partnerships. But these firms and the contracts they win will be surveyed by the same political leadership and through the same prisms of cadre deployment and transformation that led to the first wave of state capture.
We at the Institute of Race Relations (IRR) think transformation is very important in the sense of introducing effective empowerment and affirmative action policies that identify people on the grounds of socio-economic disadvantage and help them into the middle classes. But what passes as transformation in the government and the ANC is not that but rather a racial nationalist policy that acts as a fig leaf to conceal corruption, malfeasance, and the looting of public funds by painting any critic of the policy as "racist." Put it quite bluntly; you can grow rich off looting Eskom into the ground, and then win the financing and tenders to supply the renewable energy that South Africa needs to keep the lights on. When anyone questions what is going on you can again throw the "racism " accusation at them (and in the case of renewable energy) the climate-change denialist accusation. What ends up happening is that, having exhausted the resources available from public institutions, the ANC's political elite pivot under the guise of "privatization " and " reconstruction " to keep the cash taps flowing.
" Charging the ANC with Treason? Affluent Blacks (who are either employed by the ANC Government or are in "business" with them) would deem that as Racist. Just like they deemed Hellen Zille a Racist for having enough Balls [sic] to encourage South African Taxpayers to legally withhold their Taxes from a known Criminal Organization better known as the ANC. You saw how the DA loudly ignored that. Even Steenhuisen had to cool himself down from being the only White politician who radically opposed each and every stage of this demonic Lockdown; simply because, can you imagine what it looks like to have a White man criticize a dumb, Black criminal in Office? Yhooo! Haysuka! Wena, sit on that sofa! Watch SABC (since you can no longer afford DSTV or Netflix), gain that weight (or lose it, dramatically, as though you're dying), maximize that Depression (and the suicidal thoughts that come with it), deepen that poverty (since you are now broke, retrenched and permanently unemployed after chanting "My President" for months like the natural shortsighted fool you truly are). And maybe all those perpetual adverts about funeral covers will start to make sense. Perhaps only then you will start to Think, and allow the Sheep in you to Die. For only then can we have a serious, formidable Force that will Institute the Change this damned Nation Failed to materialize in the past 26 years; because of a Population whose brains are more fragile than foam in the hands of a toddler wearing an ANC T-shirt! " © DM. ( Dumisa Mbuwa)
State capture is ongoing – it is only the business and financial model that has changed. If you have any doubt, think about what has happened at South African Airways (SAA) where banks and a development financing institution have stumped up several billion rand to keep the cash flowing without which that fragile cadre-deployment house of cards would already have come tumbling down. When asked why they did it, the development bank said that if they had not then SAA would have folded – not the basis of sound banking or investment policy. An implication of our 'waves of state capture' thesis is that it is too early now to speak of public-private partnerships, raising development finance, and rebuilding, and will remain so as long as the current political elite that looted the country is still in charge.
The first cycle of state capture lasted almost twenty years before running out of cash in the aftermath of the 2009 financial crisis and the frenzied looting that followed. If the looting had been done in moderation it might have lasted longer. The second may not last as long but given the quantum of private funds held within the country, including pension funds, it could last for many years.
The third wave will come after those private funds are exhausted and international funding agencies are forced to step in. The IRR first warned about the implications of cadre deployment and what is today called state capture almost twenty years ago. For much of the time that followed, the warnings were ignored or loudly countered. It is important to say that because this is not our first rodeo and the methods and tools we used to make that call 20 years ago are the same as those that allow us to flag the lining up of state capture ducks all over again.
If you ask how these next waves can be avoided, the most compelling answer now is the complete defeat of the ANC so that it is out of government. Short of such an outcome, and short of a sincere effort to jail the corrupt in its ranks, our assessment is ever more that the ANC in government will repeat the cycle of state capture time and again, simply changing the source of finance ahead of each new wave. Twenty years ago very few influential people were willing to admit, let alone speak out or act against, the dangers inherent in the nexus between cadre deployment, what passes as transformation policy, and the enormous administrative power of the state. Today, equally few seem able to admit that the ANC must be driven out of government to stop the cycle.
TheExtended "Lockdown"- another last ditch effort to loot the coffers
As South Africans anticipate a further easing of ANC imposed " lock-down " regulations, Professor at the University of Witwatersrand Shabir Madhi said the country was in a good place to move to level 1 – however, it needed to be done "cautiously." We tend to  agree with the man as we know the Squirrel "Corona" brigade impatiently awaits another chance to hammer the country again with another barrage of "lockdowns" and "bans" to allow them more time to plunder  the relief fund community chests.

The extension of the National State of Disaster to 15 October 2020 by the relic Minister of Cooperative Governance and Traditional Affairs, Nkosazana "Nappyhead"  Dlamini-Zuma, is just a another attempt by an autocratic regime to cling onto its dictatorial powers and loot what's left of relief funding. This extension has nothing to do with 'saving lives' and has everything to do with the ANC's unfettered urge to empty South Africa's dwindling State coffers. Why can people eat with no mask in an airplane — inches, not six feet, from strangers — but cannot eat in a Cape Town or Johannesburg restaurant, which is so much bigger than the inside of an airplane, while sitting six feet from others? Because the communist ANC "Corona Council"  ordered it,  News 24 and liberal Main Stream Media  supports it and, like sheep, South Africans  have accepted it.
Recently Squirrel Ramaphosa was quoted saying that "[government] has to a large extent run out of money and we are going to have to cobble the money together." The reason that South Africa has run out of money is because his party stole it all and insisted on subjecting South Africans and our economy to one of the world's longest and hardest lock-downs. The lock-down does no longer even serve any purpose other than destroying livelihoods and killing businesses. Instead of an extended" lock-down,"– the incompetent government should have announced measures to ease the debilitating effects of this lock-down on South Africans' lives. With the President expecting to make announcements in the week to come, he must ensure that the following restrictions are completely lifted:
* That all sectors of the economy resume business, under strict health and hygiene protocols in order to resuscitate our dying economy and to safeguard the livelihoods of all South Africans; this includes the sporting and entertainment sectors, event companies, hotels and tourism;
* The  "President " ( by proxi) must ensure that our borders are open for international travel in line with clear health and hygiene protocols and in acknowledgement of individual responsibility;
* In consultation with the Minister of Home Affairs, the PBP should allow for embassies abroad to be instructed to issue emergency travel documents on application for those citizens who are stranded abroad as a result of expired travel documents during the lock-down; and
* The national curfew must be lifted to allow people to move around freely in support of individual responsibility.
South Africans have learned to live with this fake ANC-created "virus"  by adhering to Covid-19 health protocols such as wearing stupid masks and social distancing. We overcame this "virus, "– not because of the irrational lock-down regulations, but because of South Africans who took personal responsibility for their health and safety. It is time to end this irrational "lock-down"  to get all our industries back to work.
Corruption from the top: The Squirrel's R 500 Billion bribe to destroy South Africa
The bombshell revelation about Cyril's R 500 billion "loan" and South Africa's brutal "lockdown."
It emerges that what was sold as a R500bn" loan " to South Africa from IMF for Covid Relief was actually a personal bribe to Cyril Ramaphosa to destroy the ANC and collapse the South African economy. No wonder the Covid Relief fund only benefited those who are helping him destroy the ANC in the form of monthly grants and PPE tenders. To this day, it is not clear how IMF lent South Africa so much money when the country was on junk status downgrade by Rating Agencies.
How did the Banking Cabal dictate the world – wide Covid 19 crash?
https://www.facebook.com/dailyMOTIVATIONchannel/videos/959655974485987/?t=26
The beneficiaries involve a number of White Monopoly Capitalists, (Jews) who still mysteriously enjoy less publicity from the apartheid media compared to their Black accomplices in government, some of whom are facing disciplinary actions and suspensions after the Independent Media expose. According to the President of Belarus Aleksandr Lukashenko, this money was offered to him with many strings and conditions attached to it; some of which was to crash the economy of his own country and impose a police state. In South Africa, only a nonredeemable apartheid spy would sign this diabolical deal with the devil. And the Squirrel long ago was big friends with the National Party Secret Service...old habit of his.
It is the same personal loan of R500bn that we have discovered  that it pays Ramaphosa's agents that go around stalking his own cronies around who disagree with him. The money that benefited these PPE tenderpreneurs is the same money that pays these stalkers. The underlying agenda here is to depopulate, collapse developing economies and buy over their infrastructure at cents on the dollar. Speak of a devilishly innovative way to commit genocide through famine and strife in this day and age.    Belarusian President Aleksandr Lukashenko said last month via Belarusian Telegraph Agency, BelTA., that World Bank and IMF offered him a bribe of $940 million USD in the form of "Covid Relief Aid." In exchange for $940 million USD, the World Bank and IMF demanded that the President of Belarus:
• imposed "extreme lockdown on his people"
• force them to wear face masks
• impose very strict curfews
• impose a police state
• crash the economy
In presenting his analysis of the Third Reich in his treatise 'The Dual State" : A Contribution to the Theory of Dictatorship' in 1942, German political scientist Ernst Fraenkel identified two states of government:
The normative (upholding the rule of law), and
The prerogative – "that governmental system which exercises the unlimited arbitrariness and violence unchecked by any legal guarantees". *
On the face of it, South Africa still functions under the rule of law. Sort of. And the government has not put into law legislation that is comparable with that passed in the Third Reich. Nor has it had to put into law any justification for criminality. But therein lies the problem. Our courts can only consider a matter before the court. And it appears to be so easy to keep matters out of the court. The government doesn't have to legalize criminality (making it a prerogative state) when those in government, or connected to those in government, do as they please.
A few examples:
The government cannot rein in its own officials, many of whom have appeared before the Zondo Commission of Inquiry into State Capture. Those who have been 'fingered' by witnesses appear unabashed and unashamed, and obviously confident that the National Prosecuting Authority (NPA), struggling to get to its feet, may never get to them.
Has any high-ranking government official implicated in criminality appeared in court, been charged, made to forfeit all ill-gotten gains, or forfeited their state pension?
When will the cases of all those implicated in the recent fraudulent personal protective equipment (PPE) tender awards be brought before court? Two years' time? Three?
No one has been charged with selling off South Africa's strategic oil reserves.
No action has been taken against Patricia de Lille, Minister of Public Works and Infrastructure, in regard to various allegations, including the Beitbridge Border fence 'washing line' (R37 million was spent on the construction of an ineffectual 40-km border fence separating Zimbabwe and South Africa).
The NPA will apparently reinstitute perjury charges against former acting national director of Public Prosecutions Nomgcobo Jiba, who allegedly lied under oath a long time ago.…
The latest Auditor-General report on the state of the municipalities, and the extent of corruption, has not been acted on.
The National State of Disaster has been just that. A disaster. An embarrassment. A means by which to enrich a few.
Very few state-owned entities are clean.
The latest debacle raises more questions than just the matter of the taxpayer-funded cost of the jaunt by the ANC to Zimbabwe on a South African National Defense Force Jet departing from Air Force Base Waterkloof. The Department of International Relations and Co-operation (Dirco) must have approved this trip, surely? How did ANC officials manage to fly across the border into a neighbouring country without going through passport control? Did these ANC officials – Ace Magashule, Lindiwe Zulu, Nomvula Mokonyane, Enoch Godongwana, Tony Yengeni and Dakota Legoete  use their private South African passports? Or were they issued with official passports? According to the Department of Home Affairs "official passports are issued to officials attached to government institutions who have to travel on official business" and are "valid for a period of five years".
If traveling on official passports, and this was non-government business, is this not a criminal offense? These parties abused state resources, ignored Lockdown Level 2 restrictions, contravened the Defense Act. Similar to the parasitic roots that penetrate the host, the roots of corruption have spread far and wide and have penetrated the inner core of government. South Africa's constitutional democracy, body of laws, and strong judicial system are not enough to withstand the seeping criminality. Crumbling from within, South Africa is morally bankrupt. It has become a dual state, comprising the normative and the criminal. If allowed to continue, it is just a matter of time before the latter eclipses the former.
My "Fellow South African sheep…"
CYRIL "THE SQUIRREL" BUSY HANDING YOU TO THE ILLUMINATI WOLVES:
Ramasquirrel's "speech."
IT surely baffles the mind how these corrupt and scrupulous ANC rat pack can for ONE moment think that we as the general intelligent populace still believes their "Corona" bullsh*t! Listening to the Squirrel's load of hogwash about the "pandemic" during his faux speech made me realize that these political con-artists really are nothing but filthy manifestations of demons without a conscious as he keeps on babbling about the "severity" of the "virus" and all the "safety precautions" we now must take against "spreading" this fake "virus" when they now will "allow" more of our normal human rights back as a " privilege" while they now will move then "nation" back to "level 1." What utter arrogance indeed!
BUT what I picked up what the Squirrel INTENDS to say ( his real hidden message) during his long and fake speech- is the message that "they " now will try to force you – willingly or unwillingly- to take their multiple toxic "vaccines " to "prevent" the spreading of the Corona virus.First take the App to "test" you- then comes his vaccines…MANDATORY that is!  Now anybody with at least 3 brain cells still functioning after this dastardly "Covid" attack- should know that a Corona virus is a common cold virus– and in hundreds if not THOUSANDS of years mankind NEVER could prevent- let alone stop the spreading of a Corona virus. But this is the bullsh*t they  and their filthy Main Stream Media want you to believe in order to force you to their vaccine abattoirs. Ramaphosa- through the African Union- is busy handing Africa to China and the New World Order to cull millions of "useless eaters."
Ramaphosa sat there- openly LYING to the people- blatantly DECEIVING the nation without even blinking an eye- and still had the audacity to again call them his "fellow South Africans." This all while he is well aware of the R 500 Billion the IMF bribed him to destroy the country and hand the country to the IMF on a impoverished platter.  This all  while he is well aware of the fact that he and his "Corona " criminals destroyed the lives of millions of South Africans and broke the country's financial back with their prolonged "lockdowns." This all  while he is well aware of the fact that South Africa's unemployment figures rocketed from 27% to more than 50% during this "Covid" carnage he and his co-conspirators are responsible for.
And the deceptive Squirrel – as a registered Illuminati charlatan with his long straight face knows the hidden agenda of "World Control" too well. Still this devious and callous creature is  willing to sacrifice millions of South Africans into the hands of "Killer Gates " and his demonic vaccination crews. Still he is more than willing to deliver potential souls for G-d through lies and deception into the hands of the Satanic 666 cult with his buddy Gates' Nanno Technology vaccines. And the bastards still are hell bent on keeping on to dehumanize you as a f*ckin slave by trying to force you to wear a stupid mask- and not only that- but tell you to 1) Snitch on your fellow South Africans who supposedly may have the "Corona" virus like a good communist – and two- keep your  "social distancing" so their 5 G towers can easily identify you when they are switched on for TRACKING purposes. ! Whites per se better watch out- for the most disgusting and loathsome creatures worse than the ANC wretches on earth that will snitch on you and side with the evil bar Satan and his demons- are WHITE liberals. 
Illuminati Insider Reveals Secret Plans For the World!

The Illuminati is widely known as being a highly secretive society, but details about the mysterious group are hard to come by, until today! In our new amazing video we are hearing from a real life Illuminati defector, and they reveal all kinds of forbidden secrets, especially about the Illuminati's plans for a new world order! Don't miss this one!

Posted by The Infographics Show on Wednesday, July 8, 2020
The Truth About The Illuminati Revealed

Who were the original Illuminati? Are the Illuminati real? Is there a secret organization or society running the governments or is it all just a conspiracy theory? Find out in this SPECIAL episode of The Infographics Show: The Truth About The Illuminati Revealed

Posted by The Infographics Show on Thursday, May 28, 2020
ANOTHER point the Squirrel also tried to sock across– is the "wonderful" App you can download for "Free" that would and could supposedly "detect " if another "possible" Corona virus carrier is somewhere around you or was in contact with you. This way- said the rogue communist  rodent- will we "contain" the spread of the Corona virus. This is the biggest deception the Squirrel could have tried pulling on you.
SO– how precisely does Mr. Squirrel and his lying "scientists" with all their bullsh*t computer generated " models"  explain how a stupid cellphone App will identify, seclude , amplify and count the Corona virus amounts per 1 milligram blood sample of a passing by potential host and "warn" you? Furthermore does he alleged that the App will warn you if you have been in close contact with any other user the past 14 days that has been tested "positive."  Cyril is again driving his now well known bullsh*t wagon to sell the App which in reality- will be nothing more than a TRACKING device for the 5 G towers to identify YOU if you- like a good sheep- keep your 1 meter  " social distancing" from the next guy. And he admits the App is an ANONYMOUS  and "safe" tracking device too. Then he contradicts himself by saying the App does not store any personal information nor data of the carrier's location. This is a blatant lie as Google Maps immediately will pin-point the carrier's location. That is now where the bullsh*t "RICA" and " FICA" comes into play. It never was enforced to find your lost cellphone- but to find YOU as they now have all your details, your address, name, surname, tel.no , workplace, etc. "Anonymous" my arse!! They already have ALL your personal detail LONG ago! Cyril again is telling a bunch of LIES!
AS we all remembered did the Squirrel and his "Corona" ilk being lying to us since the start. They "promised" the "lockdown " will only last 3 weeks. Well- after that 3 weeks the lies, bullsh*t  and deception started – and escalated into a full blown  police-state like incarceration with multiple "bans" , " regulations" , threats and security force brutality by his"Corona"  psychopaths that now lasted fro almost 8 MONTHS with "extension" after" extension" following- and still is the end not in sight! Then the same Squirrel allowed ONLY his brother in law- Patrice Motsepe– to get a lucrative tender to install over 700 5G towers country-wide this year in co-operation with RAIN- and in total 2000 of these sickening radiation-spewing monsters by end 2021. Meanwhile he himself quietly dashed to America to go see killer Gates to tie the knot for YOU to be vaccinated- at a lucrative bribe included naturally.
Then this week  the Squirrel said that his witch-doctor Mkhize and his Frankenstein Department developed WhatsApp and SMS systems for users to snitch on their fellow South Africans to supposedly "prevent" the "virus" from spreading any further. What a load of bullsh*t! This is an old communist system to exploit the populace to snitch on each other. Cyril's speech was centralized around TWO things: Get the App…and get VACCINATED. This Cyril said with a hidden thread of a "second wave." Cyril also reiterated to wear the mask, keep the "social distance" and keep on washing your hands like a infected lab rat. AGAIN we see contradictory what the WHO said that this "virus" is not transferable and no masks, "social distancing" or "sanitizing" is mandatory the Squirrel is running his own private sideshow! 
Then the Squirrel tells you to prepare yourself for the time  when WHO/Killer Gates' vaccines will be available and South Africans all must take the vaccines in 'sufficient quantities."  Now the Squirrel wants to vaccinate EVERYBODY- even HEALTHY people so the 5 G radiation can make them sick too! And not only that- Cyril wants to deliver the WHOLE of Africa through his chair in the AU to Killer Gates' vaccines so that "no country be left behind" to use his own words. He is totally insane! Cyril also used the New World Order term "New Normal"  regularly – which shows us this individual is playing out his masters' evil plans against South Africans. THAT is the ultimate objective of Cyril and his notorious gang- to get you VACCINATED! Cyril also told you to join the global  "phenomena"- the "Jerusalema dance challenge." What Cyril said was now you must go "celebrate" the fact that he and his gang screwed up your lives and your economy. Cyril then praises the fact that "we" (iow the ANC Corona pundits)  have just screwed our country and economy into the ground and now you must join the rest of the global idiots in singing the Covid praises as their new Antichrist "King" will be initiated.   How quaint indeed! READ BETWEEN THE LINES FOLKS!
This creature again are busy mind-f*cking you into downloading the App that will track you down, snitch on your fellow South Africans, get VACCINATED– and prepare for another barrage of "Second Wave" bullsh*t "lockdowns." See how this shrewd NWO criminal is moving you forward "step – by- step?" In his first speech  he announced the App. Then in his second speech he  "advised" you to take the App- now in his latest speech he is "demanding" you to download the App. Next speech he will make it "mandatory." And Ramasquirrel also is a word-spinner pour excellence. He mince his terms by at first referring to the "Covid" virus, the he calls it the "Corona" virus- then again referring to it as only the "virus."
This all is aimed to confuse you what "virus" he precisely is referring to as a Corona virus is a normal flu virus that cannot be contained, and secondly there is no "Covid" virus as this is a secret code for global vaccination– and thirdly the term "virus" can mean any virus.  Step by step he is driving towards a One World Order control system so their 5G towers can be switched on to track you down. Ramaphosa thus is ABUSING his position to destroy your freedom and usher in his masters'NWO tyranny.
This App will be the fore-runner of the vaccination certificate that without you cannot lead a normal life anymore- but will restrict your access to movement, access to retail shops, your bank account inaccessible without which you cannot draw your salaries or do internet transactions as your bank now will demand your user password, secret password AND "Covid" clearance number before you will have access to your bank account on line. This method of tyranny will be applied to ALL your financial operations, websites and service providing systems- even fuel stations. They want to slowly either FORCE you to get vaccinated- or STARVE you to death if you refuse. These f*ckers are EVIL. This is now their "New Normal" the Squirrel keeps on bragging about- total enslavement for the rest of your and your childrens' natural lives under the jackboot of his New World Order psychopath masters.
You cannot cross provincial or international borders, pay your local Council service fees, etc, etc without being "cleared" from this fictional "Corona" virus. . Basically this App and the coming "Covid" certificate will totally control your life- and without taking a vaccine- you will be banished from all your social and economical life and restrict your movements. They will make sure you become an inmate in your own home under "social" house arrest. Irrespective WHAT public opinion is or WHAT evidence are available that this "Corona"-thing is a world-wide scam to enslave you- Ramaphosa and his power-mad ilk relentlessly pursue their masters' evil world domination agenda. Meanwhile like a pied piper of Pretoria Cyril happily is  blowing his Corona penny whistle with all the "Msanzi " idiots   following him like a bunch of hypnotized rats into the proverbial furnace of a New World Order created   hell itself. . This all will come to play in 2021.  Copy that where this devious criminal is taking us? IF this does not make red lights flickering and alarm bells clanging for you – then either you are a damn natural idiot – or you are downright a bloody ignorant Putch!  This chap is playing you for the fools most South Africans  really are.

What is the dangers to this App the Squirrel so sincerely wants you download and install on your phone then? Read  the terms and conditions of this App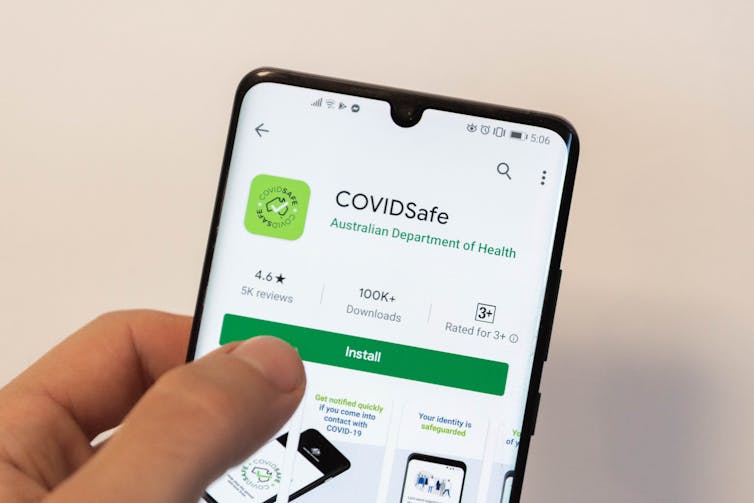 If a product is for "free" like this App- then YOU are the "product." NOTHING in this world is for free- thus- YOU are the product they want to capture.
The App already has a huge overload of reviews when you download it  . This means that the reviews are not genuine reviews- but faked to deceive you. It is basically "purchased " "reviews. "
Look at the "permissions." What does this App ask permission to? a) Your network connections: It tracks all your mobile and internet connections. Iow it is locational tracking. It can track anyone around the globe.It wants access to all your Blue Tooth connections. It will track anything you use that uses Bluetooth- even what type of car you are driving, TV, speakers, game consoles,  etc whatever you have in your house .Thus they can track everything you uses in your private home.  It has full network access. This they can send ANY data they stored about you without even asking your permission- even using your own phone to do that. It is free reign– they can do whatever they want to with this application.
" Run at start-up"- Even if you do not want the application to run- it runs in the back-ground….PERMANENTLY. You cannot switch it off.  It has full access and full control over your phone. That is scary– as  most apps don't even do that unless you wants to track someone which is precisely what this App was designed for and is planning to be used for.
" Prevent the device from sleeping.": When for instance you lock your screen most of your other applications do not run anymore unless you set it to run while your device is in "sleep" mode. BUT this Application PREVENTS your phone from ever going into a "sleep" mode. This "Covid" App is ALWAYS active. It is on a permanent tracking mode and sending and receiving data continuously without you actually activating or giving permission to this App to do so. It NEVER "sleeps" your phone! This is level ONE textbook tracking operations. Cyril also mentioned that anyone entering from a foreign country into South Africa is mandatory to install this App. Why- They want to keep precise tracking of all the movements  of anyone entering SA. This is a very dangerous App to your privacy  to download and install .DO NOT INSTALL THIS APP ON YOUR PHONE.
For now the App is free and by own choice- but soon the Squirrel will tell his "fellow South Africans"  that they  can throw away their  masks as this App now will replace the mask and it will become mandatory for all retail outlets, sports venues, public places, airports, hospitals, your workplace, traveling on roads and highways past their checkpoints,  etc to first check your App that you are "Covid clear" before allowing you to enter or use any of these facilities- JUST what they have been training you for with the mask- to force you to become part of their "New Normal." This is why Cyril and his Illuminati goons forced you to wear that stupid mask- as it is a forerunner of this App- and later on your vaccine! This all is part to control you, your movements- and if you do not comply by downloading this App- they simply will bar you and prevent from all your social activities and much needed services  until you become SO desperate that you will install the App just to get by daily living requirements. And if you still are reluctant to take the App- they will hunt you down like an animal as you are now a supposedly "danger" to other citizens and can spread their fake "virus." You will be forcefully contained and thrown in a "quarantine"(read concentration) facility until you decide to take the vaccine- or die refusing it. THIS is what your so-called "president" now is doing to his "fellow South Africans." . He is nothing but a Illuminati controlled serpent!
THE SQUIRREL  ANNOUNCES THAT THE POST-PANDEMIC 'NEW WORLD ORDER' IS " IMMINENT."
"This pandemic has presented the world with a choice – between the global cooperation envisaged in the UN Charter or the pursuit of narrow self-interest. It is a choice between prosperity for just a few or for all . At the 75th UN General Assembly, the leaders of the world have an opportunity to begin rebuilding a

'new global order

' based on justice and equality."- Cyril Ramaphosa (UN 2020)

What is the dangers of Cyril's 5G technology his brother in law now is installing country-wide?
Let me explain in layman's terms what destruction to your body this 5G technological omens really are able to inflict:
Over 180 scientists and doctors in almost 40 countries are warning the world about 5G health risks. These scientists' response to "Resolution 1815 of the Council of Europe" spells it out quite succinctly:
"We, the undersigned scientists, recommend a moratorium on the roll-out of the fifth generation, 5G, until potential hazards for human health and the environment have been fully investigated by scientists independent from industry. 5G will substantially increase exposure to radio frequency electromagnetic fields (RF-EMF) – and has been proven to be harmful for humans and the environment." If you're not alarmed about 5G radiation dangers, you should be. With download speeds up to 20 to 30X faster than 4G, 5G promises a new world, including becoming the foundation for self-driving cars while also causing a long list of potential health risks. "5G Cancer" may actually be a thing. The cities of Brussels and Geneva have even blocked trials and banned upgrades to 5G out of this concern.
The difference between 4G and 5G in terms of Gigahertz, the unit of alternating current (AC) or electromagnetic (EM) waves that affect the transmission speeds of devices, is significant. 5G technology promises radio millimeter bands in the 30 to 300 GHz range, while 4G tops out at around 6GHz. When applied to video latency, this translates to speeds up to 60 to 120 times faster. Before 2G, 3G, and 4G, radio frequencies were benign. We never worried whether or not our drive-time radio shows would fry our brains. Sadly, once the concept of wireless "G" technology was initiated, we began exposing the global public to frequencies akin tomicrowaves at 1 billion cycles per second. Humans, animals and the environment have all been at risk for years. While 4G was bad enough, 5G takes the game to a whole new level of insanity.
Cyril wants to throw you to the wolves so his evil Illuminati cronies can to control you :
NOW – we presume the Squirrel, his semi-qualified witchdoctor Mkhize and that weird Bill Gates apprentice "scientist" of his – Abdool Karim-  should be quite aware of this facts. Squirrel and his satanic entourage all forms and are part of the New World Order's " Operation Lockstep"- exactly what is happening now:
I conclude with the words of a Swedish medical doctor, Sebastian Rushworth:
"Covid is over in Sweden. People have gone back to their normal lives and barely anyone is getting infected any more. I am willing to bet that the countries that have shut down completely will see rates spike when they open up. If that is the case, then there won't have been any point in shutting down in the first place … Shutting down completely in order to decrease the total number of deaths only makes sense if you are willing to stay shut down until a vaccine is available. That could take years. No country is willing to wait that long." The " lockdown " is a crime that only favors political connected  criminals in South Africa. But even more upsetting is that it is supported by so many gullible South Africans. The National State of Disaster has been just that. A disaster. And it's a state that extends beyond just the pandemic.
THINGS are heating up for South Africans. Time is running out fast. Cyril Ramaphosa is pushing ahead the Agenda 21 . He is running a precisely  planned schedule as given to him by the Bilderberger group during their meeting in Stellenbosh in November 2019 . Ramaphosa was paid to push the agenda, he was paid by Gates to allow vaccination trails to proceed during October, he was secretly paid by the IMF to destroy South Africa, he was paid to introduce the Covid card, he was paid to allow the 5G towers- he was PAID for everything. Cyril's personal greed made him one of the worst kind of traitors to the peoples of South Africa and one of the most dangerous individuals in the government to hand South Africans to the corporate Illuminati wolves. He was PAID to destroy your lives, made you slaves of the corporate wolves- tag you, control you and impoverish you. He was paid to let you be harassed, incarcerated, abused, vaccinated and on the end- exterminated. He was paid to allow these international vultures to take away your freedom and be marked with the mark of the Beast.
What a sudden REVELATION!!:
Just now got this- Breaking News: The World Health Organization. has taken a complete U turn and said that Corona patients neither need to be isolated nor quarantined, nor social of distance. AND it cannot even transmit from one patient to another!  AND here we have Cyril the Squirrel– still hell bent on his "Social distancing" and "Wear those masks" all while the WHO now admits their "virus" is nothing but a big bag of bullsh*t!  But Cyril wants his App to be sold so he can "control" you 'cause he's been PAID by all his scrupulous money mongers to push the agenda!Any reasonable and concerning leader would have protected his country and stop this "Covid" rubbish immediately- but O NO- NOT Cyril. His personal greed overrides his duty as "president."

AND that's not all…
South Africa is the biggest producer of Adrenochrome in the world under the ANC's watch. Hundreds of children are abducted in South Africa for this reason every year – but LO- Ramasquirrel and his heinous cronies are more concerned about a non-existing "virus" than our children being abducted, abused and murdered for this Satanic rituals. The ANC even closed the Children Protection Unit a couple of years ago. Adrenochrome  is a substance extracted from the Pineal glands of children- especially when they are terrified. This elixir is supposed to give pedophiles and Satanists a younger look.

From the Pantelis Podcast #76.Full interview at: https://youtu.be/9FUrYQ1PF2oMore onwww.PantelisComedy.com

Posted by Pantelis on Saturday, August 22, 2020
For Example: A Man in Goodwood chased after a girl as she left school this week! She got home, screamed and told her mother. Guys then chased the guy and beat him up. In the boot of his car they found a book detailing how much he would get paid for each child according to age, etc. R500,000 per child, and it must be a virgin . Also in his car was clothing of other kids and a gun etc., – and on his phone they found pictures of children playing in the park and also in their school grounds. SAPS currently has him but he is yet to talk!
SO many times we have WARNED South Africans against this devious man. So many times we have CAUTIONED against this "Covid" hysteria. So many times we have warned that the time is running out fast and soon you will be caught inside the towns and cities by this evil man's security forces- barred from exiting the boundaries of your towns and cities. For long we have said cultivate your own gardens. We have warned that you must get OUT of the towns and cities FAST! Do NOT listen to the Main Stream Media propaganda.  We have warned that another "second phase" is planned as soon as enough lab rats have been vaccinated and the 5G towers activated that would directly affect those being vaccinated to trigger their " second wave" lockdowns. They will and shall force you to take their vaccinations- one way or the other. Whether by denying you access to public and social venues, or by forcing you to abandon your children at school if you are not vaccinated, deny you access to your bank accounts, – or directly arresting you and force you into their "quarantine" Gulags until you submit- but the Rockefeller World Domination agenda will take it's course.
South Africans will soon face the their  worst nightmares under this prime evil " My fellow South Africans" capitalist hoodlum and his greedy bunch of ANC communist  degenerates. They have stolen billions from South Africans, looted the state coffers empty. They have impoverished millions, left millions without jobs- and still are stealing millions out of the Covid relief funds. They have created race diversity and kept racism alive for political gain. They have introduced discriminatory laws against minority groups. They have hunted down white Afrikaners and jailed them on trumped up and nonsensical charges. They have neglected coloreds and slandered Indians. They have been allowing the murdering of white farmers on a genocidal scale.They have instituted racist laws and demonized whites in general- pushing them out of the labor market completely. They are silencing the messengers on social sites.
Give this man a Fukn Bells!!!Well said… Bout damn time people start standing up for whats right!!!

Posted by Yusuf Mohamed on Saturday, May 5, 2018
Sjoe…So waar …!!!!!!

Posted by Dave Henderson on Tuesday, July 28, 2020
Yet here we are- merely observing them and worst of all- OBEYING them even while we know this scum is taking us deeper  into their  Covid swamp. We follow their instructions and obey "my fellow South Africans " when he announce more oppressive and tracking  laws. We ourselves are giving up our freedom willingly  'cause we are being ruled by fear and deception.  Soon we all will be willing slaves under the crushing boot of the  global New World Order Nazism. Where is the up-rise? Where is the riots against these filthy politicians? Where is the resistance against these common political crooks? We were quickly to jump up when Malema was launching an offensive against CLICKS– but Malema is a small insect against big thugs such as Ramaphosa and his "New World Order" gangsters. Yet we do NOTHING? You have been warned time and time and time again. Your time is running out fast. The year 2021 will be the most destructive, challenging and horrendous  year for South Africans under this despots in control.
Yet the people are still reluctant to respond. Even the church pastors and priests have been eerily silent about this and are still refusing to warn their flocks although the signs are there- Vaccinations, microchips, tracking devices, oppression by lockdowns, abuse of human rights,  persecution if you do not take their mark and many more. This App. by itself will soon turn out to be your biggest threat to your freedom and your chance on survival. The net is closing in fast.While the whole world now are breaking the shackles of captivity the criminals in the WHO, UN , Illuminati , New World Order , Bill Gates Foundation, Rockefeller Foundation-and other greedy money mongers have been placing on them through this "Covid-19" scam- Ramaphosa and his ANC "Corona Council" "tsotsi's" are still playing games with our country.
We detect this useless corrupt kitchen girl are threatening us again. This all based on a fake "virus" and cooked "numbers? This time it will not work. We shall stand up – tell her and her apprentice to fly to hell- and go on with our lives. And if they so much try to abuse us again through their dirty stealing police of traffic misfits- we SHALL retaliate- by FORCE if necessary. We are TIRED of her and her maniacal bullsh*t now! She alone  was one single main malicious destroyer of our economy and our rights. We will not allow this incompetent twat to destroy our social lives any more- NEVER AGAIN!  We are tired of her continuous threats.
While Ramaphosa and the twat on top make us as people suffer poverty and hardship they build mansions!!
RAMAPHOSA is slowly enforcing his dictatorship. Armed soldiers now start to seep onto the cities- making sure every one is wearing masks and distributing brochures and leaflets on Covid health awareness Soldiers in camo carrying rifles at the Fish Hoek station this morning – making sure people are wearing masks. Govt dictators start taking more control. Things are starting to hot up and gain speed now. A Facebook member  was informed this morning by Capitec that her current phone was Android 4.4 and version 5 was needed for the latest app (Covid) update. The new update has purchase tracking, finger print and facial recognition, etc. Ramaphosa and his ilk  intend to force down our throats. The pigs are preparing for their "Second Wave."  Wake Up South Africa– they are gaining momentum step-by-calculated step.

Ramaphosa and his Covid Criminals still plans to try another "Second Wave" lockdown with even harsher "bans" and sh*t "regulations" again- and Ramaphosa wants to exploit this freedom destructive "Covid App" to bar you from entering any public place or shop afore you are declared "clean" by this stupid App. People and business owners of South Africa- it is time to stand up and tell this corrupt ANC trash to "F*CK OFF" and shove that App wrapped in their masks up their arses! If you keep on listening and following their orders you are busy with a slow financial suicide. They are NO longer your "government" anymore. They cannot tell you what to do anymore. IGNORE their insane " bans" and "regulations". Stop being a weener and fearful of them. They are using fear and intimidation to control you and destroy you. Refuse to install their malicious control App on your phone. Let customers into your shop WITHOUT the madness of "proofing" they are "clean." This is f*ckin ABSURD! You will be playing RIGHT into their hands. They are alien destroyers that have no compassion for you or your country. They f*cked up everything in the state, looted all our resources and destroyed our social lives this past 25 years. Why do you still regard them as your "government? Have you totally lost your mind? GET RID OF THEM!!!! Tell Ramasquirrel , his destructive Main Stream Media pundits and his loony looters to fly to HELL! You are not obeying their lunacy anymore. Take your normal lives back again. THEY are the dirty ones that needs to be scanned- NOT you! They do  NOT belong in this country anymore.
As long as you keep on listening to the Squirrel and his Corona thugs, the longer you wear that stupid "lappies" around your nozzle, the longer you ignore the warnings,the longer you stick to your " nice-to-have" lives in the cities,  the longer you pay attention to the Main Stream Media  Propaganda machines, the longer you obey their "New Normal" bullsh*t-  the lifeblood  of your freedom will be  ebbing out fast….faster than you can imagine.  Maybe 2 months at the most reading the signs before us.  If you have not already started your preparations it maybe too late for you by the speed the way things are changing now.  Each and every thing we warned you about- each and every prediction we made was DEAD on the spot. All we can ask now  is why did you not LISTEN to us?  The only solution now left is simple: If you still  want to save South Africa- RISE!!! GET RID OF RAMAPHOSA , THE ANC AND ALL POLITICAL PARTIES AND START GOVERNING YOURSELF! Throw away your cell phone, get out of towns and cities and get off the grid- disappear from the map. 
THE

horrible truth inside of South Africa while the ANC only is interested in and play games with  "Covid 19" viruses and "lockdowns"– and what normal South Africans have to live with on a daily basis..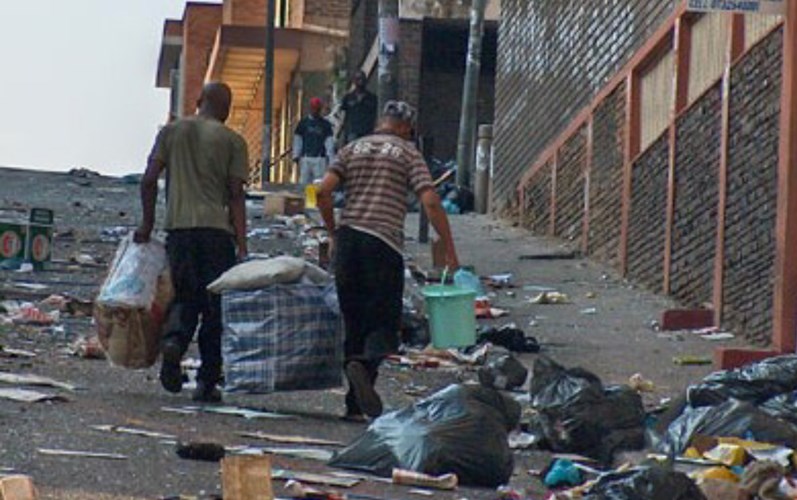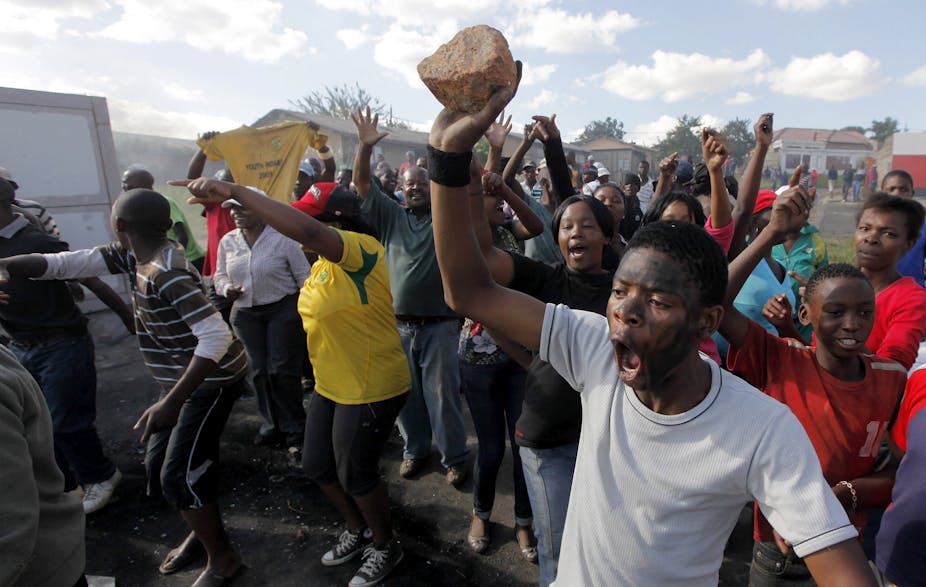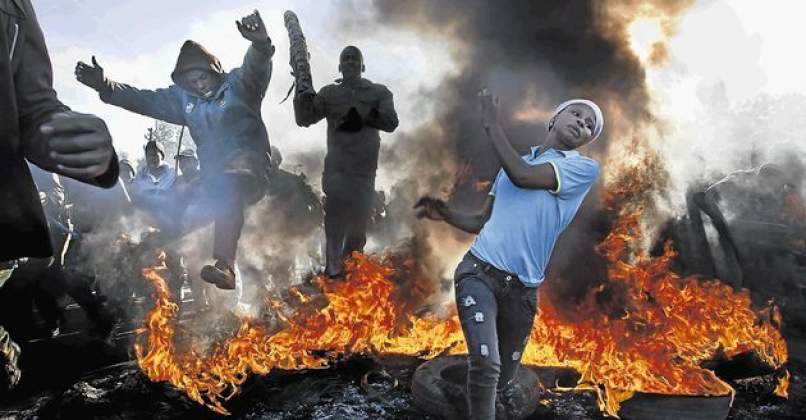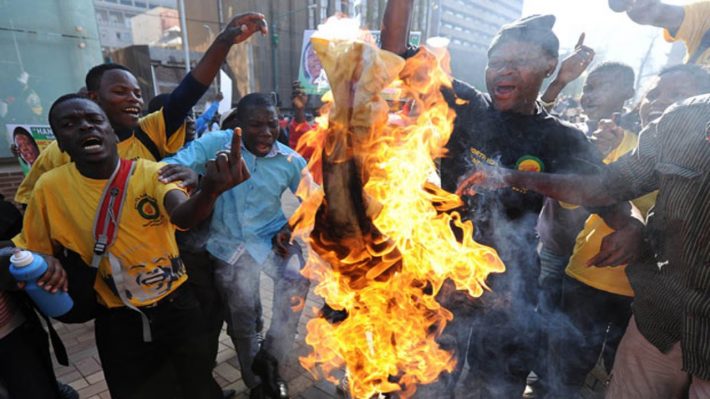 All while a small "clique " are  fattening themselves on the spoils of a suffering country…
THIS

is the true face of the  global created socialist "democracy" in South Africa- something the politicians does not talk about when asking for "Covid relief " funding –and the Main Stream Media does

NOT

show you what is done with it. This is what is happening behind the scenes of the multiple "lockdowns' and farce "Covid 19" agenda- the enrichment of a few off the backs of the suffering of millions of the poorest. This is what "My fellow South Africans' does not tell you on TV and neither interested in sharing a fraction of his billions with that same "fellow South Africans." This pictures shows the two sides of South Africa- the political side- and the true side- one a fantasy– the other the reality.

The ANC communists has no pride, integrity or honor. Lack of shame litters the streets and irresponsibility smoulders in railway trains, schools and libraries. The depth of degradation is proudly displayed for all to see. The ANC's legalization of crime has been its defining contribution to the new so–called " democratic " South Africa and its incompetence is legendary, worldwide. More trash has poured from the mouths of the so-called "ANC-Elite " than that which litters our streets. Reason runs like water from a duck's back, for it is a foreign concept to people still influenced by tribal tradition. The minds of those in government and those of the lowest of the low, who burn artworks and libraries, are frighteningly similar with it. This is the only legacy the incompetent, corrupt and tyrannical communists will leave behind for future generations to remember and judge them by.

Die government is besig met racial division

Posted by Tanny Grainger on Tuesday, September 15, 2020
Steve Hofmeyr deel die Waarheid.

Posted by DanievdW – musiek on Monday, September 21, 2020
"White People are in BIG Trouble!" Rabbi Says Jews are Safer in Israel Than Whites are in Their Own Homelands!

#Homelands "White People are in BIG Trouble!" Rabbi Says Jews are Safer in Israel Than Whites are in Their Own Homelands!Where will YOU run to once globalism has destroyed your homeland?Edited highlights of a mini documentary released by Katie Hopkins, showing how Jews finally have a proper homeland of their own, to be safe in and preserve and protect their culture history, language and heritage, yet whites, who hosted them for so many centuries, have mostly lost their own homelands. Rabbi Chaim Klein tells Katie directly that whites are in Big trouble and that jews are much more safer than whites!Jews are even fleeing from South Africa! The liberal driven islamification and africanisation of white countries has created a genocidal dystopian environment for millions of white's in their own Homelands as muslims and africans flood their countries.Katie Hopkins, a Christian mother, wife, activist and controversial conservative social commentator.

Posted by Die Kaap on Sunday, September 20, 2020
Does all this constitute torture? An important question. Here's the background:

"In 1973, Amnesty International included Biderman's Chart of Coercion in its report on torture, declaring these techniques the universal tools of torture and coercion. As Harvard psychiatrist and trauma specialist Judith Herman would later write, "The [coercive] methods that enable one human being to enslave another are remarkably consistent."
"Here is some of Albert Biderman's work on psychological manipulation and his "chart of coercion," all of which can be clearly related to the COVID-19 response:
1) Isolation techniques — Quarantines, social distancing, isolation from loved ones and solitary confinement
2) Monopolization of perception — Monopolizing the 24/7 news cycle, censoring dissenting views and creating barren environments by closing bars, gyms and restaurants.
3) Degradation techniques — Berating, shaming people (or even physically attacking) those who refuse to wear masks or social distance, or generally choose freedom over fear.
4) Induced debility — Being forced to stay at home and not be able to exercise or socialize.
5) Threats — Threatening with the removal of your children, prolonged quarantine, closing of your business, fines for noncompliance with mask and social distancing rules, forced vaccination and so on.
6) Demonstrating omnipotence/omniscience — Shutting down the whole world, claiming scientific and medical authority.
7) Enforcing trivial demands — Examples include family members being forced to stand 6 feet apart at the bank even though they arrived together in the same car, having to wear a mask when you walk into a restaurant, even though you can remove it as soon as you sit down, or having to wear a mask when walking alone on the beach.
8. Occasional indulgence — Reopening some stores and restaurants but only at a certain capacity, for example. Part of the coercion plan is that indulgences are always taken away again, though, and they're already saying we may have to shut down the world again this fall." ~ Jim Kost
Notable Quotes:
"Anyone who thinks the ANC can govern a country lives in Cuckoo-Land."– Margaret Thatcher
" You could not claim for yourself that which you were not prepared to grant others. If the principle of permanent residence for the black man in the area of the white is accepted, then it is the beginning of the end of civilization as we know it in this country.The free world wants to feed South Africa to the Red Crocodile [communism] to appease its hunger.Black people cannot rule themselves because they don't have the brain and mental capacity to govern a society . Give them guns, they would kill themselves; Give them power, they will steal all the government money; Give them independence and democracy; they will use it to promote tribalism, ethnicity, bigotry, hatred, killings, and wars!  " – PW. Botha ( South African Prime Minister)
Take heed- do NOT ignore this warning. Take personal action NOW to save you and your family before it is too late. At a later stage you might find yourself in a position that your freedom and survival will be determined over a barrel of a gun to shoot your way through their road blocks. YOUR safety, YOUR life,  and the survival  of your family solely depends on how fast YOU will heed this warning. Our time as a website that keeps on warning you also is running out fast- and soon we also will not be here anymore. Do NOT be caught unawares and say you have not been warned timeously. YOU HAVE!
SOURCE:
White Nation

PLEASE TAKE NOTE THAT THIS SITE WILL BE CLOSING DOWN SOON.
WHITE NATION– WE DO NOT HATE WHITE LIBERALS– WE SIMPLY DESPISE THE FILTH!!
C'MON- SHARE OUR LINK