Do you have news to tell us? Send your e.mails with news and inquiries to: w.nation@mail.com
Register with us for free to follow our news on the right-hand tab
Article compiled and posted by: White Nation correspondent Pietermaritzburg   October 21  2020
SOUTH AFRICA– THE  ANC PIRATE's REALM DOWN SOUTH
ALSO READ:
10.5 billion under investigation for 'Covidpreneur' looting in South Africa
Zondo guns for Zuma, Cele, Malema and Lynne Brown — here's what you need to know
Incompetent witchdoctor Mkhize wants powers to restrict citizens' behaviour and movements beyond a state of disaster
ANC protects it's dirty brothers as NPA drops fraud and corruption charges against Hlaudi Motsoeneng
SA will be bankrupted by ANC looters
ANC regime "not sure" how to raise 10.5 billion for SAA bailout
Zuma implicated in R 8 million fraudulent payment at Zondo commission
Second wave of Covid-19 'inevitable' SA's "top scientist " predicts
More expensive electricity on the cards whether SA likes it or not
SA TV licences will include tablets and smartphones
SA Mother poisons he own children then commits suicide
SENEKAL-A Small town way up there in the no-mans land in the eastern part of the  Free State on the banks of the Sand River in South Africa. The nearest city is Bethelehem about 72 kilometers further East. Senekal to most of us was up to now just another small outer hebrides settlement with no significance to any broader national importance. Frankly was most of the outside world not even aware of the fact that such a minute village town even exist.
That was until Friday October 16 2020 when a very prominent show-down between Boer and Bugger took place around a very important court appearance of two very repugnant cold blooded black murderers  Sekwetje Isaiah Mahlamba and Sekola Piet Matlaletsa (Both allegedly police officers at a nearby station in Paul Roux)–  of a young farmer manager- one Brendin Horner. FOUR black assailants attacked Horner on the farm he managed- and after a life and death struggle- overpowered him and murdered him in the most foul way possible- after which the filth of the earth hanged his bloody and broken body  on a pole as a "warning" to other farmers not to mess with the "powers to be."  Horner was brutally murdered because he was aware of a big cattle rustling syndicate operation in which high ranking ANC police officers were involved. For this Horner was brutally murdered to "silence" him and send a "message" to other farmers in the area not to "mess" with the "wrong" company.
Sekwetje Isaiah Mahlamba and Sekola Piet Matlaletsa– murderous killers of Bredin Horner in court. The reaction on their faces show no remorse and that they don't feel anything. They will definitely kill a white farmer again. Mob justice is the only most fitting punishment for these mad animals.
Farmers from across the country decedent on the small village town of Senekal on Friday October the 16th 2020 to attend the court appearance of the two wretched ghouls to show their disappointment and anger  in the ANC regime's deliberate lack and failure to address the escalating farm murders that has been troubling the country's rural farming community since the day the ANC stole the land with the help of the Ashkenazi Jew, their lapdog National Party- and the day the terrorist Peter Mokaba hollered that first phrase "Kill the Boer- Kill the Farmer" from a podium in Pietersburg in 1994. The farmers – black and white- also amassed at the courthouse to show their support and solidarity with the family of the slain Horner.  This was a day that was  supposed to be the moment  a line was to be drawn  in the sand against a terrorist regime's deliberate negligence to protect it's food producing community against horrendous farm attacks and a day to expose the atrocities and human rights abuses the Lethuli-House  communist establishment ,  their British bank-rolled EFF left wing extremist rogue terror movement – and South African Police accomplices  inflicts on the farming sector. This was a day that about every media representative from all over the world attended the court proceedings on live stream. This was the day the white farmer could have triumphed and the ANC be left bleeding in it's corner because of the vindictive regime's scandalous lies,  discrimination against whites – and it's direct involvement in the horrendous farm murders through 3rd force activities  from the South African Police, the EFF- and Zimbabwean operatives.
Clowns and Clans
But this was not to be. On the end of the day the farmers themselves and their campaign to draw the attention of the international community to the gruesome reality on farms in South Africa was totally obliterated by a spectacle of political despots hungry for power on the one side –  and a private militarized bunch of pseudo "Boer" provocateurs on the other. What in reality happened at Senekal was not a revelation of a farming community under siege from a reckless and oppressive government- but rather a showcase of power plays and "stand-offs"  between a leftist yelling and dancing  mocking red capped zoo inhabitants on the one side  – and on the other a scattered right-wing  testosterone induced  fake bunch of Wyatt Earp gunslingers. Both these groups of  imbeciles exploited a tragic event to promote their own misplaced version of the "OK Corral" on Friday the 16th- using Senekal as their own private version of "Tombstone" for their "final" stand-off. Meanwhile the whole agenda of exposing the ANC terrorists and their involvement in the farm murders to the world was lost – the main focus deliberately deviated  away to a macabre circus of hooligans and clowns that stole the show while police honkies were parading among the two sides e masse to keep possible outbreaks of violence between the two sides of clowns at bay.  A more damaging display of idiocracy could not have been sent to the world in front of many rolling live-stream cameras and  international correspondents – PERIOD! What started as a golden opportunity to focus the attention of the world on a serious genocide of white farmers in South Africa turned out to be a chaotic display of screaming and dancing halfwits challenging Public Adressing barfing nitwits- all while some very opportunistic fools were using this important day as a chance to set up barbecues and start selling  beef sausages and beverages next to the road as-if they were attending a vanity fair instead of a day of recognition to the many murdered farmers and their families. WTF? The whole spectacle ended up in a total militarized and  politicized mess.
A secret agenda behind the circus acts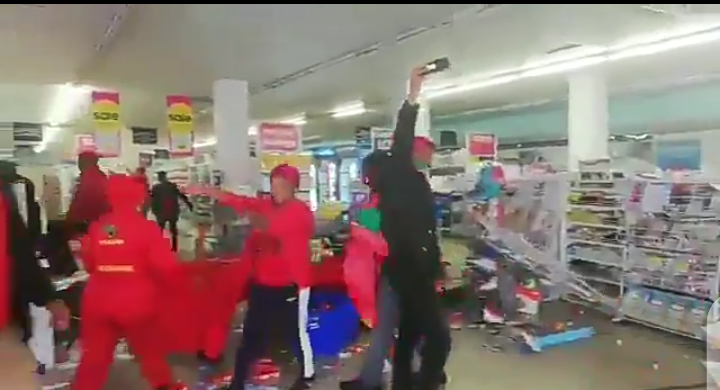 TWO white farmers were subsequently arrested with lots of media fanfare by the ponzi communist Prosecuting Authority on trumped-up charges for "public violence" at the first Horner court case. However not ONE EFF member- neither Julius Malema– has ever been arrested on the same charges for their participation in public violence, destruction of property ,carrying of illegal firearms, or incitement to murder during the CLICKS saga for the destruction caused by Malema's hooligans- nor for  the arson of buildings,three arsoned barns in Oudshoorn over the weekend, burnt down more than R2M worth of stock feed. In the Free State some farms have been totally scorched by black vigilantes- or their participation in public violence that caused damaged to municipal property and  for again inciting murder of farmers by singing "Kill the Boer" songs during the Senekal second appearance.
But here we have Bheki Cele and Julius Malema having a nice friendly "chit-chat"  in court.This AGAIN underlines the fat that the ANC and the EFF are in cahoots against the white farmers and the blatant discrimination , double standards and vindictive different sets of laws applied by the communist regime of Ramaphosa accompanying  the silent war waged against minorities in South Africa by Ramaphosa's ilk and their dirty bias media skunk factories to keep the whites "in check" not to try to "oppose"  the dictatorship of the human rights abusing black communist Pharaos in charge.
Driving white farmers off their farms
THIS is what's happening in South Africa. Black terrorists- instigated by politicians such as Ramaphosa 's "Land Expropriation" and Malem's "Land Invasions" rhetoric  place lit candles in grassy areas on white farms Huge fires now destroys millions of hectares of farmland and wild animals.Farms are being deliberately set alight  in South Africa since the Horner case started. More than 10 000 hectares of white farmland has been torched. .  A truck also was torched at Herztogville, before it could drop supplies at a white farm. This way the EFF- in co-operation with the ANC- are driving off white farmers from their land. This action starkly reminds us of Kenia and Tanganyika in the 50/60's where Yomo Kenyatta's Mau Mau did exactly the same and Robert Mugabe's ZANU-PF repeated this tactics in Zimbabwe against white farmers as well. A well orchestrated government-backed military offense is now in progress against white farmers in South Africa to shift the focus from a country in peril  as the ANC and EFF again is at work to whip up racial tensions in order to unite the black masses behind them in order to hide the terrible destruction the ANC's "Corona Council" inflicted on the country.
https://www.facebook.com/FlyingNewsliveUpdate/videos/361692905270752/
TO the more wary observer it was all too clear what was happening at Senekal. To the more watchful tactician it was clear that Julius Malema received his direct instructions from Lethuli-House to send in his noisy monkeys to Senekal  to divert the attention away from the court case and the proceedings. The ANC and their goons knew very well the Senekal court case would draw much international attention and that would be bad publicity to the ANC's agenda if any of the camera anchors were to  interview a white farmer. So a diversion and disruption  had to be implemented. And Malema- the ANC's pseudo military wing- was just the right option to execute such a diversion.  It was obvious that Malema and his rowdy goons was sent to Senekal on purpose to totally disrupt the focus point , antagonize the white farmers and turn the attention of the international camera crews away from the court, prevent them from interviewing white farmers- and focus their attention on the dancing , screaming clowns.
And in buses supplied by the ANC (state) they arrived in their hundreds. This way by creating as much noise as possible and apply diversion tactics they would occupy the attention of the white farmers as well and prevent the farmers to tell the world on live-stream  what is happening in South Africa while at the same time keep the international camera operators and media correspondents too busy focusing on  non-nonsensical "stand-offs" and EFF monkey-tricks than doing their job to interview any white farmer or focus on the court case in progress and the two murderous criminals inside. BOTH the international reporters and white Boers outside fell into this neatly prepared trap while Bheki Cele and Julius Malema had a good ol' "buddy-buddy" time inside the court- having a casual chat with each other while at the same time white farmers were prevented from entering the court. The white farmers lost a golden opportunity on that day to expose the ANC's devious culling agenda against them while the ANC and Malema walked out victorious after stealing their show. Who-ever devised this diversion plan did it on purpose- and it worked well. Meanwhile the local trash media again were  rigging up racial tensions and sincerely wants to portray the Senekal incident as a white against black incident to divert the attention away from the real reason Malema and his goons arrived at the court  in government supplied buses.
Across Africa the black communists are driving a white genocide agenda. Whites in South Africa must take note of this and begin to prepare themselves for a final showdown. . 
The pot is cooking…..the showdown is close.
What lessons white "Boers" must learn  from the Senekal incident
South Africa is in a 25 year massacre-  hidden from the western world by its liberal media. The fact is more people die in ten weeks under Mandela's SA than died in detention over 40 years of white rule. The farm murders are only a tip of a blood spattered iceberg. Each year hundreds of urban whites are also murdered and many more are the victims of horrific violence motivated by racial hatred and deliberate genocide. Since 1994, an estimated 68,798 white South Africans have been murdered of which 4,041 were commercial farmers. The farm genocide is merely scratching the surface of South Africa's blood stained reality. The frightening truth is that the farm killings are only a part of what is actually going on. What is happening in South Africa against the White population is a crime against humanity. And no one will speak of it.
All I can say is I rest my case!
MEANWHILE as one international showdown about a young white farmer being murdered played itself out in Senekal- yet ANOTHER innocent white farmer was brutally attacked and murdered just 2 days after the Senekal court incident. Gerrit Stander – a local attorney- died Tuesday morning October 19 2020 in the Kiaat hospital  after a horrific farm attack in Plaston, near White River. Gerrit fought like a machine. He smashed dining room chairs on the black attackers to protect his wife and daughter and save their lives. They shot him 5 times.- in his liver, lungs and arm. Doctors could not believe he was still fighting. It happened about 3 hours ago and he fought to survive until 7:20 on Tuesday  morning when finally he succumbed to his wounds.
Another white farmer- Gerrit Stander– was brutally attacked and shot 5 times by black terrorists on Tuesday October 19 2020. 
Cyril hell bent on communist land grab agenda
IT appears that the plight of white farmers fall on deaf ears when it comes to South Africa's own version of Robert Mugabe– one Cyril "The Squirrel" Ramaphosa- who still is hell bent in antagonizing white farmers even more on top of the brutal onslaughts against their lives-  by pushing ahead his communist "Land Expropriation" agenda to steal white farm lands by fiddling with Section 25 of the land ownership part of the constitution  for the benefit of his corrupt dwindling party, his Big Corp benefactors the likes of Soros, Rupert, et al–  and his  Chinese buddies to conquer farm lands for their own evil selfish enrichment agendas. Expropriation without compensation IS in full swing. Applications are open for farmers who want to lease state farms for agricultural purposes.
EPILOGUE:
Since the "Corona"-thing started in April this year our lives drastically were changed for the worst by New World Order freaks and dirty politicians in high places. We are now entering trying times indeed. Gone are the days of care-free laughter and freedom. Our sovereignty, personal lives, rights and freedom are under severe attack from the dark powers in control of this old world. The whole world went totally insane and godless. We are now caught up in a vortex of deception and lies- a whirlpool of "Covid-19″ animations, "Corona" lies , "pandemic" illusions and political deception. Looking back at history and we find that never in the existence of our race such a demonic onslaught was experienced on such a grand global proportion as we now experience. Something changed- something drastically changed the course of our social environment.
That "something" only comes from places in the netherworld. If we still dream that everything will soon be "normal" we are living in a fantasy world. We must stop our ostrich mentality and come to the realization the powers to be are not going to stop this avalanche of human rights abuses their pre-panned "Covid" agenda brought to our doorsteps. Things will never be the same again. Global enslavement, oppression , persecution and brutal dictatorships are at hand. The ANC and EFF only will escalate their demonic agenda of killing farmers and oppressing whites. The farm murders will not stop. Ramaphosa's blatant lies , denials and discrimination against minorities will not stop. Malema's instigation and incitements  to a genocide will not stop. They all are paid charlatans of the murdering British establishment to destroy South Africa and well…"Kill the Boers." If we do not stop them ourselves no-one will. The world at large is moving for it's final apocalypse and the human race for it's final destination with the Fallen Ones. The game now centralizes around self preservation and survival of the fittest. It's no ordinary conflict we find ourselves in- it is an out and out spiritual war we now encounter. For those that still are caught up between fiction and "conspiracy " theories the time is running out fast. We have become complacent and careless.  Time has caught up with us.
Much atrocities and bloodletting is on their way. The next inquest of especially Christians  is here. The watchers are pulling back and the prophets are making their final appearance. For the wise it is imperative to get out of the cities- for the biggest slaughter and persecution will take place within the boundaries of  the concrete jungles. We are now entering the final chapter of the human race as we know it. Trump-if re-elected- will give us a little breather of 4 years to get our ducks in a row. After that- well- think of your worst nightmare- the outcome of this "pandemic" will be worse than that. Christian…Boer…Afrikaner – Do not take this warning lightly- do not hesitate- the night is closing in- and dusk is falling fast.With it comes the "Corona" creatures of the night with their control programs, Artificial Intelligence, vaccinations, enslavement and concentration camps – prowling for the unwary and the careless.
SOURCE:
White Nation
PLEASE TAKE NOTE THAT THIS SITE WILL BE CLOSING DOWN SOON.
WHITE NATION– WE DO NOT HATE WHITE LIBERALS– WE SIMPLY DESPISE THE FILTH!!
C'MON- SHARE OUR LINK